This Simple and Quick Cherry Frosting recipe can be made in only 5 minutes and is perfect to top over cherry cupcakes! Made with Maraschino cherry juice and a vanilla buttercream base, this will be your go-to frosting all cherry season long!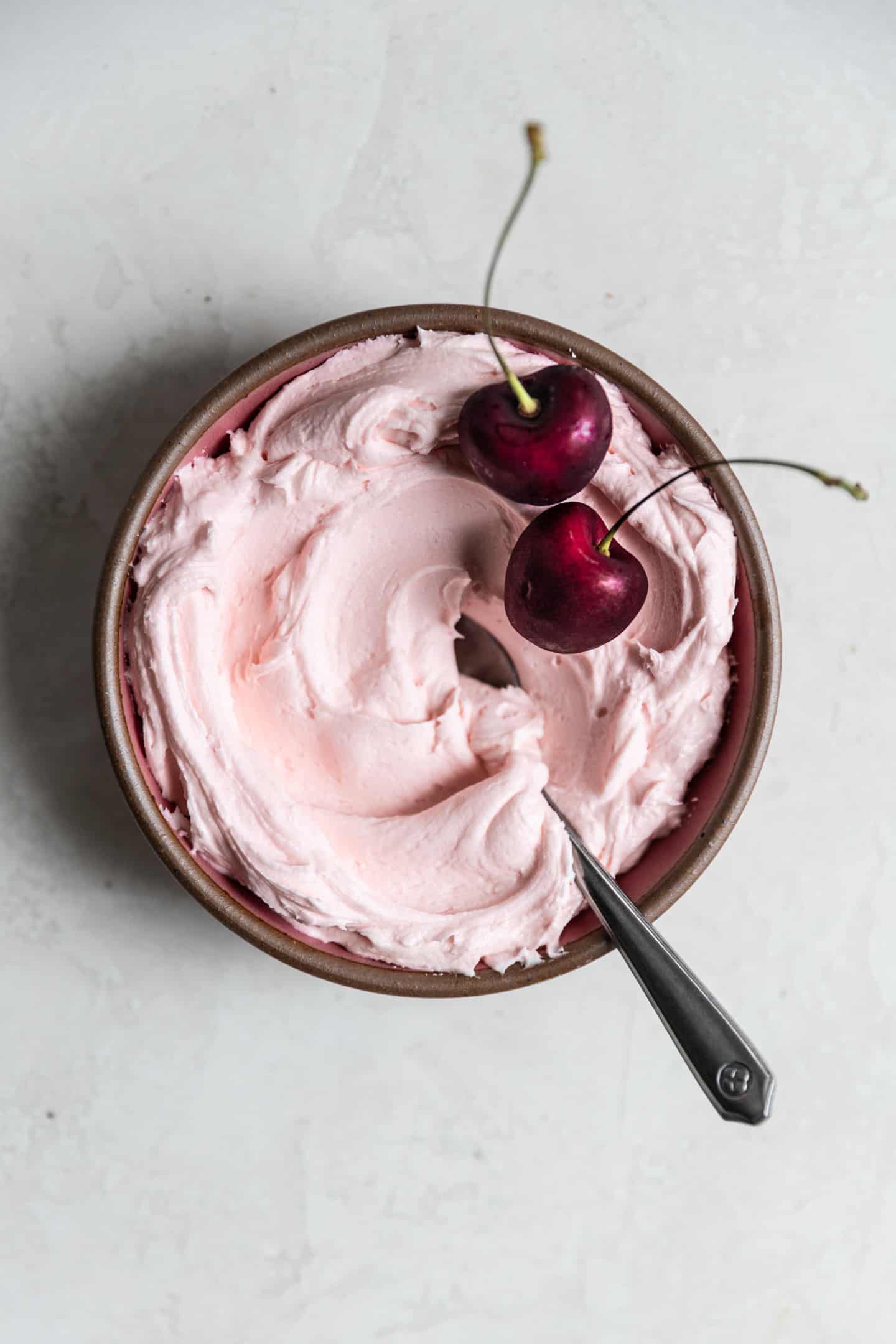 This cherry frosting is light and fluffy, is bursting with cherry flavor and has a bright pink color without the use of food dye. I topped these luscious cherry cupcakes with this buttercream but it would also be divine over chocolate filled cupcakes for that classic cherry and chocolate combo. Try it over lemon cupcakes for a summery treat too!
Working as a professional baker over the last 11 years, I've learned what works and what doesn't in creating recipes. When it comes to this cherry buttercream frosting, we don't use fresh cherries here because you would need a lot of cherries to get the flavor right, and that would add too much juice to the frosting, making it too watery.
Instead with the concentrated Maraschino cherry juice we're able to get the color and flavor with a very small amount of liquid- hooray!
Maraschino cherries are a type of cherry that has been soaked in a syrup solution, typically made with sugar and/or corn syrup. This process gives the cherries a bright red color and a sweet flavor. They are the ones you see on top of ice cream sundaes or other classic desserts.
WHY YOU SHOULD MAKE THIS RECIPE
Making this cherry frosting is quick and easy, taking less than 5 minutes to whip up.
Using concentrated Maraschino cherry juice gives great pink flavor and color to the frosting.
It is a thick but fluffy frosting.
INGREDIENTS NEEDED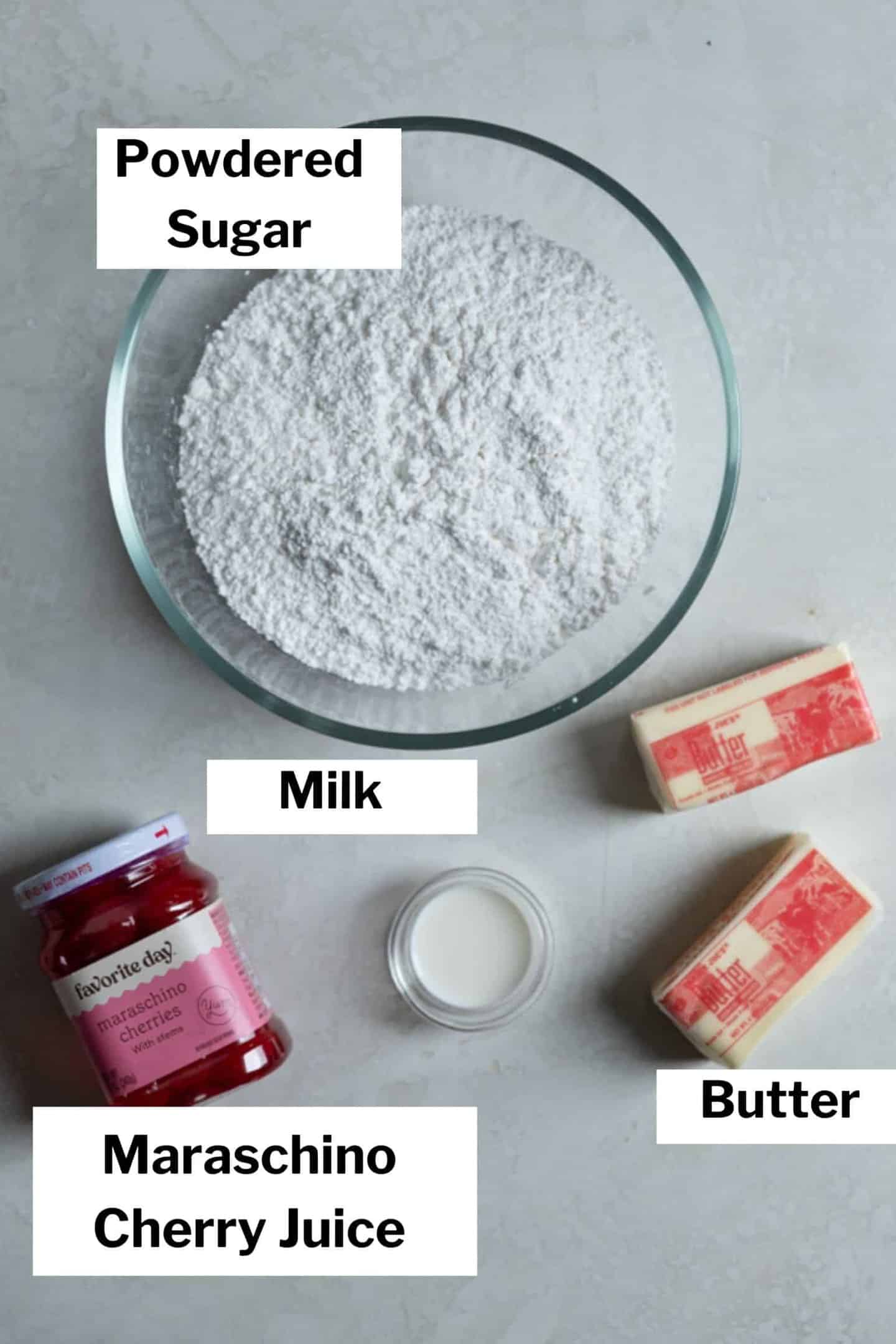 Softened Butter – This makes up the creamy base of the frosting while adding a buttery flavor. Learn how to soften butter quickly so you can make this frosting anytime.
Confectioners AKA powdered Sugar – This finely milled sugar blends into the butter well while giving the buttercream its classic sweet taste and thickness.
Maraschino Cherry Juice – You can find a jar of maraschino cherries in the baking aisle of your grocery store. Use the juice that comes with it to flavor the frosting.
Milk – You may need a dash or two of milk to help thin out the frosting while keeping it rich and creamy.
HOW TO MAKE CHERRY BUTTERCREAM FROSTING
Cream the butter and sugar together: The easiest way to do this is by using a stand mixer with the paddle attachment. Add the butter to the mixer bowl along with the powdered sugar. Start slowly to avoid the sugar jumping out of the bowl, and mix on low speed until light and fluffy. This will take about two minutes.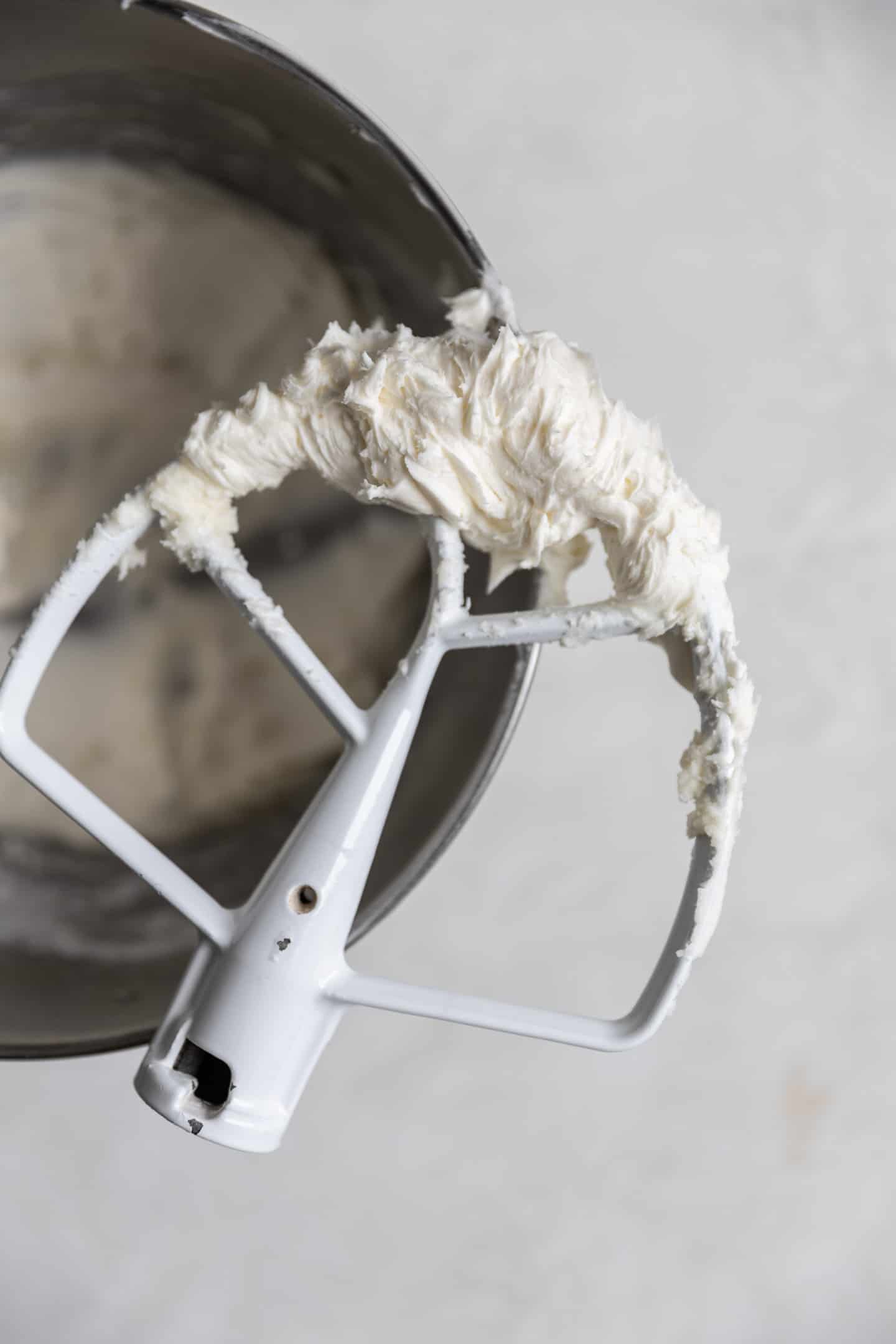 Add cherry juice and milk: Slowly add the maraschino cherry juice and milk and mix until evenly combined. You can use more or less milk, depending on the consistency you're going for.
Store and enjoy: Use immediately by spreading over your favorite desserts, or use a spatula to add it to a piping bag for decorating cakes and cupcakes. Enjoy!
Yield
This recipe makes enough frosting to pipe generously on top of 12 cupcakes, or decorate 24 cupcakes with a knife. It can also fill and frost a 2 layer 8 inch round cake or a 9×13 cake.
TIPS FOR RECIPE SUCCESS
Make sure you use room-temperature butter for the best results. Cold butter will make the frosting too thick and won't mix properly with the other ingredients.
Use a stand mixer to cream together the butter and sugar. This helps to ensure that everything is evenly incorporated and will give you a smooth frosting.
Start with a small amount of cherry juice and add more as needed to adjust the flavor. Add a few drops of food coloring to give your frosting a unique color!
If your frosting is too thick, add another 1/2 tsp of milk and mix in until desired consistency is reached. If your frosting is too thin, add another tablespoon of powdered sugar.
Add flavor extracts such as almond or vanilla to give your cherry buttercream frosting an extra special taste.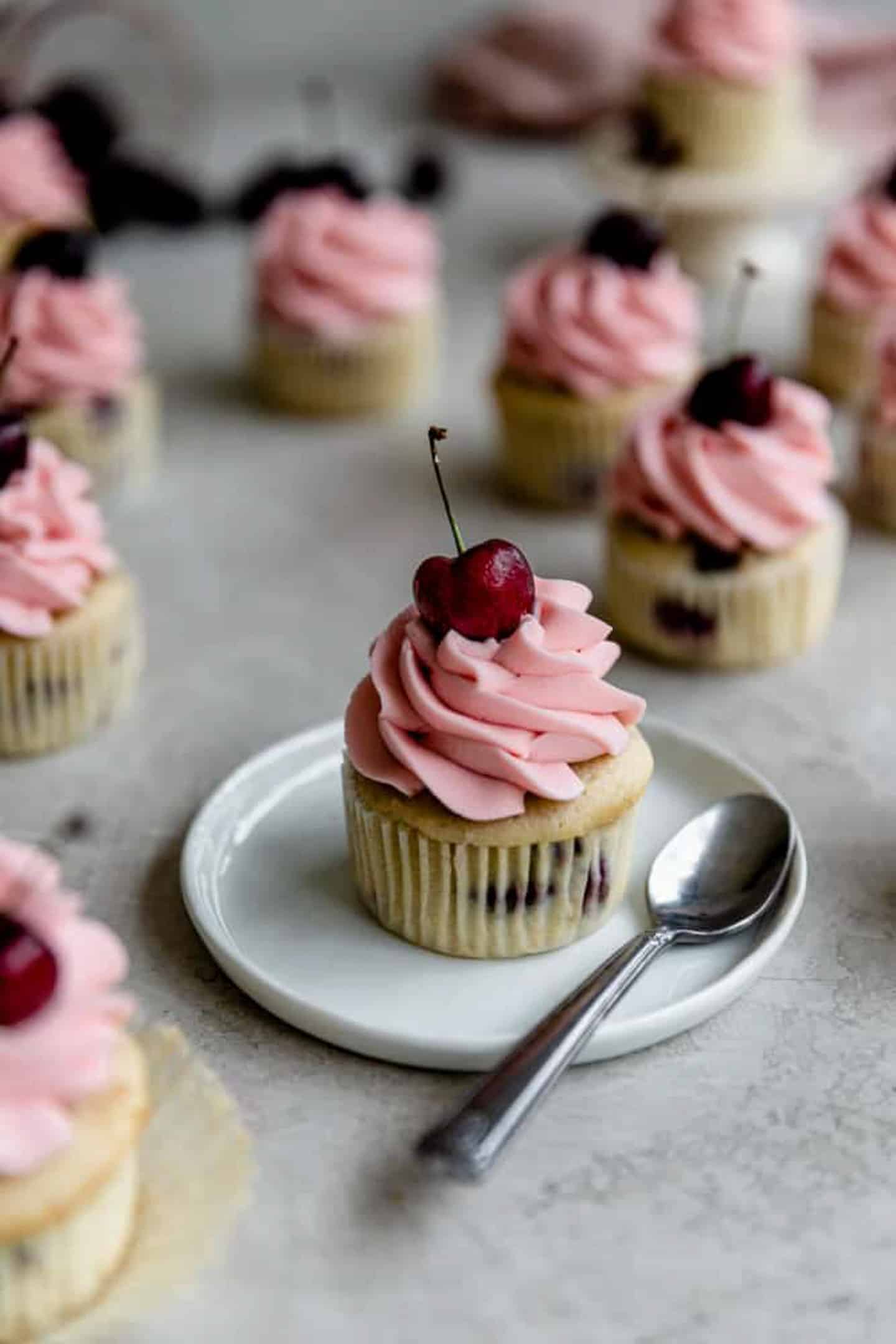 STORAGE AND FREEZING
Storing instructions: Store any remaining cherry buttercream frosting in an airtight container in the refrigerator for up to 5 days. Let it come to room temperature before using it again.
Freezing instructions: Place any leftover frosting in a freezer-safe bag or container and freeze for up to 3 months. Thaw overnight in the fridge, then whip in a stand mixer if needed.
FAQ
Can I use cherry preserves instead of maraschino cherry juice?
Yes, you can use cherry preserves for this recipe. However, the flavor will be slightly different, and the color may be a bit darker. I would use 1/3 cup of cherry preserves to start and add in up to a tbsp of milk to get the right consistency.
Can I add food coloring to my frosting?
Sure! You can use any food coloring of your choice to get the desired color. Just keep in mind that adding too much might make your frosting too thin or not look natural.
What is the difference between maraschino cherries and Luxardo cherries?
Maraschino cherries are generally made with artificially flavored syrup and dyed bright red, while Luxardo cherries are more expensive and are traditionally prepared using a special Italian recipe with darker cherry juice that is used for cocktails. You can use either for this recipe.
WAYS TO ENJOY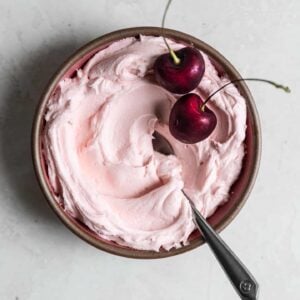 Simple and Quick Cherry Frosting
This Simple and Quick Cherry Frosting recipe can be made in only 5 minutes and is perfect to top over cherry cupcakes! Made with Maraschino cherry juice and a vanilla buttercream base, this will be your go to frosting all cherry season long!
Print
Pin
Save
Saved!
Rate
Ingredients
1

cup

unsalted butter

softened 227 g

4

cups

powdered sugar

454 g

1

tbsp

maraschino cherry juice

½

tsp

milk
Instructions
In the bowl of a stand mixer fitted with the paddle attachment cream the 1 cup butter and 4 cups of powdered sugar and mix on low speed.Mix until creamy, about 2 minutes.

Add in maraschino cherry juice and ½ tsp milk, and mix again until combined and super fluffy.
Notes
You can use cherry preserves instead of the maraschino cherry juice. Use 1/3 cup preserves with 1 tbsp of milk instead. 
Nutrition
Nutrition Facts
Simple and Quick Cherry Frosting
Amount Per Serving (1 portion)
Calories 293
Calories from Fat 135
% Daily Value*
Fat 15g23%
Cholesterol 41mg14%
Sodium 3mg0%
Potassium 6mg0%
Carbohydrates 40g13%
Protein 0.2g0%
Vitamin A 474IU9%
Calcium 6mg1%
Iron 0.03mg0%
* Percent Daily Values are based on a 2000 calorie diet.