You can make this Vanilla glaze in just two minutes! It is the perfect easy icing to drizzle over a vanilla bundt cake or mini bundt cakes. This glaze can be as thick or as thin as you like and has a sweet vanilla flavor and creamy consistency.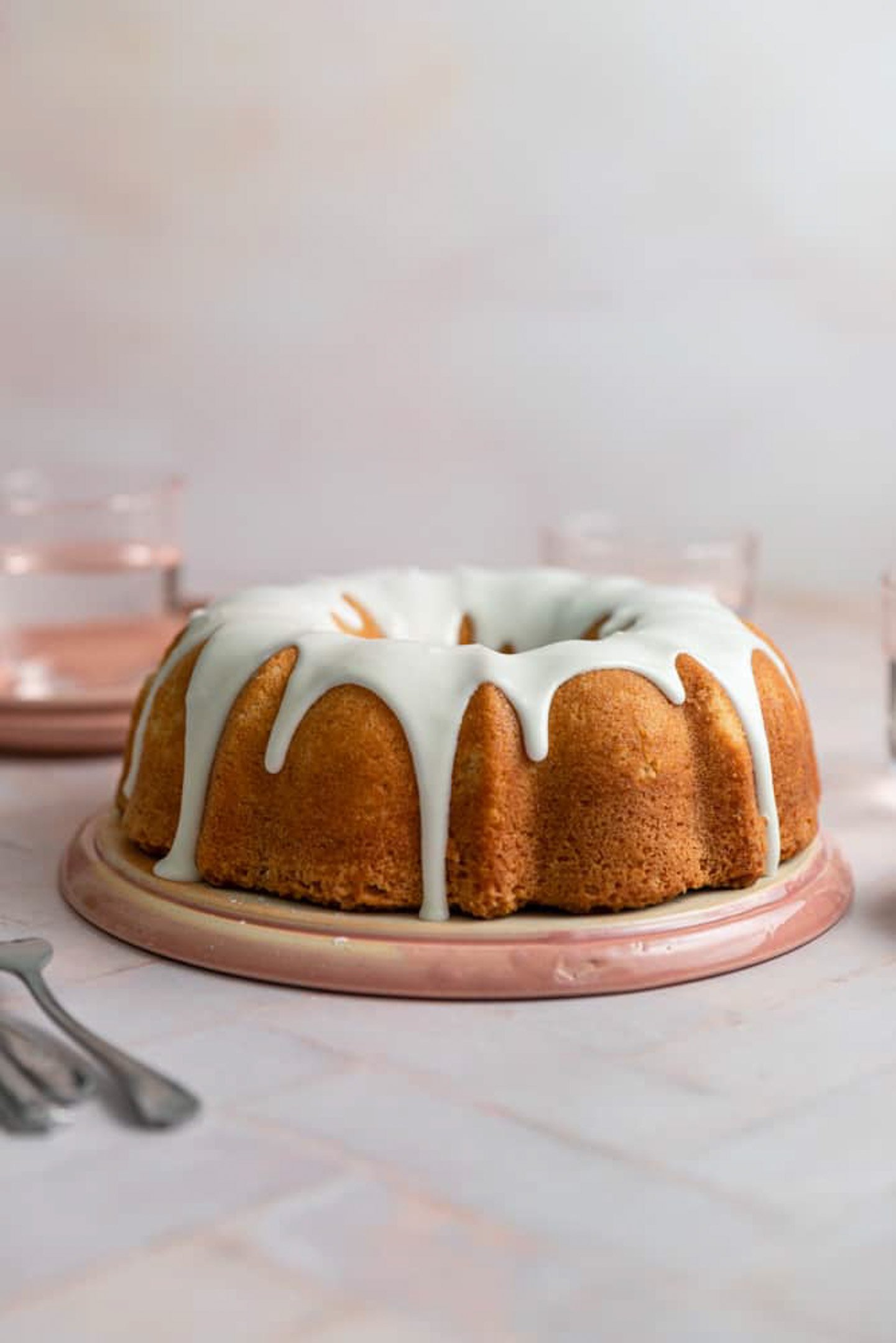 This vanilla glaze is the quickest and easiest way to dress up any cake or dessert that needs a little some extra. It has a sweet vanilla flavor and is absolutely divine over a vanilla bundt cake!
What I love about icings like this is that you really dont have to measure the ingredients. You can always make the glaze a little more thick by adding more powdered sugar, or make it a little more thin by adding extra milk! You can see specific directions in this post on how to thicken icing quickly.
Honestly as a trained pastry chef, most of the time I don't even measure glaze recipes. But, I wanted to give specific measurements in case you want them! Also, after making these types of icings a few times, you wont have to measure either!
With just powdered sugar, a liquid (water, milk, juice), you can really make any flavored glaze. From cinnamon glaze to chocolate glaze and an orange glaze, there are so many options for any cake!
Top this glaze over my reader favorite vanilla bundt cake, a banana coffee cake, or mini bundt cakes.
WHY YOU SHOULD MAKE THIS RECIPE
This simple vanilla glaze is made with just three ingredients you can find at any grocery store.
You really dont even have to measure, just eyeball!
There are so many ways you can use this glaze. Try it on from scratch bundt cakes or homemade cupcakes!
INGREDIENTS NEEDED
Powdered Sugar – Also known as confectioners' sugar, it is the primary sweetening agent in the glaze. Its fine texture ensures a smooth consistency and helps create a glossy finish when combined with liquid ingredients.
Cream (or milk) – Serves as the liquid component in the glaze, adding richness and creaminess. It helps to thin out the powdered sugar and create a pourable consistency while also providing a subtle flavor that complements the sweetness of the glaze.
Vanilla Extract – Imparts a warm and comforting aroma and enhances the overall flavor profile of the glaze, which helps balance the sweetness. The flavor of vanilla pairs well with almost any dessert.
HOW TO MAKE A QUICK VANILLA GLAZE
Measure ingredients: Measure out the powdered sugar, vanilla extract, and milk and add to a medium-sized mixing bowl.
Whisk until smooth: Using a whisk, combine the ingredients until smooth and velvety making sure there are no lumps.
Adjust the consistency: Add more milk one teaspoon at a time if you need to thin out the glaze, or add more powdered sugar one teaspoon at a time if you need to thicken it.
Drizzle over desserts: Once your cake is completely cooled, drizzle the glaze over it and allow it to set before serving. Enjoy!
TIPS FOR RECIPE SUCCESS
Sift the powdered sugar before measuring it to ensure a smooth and lump-free glaze.
Adjust the amount of cream or milk based on your desired consistency.
Allow your cake or coffee cake to cool completely before drizzling the glaze. If the dessert is still warm, the glaze may become too thin and runny, resulting in a messy appearance.
Feel free to customize the glaze according to your preferences. If you desire a more pronounced vanilla flavor, add an extra splash of vanilla extract. For a touch of citrus, try adding a teaspoon of lemon or orange zest. Get creative and experiment with different flavors to make the glaze truly your own.
STORAGE
I do not reccomend you store, freeze, or make this recipe instead. This icing hardens fast so it's best to make it right before you want to glaze the cake.
You can definitely pour the glaze on the cake if you're making the cake in advance, the glaze will harden and then you can serve it the next day or whenever you plan on serving the cake.
FAQ
Can I substitute the powdered sugar with granulated sugar?
No. Powdered sugar has a finer texture and contains cornstarch, which helps create a smooth and glossy glaze. Using granulated sugar may result in a grainy texture and difficulty achieving the desired consistency.
Can I use a non-dairy milk alternative instead of cream or milk?
Yes, you can use non-dairy milk alternatives such as almond milk, soy milk, or oat milk in place of cream or milk. However, keep in mind that the flavor and texture of the glaze may be less creamy.
How long does the glaze take to set on the cake?
The glaze typically takes about 5 minutes to set on the cake. During this time, it will become slightly firm but still retain a glossy appearance. However, the exact setting time may vary depending on factors such as the temperature of the room and the thickness of the glaze layer.
MORE WAYS TO ENJOY
Use this glaze to drizzle or dip with even more of your favorite desserts!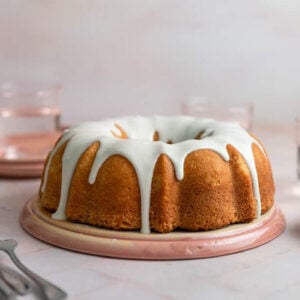 2 Minute Quick Vanilla Glaze
You can make this Vanilla glaze in just two minutes! It is the perfect icing to drizzle over a vanilla bundt cake or mini bundt cakes. This glaze can be as thick or as thin as you like and has a sweet vanilla flavor and creamy consistency.
Print
Pin
Save
Saved!
Rate
Ingredients
1 1/4

cup

powdered sugar

1

tbsp

cream

or milk

1/2

tsp

vanilla
Instructions
Combine the 1 1/4 cup powdered sugar, and 1-2 tbsp milk, and ½ tsp vanilla extract in a small bowl.

Whisk until smooth.
Notes
Please note that the calories are based off the entire recipe to drizzle over 1 cake. 
Read how to thicken frosting quickly to adjust the icing from thick to thin or vice versa. 
Nutrition
Nutrition Facts
2 Minute Quick Vanilla Glaze
Amount Per Serving (1 cake)
Calories 640
Calories from Fat 45
% Daily Value*
Fat 5g8%
Cholesterol 17mg6%
Sodium 7mg0%
Potassium 20mg1%
Carbohydrates 150g50%
Protein 0.4g1%
Vitamin A 221IU4%
Vitamin C 0.1mg0%
Calcium 12mg1%
Iron 0.1mg1%
* Percent Daily Values are based on a 2000 calorie diet.