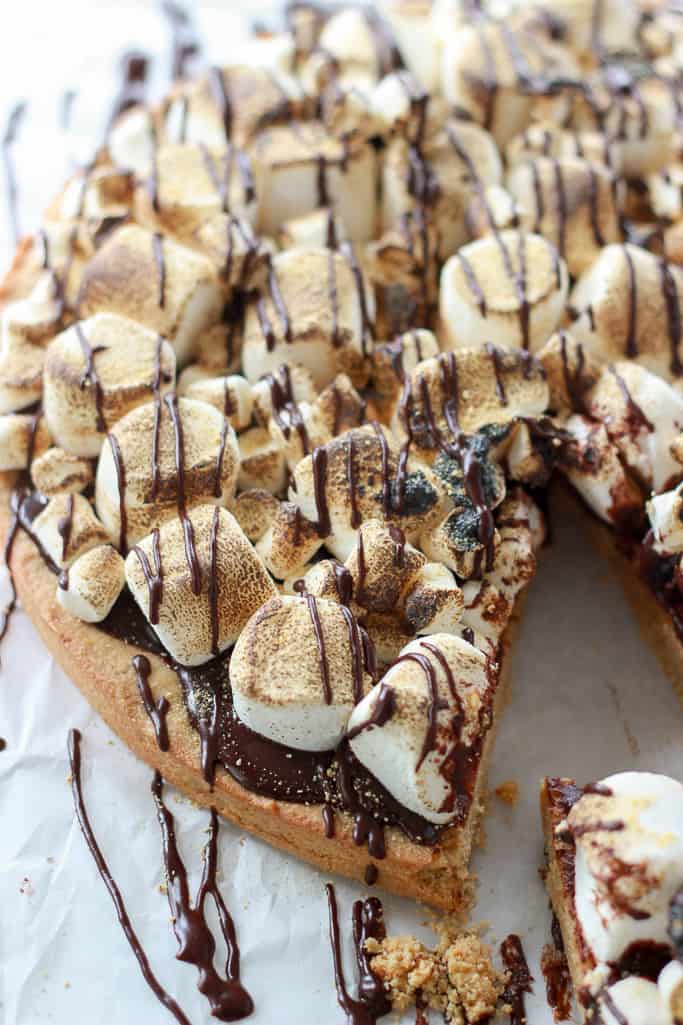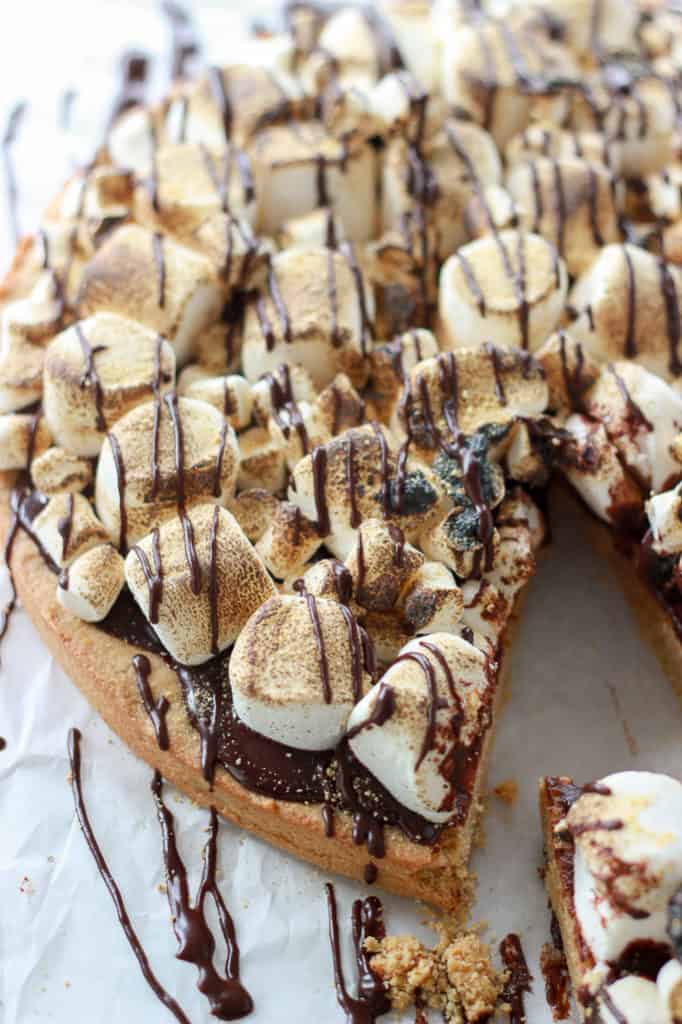 Ok, I know I'm late to the game on this one, National S'mores Day was WEEKS ago.
But good news friends! It doesn't need to be a holiday to enjoy this favorite cookie combination.
Also it doesn't actually need to be a cookie at all. Why make one smore cookie when you can have a whole S'MORES COOKIE CAKE!!
One giant graham cracker infused sugar cookie, topped with silky smooth chocolate ganache, and then loaded with marshmallows just waiting to be torched up (my favorite part). If you don't have a torch you should totally invest in one. Relax, I don't mean a massive blow torch, get this one from Sur la Table. Its mini and its cute, and it makes you feel and seem like a total rockstar. I live in Florida where the majority of our appliances are electric which means its impossible to roast marshmallows over the stove- I tried. I have also tried broiling marshmallows in the oven which resulted in me almost burning down our house. So I think that this $50 torch is 100% worth it. They also offer a cheaper one for half the price but I can't recommend it because I have had this other one for years and it has served me well!
P.S I am in no way of getting paid to write that, hello like 6 people read this blog, I just really really like my mini torch and any excuse to use it.
Anyways back to this cake. So National S'mores day came and went but you can relive it through making this giant smore's cookie cake, and since its technically just one cookie, you have permission to eat the whole thing yourself and I won't judge you. I mean just look at this thing!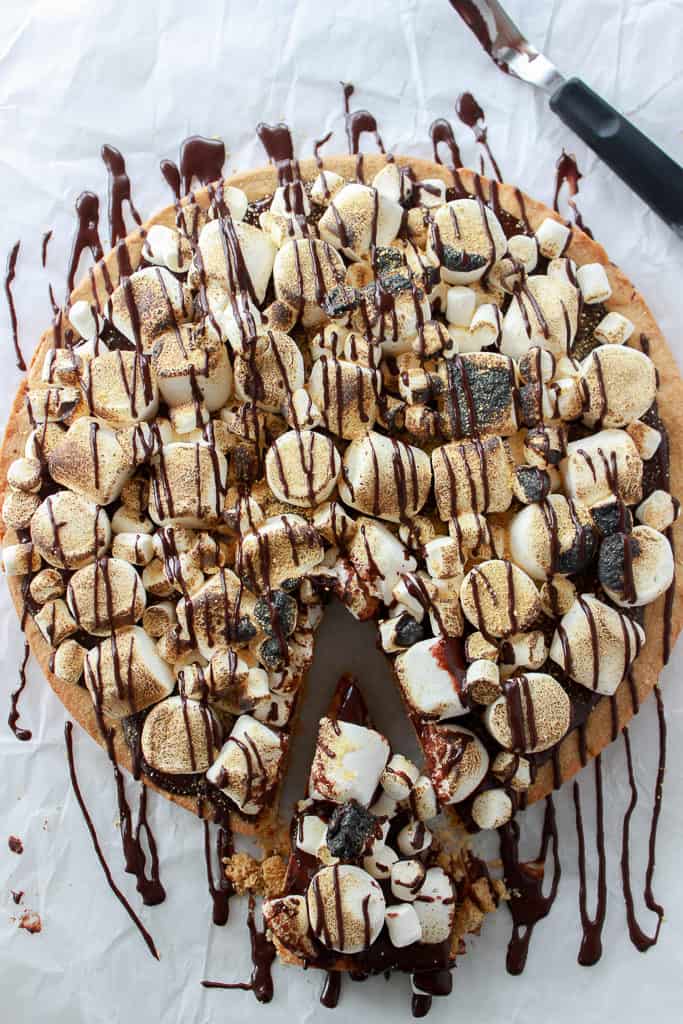 Smore's Giant Cookie Cake
Why eat one s'more cookie when you can have a whole s'mores cake!
Print
Pin
Save
Saved!
Rate
Ingredients
For the cookie:

1

cup

softened butter

1

cup

brown sugar

1/2

cup

sugar

2

eggs

1

tsp

vanilla

1/2

tsp

salt

1/4

tsp

baking powder

3.5

flour

1

cup

finely ground graham cracker crumbs

For the Ganache:

1 10

oz

bag chocolate chips

8

oz

heavy cream

For the topping:

1 8

oz

bag regular sized marshmallows

1 8

oz

bag mini sized marshmallows
Instructions
Preheat your oven to 350 degrees.

In the bowl of a kitchenaid mixer, cream together butter and sugars until light and fluffy.

Add in one egg at a time and incorporate.

Add in vanilla.

Add in dry ingredients and mix until evenly combined.

Move the cookie dough to your work surface.

Spray a 14 inch cake pan with baking spray or line a cookie sheet with parchment paper.

Evenly press the cookie dough into the cake pan or shape the dough into a 14" disk on the cookie sheet.

Chill for 10 minutes.

Bake 15-18 minutes, remove from oven and let cool 10 minutes

Invert onto a cooling rack and let completely cool.

For the Ganache:

Place the chocolate chips in a heat proof bowl and set aside.

In a small pot, heat the cream until bubbles start to form on the sides. Do not bring to a boil or the milk will curdle.

Pour the hot cream over the chocolate chips and let sit for 2 minutes.

Stir the ganache with a spatula until evenly mixed and smooth.

Place the ganache in the refrigerator to come to the desired consistency of spreadable but not runny, about 10-15 minutes.

When the ganache is ready, spread it evenly over the cookie cake leaving a 1/2 inch border around.

Place marshmallows all over the ganache. Using a blow torch, toast the marshmallows until they are black and crispy. Alternatively you can preheat your oven to broil and place the cookie cake on the lowest oven rack to toast the marshmallows. Should you choose to do this, you should do it very carefully as the marshmallows burn very fast, usually in less than 30 seconds! DO NOT walk away!

After toasting the marshmallows, sprinkle with leftover graham cracker crumbs and drizzle with leftover ganache, slice and enjoy!
Notes
***If you choose to toast your marshmallows under the broiler make sure you keep a close eye on them!