If you're looking for a fuss-free chocolate frosting, this Whipped Chocolate Frosting takes 5 minutes to make with only 3 ingredients – heavy cream, sugar, and chocolate instant pudding mix! This crowd-pleasing chocolate frosting is light, fluffy, and downright delicious. It's perfect for cupcakes, cakes, cookie sandwiches, and enjoying straight from the spatula!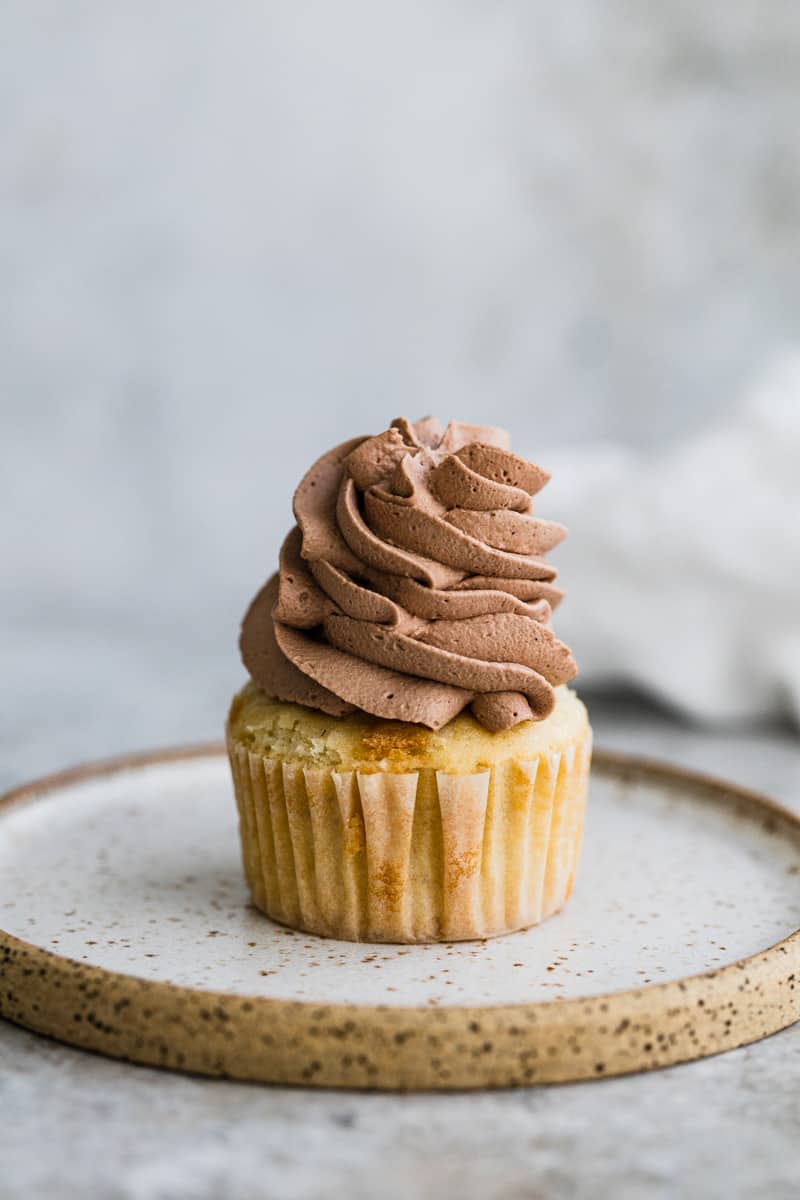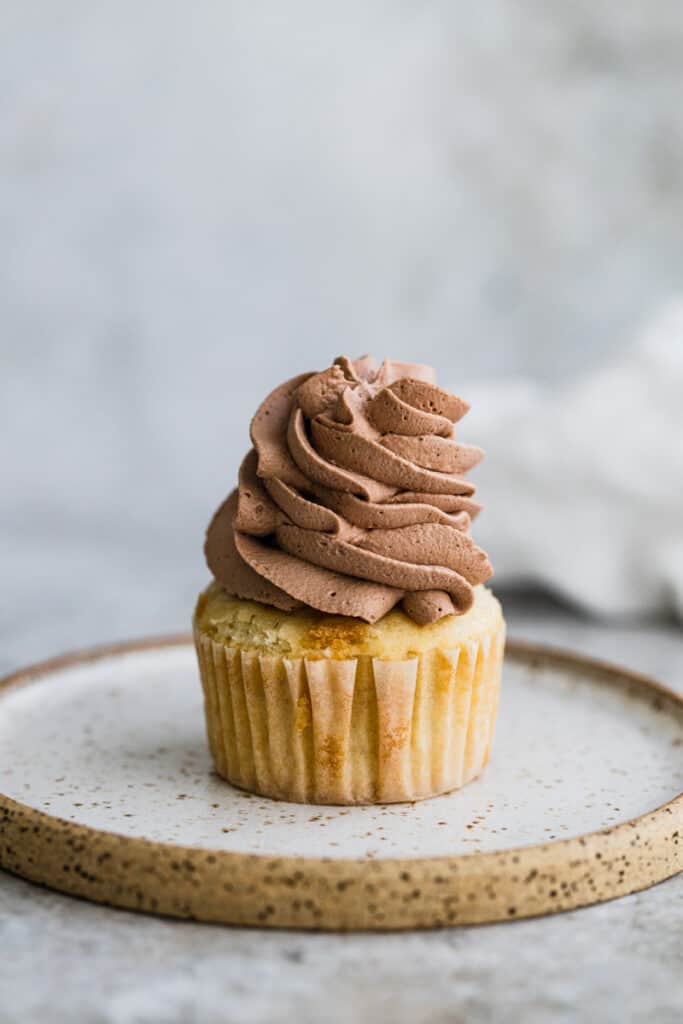 As a trained pastry chef, I work with chocolate buttercream frosting quite often, but when I need a lighter frosting, more like whipped cream, this whipped chocolate frosting is my go-to. It's soft and airy, just like whipped cream, but with the added decadence of rich, chocolatey flavor.
Unlike your basic whipped cream, this chocolate whipped cream frosting has stabilizing ingredients. When you add a stabilizer, in this case, the cornstarch from a packet of chocolate pudding, the whipped cream holds its fluffy and firm shape for days.
You seriously can't go wrong with this quick chocolate whipped cream frosting. It's perfect to top vanilla cupcakes like I did here, or you can slather it all over a chocolate loaf cake, or even add more chocolate to these triple chocolate brownies.
For a vanilla version you can try this Chantilly Cream, or if you want something cheesy try this whipped cream cheese frosting, or my mascarpone frosting. If you want something a little more decadent try my homemade chocolate ganache frosting.
WHY YOU SHOULD MAKE THIS RECIPE
It's better than store-bought. This is much better than any canned chocolate whipped cream you can buy from the store, and you only need three ingredients to make it.
It's super quick. The frosting comes together from scratch in just 5 minutes.
It's stabilized. This whipped chocolate frosting is lighter than a typical buttercream frosting but it still holds its shape for hours at room temperature.
INGREDIENTS NEEDED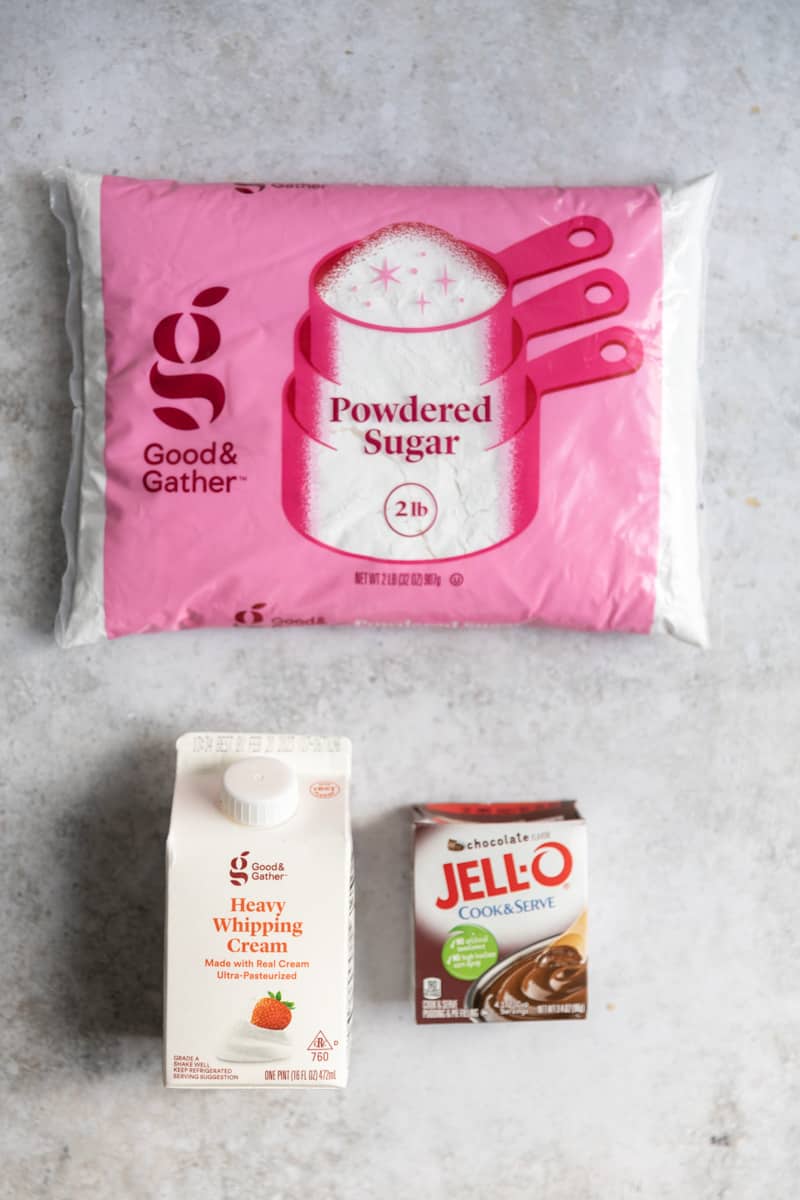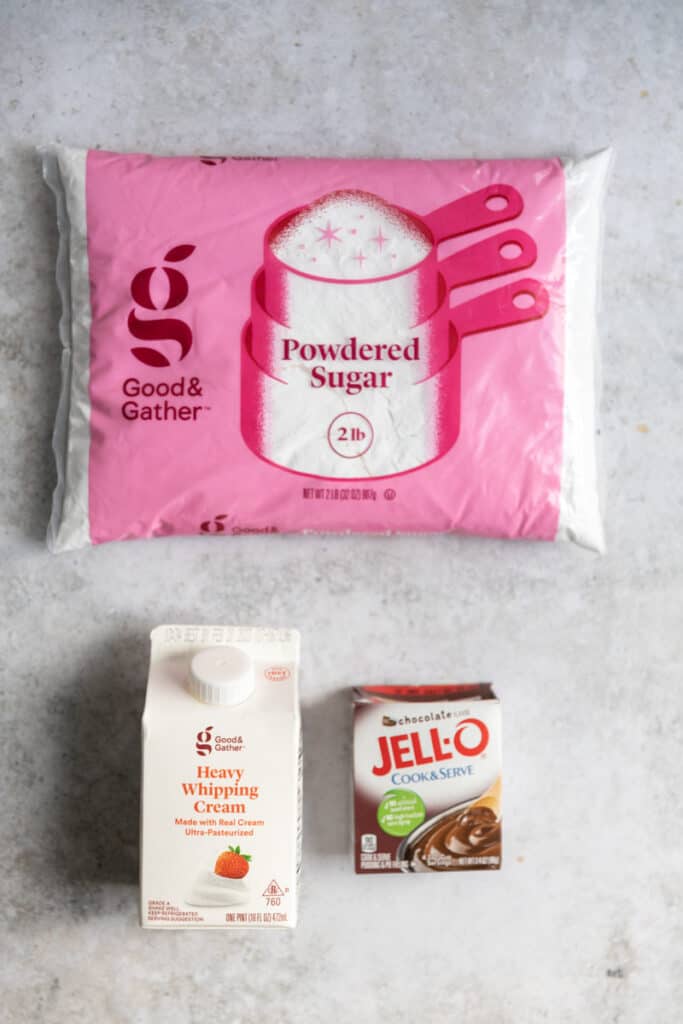 Heavy cream – This wouldn't be whipped cream frosting without it! Beating heavy cream results in a light, fluffy frosting.
Powdered sugar – AKA confectioners' sugar or icing sugar. The super fine, pulverized sugar granules sweeten the frosting while keeping the texture smooth.
Chocolate pudding mix – Instant pudding mix contains a thickening agent that plays a role in stabilizing the frosting. For the most decadent, chocolatey flavor, I like using the Jell-O Cook N' Serve Chocolate Pudding & Pie Filling Mix.
HOW TO MAKE WHIPPED CHOCOLATE FROSTING
Beat cream & powdered sugar: In the bowl of your stand mixer, fitted with the wire whip attachment, add the heavy cream and powdered sugar. Mix on medium-high until soft peaks form (about 2-3 minutes).
Mix in chocolate pudding mix: Turn off the mixer and add the pudding mix. Return the speed to medium-high and mix until stiff peaks form. This happens FAST and you dont want to over whip it or else it can curdle. Check after 45 seconds to 1 minute if you are on the highest speed.
Scrape the bowl and fold: Stop the mixer and scrape the bottom of the bowl, breaking up any clumps of sugar or pudding mix. Gently fold the frosting with a spatula a few times to incorporate.
Decorate- Use the frosting to decorate your cakes and cupcakes! This frosting pipes like a dream and will hold its shape! It will not droop on you.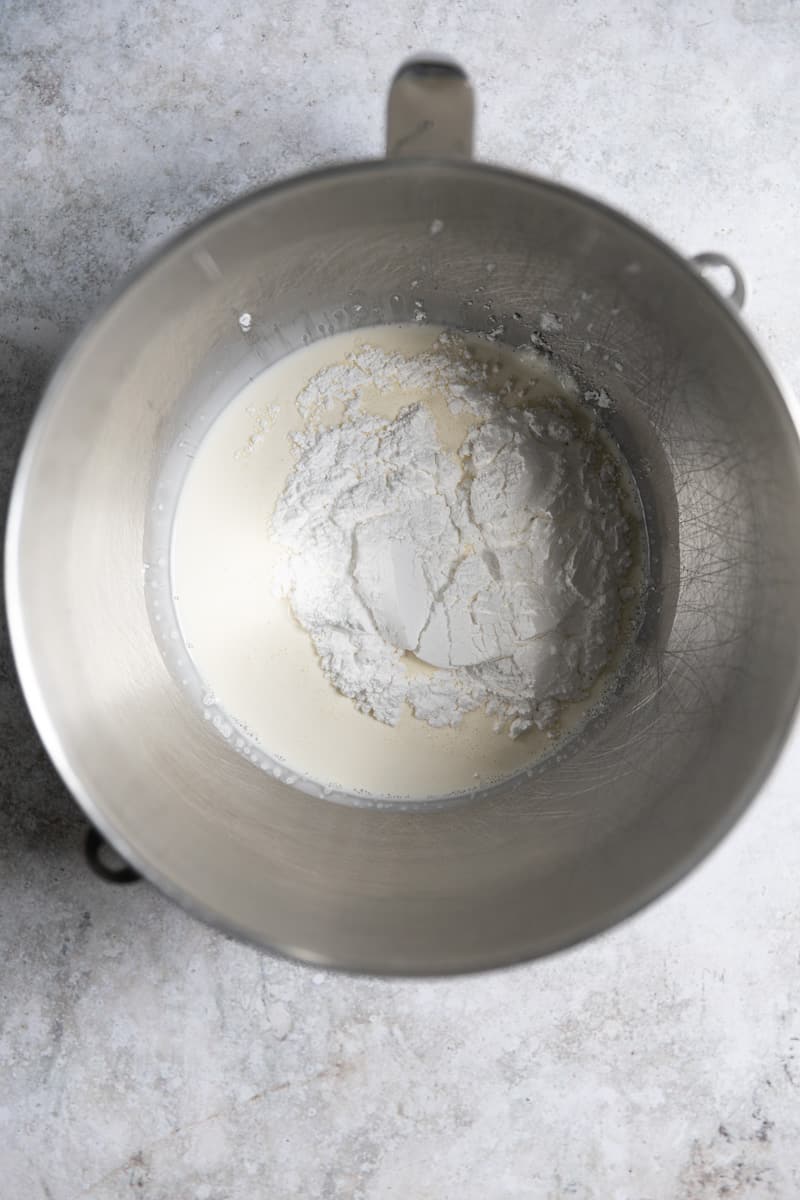 SOFT PEAKS VS. STIFF PEAKS
Making stabilized whipped chocolate frosting is super simple, but it's important to know exactly what to look for during each stage of the process.
Soft peaks – The heavy cream and powdered sugar are perfectly whipped once the mixture is smooth and starting to hold shape. The peaks should flop over when you pull the wire whip attachment away. See the photo below to see exactly what soft peaks look like. Look at that little peak on the right and how it flops over. This is a soft peak.
Stiff peaks (aka firm peaks) – After mixing in the chocolate pudding mix, the frosting is adequately whipped once the mixture retains shape. The peaks should stand up stiff when you flip over the whip. Look at the picture below for exactly what stiff peaks look like. See how it stands tall? This is a stiff peak.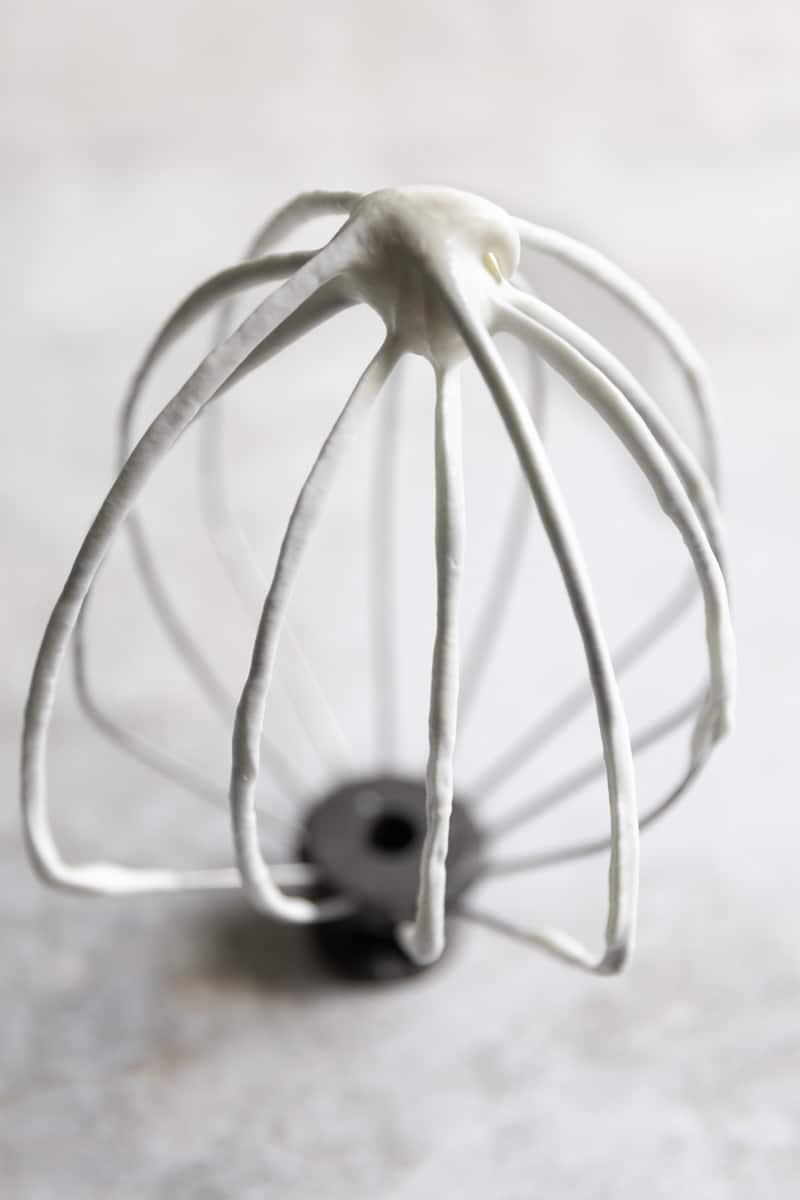 Yield
This whipped frosting makes about 2 1/2 cups of frosting and is enough to frost about 12 cupcakes. You can also fill and frost a 2 layer 8 inch cake.
Serving
The BEST thing about this whipped frosting is that it holds its shape extremely well! I left that cupcake out on the counter for 6 hours at room temperature and it didn't have any changes whatsoever to the shape!
I used a piping bag and a large star tip to easily frost the cupcake.
TIPS FOR RECIPE SUCCESS
Most importantly please know get to know your mixer. Some are faster than others and whip faster. I have a professional grade kitchen aid and if I whip heavy cream over 3 minutes long on high speed it completely curdles.
Some other people's mixers take longer and a lot of recipes say it takes 5 minutes to whip. If you are using a hand mixer it will take longer because it's not as strong.
Knowing what to look for instead of thinking about this recipe in minutes will work so much better for you!
Another great tip is to chill your mixing bowl and wire whip. This will help to whip the cream even faster. But like I just said watch it closely so it doesn't over whip and curdle. It's ok to stop the mixer and flip the whisk over to see where you are and then keep going!
How to fix over whipped whipped cream
If you accidentally over whip the cream or frosting you can save it. Pour a little more heavy cream (extra from the fridge) starting with 1 tbsp into the mixture and lightly mix until it comes together. Don't pour too much in because then it won't incorporate into it well.
STORAGE AND FREEZING
Storing: If you aren't using your whipped chocolate frosting immediately, keep it covered with plastic wrap or in an airtight container in the fridge for up to 3 days. If it hardens, set it at room temperature to soften it. Likewise, if it's too soft, return it to the fridge to firm back up.
Freezing: You can freeze stabilized chocolate whipped cream in an airtight freezer-safe container for 2-3 months. Let thaw in the fridge before using.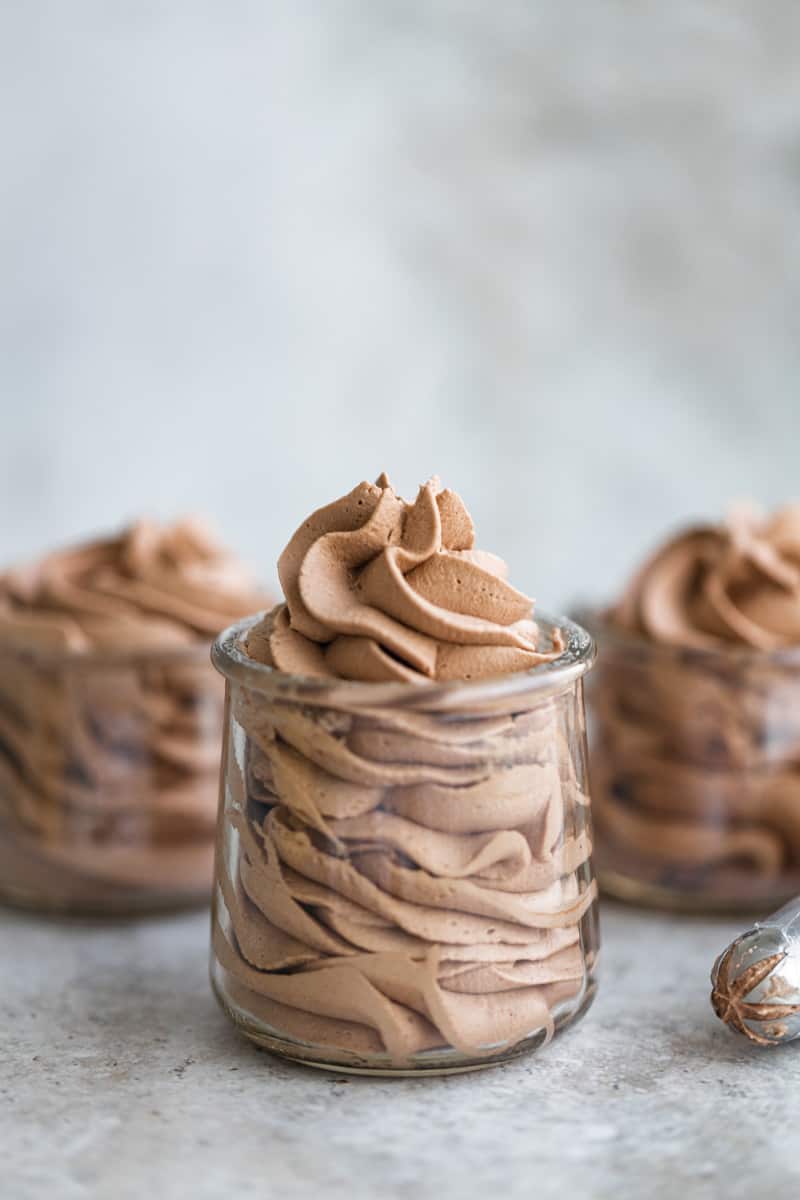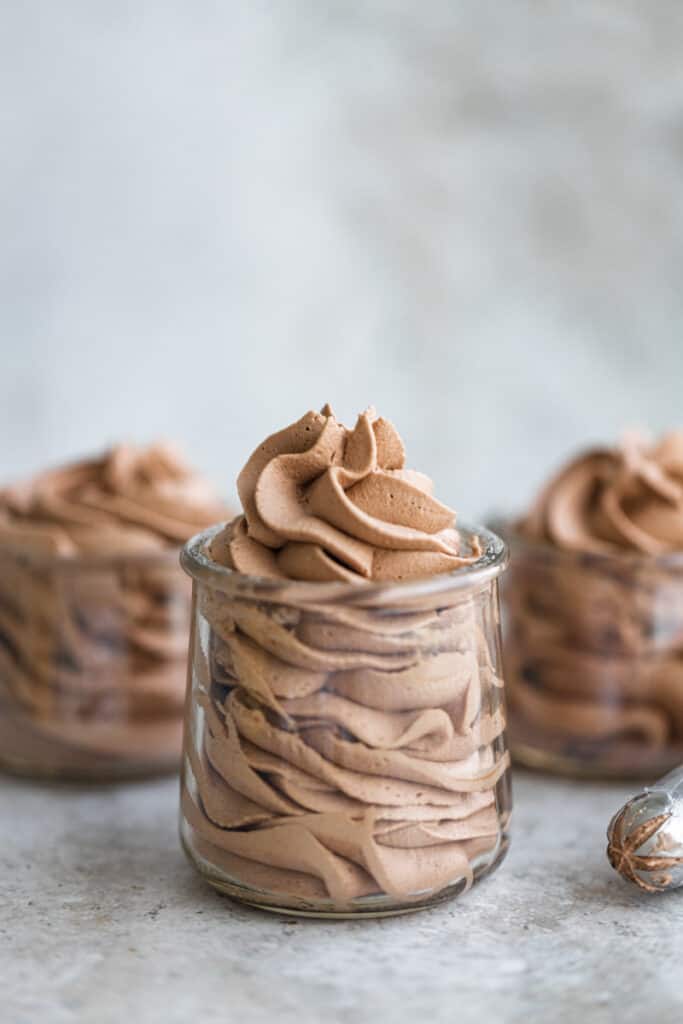 FAQ
How much chocolate whipped cream frosting does this recipe make?
This recipe makes enough to decorate 12 cupcakes, a two-layer 8″ round cake, or a 9″x13″ sheet cake.
What else can I add to stabilized chocolate whipped cream?
As is, this whipped cream frosting has a delightful milk chocolate flavor that you are welcome to enhance with other flavors. For example, add a splash of hazelnut, peppermint, or orange extract to create a premium chocolate frosting flavor!
Can I make chocolate whipped cream frosting with Cool Whip?
Making it homemade is SO much better, but in a pinch -yes, you can fold sifted cocoa powder into Cool Whip and use it for your chocolate frosting needs. Keep in mind it will NOT hold its shape as well as this recipe and will start to droop and melt.
WAYS TO ENJOY
This whipped chocolate frosting pairs perfectly with many delicious cake and cupcake recipes. It's delightful spread or piped on: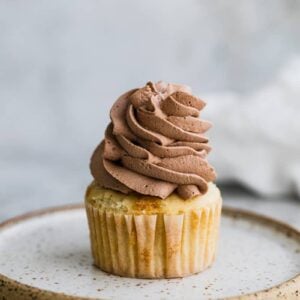 3 Ingredient Light Whipped Chocolate Frosting
If you're looking for a fuss-free chocolate frosting, this Whipped Chocolate Frosting takes 5 minutes to make with only 3 ingredients – heavy cream, sugar, and chocolate instant pudding mix! This crowd-pleasing chocolate frosting is light, fluffy, and downright delicious. It's perfect for cupcakes, cakes, cookie sandwiches, and enjoying straight from the spatula!
Print
Pin
Save
Saved!
Rate
Ingredients
1

pint

heavy cream

½

cup

powdered sugar

3.4

oz

chocolate pudding mix

(I use the jello cook n serve chocolate pudding mix)
Instructions
Add the heavy cream and powdered sugar to the bowl of a stand mixer fitted with the whip attachment.

Start on medium speed moving up to high for 2-3 minutes until you see soft peaks form. Add the chocolate pudding mix on top.

Mix again on medium high speed until stiff peaks form- about 45 seconds to 1 minute depending on the strength of your mixer.

Stop the mixer and fold lightly with a spatula, making sure to scrape the bottom of the bowl for any sugar or pudding mix clumps.

Use immediately or store in the fridge for 3 days.
Notes
The time it takes for your mixer to reach soft and stiff peaks will vary depending on the type of mixer and the strength of it. It's more important that you know what you are looking for versus the minutes it will take. Please look over the photos for what soft and stiff peaks look like for the best results!
Nutrition
Nutrition Facts
3 Ingredient Light Whipped Chocolate Frosting
Amount Per Serving (1 serving)
Calories 179
Calories from Fat 126
% Daily Value*
Fat 14g22%
Cholesterol 45mg15%
Sodium 237mg10%
Potassium 38mg1%
Carbohydrates 12g4%
Protein 1g2%
Vitamin A 580IU12%
Vitamin C 0.2mg0%
Calcium 26mg3%
Iron 0.04mg0%
* Percent Daily Values are based on a 2000 calorie diet.