I currently sit here writing this the night before Thanksgiving. Yes I know there a a lot of very well more organized bloggers out there and that I am late to the game but bear with me, Im new at this. This year 2017, I decided to give myself a break. My best friend and I are both in the same situation- our husbands are away/working for the morning of Thanksgiving, which means we are outnumbered by the littles. 4 kids on 2 adults plus having to be festive and cooking all day, while trying to keep our sanity in check = no bueno.
Solution- Skip the festiveness of it all and CHINESE TAKEOUT FTW.
Guys I love Chinese food so much. In fact someone just asked me this week, if I could have any meal at any moment what would it be? There was no stuttering or hmmm..? There was, CHINESE FOOD!!!
Ok but clearly this post isn't about Chinese food. This post is about a gloriously huge and delicious pumpkin pie recipe.
That best friend I spoke about up there? She works for Sharsheret which is a Jewish non profit breast cancer organization that helps to support women and their families who are living with the reality of breast and ovarian cancers. Every year around Thanksgiving there is a nationwide bake sale called Pies for Prevention where people make and donate all kinds of pies to sell in their communities. All proceeds go to helping women and their families with ovarian cancer. Over all the years they have raised more than $350,000!!
I signed up to make 2 apple and 2 pumpkin pies to donate. After going through my regular holiday orders I realized I had A LOT of pumpkin pie making that had to get done pronto. I only had a couple apple pies to make so I started with those. They were made with frozen store bought pie crusts (no judgements, thank you) and were filled with the apple filling from Sally's Baking Addiction's Apple Crumble Pie. I took a small leaf cookie cutter and made cut outs in the pie dough to give it a more festive and fun look.
For the pumpkin pies, I came up with this massive recipe that makes either 4 deep dish pies in graham cracker shells (we'll get to that in a second ) or 2 deep dish pies and about 30-35 mini pumpkin pie using the mini Keebler graham crusts. If you don't need such a huge recipe you can cut it in half and it will make 2 pies. One for now and one for later, perfect!
So yes, I use graham cracker crusts for my pumpkin pies. Its a little bit out of laziness (like 5%) but mostly because I prefer the taste of it with the pumpkin rather than a pie dough crust. I think the crunchy sweetness of the graham cracker really adds another level of flavor instead of a bland, maybe soggy pie dough.
So here it is people! Use it in its original form, cut it in half, make as many pies in varying sizes that you'd like, and be thankful that this pumpkin pie recipe is so easy and versatile.
Oh and yes, always always be thankful for Chinese food because its damn delicious.
HAPPY THANKSGIVING WHEREVER YOU ARE WHATEVER YOURE DOING!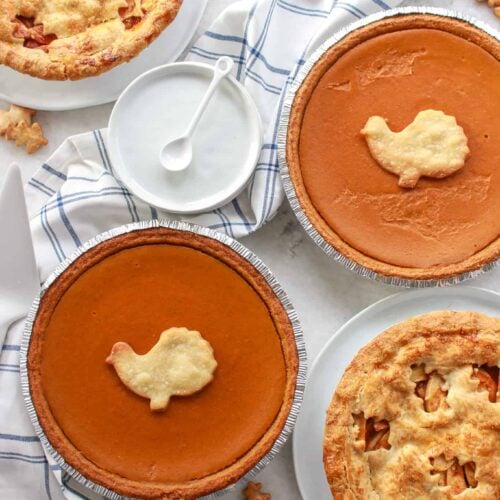 Big Batch O Pumpkin Pie
Make this huge batch of creamy pumpkin pie or cut it in half and enjoy it yourself!
Print
Pin
Save
Saved!
Rate
Servings:
4
pies or 2 pies and 30 minis
Ingredients
4

deep dish graham cracker crusts such as Keebler brand -or- 2 deep dish crusts and 30 mini graham cracker crusts

1

large egg for egg wash

2 29

oz.cans 100% pure pumpkin puree such as Libby's brand

2

cups

granulated sugar

1

cup

brown sugar

1 1/2

tablespoons

ground cinnamon

2

teaspoons

kosher salt

1/2

teaspoon

ground ginger

1

tablespoon

corn starch

8

large eggs

5

cups

rice or soy milk
Instructions
Preheat your oven to 375 degrees. In a small bowl, beat the egg and brush the insides of the graham cracker crusts with it. Bake for 5 minutes. Remove from oven and raise the temperature to 425 degrees.

In a large bowl combine the pumpkin puree, sugars, spices, and corn starch. Mix well. Add in the eggs, mixing again until thoroughly combined. Add in the milk slowly in stages making sure to mix well in between each addition. Pour the batter in the pie crusts and bake for 15 minutes, then without opening the oven, lower the oven temperature to 350 degrees and bake for 40 mins or until the center of the pie is only slightly jiggly. If its just the middle that has a little jiggle, take it out- it will set up when cooled. If there is an overall jiggle to the pie, leave it in the oven for another 5-10 minutes.

**These pies were decorated with pie dough cookies that was rolled, cut out with a cookie cutter, and baked on 350 degrees for 8 minutes.
SaveSave