Guys I'm 32.
I don't know what took me so long to find out that I love blood oranges because to be completely honest, I'm not so into regular oranges. They are on my D list of fruit that I like. But with the start of citrus season this year, I happen to have seen them in Trader Joes and was intrigued by their color (obsessed, actually) and so I bought a bag.
I 100% thought they would sit on my counter for weeks until I would actually want to try one, only to see that they are rotten and disgusting- as per usual. I am here today to tell you that I tried one on the actual night that I bought them and was hooked. By try, I mean I opened one and had only one piece because my daughter stole the rest of them. Also as per usual.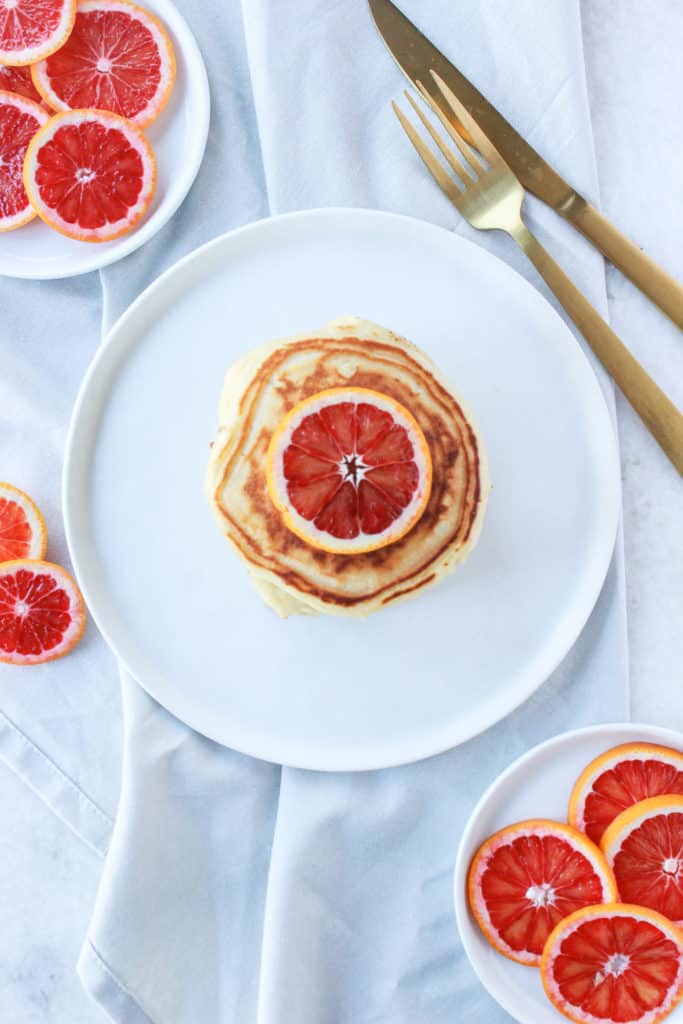 I then started seeing blood orange recipes EVERYWHERE. All over Instagram, all over Pinterest, its like when you hear a name for the first time ever but then the next 5 people you meet have that same name and you wonder how you went your whole life without hearing it because apparently everyone else has.
People were doing all sorts of interesting things, I saw pies, cakes, cutting boards with beautiful ombre citrus slices everywhere, even a couple of pictures of people's baths with cut up blood oranges slices in them- super pretty, totally wanted to do that, just didn't want to waste my oranges!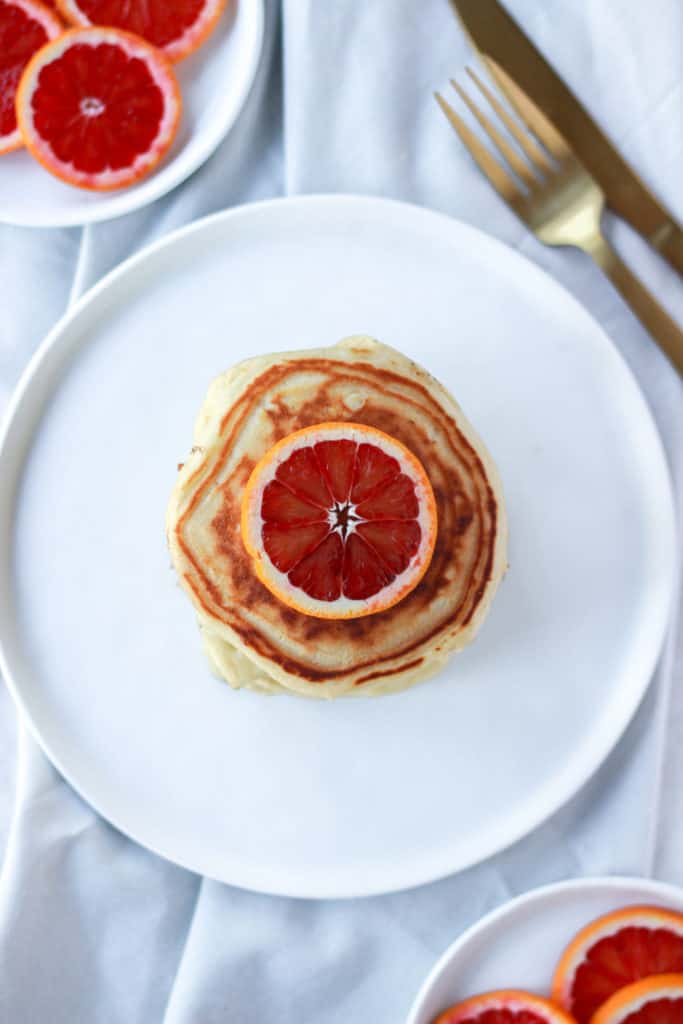 Anyways, one Sunday morning (after I had my coffee) my kids asked for pancakes, and instead of pulling them out of the freezer, I took my go to pancake recipe and changed it up to incorporate the oranges. The original recipe is from graceandgoodeats.com and you can find it here– it really is the best pancake recipe I've tried over the years. I did significantly change the recipe but in case you don't have a regular pancake recipe in your repertoire, that should be it.
Otherwise if you're looking for fluffy, easy, stackable, drool worthy pancakes with a hint of citrus, then these are the pancakes for you! They are done in 15 minutes and will be gone in way less than that because they are that good. You can also add in chocolate chips to the batter as you make the pancakes for that classic orange and chocolate combo that is simply divine. Either way, you can't go wrong with these!
If you wanna go the extra mile with your blood oranges, just squeeze a little juice into your maple syrup for an added citrus boost!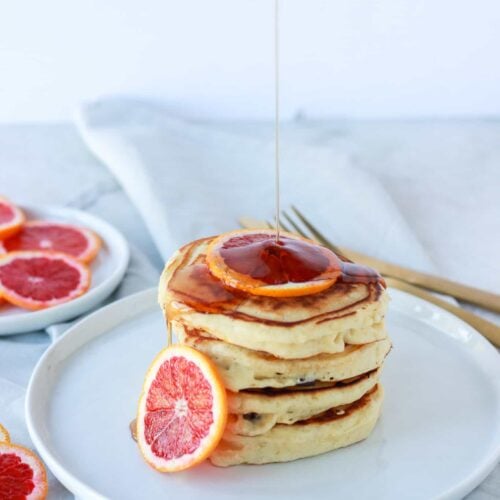 Blood Orange Pancakes
Take advantage of citrus season, and make these fluffy blood orange infused pancakes!
Print
Pin
Save
Saved!
Rate
Ingredients
1 ¾

cup

all purpose flour

1

tablespoon

baking powder

½

teaspoon

salt

¼

cup

sugar

Zest of 1 small blood orange

optional, but good to use for more flavor

1 ¼

lowfat 1% milk

2

teaspoons

juice from blood orange or regular orange juice

1

large egg

3

tablespoon

butter

melted

Chocolate chips

handful (optional)

Cooking spray such as Pam
Instructions
In a medium sized bowl, combine the flour, baking powder, salt, sugar, and zest. Set aside. In a large measuring cup, combine the milk, orange juice and egg and whisk to combine. Melt the butter in the microwave and add it to the milk mixture. Stir until combined. Make a well in the flour mixture and add in the milk mixture. Whisk until combined, and allow to rest for at least 10 minutes. Its ok if its a little lumpy. Preheat a griddle or large pan to medium heat and spray with Pam. Scoop ¼ cup of batter for each pancake onto the pan- the easiest way to do this is with an ice cream scooper. Allow to cook for 2-3 minutes, you'll know the pancake is ready to be flipped when you start to see bubbles bursting through the top. Flip and cook for 1-2 minutes more. If you want you can add chocolate chips to each pancake as soon as you scoop the batter onto the pan.