This chocolate ganache tart is vegan, takes 20 minutes to make, and can be decorated and topped with any kind of fruit you have left in your fridge! Super decadent and so easy!
So remember in my last blog post how I said that my daughter didn't have the flu? I remember writing that and shuddering at the thought of it.
JOKES ON ME BECAUSE SHE DID.
Poor kiddos high fever came back that afternoon with a vengeance, and lasted for 6 WHOLE DAYS. Let's just say that nothing that was supposed to get done that week did.
Except for this chocolate ganache tart!!!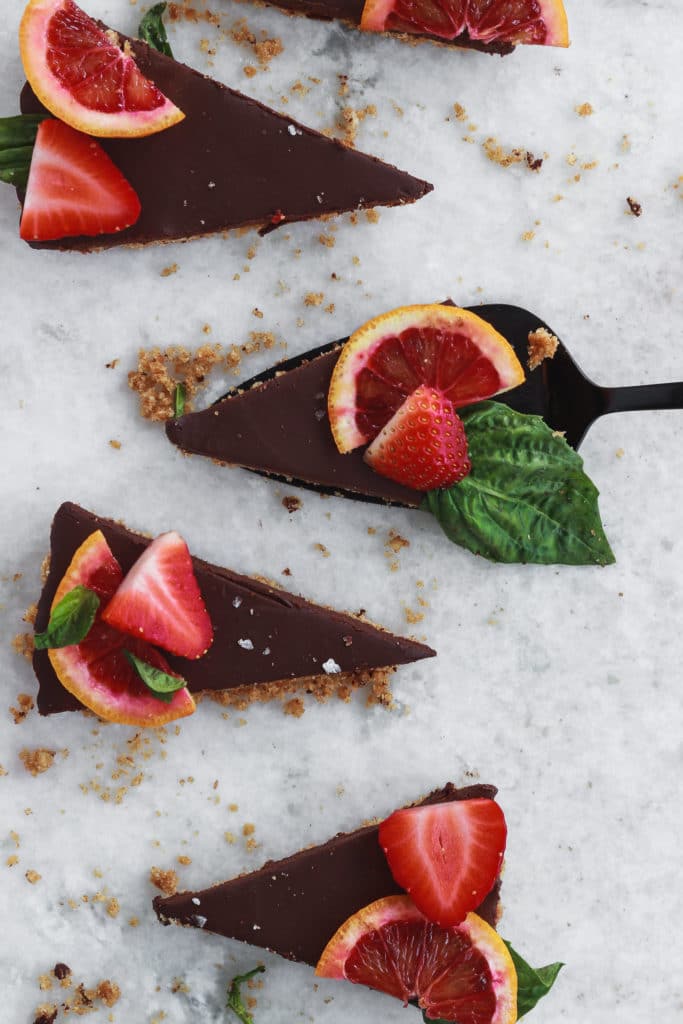 I had made this vegan chocolate ganache tart a couple weeks ago after a rough battle with a very calculated and very time consuming chocolate and raspberry mousse combination.
It was my husband's birthday and all he wanted was chocolate mousse. I had this grand idea of putting it together with a raspberry curd turned mousse and then piping it beautifully into a mini glass, (kinda like a mixed soft serve ice cream idea) but at the end of it, it kinda just looked like the poop emoji.
I was frustrated, and kinda felt like the mousse had got the best of me. So I cleaned up the massive mess that I made, cursing along the way- FYI I love to curse- and took a break from chocolate for a couple days.
The weekend was on its way and I had my in-laws coming over, and I just needed something simple and easy, but that was also impressive (goals for every recipe here) and so I came up with this chocolate tart.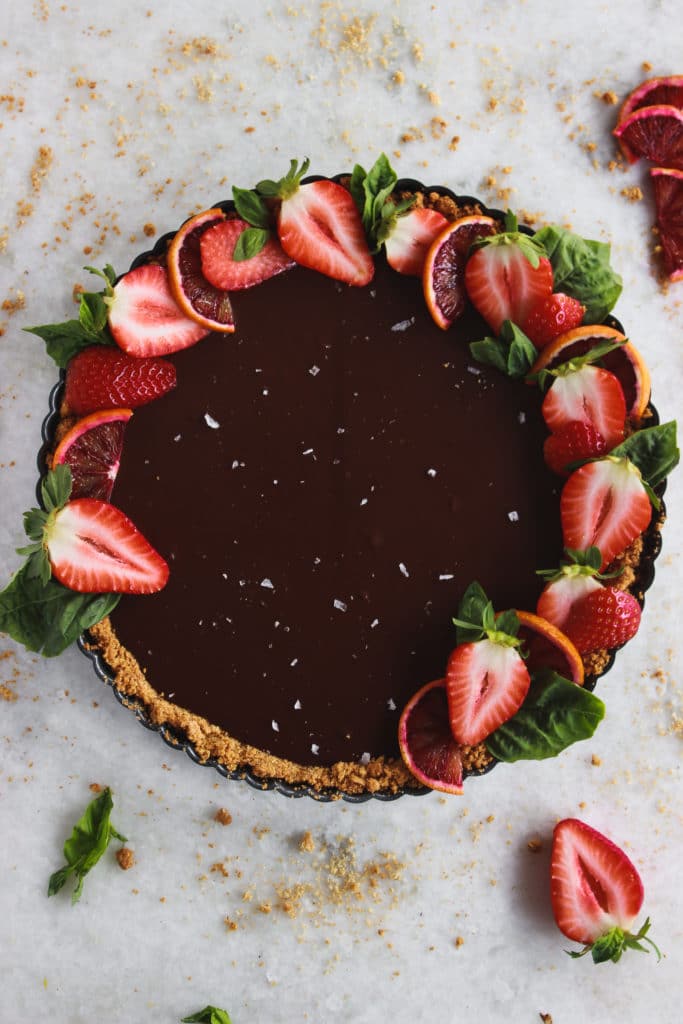 I decorated it this time with some blood oranges, strawberries, and basil leaves, plus added a sprinkling of Maldon, which is like the fanciest thing I have in my kitchen.
After it was done, came the oohs and ahhhs from the family which is alllwayysssss appreciated, but because I baked it for the hell of it, (and not a crazy, un-fun chocolate mousse recipe that made me doubt every single chef capability that I have) I did not write down the recipe.
So the reason I'm telling you all this is because I want to reiterate how easy this tart is because I retested it and wrote down all the measurements while I had a flu ridden 2 year old clinging to me at home.
It was probably the only productive thing I had done all week, but its something!
Making this tart is so quick. I have made it so many times and most of the time it takes less than 20 minutes. It's rich and decadent but because its made with coconut cream its lighter than a ganache made with heavy cream.
The hardest part of making this chocolate tart is waiting for the ganache to set so you can dig your face into it.
Let me walk you through how easy this is:
How to make a chocolate ganache tart:
You can either use pre crushed graham cracker crumbs or you can smash your own. Theres no better stress relief that smacking those crackers with a rolling pin, but the ready made crumbs definitely make this faster. Check the ingredient list first because if you need this to be vegan, the pre crushed crumbs almost always have a dairy component to it.
Mash up the crumbs with a little sugar and vegan butter, I like Earth Balance but any vegan butter substitute will do. Yes you can also use regular butter if you don't need it to be dairy free.
Press the crumbs into a tart shell and bake for 8-10 minutes. Meanwhile, pour the chocolate chips into a heat safe bowl and heat the coconut cream in the microwave. Pour the hot cream over the chocolate and let it sit for a minute or two.
Don't stir right away- let the cream melt the chocolate chips and seep into all the crevices and then mix until smooth. If its not completely smooth you can microwave it for 20 seconds at a time and it should smooth out.
Let the tart cool for 5 mins then pour the chocolate into the tart pan and let it sit until it hardens, about 20 more mins. You can put it in the fridge to hurry up the process. Then top with fruit!
How to decorate this chocolate tart:
So many fun ways! Here are some suggestions:
chopped nuts
pretzels (for the extra salt ooh)
raspberres
blueberries
strawberries
mint
edible flowers
kiwi
pomegranate seeds
If your'e a chocolate lover like me, you can also top this with little pieces of this easy chocolate fudge recipe!
Can you make this tart ahead of time?
That's a big fat YES. I almost always make it the day before but you can make it up to 3 days before. I wouldn't put the nuts or sliced fruit on till serving though.
How long will the chocolate tart last?
Keep it in the fridge for up to 5 days!
A note on the fruit though- if you have sliced fruit on it I would suggest taking it off while storing the leftovers.
If you're thinking about making this recipe but don't have a tart pan- this is the one I use.
It's 11 inches, but you can definitely use a smaller 9″ one if you have it. Just adjust your baking time when baking the crust and check on it after 8 minutes. You can also make this into minis for individual chocolate tarts, because then you don't have to share!
Easy and Quick Chocolate Ganache Tart
This chocolate ganache tart is easy to make and can be made in 20 minutes! It can be made diary free too.
Print
Pin
Save
Saved!
Rate
Ingredients
9

graham crackers/1 package

crushed⅓ cup earth balance or other butter substitute, melted2 tablespoons granulated sugar2.5 cups of semi or bittersweet chocolate chips (you will need to buy 2 10oz bags)8 oz full fat coconut creamer (in the carton) or cream (in the can) such as Trader Joe's brandBerries and fruit to garnish
Instructions
Preheat your oven to 375° F. Place the graham crackers in a Ziploc bag and make sure its closed securely. Smash the crackers with a rolling pin until you have very small crumbs, almost sand like.Melt the earth balance or margarine in a microwave safe medium sized bowl. Add in the crushed graham crackers and the sugar. Stir to combine evenly.Spray your 11" tart pan with baking spray and press the graham cracker mixture into the tart pan. You can use the bottom of a measuring cup to help press it down hard and evenly.Bake for 8-10 mins or until the edges are lightly brown. Meanwhile place the chocolate chips in a medium size bowl.In another microwave safe bowl, place the creamer and microwave for 1 minute and then again for another minute, giving a quick stir in between.Pour the hot creamer over the chocolate chips and DO NOT STIR YET. Let it sit for a few minutes before stirring to allow the heat to melt the chocolate. After 2-3 minutes, stir the ganache with a spatula (not a whisk) and make sure all the chocolate has melted. If the chocolate is still a little lumpy you can put it in the microwave for another 20 seconds and it will be all melted then. Allow the ganache to sit and thicken, while the graham cracker crust cools.After about 10 minutes when the ganache has thickened, pour it into the graham cracker crust and place it in the fridge to thicken some more. After 20 mins you can then garnish with sliced fruit and sea salt. Keep in fridge for up to 5 days!
Notes
This can be made in a 9″ tart pan- adjust crust baking time to 8 minutes
This can be made into mini individual tart pans, adjust crust baking time to 4-5 minutes. 
Do not suggest freezing.
Nutrition
Nutrition Facts
Easy and Quick Chocolate Ganache Tart
Amount Per Serving (1 g)
Calories 167
Calories from Fat 108
% Daily Value*
Fat 12g18%
Carbohydrates 14g5%
Protein 2g4%
* Percent Daily Values are based on a 2000 calorie diet.
SaveSave
SaveSave
SaveSave