This flourless chocolate cake recipe has only 5 ingredients! Even without the flour it is still fluffy, spongey, and delicious- it's almost like magic.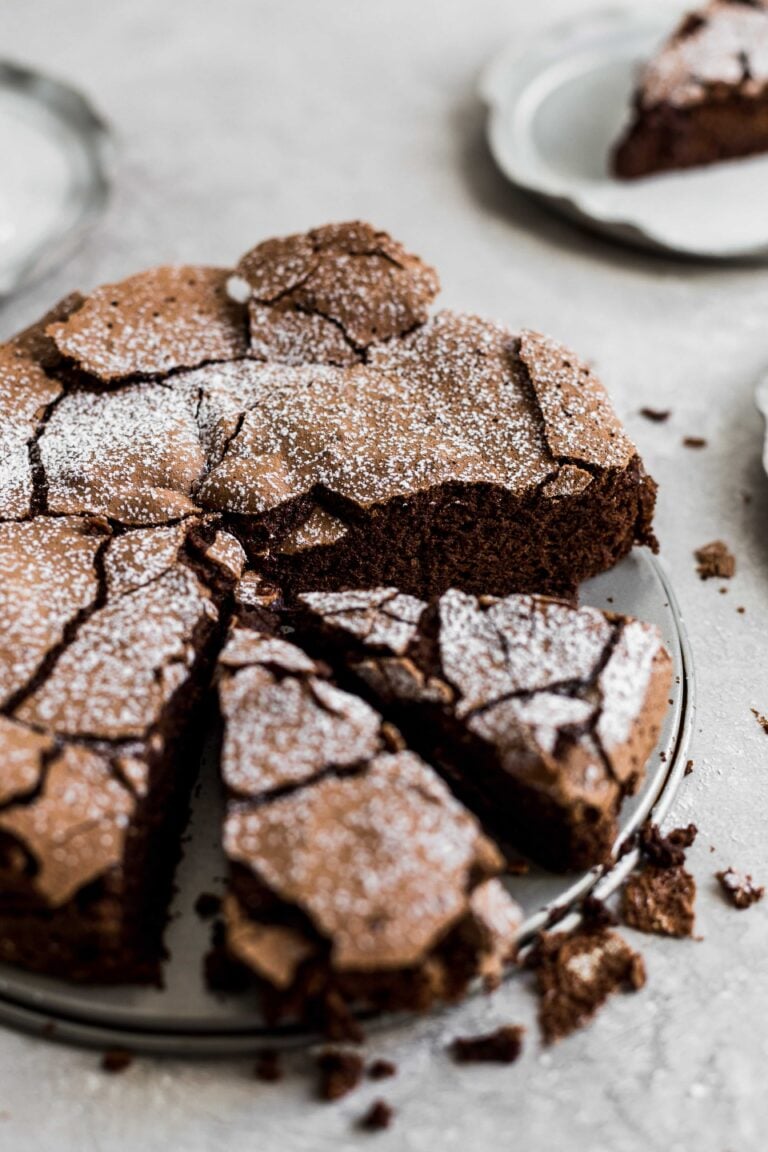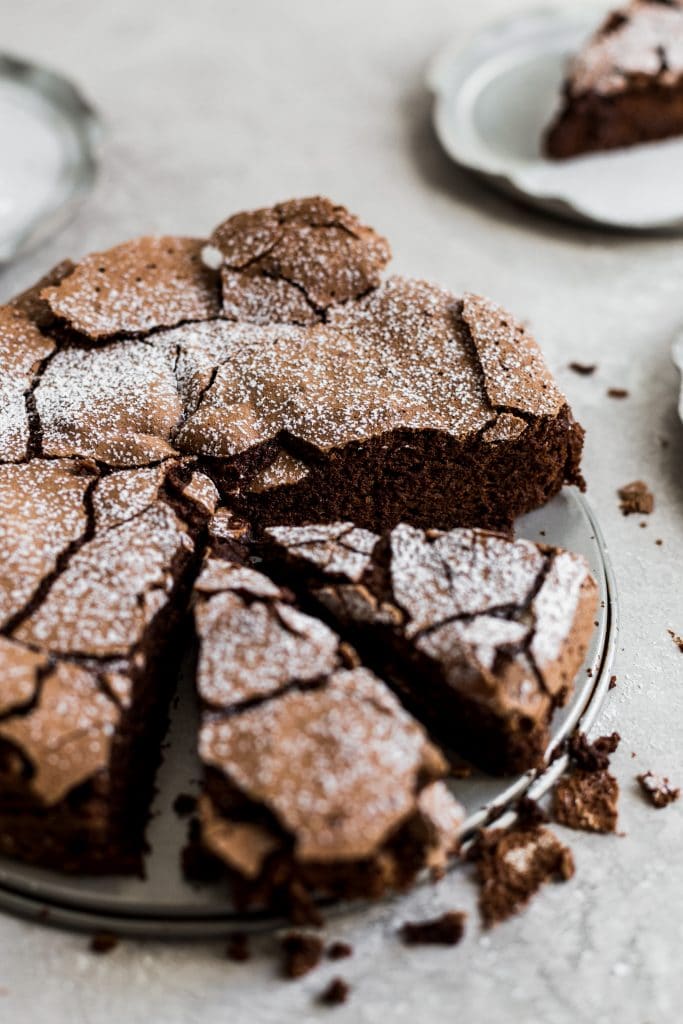 Perfect for passover or if you need a gluten free chocolate cake, this is the cake recipe you want. This cake is not keto-friendly though because of the sugar, but it is lower in carbs than your standard chocolate cake.
Flourless Chocolate Cake
You may have your doubts about how good this cake is- I mean cake without flour? Blasphemy.
But once you make this cake, I BET you will change your mind. The first time I made it I had my doubts too. Then my husband came home, took one bite and was like "wow this is really good".
Wait what's that? AN UNSOLICITED COMPLIMENT? That's how you know this cake is good.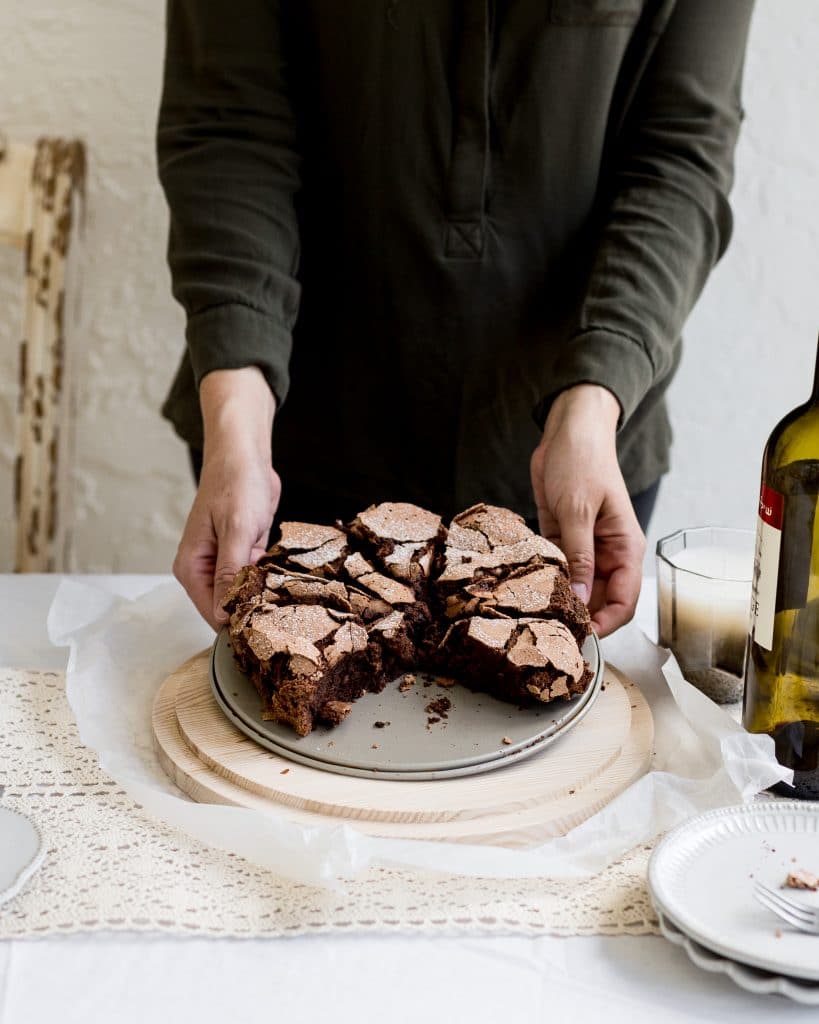 When you dig into this cake, expect a light, fluffy, and spongey cake. This is not dense at all!
All you need for this flourless chocolate cake is 5 simple ingredients you probably already have in your pantry:
butter
semi sweet chocolate
instant coffee
sugar
eggs
This cake can also be made dairy free using margarine and dairy free chocolate. It is also kosher for passover!
Type of chocolate
I use 8 ounces of semi sweet chocolate in this recipe. You can either use a baking bar or chocolate chips.
The best way to measure out the chocolate is if you have a kitchen scale. If you don't, the amount you need is about 1 1/3rd cups of chopped chocolate or chocolate chips.
How to make
First prep your pan:
This cake is made in a 9″ springform pan. Line it with parchment paper or spray with baking spray. If you don't have a springform pan don't worry! You can make this in a 8″ or 9″ round cake pan or even a disposable cake tin! I do prefer to line it with parchment for any tin you use, it makes the clean up a breeze!
Next, melt the butter and the chocolate in a microwave safe bowl in the microwave, 30 seconds at a time. Make sure the bowl you are using is completely dry before you add the chocolate to it, otherwise the chocolate may seize up!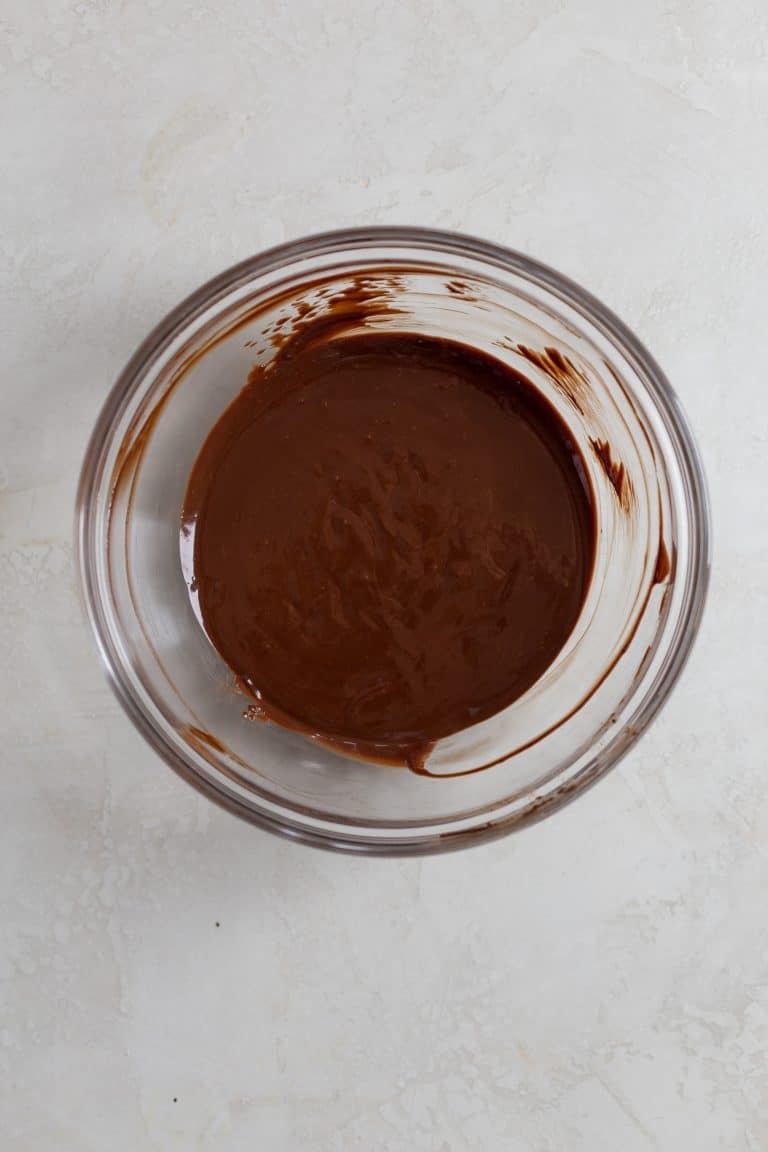 I use a pyrex 8″ bowl for this step. The reason I specify the size is because you will be adding in the whipped egg whites into this bowl and I have noticed that my whites tend to deflate less when I use a smaller size bowl rather than a larger one.
It might seem like the bowl is too small but it's not!
Let the chocolate cool for 5 minutes.
Next separate the egg yolks from the eggs whites.
Make sure you do this carefully because if you get even the tiniest amount of yolk in your whites, it will not whip into those beautiful peaks you need.
Let me repeat- even the tiniest amount of fat in the whites will stop the whites from whipping. So make sure that your mixing bowl is also clean from any other uses!
Prepare one tablespoon of brewed instant coffee and add it to the chocolate along with the egg yolks. Whisk to combine.
Whipping the whites
Next whip the whites in a stand or hand mixer with the whisk attachment on high speed. Slowly add in the sugar around the edges of the bowl.
Don't dump all the sugar in at once, it will be too heavy for the whites to whip up all that sugar at one time.
Whip until you see stiff peaks. It should take amount 1-2 minutes and should look like this: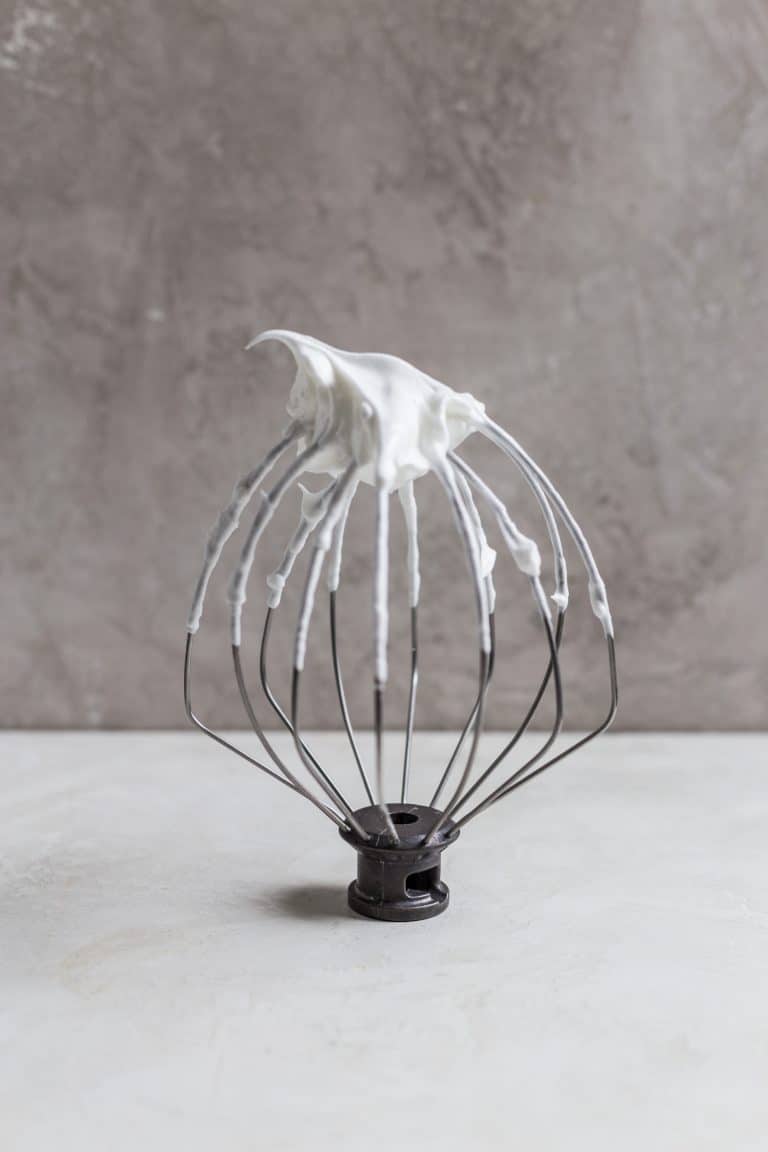 Time to fold in those egg whites!
How to fold egg whites
Always fold egg whites into the rest of your batter no matter what you are baking. Never the other way around or they will deflate.
The whole point of whipping egg whites is to create lightness and lift in your cakes. This is what takes the place of the flour. If they deflate the cake wont rise as high.
Using a spatula, take some egg whites and dump it on top of the chocolate mixture. Lightly dip the spatula into the middle of the batter and then go around the bowl folding and turning the spatula as you go. Not stirring.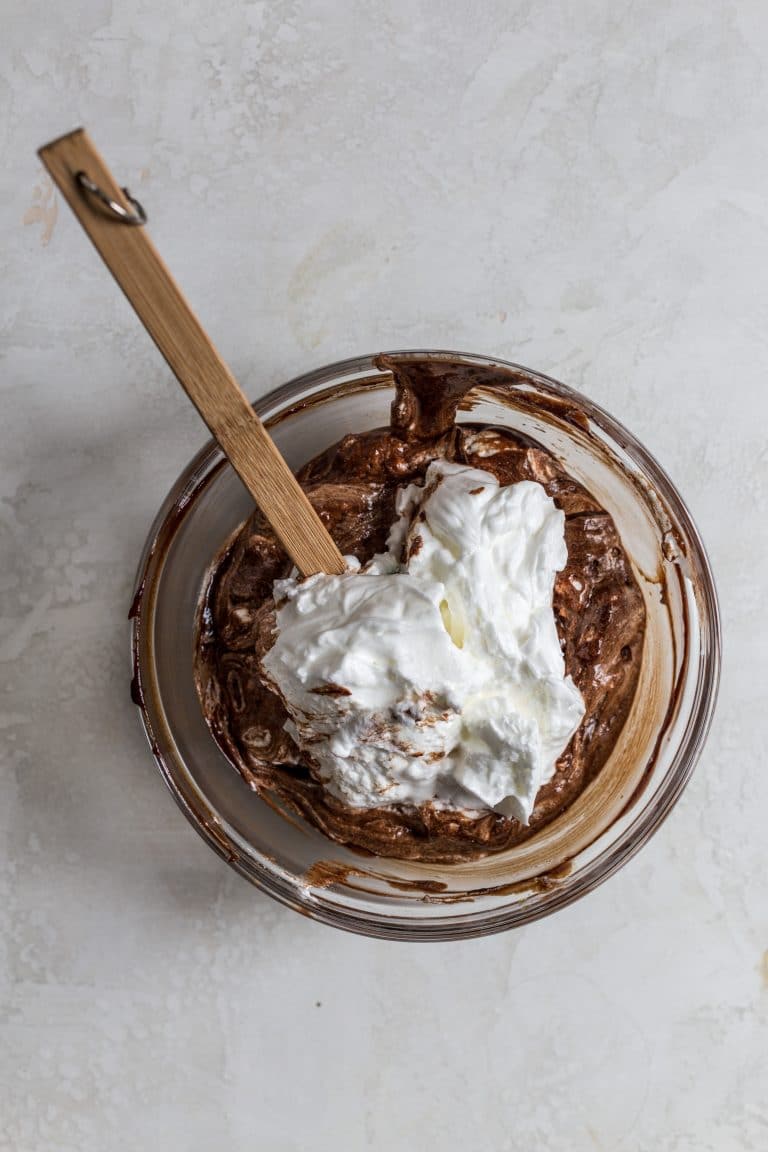 Keep doing the same motion- starting from the middle, bringing the spatula toward you. Then folding to the outer edges of the bowl until most of the white streaks are gone.
Watch me make this cake on IGTV and you can see the folding in action!
Continue this process until all the whites are folded in. The batter should be uniform in color and thick.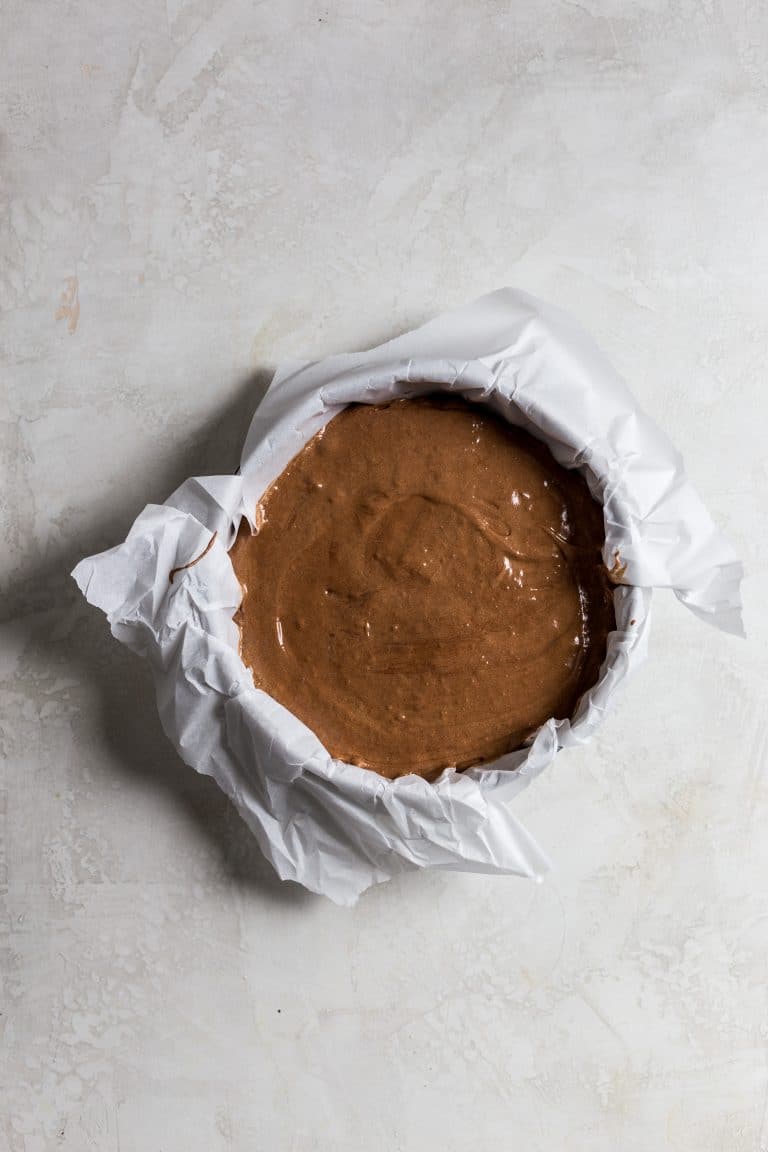 How to bake
To bake, pour the batter into the pan and bake on 300° F for 50-55 mins.
The top may or may not be cracked. The cake is done when the edges start to pull a little from the sides and the middle is no longer jiggly.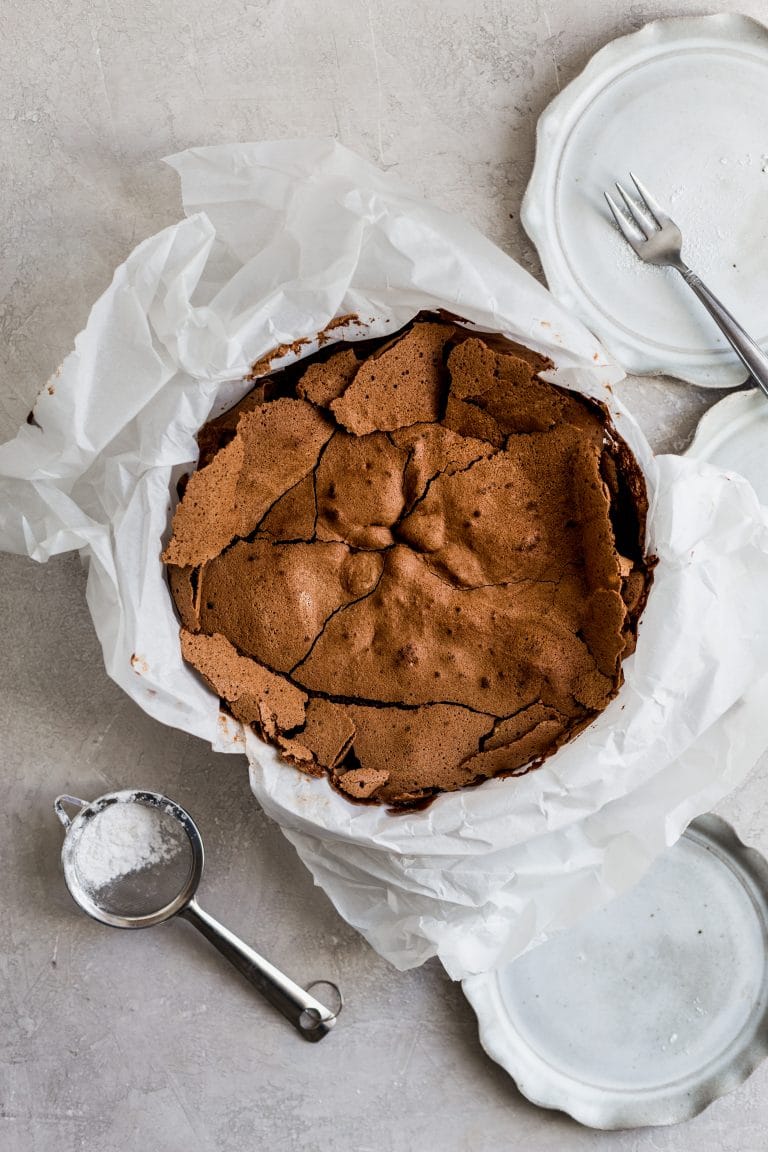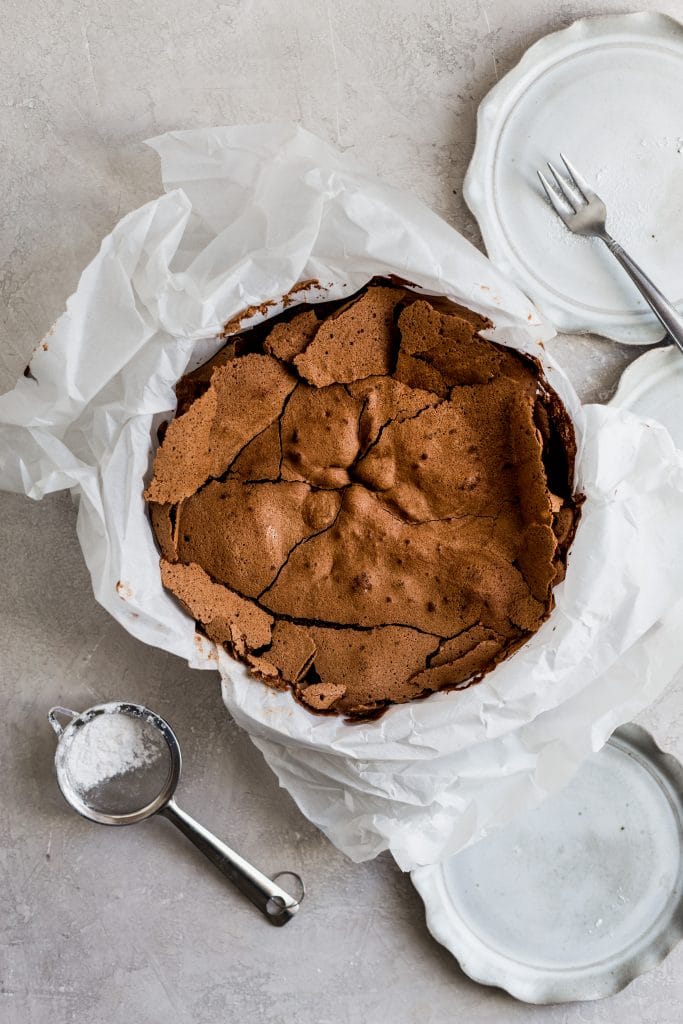 Once you take it out of the oven it will start to deflate which will create beautiful rustic cracks.
How to serve:
Serve this cake with a dusting of powdered sugar. Use a small sifter to sift the sugar all over the top of the cake.
You can either serve it in the pan with the parchment paper, or lift it out carefully and serve on a cake plate.
How to store this cake:
Ok I originally thought this cake was best eaten on the day of but having made it a few times now I realized I was wrong! The flavor of this cake keeps getting better day after day.
To store this cake, cover it lightly with plastic wrap and leave it on your countertop.
Disclaimer- If you cover it completely (like in a cake dome) then the crunchy meringue tops (totes my favorite part) will melt into the cake. To keep the crunchy top, make sure you leave a little spot open when you cover it in plastic wrap that lets a little bit of air in.
Don't worry about the cake drying out. Because there is no flour it won't get stale! Also just so you know, this does not need to be refrigerated and I don't recommend freezing it.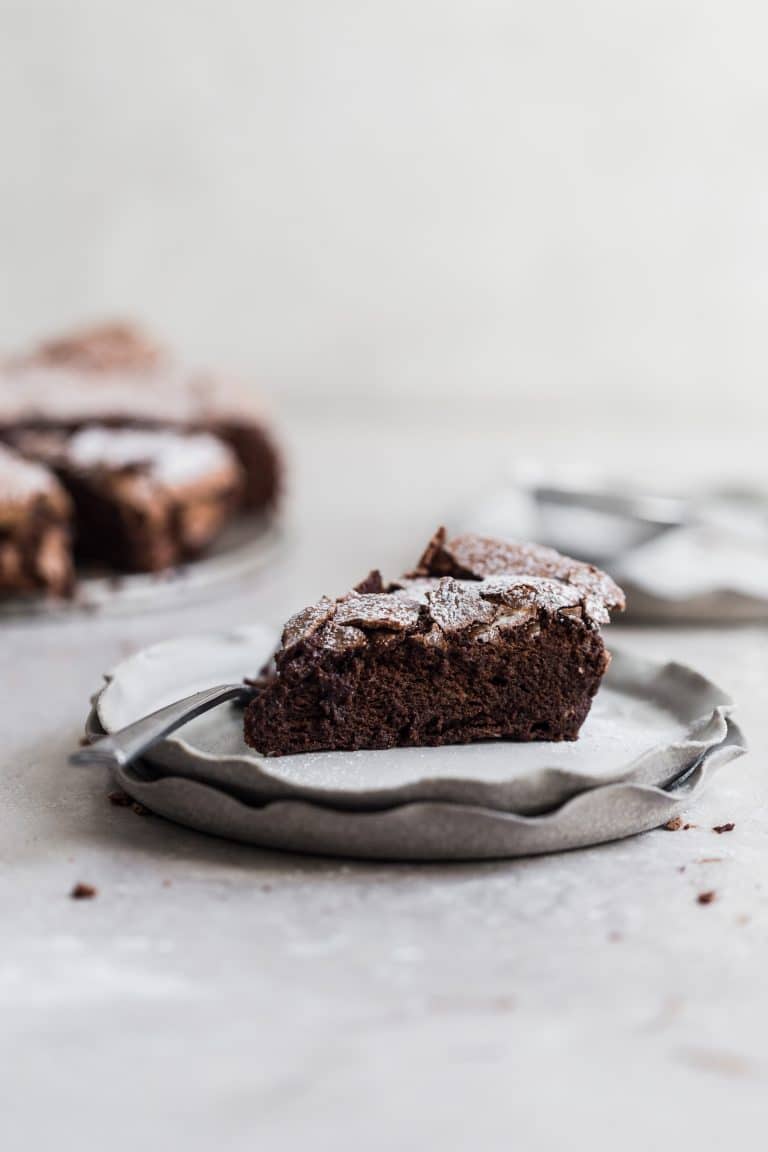 Some tips on separating eggs:
You will need 3 bowls. 1 is your mixing bowl and 2 are small bowls.
Crack the egg, and pour it into your hand. Let the white drip from your fingers into one small bowl. Place the yolk into the other small bowl.
Pour the white into the mixing bowl and then repeat the process one at a time. Pour the egg white into the mixing bowl only after ensuring that no small yolk parts got mixed in.
This ensures that if you get a small amount of yolk into one of your whites, you wont ruin the rest of the egg whites you already cracked!
You can also crack the egg and separate the yolk from the white by pouring it back and forth between the cracked egg shells but this give you more of a chance of piercing the yolk and it running loose.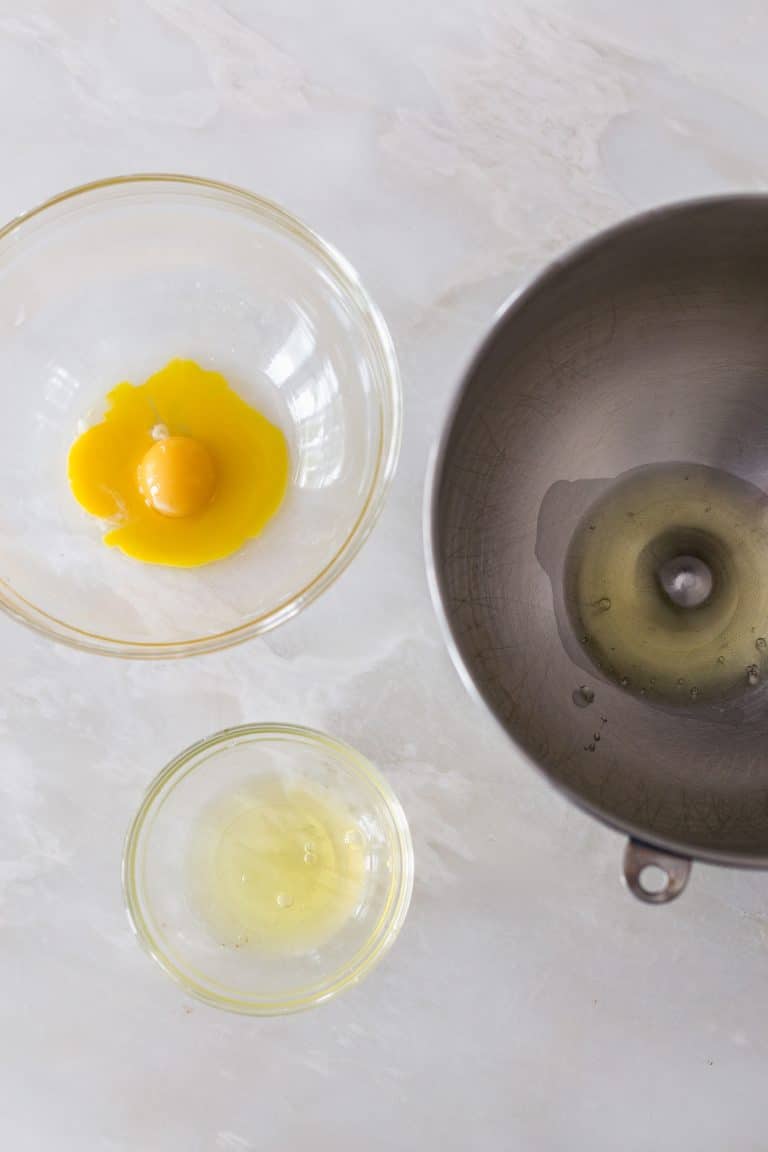 Need more gluten free recipes?
This post contains affiliate links which means that if you purchase something from these links, I make a small commission at no extra cost to you- this helps support my blog! Thank you!!!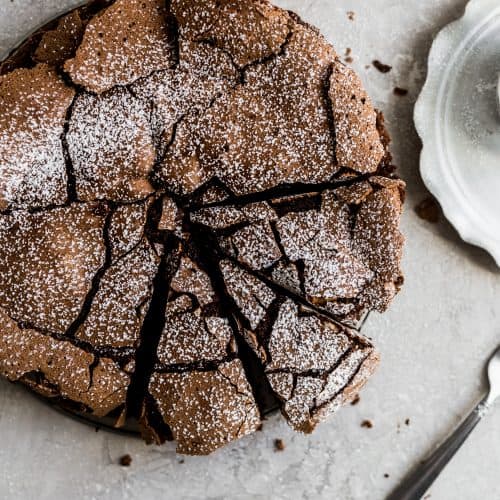 Flourless Chocolate Cake
This flourless chocolate cake has 5 simple pantry ingredients, is gluten free and kosher for Passover.
Print
Pin
Rate
Ingredients
1/2

cup

unsalted butter

or margarine

8

oz

semi sweet chocolate or chocolate chips

About 1 1/3rd cups

1

tbsp

brewed instant coffee

6

large

eggs

separated

1/2

cup

granulated sugar
Instructions
Preheat the oven to 300° F and line a 9" springform pan with parchment paper.

Melt the chocolate and butter together in a microwave safe bowl- preferably an 8'' bowl- for 30 seconds at a time, mixing in between until the chocolate is completely melted. Cool. Prepare the tablespoon of instant coffee with hot water. Pour it into the chocolate and mix.

Separate the eggs by adding the whites into the mixing bowl of a stand or hand mixer, and the yolks into the chocolate mixture. Mix the chocolate mixture with a spatula until combined.

Using the whisk attachment whip the egg whites on high speed, pouring in the sugar slowly while whipping. Continue whipping until stiff peaks form. You know the whites are ready when you take the beater out, flip it upside down and the tip of the egg white can hold itself up.

Fold 1/3rd of the egg whites into the chocolate mixture at a time making sure not to deflate them. Fold until there are no white streaks left then continue.

Pour the batter into the springform pan and bake for 50-55 minutes until little cracks start to form on the top and the cake is no longer jiggly in the middle.

Cool and dust with confectioners sugar. Leave uncovered until serving.
Notes
You can use baking chocolate or chocolate chips You can use a regular cake or tin pan if you don't have a springform pan The cracks may melt into the cake if you cover it completely. It wont get stale because there is no flour. To make the brewed coffee use 1/2 teaspoon of instant coffee and top it with 1 tablespoon hot or boiling water. I usually just eyeball this!
Nutrition
Nutrition Facts
Flourless Chocolate Cake
Amount Per Serving (1 Slice)
Calories 238
Calories from Fat 153
% Daily Value*
Fat 17g26%
Cholesterol 126mg42%
Sodium 45mg2%
Potassium 109mg3%
Carbohydrates 20g7%
Protein 4g8%
Vitamin A 389IU8%
Calcium 23mg2%
Iron 1mg6%
* Percent Daily Values are based on a 2000 calorie diet.