Finally! A Dairy-Free Buttercream Frosting recipe for all of your vegan dessert decorating needs! This light and fluffy vegan buttercream is made from scratch with just four ingredients in less than 5 minutes. It pipes like a dream, perfect for frosting vegan cakes, cupcakes, cookies, brownies and more!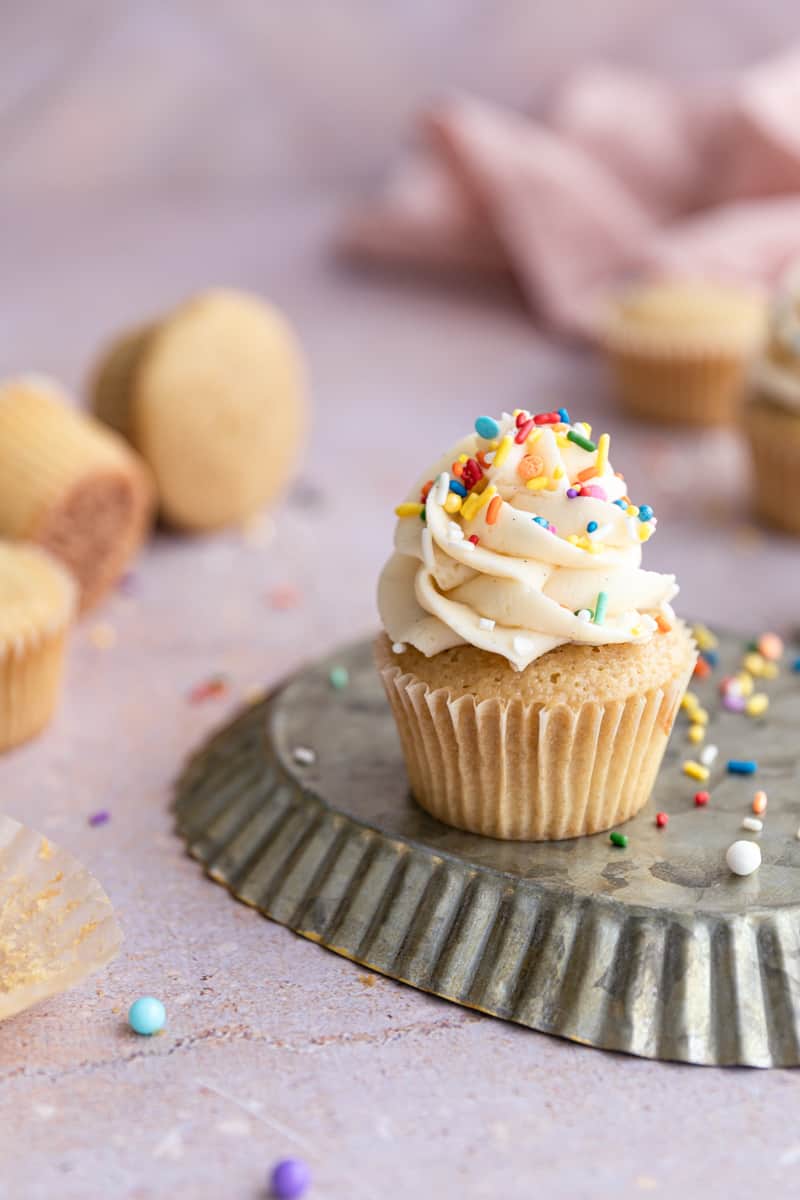 Buttercream is made by creaming butter, confectioners' sugar, milk, and flavorings into a sweet and silky frosting. Usually it's made with dairy ingredients but with the amazing vegan butter and milk options we have, it's relatively easy to make a dairy free frosting.
For this vegan buttercream, butter and milk are swapped with plant butter and your choice of creamy non-dairy milk to create the perfect texture. Apart from those substitutions, this crowd-pleasing frosting is made precisely like classic buttercream.
As a pastry chef, I've created dozens of homemade frosting recipes, so I can confidently say that this dairy-free buttercream tastes exactly like the real deal! It's delicious on top of my dairy free cupcakes!
This recipe is a dairy free vanilla frosting which makes it easy to turn into other flavors like caramel frosting, coffee buttercream frosting, or even a mint frosting!
WHY YOU SHOULD MAKE THIS RECIPE
You only need four ingredients and 5 minutes of your time.
This frosting pipes really well!
You can easily color this frosting using food coloring to make any colored frosting you want.
INGREDIENTS NEEDED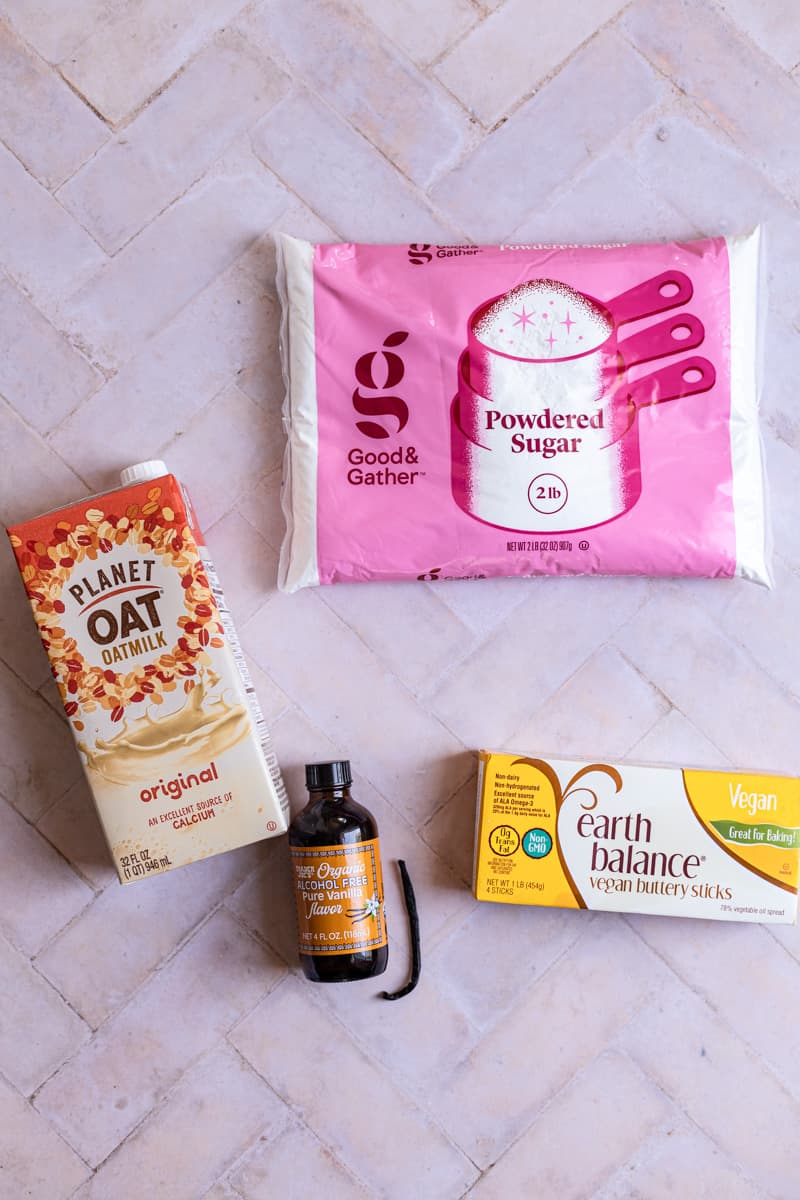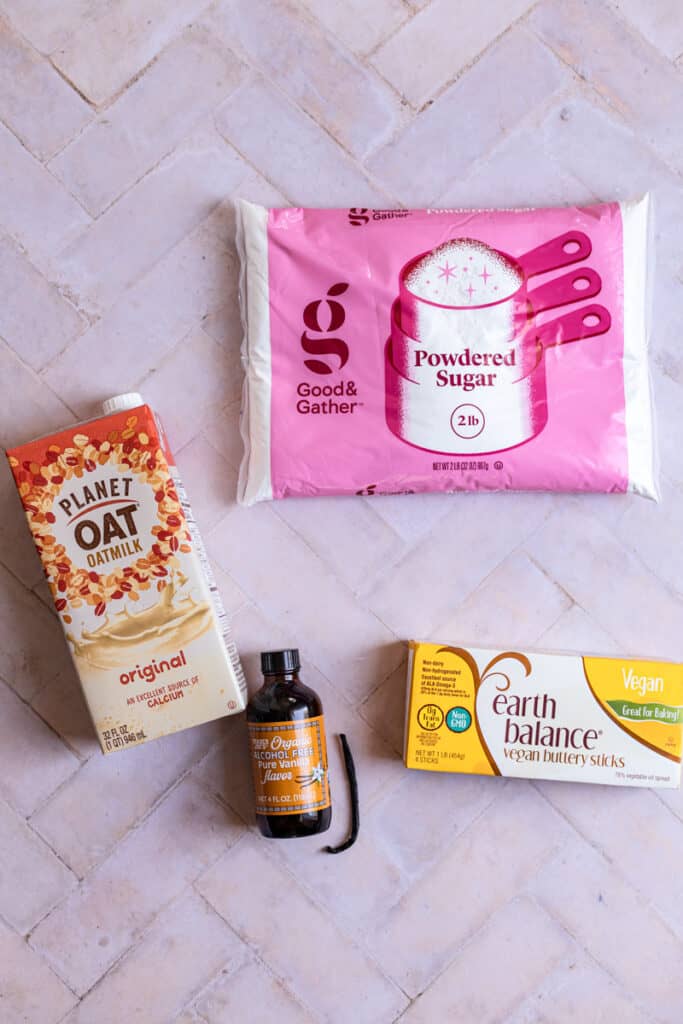 Vegan butter – I love using Earth Balance Buttery Spread in dairy-free buttercream and my vegan baked goods. Country Crock, Califia Farms, and Miyoko's also make spreadable plant butter that mimics the flavor and texture of regular butter.
Confectioners' sugar – AKA powdered sugar is regular sugar pulverized into a very fine powder. It contains cornstarch which helps turn vegan butter into a fluffy vegan frosting.
Vanilla extract – A good quality vanilla extract elevates the sweet, cream-like flavors.
Dairy-free milk – This is the creamy element. I like using unsweetened oat milk because its super creamy but you can use any kind of plant based milk like soy, almond, or rice milk.
Best dairy free butter and milk to use
Dairy Free butter- Personally I love using the Earth Balance baking sticks. You can also buy the tub of Earth balance but its harder to measure out and I find that it melts quicker than the sticks. You can get them at any grocery store.
Dairy free milk– I don't love drinking oat milk but I LOVE using it in baking recipes because it has a creamier consistency than soy or rice milk. Any brand of oat milk would be great!
HOW TO MAKE DAIRY FREE BUTTERCREAM FROSTING
Cream butter: Add the vegan butter to the bowl of your stand mixer fitted with the paddle attachment, and mix on low-medium speed for 30 seconds. Stop the mixer.
Mix in sugar: Add the powdered sugar, and set the dial on your mixer to the slowest speed setting (or else the powdered sugar will puff up all over you and your kitchen). Increase to high speed once the powdered sugar is better incorporated, and continue mixing for 2 minutes. Stop the mixer.
Mix in vanilla and milk: Add the vanilla extract and vegan milk and continue mixing on high speed for 1 minute, and that's it! You can use it immediately to frost cupcakes or a cake or store it in the fridge until you're ready to use it.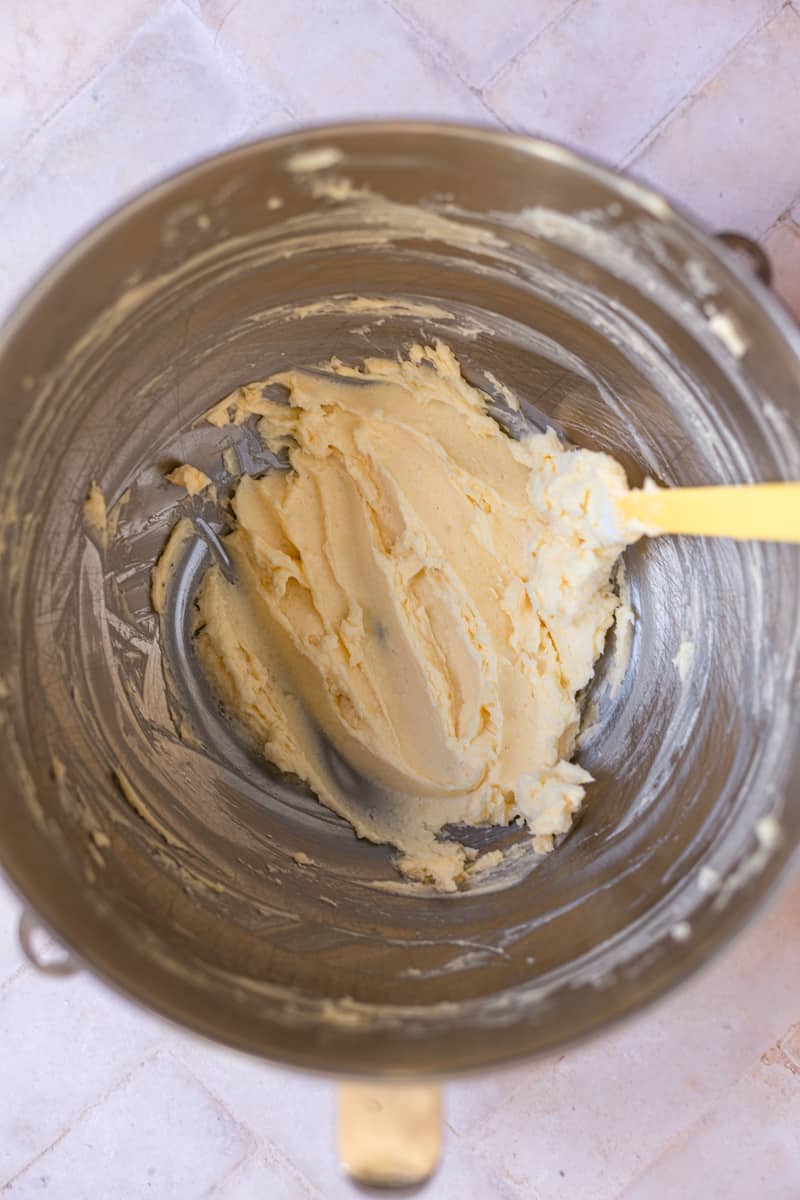 TIPS FOR RECIPE SUCCESS
Vegan butter melts quicker than dairy butter so you only need to leave it out to soften for about 20-30 minutes.
If the frosting is too thick, mix in one tablespoon of dairy-free milk at a time until it's soft and silky.
Be sure the dessert you're frosting is cooled completely to room temperature. Otherwise, the frosting will melt and slide right off.
Decorating tips
This dairy free icing pipes well onto both cupcakes and cakes and will hold its shape for a while at room temperature but will soften a bit if left out for a long time (3 hours+).
It will crust like a regular dairy frosting will and does not need to be refrigerated once it is frosted on a cake.
Again it will be softer than a dairy frosting but it wont melt off the cake or anything!
STORAGE AND FREEZING
Storing: Use immediately or refrigerate it in an airtight container for up to 1 week. The frosting may separate a little bit because it is made from oil. To bring it back together, whip it in the mixer for 30 seconds on medium-high speed.
Freezing: To extend the shelf-life, you can store it in the freezer for up to 1 month. Thaw it in the fridge overnight before using it, and re-whip it if necessary.
FAQ
How much frosting does this recipe make?
This makes enough buttercream to frost 12-15 cupcakes or fill and frost two 9″ round cakes.
How do you stiffen vegan frosting?
To thicken the icing mix in 2 tablespoons of powdered sugar at a time until the density is silky smooth.
Why is my dairy-free frosting grainy?
Unsifted confectioners' sugar can result in frosting with a gritty mouth feel. Mix in more milk to smooth out the grainy texture to fix it. Next time, for the smoothest buttercream, the vegan butter must be soft (not melted), the sugar can be sifted, and they must be whipped for a few minutes (patience is key!).
WAYS TO ENJOY
Pair this heavenly dairy-free vanilla buttercream with all your favorite vegan sweet treats.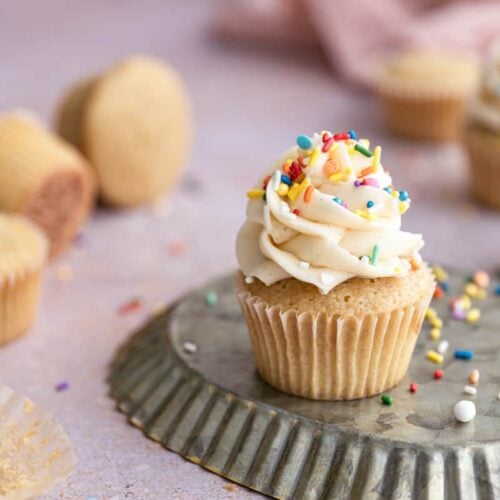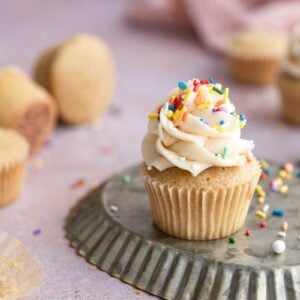 5 Minute Dairy Free Buttercream Frosting
This Dairy-Free Buttercream Frosting recipe is for all of your vegan dessert decorating needs! This light and fluffy vegan buttercream is made from scratch with just four ingredients in less than 5 minutes. It pipes like a dream, perfect for frosting vegan cakes, cupcakes, cookies, brownies, cake pops, and more!
Print
Pin
Save
Saved!
Rate
Ingredients
1

cup

vegan butter

such as Earth Balance (227g)

3 ½

cups

powdered sugar

415g

1

teaspoon

vanilla extract

can add 1/2 a vanilla bean too

2

teaspoons

oat milk

Sub soy or coconut milk
Instructions
Add the vegan butter into the bowl of a stand mixer fitted with the paddle attachment.

Mix on low-medium speed for 30 seconds.

Stop the mixer, add in the 3 1/2 cups sugar, and turn the dial to the lowest mixing setting so powdered sugar spill out of the sides.

Move to a higher speed when the sugar is more incorporated.

Move to high speed for 2 minutes, then stop the mixer and add in 1 tsp vanilla and 2 tsp dairy free milk.

Mix again on high for 1 minute.

Frost on the cupcakes or refrigerate right away.

Keep the cupcakes in the fridge before serving, the frosting can soften heavily at room temperature.
Notes
This recipe makes enough to frost 12 cupcakes or fill and frost a 2 layer 8″ cake. 
Nutrition
Nutrition Facts
5 Minute Dairy Free Buttercream Frosting
Amount Per Serving (1 cupcake)
Calories 264
Calories from Fat 126
% Daily Value*
Fat 14g22%
Sodium 117mg5%
Potassium 5mg0%
Carbohydrates 35g12%
Protein 0.04g0%
Vitamin A 2IU0%
Calcium 2mg0%
Iron 0.05mg0%
* Percent Daily Values are based on a 2000 calorie diet.