SPRING IS (almost) HERE!
Well, so, maybe it doesn't matter because I live in Florida, and I know that so many people are dealing with snow storms rn which REALLY sucks, but Ive been there- the weekend of our March wedding was a huge snowstorm and I was not happy, so I get it.
I also know spring is here because my freaking allergies have been off the wall these past few weeks. Blotchy red eyes, itchy nose ,throat, ears- the works. Obviously all the things you want to hear about on a food blog.
Anyways another reason why I know spring is here is because asparagus is in season! It is one of my favorite veggies out there. I think I would say in the top 5 for sure. So when one of my blogger/food photography friends (hi Katie! check her out here) came up with the idea to do a spring collab post, this was my first thought!
A savory roasted asparagus tart that lays its pretty self over a bed of caramelized onions, and a garlic and herb soft cheese.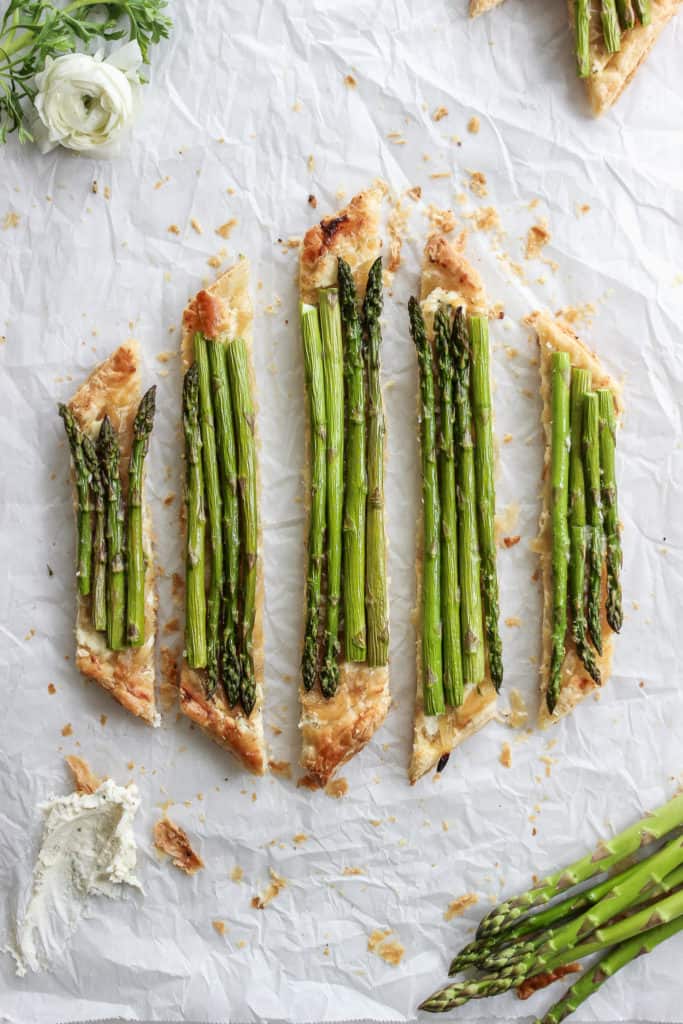 DROOOOOOOOOOOL.
I originally was gonna go with just the asparagus and cheese for this recipe but then I thought, how can I elevate this? Answer: Caramelized onions.
You guys know I'm not down for doing annoying stuff in the kitchen, and while these onions take a little long to get to their sweet spot, I'm telling you it is SO worth it.  Also- this recipe makes a ton of onions, specifically because you can put as little or as many of the onions on the tart and then just save the rest in the fridge to put on anything your heart desires. So good on nachos. Just saying.
To see all the spring recipes from our collab, check your insta today or anyday for the #springdreaming tag and show us some love!
P.s
I also have a friend (hi jen) who once told me she calls asparagus dinosaur food, so now every time I make it, thats what I think, and I make it a lot, so just call me a dinosaur. Rawr.
Spring Asparagus Tart
This savory asparagus tart combined with caramelized onions and garlic herb soft cheese makes the perfect spring recipe.
Print
Pin
Save
Saved!
Rate
Ingredients
2

tablespoons

olive oil

2

large sweet onions

halved and sliced thin

20-25

skinny asparagus stalks

trimmed, cleaned, and dried

1 5.2

oz

container of Boursin cheese

garlic and herb flavor

1

sheet puff pastry

defrosted

1

egg

beaten

kosher salt

baking or olive oil spray
Instructions
For the caramelized onions:
In a large heavy bottomed skillet over medium heat, add the olive oil

Add the sliced onion and sprinkle with a pinch of salt

Turn the heat down to low and sauce the onions for about 45 minutes, stirring every so often. The caramelization happens low and slow so don't try to rush it. You'll know they are done when they are golden brown and silky looking. Set aside
For the tart:
Preheat your oven to 400°F

Unfold the puff pastry and roll it out just slightly

Place it on a sheet pan that is lined with parchment paper

Using a sharp knife or a pizza cutter, score a 1/2'' line around the perimeter of the tart creating a border that will be the "crust"

Pierce the inside box of the puff pastry all over with a fork so it won't puff up so much in the oven

Brush with pastry all over with the egg

Bake for 8 minutes. Cool. The pastry will not be completely cool yet

Take the Boursin cheese out of the fridge to soften while the pastry is cooling

When the pastry is cooled, spread a layer of cheese in the in middle leading up to the crust edge

Spread a layer of the onions on top of the cheese

Arrange the asparagus on top of the onions. You can do this is some obsessive compulsive way like I did, or you just lay them straight. Whatever works for you.

Spray the asparagus with a little oil and top with a pinch of salt. Bake for another 15-20 mins, or until your asparagus are crispy and the pastry is golden.

RAWR!
Notes
Try to find thin asparagus, they cook faster.
You can definitely use other soft cheeses, I just like this one from Boursin.
SaveSave
SaveSave