Learn how to frost a cake with these 10 easy steps! Yes even if you are a beginner, you can learn how to decorate a cake from start to finish like a pro!
We've all seen those beautiful cakes.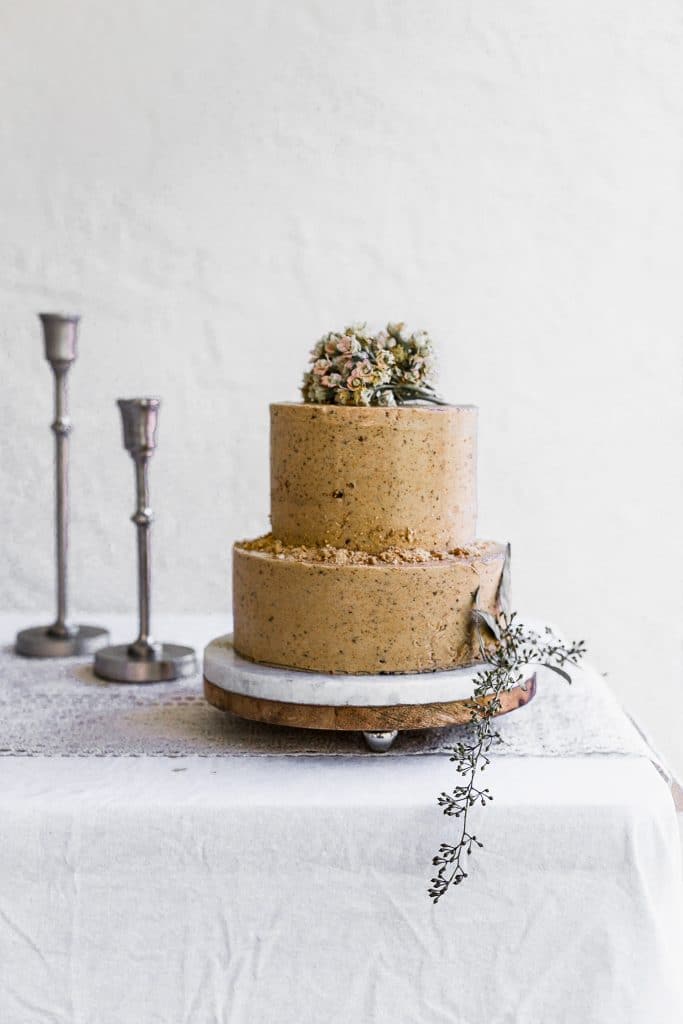 You know the ones I'm talking about. The ones that are even and smooth and beautifully decorated. Those ones with the straight edges, and the sprinkles put in just the right place and wonder how do they do it!?
BEEN THERE. Actually was there for a while, but I made it out alive and I'm here to give you my top 10 tips to make your cakes look more professional!
How to decorate a cake to look more professional
In the beginning of my cake decorating days I was mesmerized with how cake could be decorated in so many different ways. I wondered how to stack my layers and how the frosting always looked so even. But mostly, I was wondering why the hell couldn't my freaking cakes look the same!
Now, after pastry school and 10 years of cake decorating experience,  I am here to share my tips and tricks on how to start making your cakes look better.
Maybe you want to start your own cake business and know nothing. Or, you like to decorate cakes as a hobby. Maybe you want to impress your in-laws. Whatever the reason, here are your basic starting points for making your cakes more professional.
Disclaimer: There are definitely ways (see below) to decorate beautiful cakes without special cake tools, but your cake life will be much easier if you have:
An offset spatula like this
A bench scraper like this
A cake turn table like this
Let's start and learn how to decorate a cake!
First bake your cake into 3 layers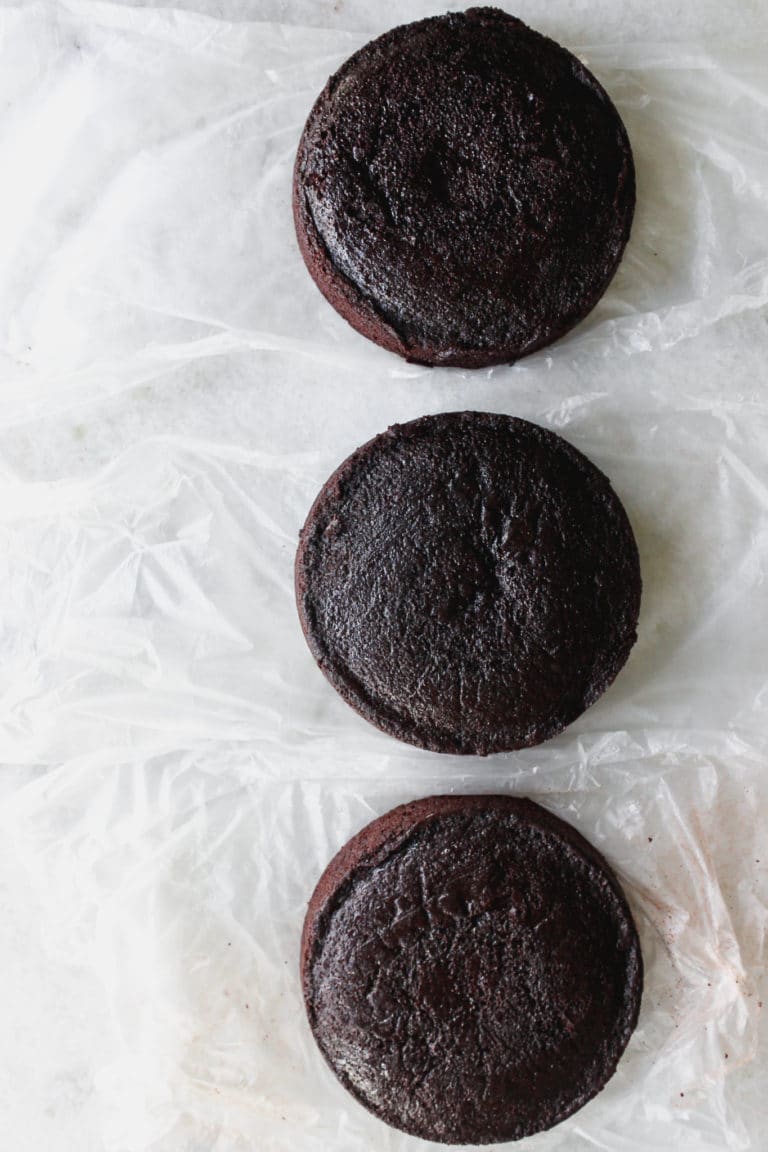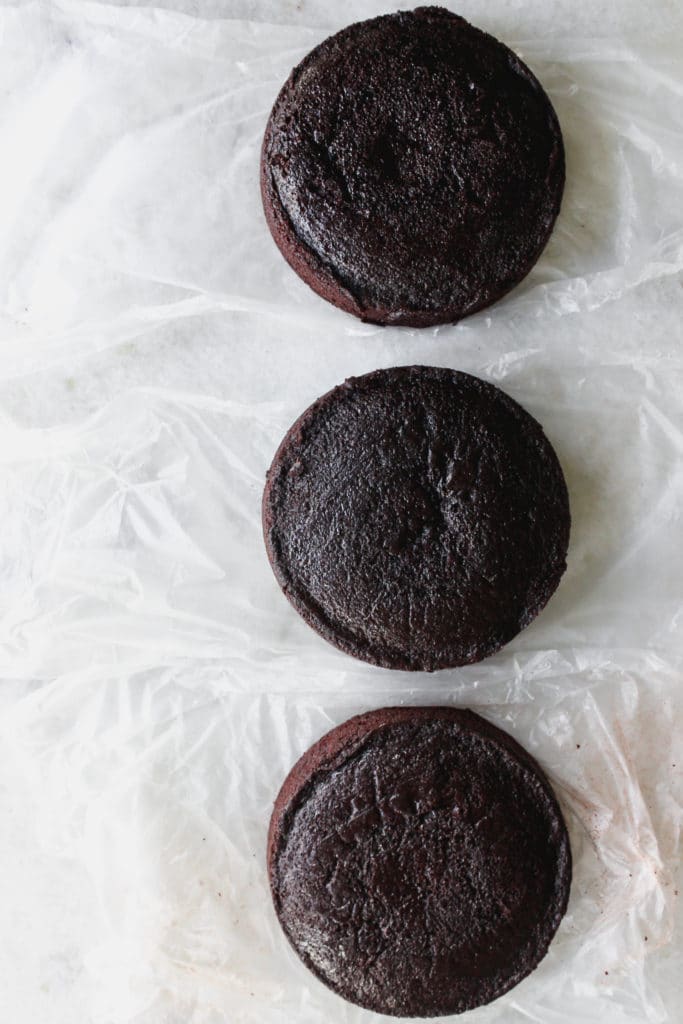 Usually when people make layer cakes they are always made in 2 cake pans which equals 2 cake layers duh.
When I first started out, I couldn't understand why my cakes didn't look like the ones in the magazines, and it was because my cakes weren't tall enough!
Depending on what cake recipe you are using, this may mean that you have to double up the recipe. A more professional looking cake = a tall cake, so double up!
I use a standard of 3 cake layers in my tiers. When combined with the buttercream they end up being  5"-5.5" tall. So this one cake has 3 layers, and is one tier tall at a height of 5″ total.
To be clear- a cake tier is combined of cake layers. No, layers and tiers are not the same thing.
A cake tier is compiled of  cake layers.
Next level off the cake tops
A flat cake is a heck of a lot easier to stack than a cake that has a dome top, so you need to level it off.
You can take a sharp, long, serrated knife and evenly, with the blade flat, start at the lowest part of the dome. Slice through in a push and pull motion (like slicing a bagel flat).
Make sure to keep the blade at the same level throughout the whole cut or it will end up lop-sided.
A great trick is to leave the cake in the pan, and once its cooled, place the flat side of the blade of top of the pan and use it as a guide to hack off the top.
This method works well if the whole surface area of your cake baked higher than the pan.
Optional: stuff your face with the cake tops or pawn them off on someone else.
Cake boards
Cake board will make your cake decorating life easier, especially if you are transporting the cake.
You can for sure decorate a cake on the stand you are serving it on, but if you plan on moving the cake around a bit you need cake boards.
For one regular cake I use two cake boards.
One that is the same size as the cake that goes directly on the bottom of the cake. And a second one that is at least 2 inches bigger so that I can decorate and move the cake around if I need to without messing up the bottom.
Dab the frosting
Now you should have 3 flat cake layers.
To start, take a small amount, like a teaspoon size, of frosting and smear it in the middle of the bigger cake board.
Lay the smaller cake board centered on top of the bigger one.
Place another small amount of frosting on the smaller cake board, but spread it around more evenly- the offset spatula works wonders for this.
Now, place your thickest (lets be honest here, the cakes might not be the exact same size even if we try our hardest) cake layer down on the cake board.
Tada! You just did magic- Now the cake won't slide around while your stacking and icing it.
Filling and Stacking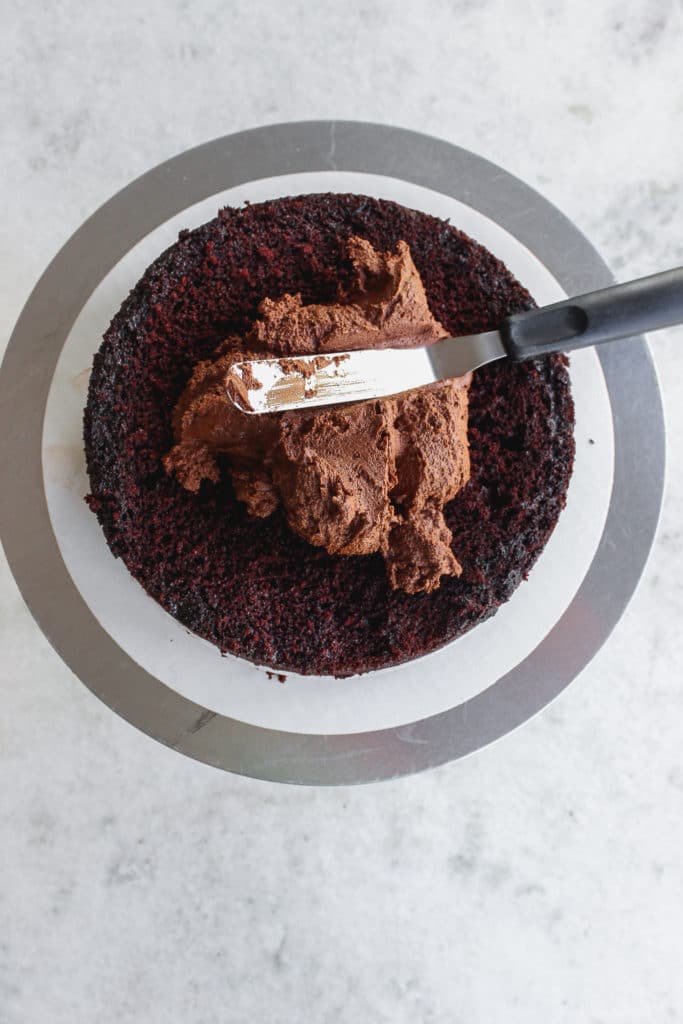 Ok maybe this is two things but they go together so I'm keeping it that way.
Once you have your first cake layer secured onto your cake board its time for the frosting or buttercream.
Some people use a piping bag so they know they are 100% getting even amounts of frosting between the layers. I however, do not have the patience for using and cleaning another tool, and am lazy, so I just use my offset spatula.
Scoop up some of the frosting, starting with maybe like 1/3 cup- eyeball it- and plop it into the middle of the cake.
Using the spatula, or a knife if you don't have one, work from the middle of the cake to the outside, spreading it evenly all around, stopping about 1/2 inch from the edges.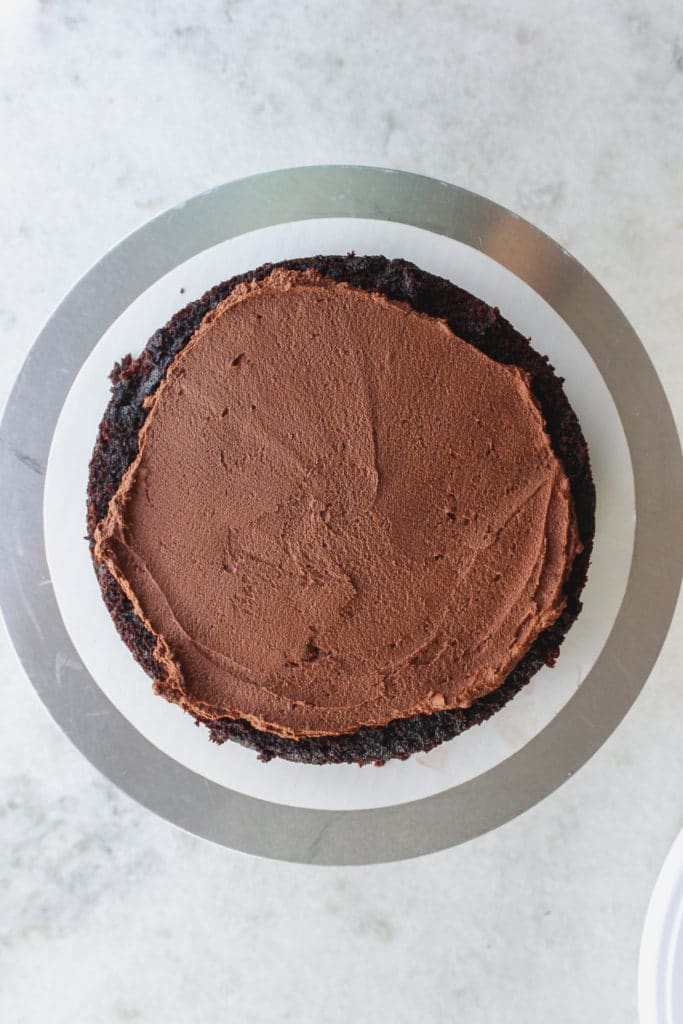 This will be filled in later when you do the crumb coat.
Take your next cake layer- and this is crucial- turn it upside down, so that the bottom of the cake is now the top, and place it on top of the frosting.
Doing this helps to create a more even shape for the cake overall. Repeat these last two steps with the next layer.
P.S if you are using a cake turn table, I do all this on there, turning as I frost, but if you don't have one, just do it on any cake stand that fits.
Now look at the stacked cake from eye level and see if theres any unevenness to it. If there is, you can press down on the opposite side of the cake to try to even it out, or carefully lift the edge of the cake where it is uneven and add more buttercream to level it out.
Freeze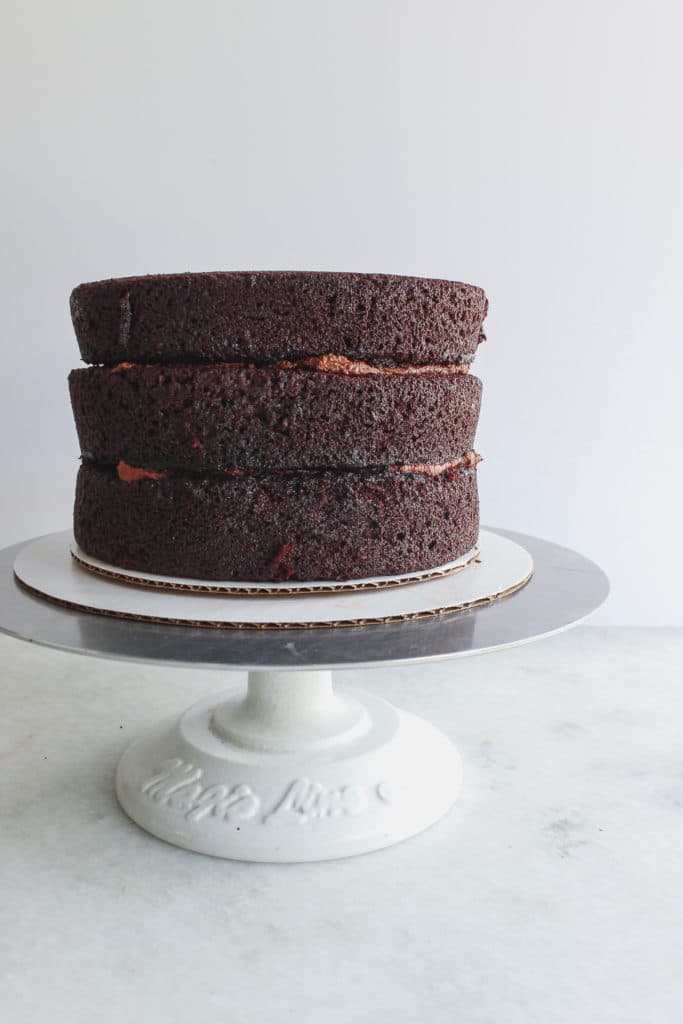 Now that you have a beautifully stacked cake, stick it in the freezer for 15 minutes.
This will help to minimize the amount of crumbs that come loose when you start icing it.
If you're using cake boards, this is where they help, otherwise move some things around so you can fit a massive cake construction into your freezer.
Crumb Coat
A crumb coat is essentially a light coat of frosting over the cake done before the actual real buttercream coating to catch all the crumbs. This ensures that the top buttercream layer will be crumb free and beautiful.
This part gets tricky if you don't have a turn table which is why I recommend it but you can still make it work.
Using the back of your spatula, scoop up some frosting and smear it to the side of your cake, turning with the other hand as you go (see, tricky). Spread and coat evenly from the bottom to the top of the cake.
Make sure you scrape off the back of the spatula on another bowl or at the top of the buttercream bowl, so that you don't dip a crumb filled spatula into a crumb free bowl of buttercream when you need another scoop.
Then plop some icing on the top and use the spatula to even it out. Use your bench scraper to clean up the sides.  Hold it vertically, standing on the cake board against the cake and spin the turntable to even it out.
It's fine if you can still see the cake layers, really you just want to seal the crumbs.
Stick the cake back in the freezer for another 5 minutes.
How to frost a cake
You're doing the same thing as the above crumb coat just with more frosting, and this time you want to completely cover up the cake layers. This is called your top coat. 
Start on the sides from the bottom and work your way up with the spatula, going around and around, spinning and spreading as you frost.
When the rest of the cake is covered and you get up to the top, stop and switch from the spatula to the bench scraper to smooth out the sides even more (not working on the top just yet).
Making sure your wrist is straight, with the scraper leaning straight on the cake board and the long side against the cake, spin the turntable.
If you notice some places need more frosting, thats fine, just add in a little bit in those spots. Continue spinning with the bench scraper up against the cake and it will even it out.
Add frosting to the top and even out with the spatula leaving a small gap between the edges.
Straight edges
Now those edges might be giving you a problem because when you smooth the sides they stick up at the top. Then when you smooth the top, they do this weird thing over the sides.
Heres what you do- AIRPLANE.
Shall I explain? Well of course.
Start where you have the sides sticking up over the edge of the cake. Hold your spatula with a hand on each end, then, (and this is how they explained it in culinary school- legit-) go from the top over the edge from the outside of the cake to the middle. Glide your spatula over the edges as if a plane was coming in for landing.
I know it sounds weird. But, this swooping action works. You are keeping the spatula flat and straight the whole time. You are just coming down onto the frosting on an angle and then landing and going straight onto the cake.
Stop when you get to the middle and repeat over all the edges. There. Airplane.
Smoothing the cracks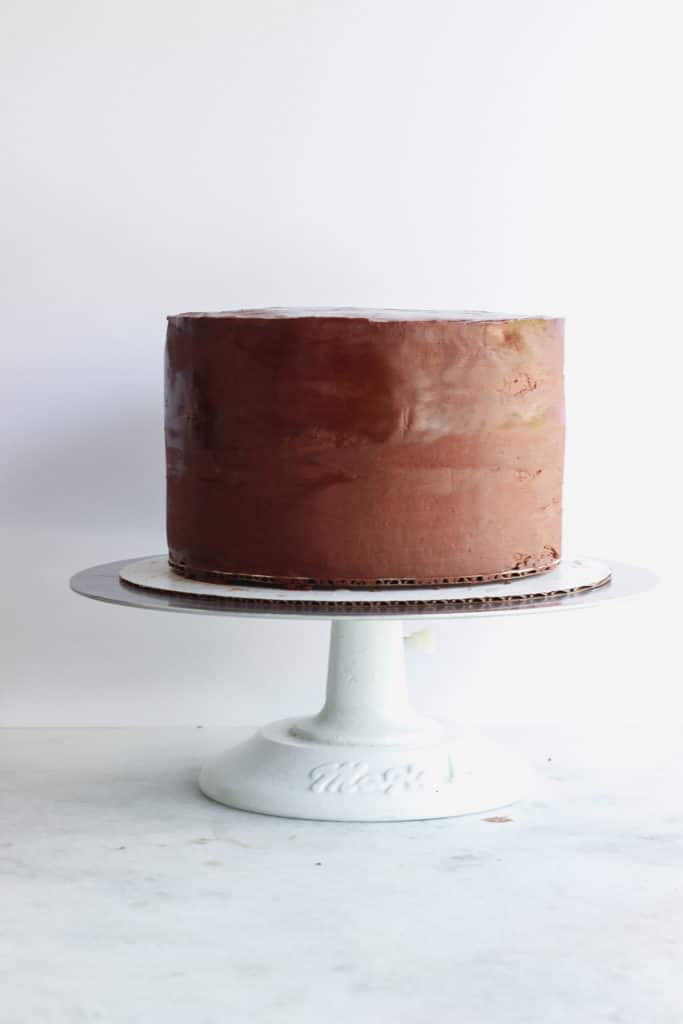 After you have smoothed down the edges, you might just need a little extra help to get those tricky cracks and annoying spots.
Insert spray bottle.
Fill a spray bottle (THAT YOU ONLY USE FOR FOOD) with clean water and spray. your. cake. You heard me.
Spray that beautiful cake that you just obsessed over with water. Im not talking douse it. I mean spray lightly with water. Then immediately take your spatula and smooth it over those hard spots.
Instant fix.
Just a warning on this- you must use this trick at the last step before moving on to decorating. You can't use it and then decide your cake needs more frosting and add frosting on top.  It will not turn out well.
This trick should only be used at the very end to smooth out the cake.
When I'm working, at the end, I will spray my cake lightly all around and then take my bench scraper and give it a good whirl to smooth it all out.
Also, spray very lightly on cakes that have food coloring in the buttercream. You don't want the color to drip and bleed down the cake.
Cake decorating ideas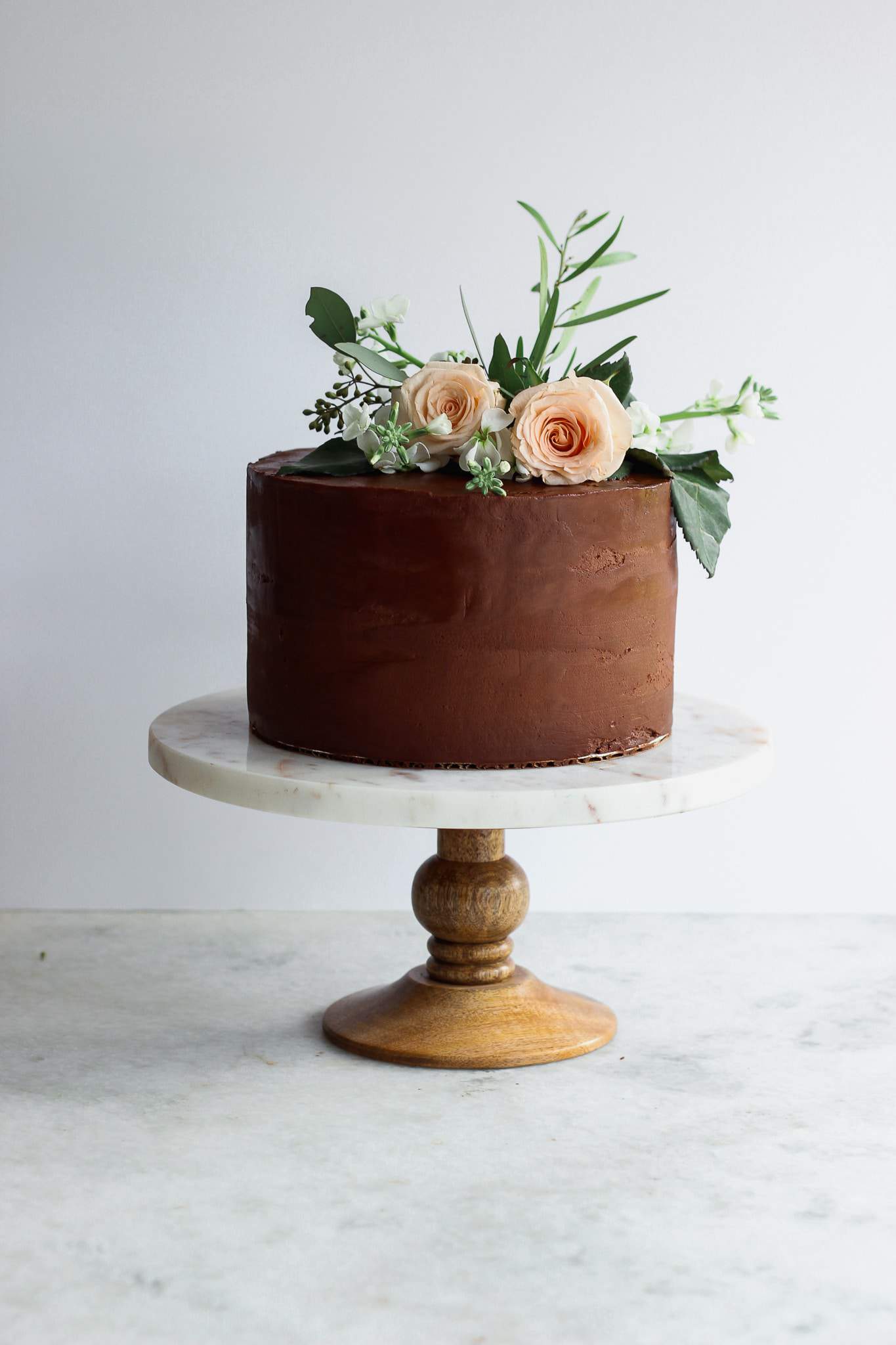 It's finally time to decorate! Here are some of my go to cake decorating ideas:
Throw some sprinkles on top and on the sides. Yes literally throw them, they are sprinkles, who cares where they end up, it'll be pretty because hellloooo its sprinkles! Side note- this needs to be done right after icing while the buttercream is still sticky- if you wait for the buttercream to crust the sprinkles won't stick.
Get a cake topper like this
Border the bottom part and/or sides of the cake with nuts, pretzels, candy,
Top your cake with fresh flowers. Read my tutorial on how to do this safely here!
Sprinkle with fancy salt if its a chocolate or caramel cake.
Top your cake with cookies in a fun pattern.
Drizzle store bought or homemade sauces over cake.
Decorating without tools:
If you're reading this and saying "but what if I dont have any of those tools you mentioned?"
You can:
add frosting onto a cake using a flat regular spatula, a knife, or even the back of the spoon.
frost as best you can then run fork tines or the back of a spoon over it to create a rustic design
Cover it up with decorations.
Well there you have it!
There is definitely no right or wrong way to make and decorate cakes, this is just how I do it.
Also remember not to be too hard on yourself, usually the things we notice, noone ever else would, so take it easy.
HAPPY CAKING EVERYONE!!
You might like these decorating tutorials too:
SaveSave
SaveSave
SaveSave
This post contains affiliate links. That means if you purchase something from one of these links, I make a small commission at no extra cost to you. Thanks for your help in supporting my blog!


Print
How to frost and decorate a cake
Learn how to frost a cake with these 10 easy steps! Yes even if you are a beginner, you can learn how to decorate a cake from start to finish like a pro!
Equipment
Cake turn table

bench scraper

Offset spatula

cake boards

clean spray bottle
Materials
3

layers

Cake

any flavor

4

cups

buttercream

any flavor

Cake decorations
Instructions
Fill and Stack
Level off the tops of a cake with a long serrated knife or a cake leveler. Smear a small amount of buttercream on a cake board that is 2 inches larger than your cake. Press a cake board that is the same size of your cake on top. Smear a small amount of buttercream on that cake board and press the first cake layer down. Place the whole thing on a cake turntable.

Fill the cake layer with buttercream by placing about 1/4 cup in the middle of the cake and spreading outwards on the cake, using the offset spatula.

Take the next cake layer and flip it over so that the top now become the bottom. Place the cut side down next to the buttercream so that you now have a flat top cake. Repeat the process of filling and stacking the next layer. Freeze for 15 minutes.
Crumb Coat
Using the back of your offset spatula, scoop up about 1/4 cup buttercream and apply it to the sides of the cake, starting from the bottom leading up to the top, spinning as you go to distribute the frosting as evenly as you can. Don't worry about it being perfect, it doesnt have to cover the whole cake, its ok if some peeks through. Stick it back in the freezer for another 5 minutes to seal in the crumbs.
Final Coat
This is the same step as a crumb coat, just with more frosting. You want to completely cover the cake so none of the cake shows through. Repeat the process of adding more buttercream and spinning as you go to add all around. Once the cake is mostly covered switch to a bench scraper to even it out as best you can. Add more frosting as you see fit.
Smoothing the Edges
Fill a clean food safe spray bottle with water and lightly spray your cake. Smooth out any cracks or bumps with your offset spatula and bench scraper.
Decorate!
Decorate the cake with flowers, candy, sprinkles, a cake topper, or anything else you like. The cake is a blank canvas and ready for anything!
Notes
This takes practice! Don't worry if it doesn't come out perfect, it will get easier every time you do it. 
Don't heavily spray your cake as it can make the buttercream drip, all you need is a light spray!