Am I right when I say that everyone is looking for new, fresh, and easy summer salads during these glorious months?
I think yes.
Can we also agree on the fact that homemade dressing, is so much better that store bought dressing? I know, I know, it so annoying to get out all the ingredients and start mixing when you can just unscrew a cap, but I'm telling you homemade is the way to go. Its healthier, fresher (is that a word),  and you can also make a big batch and store it in the fridge just like you would with one from the store. A little effort goes a long way!
Ok, cool. So we agree then.
Well, TADA! Ive got both for you today, its your lucky summer day!
Introducing this Summer Steak Salad with Strawberry Dressing:
Fresh white cabbage, sliced radishes, broiled crunchy corn (from a frozen bag!!), avocado, and tangy wasabi peas, topped with juicy steak and a perfectly pink strawberry salad dressing. It's an easy light dinner that can be made in advance so you don't miss any of your summer sun, and is also great if you are workin on that summer bod.
Did you see where I wrote that this crunchy broiled corn is from a frozen bag? It is one of my favorite recipes hacks in the world and something I learned from a friend a while ago. All you do is preheat your broiler, throw a bag of frozen corn on a sheet tray with a little olive oil, salt, and pepper, and broil away on the lower rack of your oven for 15 mins! Afterwards you have this amazingly crispy charred corn that you would not believe was from a frozen bag but you have to because you just did it.
Mind blown every time I make it.
Now lets talk about this strawberry dressing. It is super refreshing and bright, and did I mention pink?  You can buy the berries in bulk and double up on the dressing to keep for other salads and things that need dipping.
You gotta just try all this goodness out, does it not scream SUMMER to you?
I think also yes. Im so glad we are agreeing on all points today.
Want another light summer recipe? Check out my Radicchio Cous Cous Cups with lemon vinaigrette!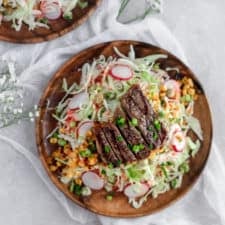 Summer Steak Salad with Strawberry Dressing
Throw away that bottled dressing! Introducing Summer Steak Salad with Strawberry Dressing-- An easy, light, and refreshing summer salad that you can make ahead and not waste any summer sun! frostingandfettuccine.com
Print
Pin
Rate
Ingredients
For the salad:

2-3

Rib eye boneless steaks

about 1.5 lbs total

1

tablespoon

vegetable oil

2

tablespoons

olive oil

1, 16

oz

bag frozen corn

2, 10

oz

bags shredded white cabbage

8-10

radishes

thinly sliced

3-4

scallions

sliced thin

1

avocado

pitted and diced small

Handful of wasabi peas

Salt and pepper to taste

For the dressing:

10-12

strawberries

washed and chopped small, equal to 1 cup

2

tablespoons

plus 1 teaspoon granulated sugar, separated

⅓

cup

olive oil

2

tablespoons

white wine vinegar

2

teaspoons

orange juice

½

teaspoon

salt

½

teaspoon

pepper
Instructions
Preheat your oven to broil.

Meanwhile, heat a large skillet or grill pan over high heat, and add in the canola or vegetable oil.

Season your steaks with salt and pepper, and sear for 3-4 minutes on both sides until the outside is dark brown and the inside is cooked to medium rare.

Remove to a plate and let the steaks rest for 10 minutes.

Prepare a sheet tray with parchment paper.

Pour the frozen corn on the tray and spread the corn out as best as possible.

Drizzle with the olive oil and season with salt and pepper.

Broil for 10-15 minutes, until some kernels are black and crispy.

Remove and let cool.

In a large bowl, start to combine the salad ingredients, and slice the steak into thin strips.

Prepare the dressing.

In a small food processor or blender, add the strawberries with 1 teaspoon of sugar and pulse until there are no big pieces left.

Add in the rest of the ingredients and pulse to combine.

Pour over the salad.

Store the rest of the dressing in a jar or small container, will keep for 2 weeks!
Notes
Dressing make about 1 1/4 cups.