These Caramel Cupcakes are the perfect cupcake for caramel lovers! This easy recipe makes 16 homemade cupcakes from scratch filled with sweet and silky caramel sauce and finished with fluffy caramel buttercream frosting and a delicious caramel drizzle!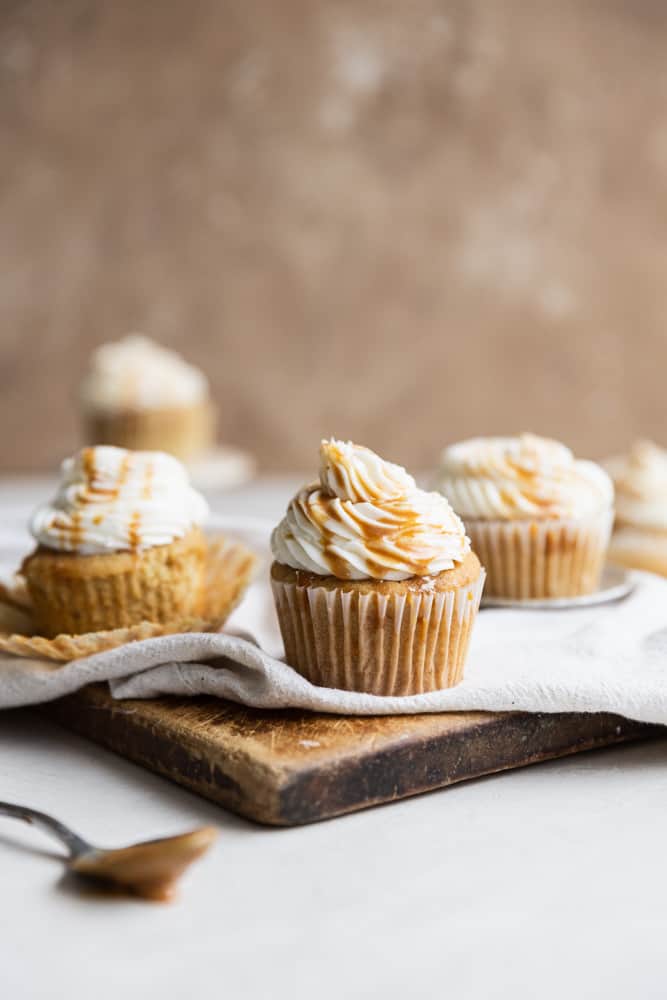 Attention caramel lovers, this recipe packs THREE layers of caramel into one perfect cupcake, so it's in your best interest to make these caramel cupcakes ASAP!
As a pastry school graduate, I love to play around with recipes and see what I can transform them into. This cupcake recipe started off as my classic vanilla cupcake recipe but was tweaked a bit to add more of a caramel flavor.
Brown sugar is used in this specific recipe to add a deeper flavor that just adds to the delicious caramel additions this cupcake features.
I also use Kraft Caramel Bits in this recipe to easily make the caramel filling. You can totally make your own if you want to- try my bourbon caramel sauce recipe and leave out the bourbon, but this is a super easy (and delicious) shortcut!
But wait, there's more! Classic vanilla frosting is blended with caramel sauce, making the FLUFFIEST caramel buttercream to pipe on top. The final touch is an optional but recommended decorative caramel drizzle! You can either make your own easy caramel glaze or melt down caramel bits.
WHY YOU SHOULD MAKE THIS RECIPE
These are stuffed with a super easy to make caramel sauce!
These are so light and fluffy!
They are the perfect cupcake to make in the fall or winter.
INGREDIENTS NEEDED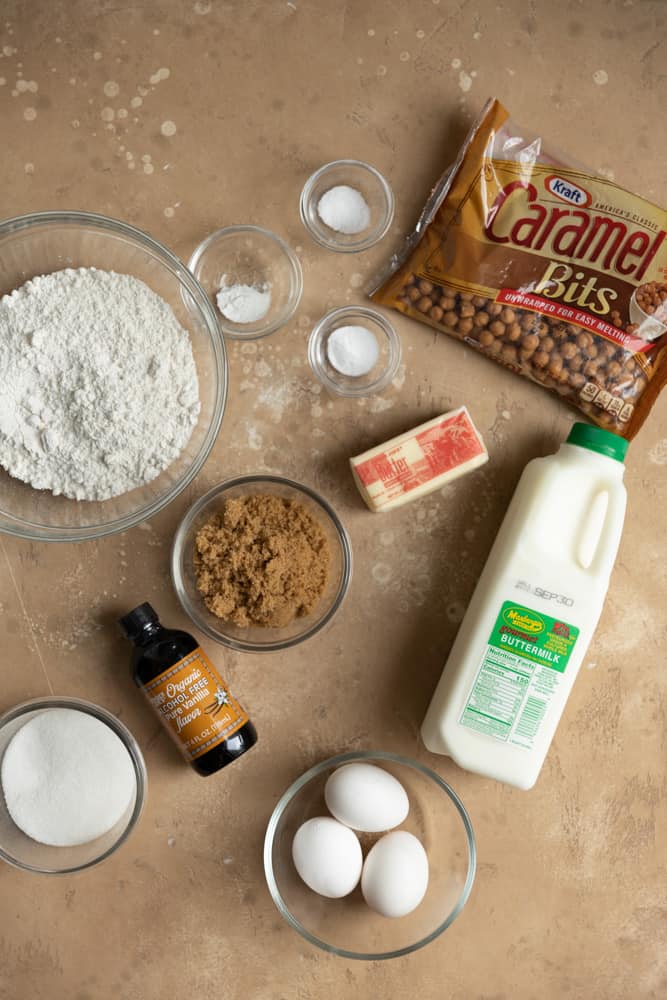 All-purpose flour – Flour absorbs the wet ingredients, making a stable batter that bakes into a soft, sturdy cupcake.
Baking powder & baking soda – This pair of leavening agents creates a reaction within the batter, causing it to bake into fluffy cupcakes.
Kosher salt – Activates the leavening agents, so the cupcakes rise nicely. It also improves the sweet taste.
Unsalted butter – Helps make a moist-tender crumb while adding rich, buttery flavor.
Granulated sugar & brown sugar – This recipe calls for two types of sugar, each with an important purpose. Granulated sugar helps make a fine, fluffy density, while brown sugar adds moisture and refines the flavor.
Egg & egg whites – The protein in eggs binds everything into a cohesive cupcake batter that sets properly as it bakes.
Vanilla extract – Flavors the base vanilla cupcake.
Buttermilk – Improves flavor and tenderizes the gluten in the flour, so the cupcakes are extra moist.
Caramel sauce – To make your caramel sauce, you'll need caramel bits and a splash of water or cream. I recommend these caramel bits as they melt nicely, but you can also use caramel squares and melt them over low heat with a splash of water, stirring until smooth. Store-bought caramel sauce is also an option.
Caramel buttercream – For frosting!
HOW TO MAKE CARAMEL CUPCAKES
Prepare for baking: Preheat the oven to 350F and line a muffin tin with cupcake liners. This recipe makes 16 cupcakes, so you'll need two muffin tins, or you can bake the batter in two batches.
Combine dry ingredients: Whisk the flour, baking powder, baking soda, and kosher salt in a medium-sized bowl until combined.
Make wet wetter: In the bowl of a stand mixer fitted with the paddle attachment (you can also use a hand mixer), cream the softened butter with both sugars until smooth. Scrape the bowl, add the egg, egg whites, and vanilla, and mix on medium speed for an additional minute.
Mix cupcake batter: Add 1/3rd of the dry mixture to the wet batter while mixing on medium speed. Then, mix half the buttermilk, followed by another 1/3rd of the dry mixture. Mix in the last of the buttermilk, and finish with the remaining dry mixture. Mix until just combined.
Pour batter, bake, and cool: Divide the batter into the muffin cups, then bake until the cupcakes are fully set. Let them cool in the pan for 5 minutes, then transfer them to a wire cooling rack to finish cooling.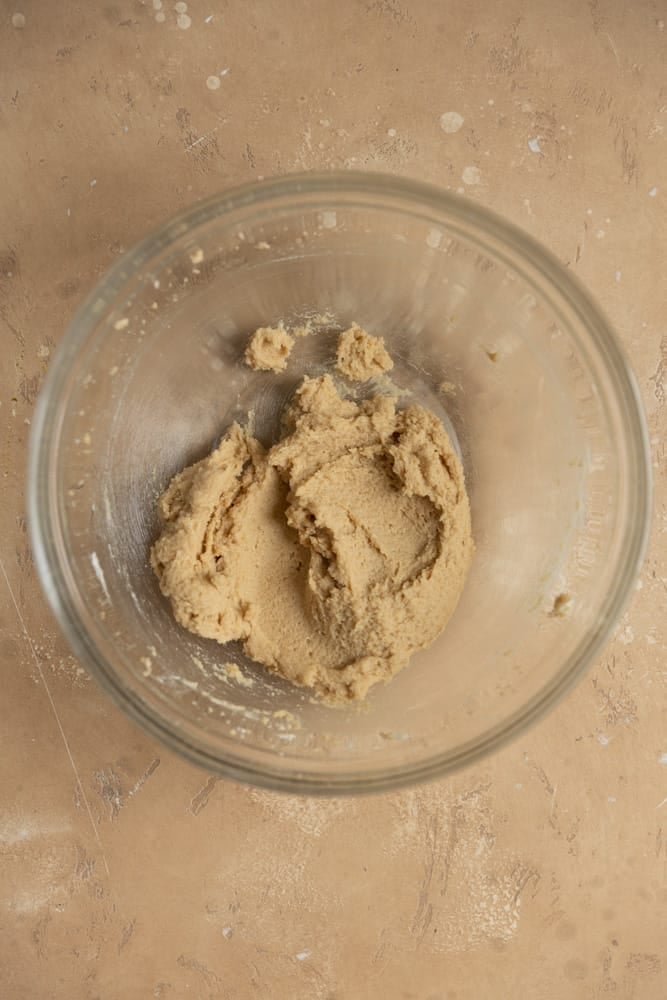 How to fill the caramel cupcakes
Make the caramel filling: Mix the caramel bits with water or cream in a microwavable-safe bowl, and microwave for 2 minutes. Stir until the caramel is smooth but be careful it will be very hot!! Let cool for 5 minutes. You should have enough left over to drizzle over the finished cupcakes.
Fill the cupcakes with caramel: Use a cupcake corer or a small paring knife to carve out a small hole from the top center of each cupcake. Do not discard the piece of cake you cut out. Instead, fill the hole with a teaspoon of caramel, then close the gap with the piece of cupcake you removed. Easy peasy!
Please be careful when melting the caramel as it looks very fun to touch and play with but it is VERY HOT. Use 2 small spoons to scoop the caramel and then scrape it into the cupcake hole.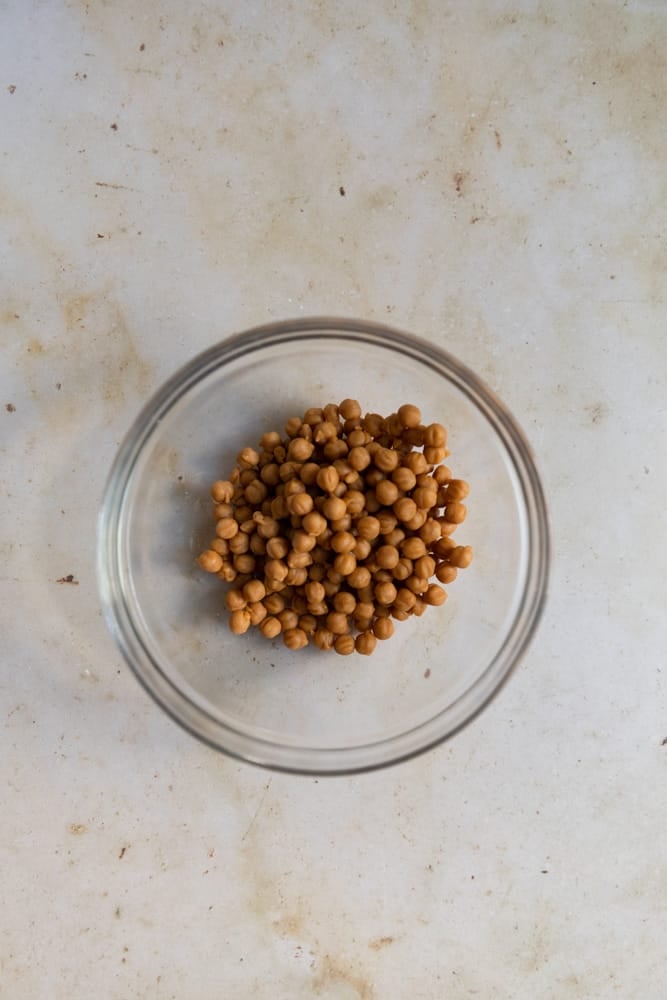 HOW TO Frost and DECORATE
Here's how to make caramel buttercream frosting: For the full instructions, head to my caramel buttercream frosting recipe.
Cream softened butter on low speed. Add powdered sugar and continue mixing, gradually increasing the speed from low to medium.
Blend in caramel sauce, followed by cream and salt, and mix until light and fluffy.
Let's decorate: You can pipe caramel frosting with a piping bag and star tip or snip off one corner from a ziptop bag to use for piping. Then, feel free to decoratively drizzle caramel sauce over the frosted cupcakes, and enjoy!
CUpcake troubleshooting tips
Measure the dry ingredients precisely. If you don't have a scale, spoon (NEVER scoop) the flour from the container into your measuring cup and level it off. You'll have too much if you scoop the flour directly from the container with the measuring cup.
Cold ingredients won't incorporate evenly, resulting in dense cupcakes, so don't forget to take the extra step and bring them to room temperature before getting started.
Do not over mix! Overmixed cupcake batter can result in tough, chewy cupcakes.
Fill the cupcake liners no more than 2/3rds full, or they will spill over the top. A 3-tablespoon cookie scoop is a perfect portion.
The cupcakes are done when a toothpick inserted into the center comes out mostly clean with a few moist crumbs.
You don't want the residual heat to over bake the cupcakes, so only allow them to cool in the pan for 5 minutes. After 5 minutes, move the cupcakes to a wire rack to finish cooling.
If the cupcakes are too tender to cut into, you can place them in the fridge for a half hour, so they firm up enough to cut out a hole for the caramel filling easily.
VARIATIONS
I recommend caramel buttercream and a caramel drizzle for these caramel-filled cupcakes, but there's plenty of room for personalizing. To make them extra special, sprinkle extra bits of caramel or chopped toffee over the frosting. See below for enhanced caramel cupcake flavors:
Salted caramel – To upgrade caramel to salted caramel status, sprinkle flaked sea salt over the caramel buttercream after frosting.
Salted caramel pretzel – Press a couple of pretzel pieces into the frosting.
Caramel apple – Mix peeled and shredded fresh apples into the batter.
Bourbon caramel – Fill the cupcakes with bourbon caramel sauce instead of classic caramel sauce.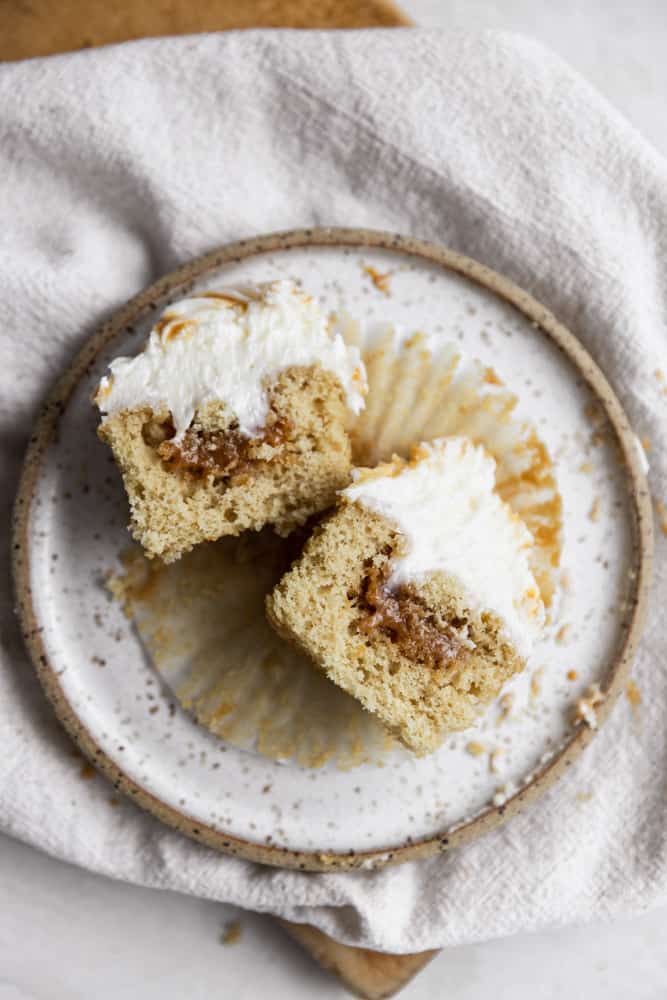 STORAGE AND FREEZING
Storage: Once decorated, these cupcakes keep well in an airtight container at room temperature for 2-3 days or the refrigerator for up to one week. They can be stored at room temperature for 4-5 days if they are unfrosted.
Freezing: If you plan to freeze your cupcakes, do so before frosting. They will keep in the freezer for up to three months. When you're ready, let the cupcakes thaw overnight in the refrigerator, then bring them to room temperature and add the frosting.
FAQ
Can I make caramel cupcakes ahead of time?
Yes, you can bake the base vanilla cupcake up to two days in advance and keep them stored at room temperature, wrapped tightly in plastic. Then, on the event day, add the caramel filling and decorate with caramel frosting.
Why are my cupcakes dry and flat?
If your cupcakes are dry-tasting, it's possible that you overmixed the batter or that your oven temperature is too high. If they're flat, this may be because the ingredients were too cold or the oven wasn't hot enough. You must also use room temperature ingredients and don't overfill the muffin cups.
Can I use the square caramels instead of the bits?
I tested this recipe only with the bits because they are easier to use (no unpeeling plastic!) and they melt easier. You can use the squares if you have them and measure it out to 6 oz. They should work just the same, but know I havent tried them for this recipe.
WAYS TO ENJOY
For more frostings that pair well with vanilla cupcakes filled with caramel, check out the list below:
More cupcake recipes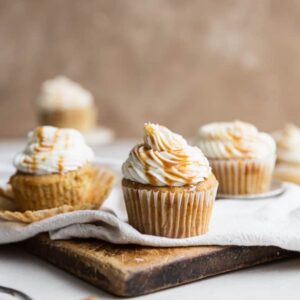 Easy and Fluffy Caramel Cupcakes (Caramel Filling!)
This easy recipe makes 16 homemade cupcakes from scratch filled with sweet and silky caramel sauce and finished with fluffy caramel buttercream frosting and a delicious caramel drizzle!
Print
Pin
Save
Saved!
Rate
Ingredients
1 3/4

cups

all purpose flour

207g

1

tsp

baking powder

½

tsp

baking soda

½

tsp

kosher salt

½

cup

butter

unsalted at room temperature, 113g

½

cup

granulated sugar

100g

½

cup

brown sugar

110g

1

egg

large

2

egg whites

yolks discarded

2

tsp

vanilla extract

1/2

cup

buttermilk

6

oz

caramel bits

bits not squares

1- 1 1/2

Tbsp

water

or cream
Instructions
Preheat the oven to 350F and line a muffin tin with cupcake liners. This recipe makes 16 cupcakes so you can line two muffin tins or bake and repeat.

In a medium size bowl combine the 1 ¾ cup flour, 1 tsp baking powder, ½ tsp baking soda, and ½ tsp kosher salt. Whisk until combined.

In the bowl of a hand mixer or stand mixer fitted with the paddle attachment cream the ½ cup butter with the ½ cup granulated sugar and the ½ cup brown sugar until creamy, about 2 minutes.

Scrape down the bowl and add the egg, 2 egg whites and 2 tsp vanilla extract. Mix for 1 minute on medium speed.

Add in 1/3rd of the dry ingredients, then half of the buttermilk and alternate, starting and ending with the dry ingredients. Mix only until combined. Do not over mix.

Using a 3 tbsp cookie scoop, scoop the batter into the muffin liners ¾ of the way full. Bake for 18-19 minutes or until the cake is set.

Cool the cupcakes and make the caramel filling.

In a microwavable safe bowl combine the 6 oz caramel bits with the 1 tbsp water or cream and mix lightly. Microwave for 2 minutes and stir until completely melted. Cool for 5-10 minutes.

With a cupcake corer or a small paring knife cut a small hole in the middle of the cupcakes and keep the tops. Pour in 1 tsp of caramel inside and cover with the cut cupcake piece. Careful! The caramel may still be hot so you might need to use two spoons! If the caramel starts to harden or is too hot you can add 1 tsp more cream or water and stir to loosen and cool.

Make the caramel buttercream – You will need more caramel so either melt more bits or buy a caramel sauce and use it for the buttercream. Frost the cupcakes and drizzle with and easy caramel glaze if you want!
Notes
This recipe uses the Kraft caramel bits, not the squares. The bits are easier to measure and melt. I havent tried to use the squares for this recipe but you can try it if you want to!
If you want to make homemade caramel sauce try this bourbon caramel sauce and leave out the caramel.
Top the cupcakes with caramel buttercream.
For the caramel drizzle you can either melt down more bits with a little bit of cream (read package instructions) or you can make this easy caramel glaze.
Nutrition
Nutrition Facts
Easy and Fluffy Caramel Cupcakes (Caramel Filling!)
Amount Per Serving (1 cupcake)
Calories 204
Calories from Fat 63
% Daily Value*
Fat 7g11%
Cholesterol 27mg9%
Sodium 225mg10%
Potassium 69mg2%
Carbohydrates 32g11%
Protein 3g6%
Vitamin A 209IU4%
Vitamin C 0.04mg0%
Calcium 49mg5%
Iron 1mg6%
* Percent Daily Values are based on a 2000 calorie diet.