This is the best American buttercream recipe! It is light, fluffy, pipes like a dream, and above all is easy to make from scratch. You can whip it up in only 10 minutes. It's perfect for frosting cakes, cupcakes, bars, and more!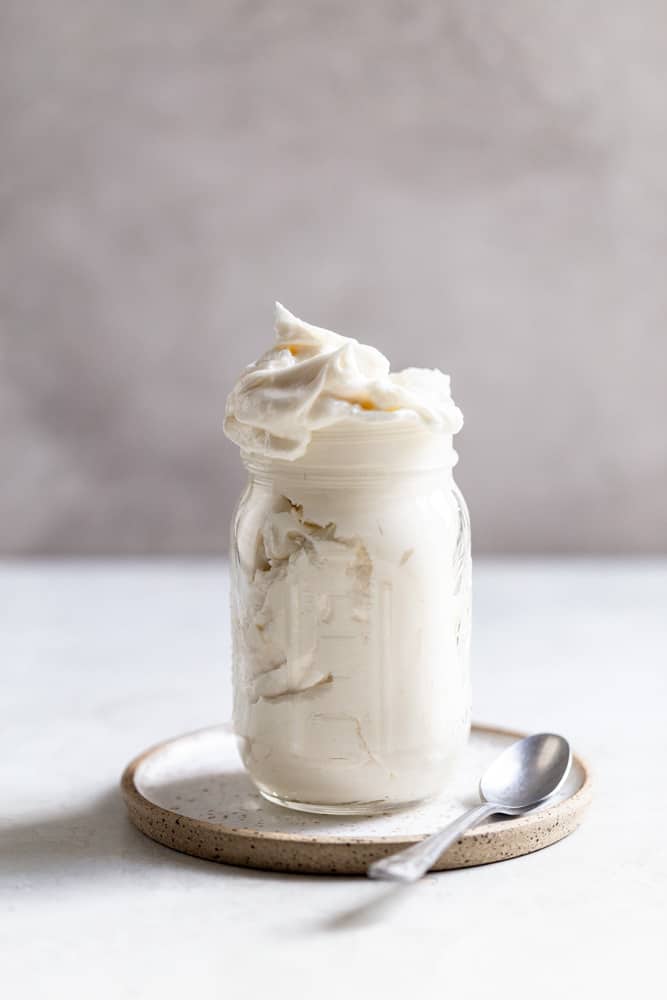 What is American buttercream frosting?
Chances are if you've ever eaten a piece of cake, you've had some form of buttercream, AKA frosting.
But it's called American because there are different kinds of buttercream — Swiss, French, Italian — which are more complicated to make and include heating the frosting and/or the addition of eggs.
But us Americans, we like it easy.
By definition, American buttercream is just the combination of fat, confectioners sugar, and flavorings. No heating utensils or eggs required.
It can be made in classic vanilla flavor like this recipe, or can be flavored a bunch of different ways. Like this espresso buttercream, strawberry buttercream frosting, zesty lemon buttercream frosting, or even caramel buttercream.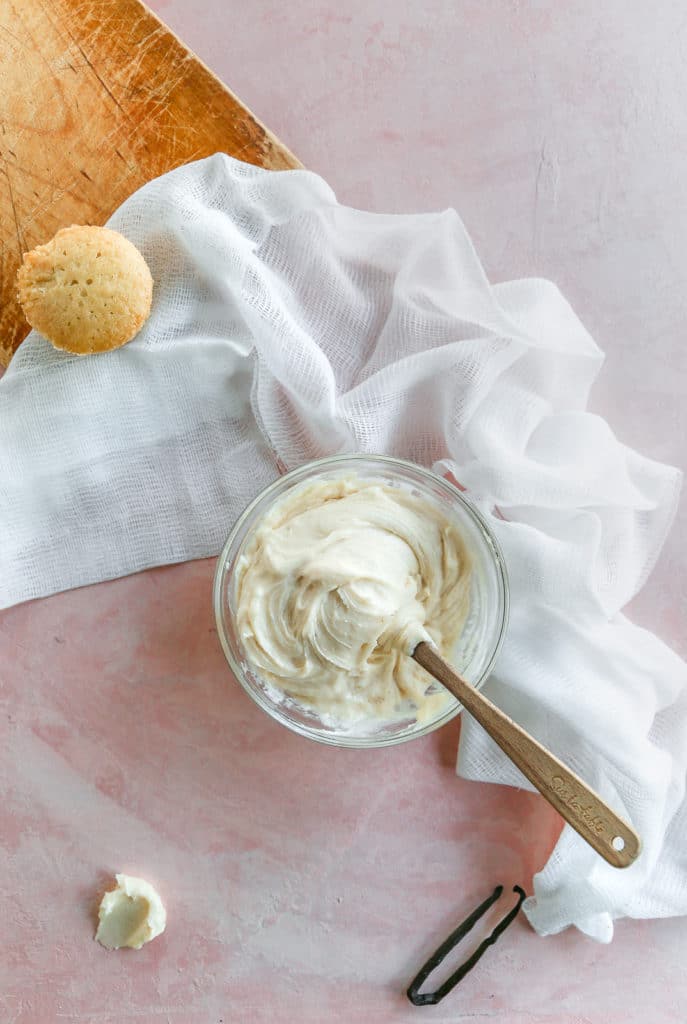 There used to be a joke while I was in culinary school about why we had to learn how to make the more "sophisticated" buttercream if everyone just preferred the store-bought taste.
We all liked the American kind but the chef insisted we had to make them, and we all wanted to get good grades LOL.
But now that I'm on my own with no chef passing judgement down on me, I bring you my classic American vanilla buttercream frosting recipe!
It's the perfect frosting to use for cupcakes or any kind of cake. I use it all the time on my vanilla cupcakes, but it is just as good on a chocolate cake too!
Or you can just eat it with a spoon, no shame!
Buttercream Ingredients
There are only 4 simple ingredients needed to make buttercream frosting:
softened butter- this is the base of the recipe. It must be used at room temperature. If you forget to soften your butter I have a whole post on how to soften butter quickly.
confectioners sugar- combined with the butter it will become fluffy!
vanilla extract- for flavor
half n half, cream, or milk- to thin it out and make it silky smooth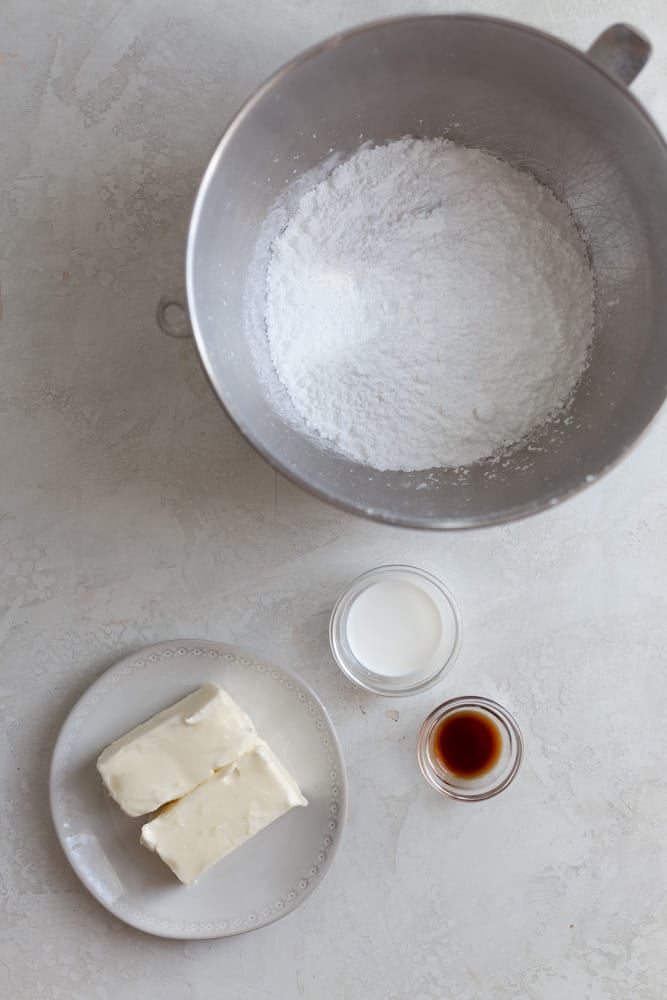 How to make this recipe
This is by far the easiest buttercream frosting EVER.
You'll first need to whip the butter on a medium-low speed for about 30 seconds. Next add the powdered sugar and mix for another 2 minutes until pale and fluffy. Make sure to start on low speed and work up from there.
Add in the vanilla and half and half (or other milk) and continue whipping until the buttercream has stiff peaks and holds it shape.
How to flavor buttercream
The great thing about this recipe is that you can pretty much flavor it any way you want. It is extremely versatile as a base layer. You can substitute the vanilla extract for any other extract flavoring you have. Or play around with adding things like:
chocolate syrup
freeze dried fruit- make sure to grind this up first into a powder
jellies or jams
cooled coffee
Melted white chocolate
peanut butter
caramel sauce
The only thing to stay away from when flavoring buttercream is fresh fruit. It will have too much moisture and will not combine well with the rest of the ingredients.
How to make buttercream from scratch without a recipe:
Yes it can be done!! If you know the basic 4 ingredients (butter, confectioners sugar, flavoring, milk) and the consistency you are looking for then that is all you really need to know.
Start by mixing some butter and confectioners sugar until it forms a paste. If it is not creaming well and it's still powdery and lumpy then you need more butter. If it is too creamy, add more confectioners sugar.
Aim to add 1/4 cup at a time.
Next add in the flavoring and start with a little splash of milk. If the frosting is too thick, add a little more milk to thin it out. If this frosting is too thin, add more confectioners sugar to make it thicker!
Yield
This recipe makes enough icing to ice 12-15 cupcakes or fill and frost a cake with 2 9″ round layers.
How to store
You can keep the buttercream in a bowl, at room temperature covered tightly with plastic wrap. Make sure to press the plastic wrap down on top of the frosting when sealing otherwise the air between the plastic and the buttercream will cause it to harden.
It does not need to be kept refrigerated but if you would rather keep it in the fridge you can. It will harden so make sure to take it out a few minutes before you want to use it so that it can soften up.
Can I freeze buttercream?
Most definitely!
It's so easy to freeze buttercream. Although for the record, fresh buttercream is best. But in a pinch freezing is better than throwing perfectly good American buttercream away.
To freeze homemade buttercream, simply pop it into a freezer-safe container. It'll last up to three months if stored correctly!
When you're ready to use the frozen buttercream, set it in the fridge to thaw overnight, and then let the buttercream come to room temperature before icing your cake or cupcakes.
Frosting Cakes with Buttercream
This recipe is also really great to use for frosting cakes because it will form a crust. The inside will still be fluffy though.
This makes it also really great for piping!
You can color it easily with different food coloring to customize it for birthday cakes. Check out 10 ways to make your cakes look more professional or How to decorate a cake with flowers for some fun cake decorating tutorials.
How to make frosting without butter
Make a glaze instead! You can totally still frost a cake with a glaze instead of buttercream. It only requires confectioners sugar and a liquid. You can make this without butter.
How to make a glaze:
Take 1/2 cup confectioner sugar and 1 tablespoon of any liquid and mix. The liquid can be milk, any kind of juice, or even water. Mix until the glaze forms. The liquid will melt the confectioners sugar turning it into a glaze.
If the glaze is too thick, add a litte more liquid. If the glaze needs to be thinner, add a little more liquid.
This strawberry glaze is one of my favorites.
Next step is just to drizzle on your cake or cupcakes!
How to turn this into chocolate buttercream frosting:
Just add some cocoa to the mix! Add 1/2 cup cocoa powder to the recipe and make sure to add a teaspoon or more milk so that the frosting isn't too thick.
Extra Expert Recipe Tips
DEFINITELY set the mixer to its lowest setting when you first add in the powdered sugar, otherwise it'll blow up in your face and you'll never get it out of your hair.
The butter must be softened to room temperature before you begin making it, otherwise it won't whip up properly.
If you don't want to wait for your butter to soften, microwave it for 15 seconds at a time until it's soft.
If you are using a butter substitute that melts easily (like earth balance) and faster than butter, you may need more confectioners sugar than what's listed to keep its hold. Try an additional 1/4 cup of sugar at a time.
If at the end you see the icing is too runny, add in more sugar. If it is too stiff, add in 1/2 teaspoon more creamer at a time until you reach the right consistency.
You can flavor this with any kind of extract or even jams!
Need more frosting recipes?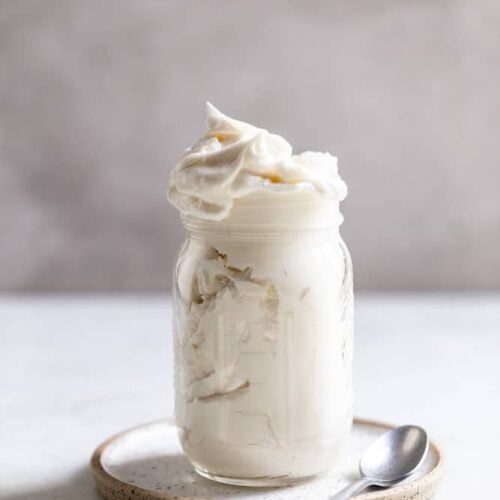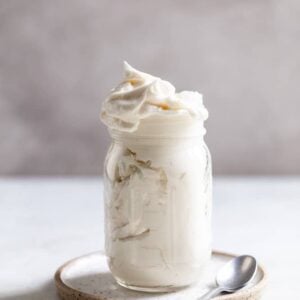 Easiest American Buttercream
Light, fluffy, pipes like a dream, and above all easy to make from scratch. You can whip up this classic vanilla American buttercream in only a few minutes.
Print
Pin
Rate
Ingredients
1

cup

butter softened

or margarine or butter substitute

3

cups

confectioners sugar

1

teaspoon

vanilla extract

2

teaspoons

half n half

cream, or milk
Instructions
Add the butter into the bowl of a stand mixer fitted with the paddle attachment.

Mix on low-medium speed for 30 seconds.

Stop the mixer, add in the sugar, and turn the dial to the lowest mixing setting so powdered sugar doesn't blow up in your face.

Move to a higher speed when the sugar is more incorporated.

Move to high speed for 2 minutes, then add in the vanilla and creamer.

Mix again on high for 1 minute.

The icing should have stiff peaks, and hold its shape, not runny at all.
Notes
If you are using a butter substitute that melts easily and faster than butter, you may need more than the listed confectioners sugar to keep its hold. Try an additional 1/4 cup of sugar at a time.
If you want the buttercream thicker, add in 1,4 cup more sugar. If it is too thick, add in 1/2 teaspoon more milk at a time until you reach the right consistency.
This will frost 12-15 cupcakes or fill and frost 2 9"round cakes
You can substitute the vanilla extract for any other extract or even try jams, syrups, peanut butter, or cocoa powder for different flavors. Just add in a little more milk to thin it out. 
Nutrition
Nutrition Facts
Easiest American Buttercream
Amount Per Serving (1 serving)
Calories 209
Calories from Fat 108
% Daily Value*
Fat 12g18%
Cholesterol 33mg11%
Sodium 2mg0%
Carbohydrates 26g9%
* Percent Daily Values are based on a 2000 calorie diet.