These Banana Cupcakes are moist and fluffy with naturally sweet and creamy banana flavor and deep caramel undertones from the brown sugar. REAL ripe bananas are mixed directly into the batter, eliminating the need for any extracts and artificial flavors.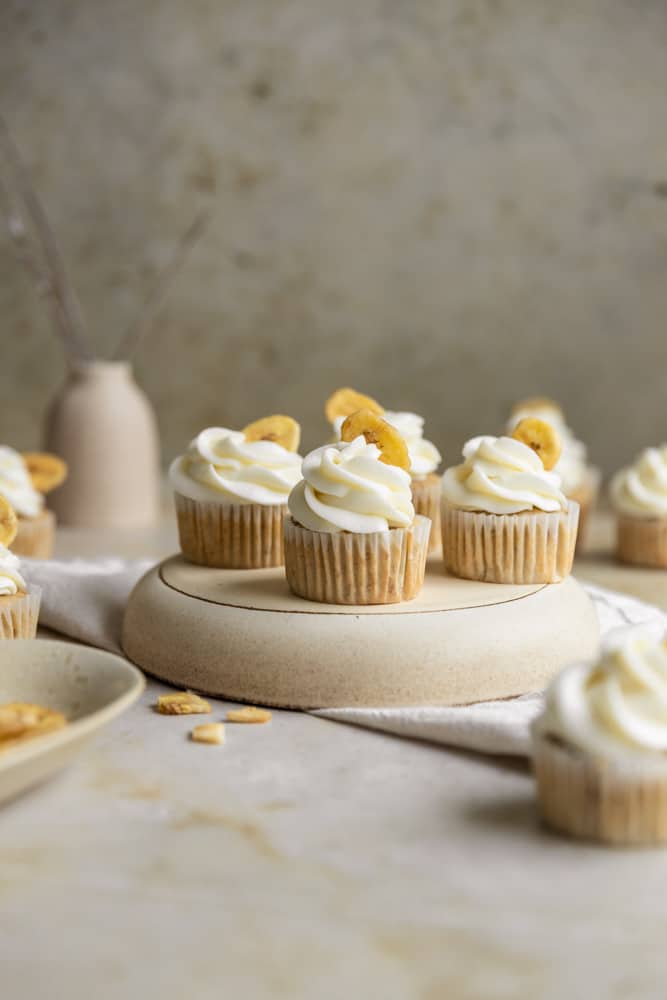 As a pastry chef, I know a thing or two about baking with bananas, so whenever I have a couple of imperfect bananas on hand, I get excited!
I LOVE banana muffins, and even a banana bundt cake but when I want something even sweeter, there's nothing better than indulging in a moist banana cupcake with cream cheese frosting.
At the heart of this banana cupcake recipe is my dependable vanilla cupcake. I used all-purpose flour instead of cake flour and mixed mashed ripe bananas into the batter, and just like that -these banana cupcakes were born!
If you're looking for more ways to use ripe bananas that aren't bread or muffins, don't miss: Chocolate Banana Cake, Banana Cake made with Oil and Banana Coffee Cake. Enjoy!
Difference between muffins and cupcakes
Yes! These are Banana cupcakes and not muffins. The difference between the two is that with muffins you will generally combine the wet and dry ingredients in two separate bowls, the combine them and bake on a higher temperature for part of the time. This results in a more dense and thick crumb.
With cupcakes, we use the creaming method which creams the butter and sugar before alternating the dry and wet ingredients. This makes a very light and fluffy crumb!
Compared to banana bread and banana chocolate muffins, banana cupcakes have a softer density and a more delicate crumb. When decorated with a luscious layer of cream cheese frosting, these banana cupcakes are a hit wherever they are served!
WHY YOU SHOULD MAKE THIS RECIPE
These cupcakes are a delicious alternative to banana bread when you need to use those ripe bananas.
You don't need to be a trained pastry chef for this one! These cupcakes are SO easy.
They're guaranteed to please guests on any special occasion -birthday parties, baby showers, BBQs, bake sales, and more.
The cream cheese frosting is outstanding.
INGREDIENTS NEEDED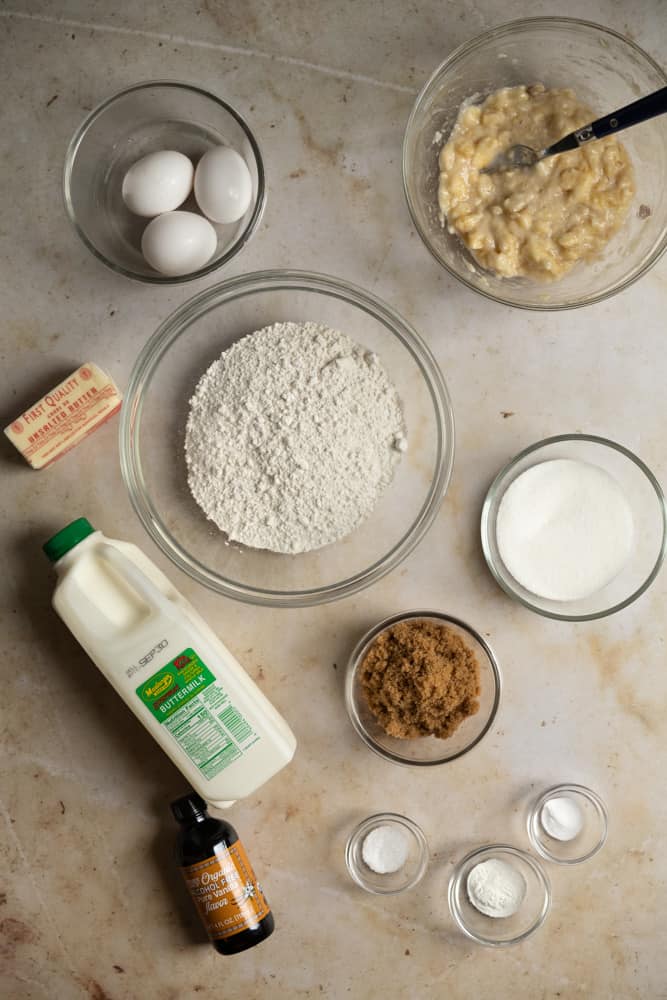 Bananas – These wouldn't be REAL banana cupcakes without bananas. Bananas on the riper side work best, so opt for soft (not soggy) brown spotted bananas. Ripe bananas add bolder banana flavor and make the cupcakes extra moist.
All-purpose flour – Flour acts as the framework. It absorbs the wet ingredients, making a stable batter that bakes into tall, tender cupcakes.
Baking Powder & Baking Soda – This pair of leavening agents plays an essential role in the batter rising into soft and stout cupcakes.
Kosher Salt – Salt also contributes to the batter rising and refines the sweetness.
Unsalted Butter – Adds moisture and density to the cupcake batter while enhancing the rich, buttery flavor.
Granulated Sugar & Brown Sugar – These cupcakes are sweetened with a granulated-brown sugar combo. The granulated sugar sweetens and strengthens the delicate crumb, while brown sugar adds flavor and moisture.
Egg & Egg Whites – Strengthens the batter so it sets correctly and doesn't fall apart.
Vanilla Extract – Adds rich vanilla flavor to the base vanilla cupcake.
Buttermilk – The acidity in buttermilk reacts with the leavening agents, causing the cupcakes to rise. It also adds a touch of tangy flavor.
Cream cheese frosting – Rich and tangy cream cheese frosting perfectly matches the super sweet and creamy banana flavor. I urge you to make it from scratch (it's simple!), but you can also use store-bought. Feel free to switch things up with the frosting and toppings of your choosing (see below for ideas).
HOW TO MAKE BANANA CUPCAKES FROM SCRATCH
Prepare for baking: Preheat the oven to 350F, and line a muffin tin with cupcake liners. Place the bananas in a small bowl and mash with a fork until creamy (it's ok if there are some lumps). Set aside.
Combine dry ingredients: Whisk the flour, baking powder, baking soda, and kosher salt in a medium bowl.
Cream butter and sugar: In a large bowl with a hand mixer (or in a stand mixer fitted with the paddle attachment), cream room temperature butter with the granulated sugar and the brown sugar.
Combine wet ingredients: Scrape the bowl, then add the egg, egg whites, and vanilla, and continue mixing for one more minute. Finally, add the mashed banana and mix until combined.
Combine dry and wet batter: Mix 1/3rd of the dry mixture into the wet batter, followed by half of the buttermilk. Next, add another 1/3rd of the dry mixture, followed by the remaining buttermilk. Finally, add the rest of the dry mixture and mix until just combined.
Bake and cool: Pour the batter into the muffin cups, and bake until the cupcakes are set (18-19 minutes). Let the cupcakes cool in the pan for 5 minutes, then transfer them to a wire rack to finish cooling.
Decorate: In the meantime, make the cream cheese frosting. You can use a piping bag with a Wilton tip or snip off a corner from a zip-top bag to use as a piping bag. Alternatively, you can spread the frosting with an offset spatula. What's most important is that the cupcakes are cool before frosting!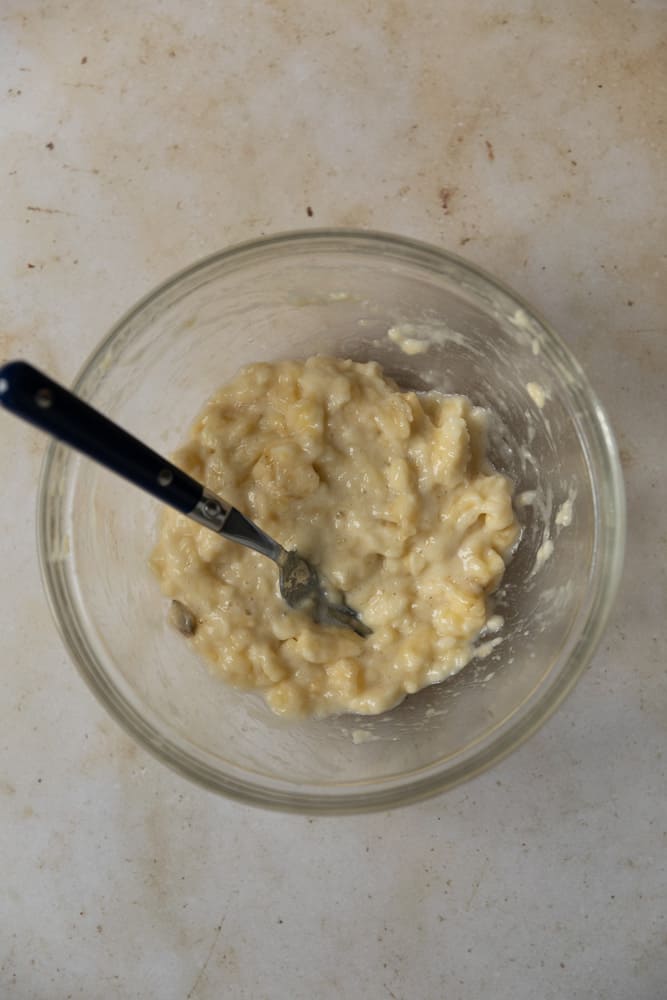 What makes these cupcakes so moist
These cupcakes are super moist from the fresh mashed banana that is used in combination with the mixture of creamed butter and sugar and the addition of buttermilk.
TIPS FOR RECIPE SUCCESS
Set the butter, eggs, and buttermilk out 10-15 minutes before getting started to bring them to room temperature. Your bananas shouldn't be ice cold either.
This recipe makes between 20 and 24 cupcakes, so you will need two 12-cup muffin tins, or you can bake the batter in two batches.
Save your fresh bananas for snacking, and use the brown and spotty ones for baking. The softer and more ripe the bananas, the more moist and sweet your cake will be.
Measure the dry ingredients precisely. If you don't have a scale, spoon (NEVER scoop) the flour from the container into your measuring cup and level it off. You'll have too much if you scoop the flour directly from the container with the measuring cup.
Only mix until combined! Overmixed cupcake batter can result in tough, chewy cupcakes.
Fill the cupcake liners no more than 2/3 full, or they will spill over the top. A 3-tablespoon cookie scoop is a perfect portion.
The cupcakes are done when a toothpick inserted into the center comes out mostly clean with some moist crumbs.
Only allow the cupcakes to cool in the tin for 5 minutes, or the residual heat will bake the cupcakes further. After 5 minutes, remove the lined cupcakes from the tin and cool completely on a wire rack before frosting.
STORAGE AND FREEZING
Storing: Unfrosted banana cupcakes are best kept in a covered container or wrapped tightly in plastic at room temperature for 3-4 days. If topped with cream cheese frosting, it's best to keep the cupcakes covered in the fridge.
Freezing: If planning to freeze your cupcakes, let them cool, then wrap the cupcakes individually in plastic wrap and keep them frozen for up to 3 months. Thaw at room temperature, then layer on the cream cheese frosting.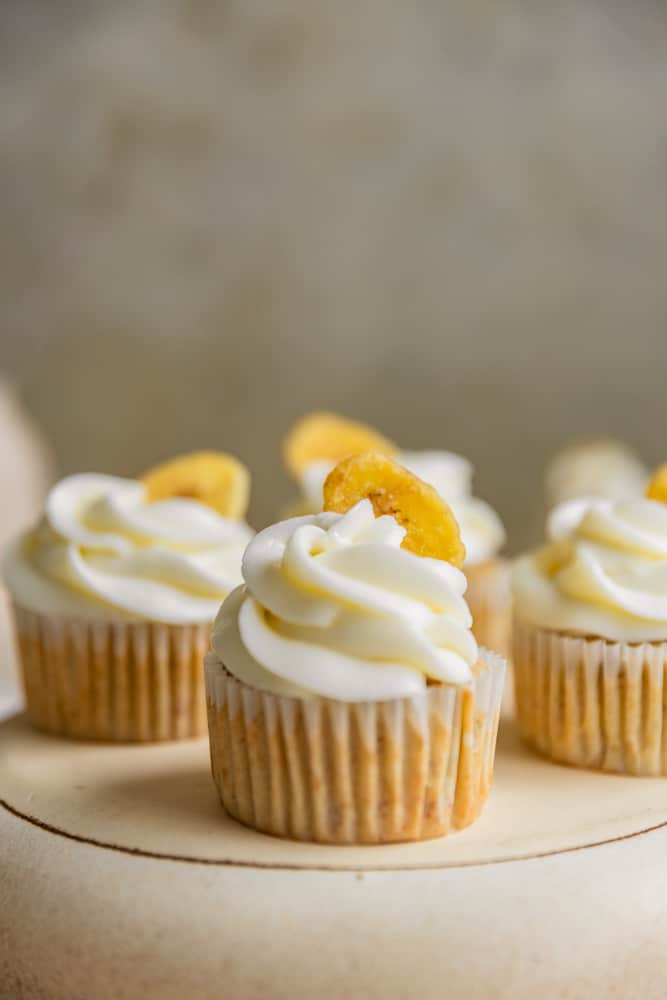 FAQ
What type of frosting goes with banana cupcakes?
Cream cheese frosting! The super sweet and soft cake pairs perfectly with the complex, tangy tastes in cream cheese frosting. It's a great frosting to pipe perfectly onto your cake or slather with a spoon or knife.
What can I add to the banana cupcake batter?
Feel free to get creative and add goodies to the batter, like mini chocolate chips, white chocolate chips, peanut butter chips, caramel bits, shredded coconut, or chopped nuts (walnuts, pecans, macadamia nuts, etc.).
Can I add mashed bananas to a box of cake mix?
Sure! You should be able to use mashed bananas instead of the oil suggested on the box instructions without a problem.
WAYS TO ENJOY
While I highly recommend adorning your banana cupcakes with cream cheese frosting, it isn't the only tasty option. You can also use:
Chocolate Glaze (microwave chocolate with oil in 30-second increments until smooth)


Moist Banana Cupcakes with Real Banana
These Banana Cupcakes are moist and fluffy with naturally sweet and creamy banana flavor and deep caramel undertones from the brown sugar.
Print
Pin
Save
Saved!
Rate
Ingredients
2

large bananas

peeled and mashed (280g)

2

cups

all purpose flour

240g

1

tsp

baking powder

½

tsp

baking soda

½

tsp

kosher salt

½

cup

butter

unsalted at room temperature 113g

½

cup

granulated sugar

100g

½

cup

brown sugar

110g

1

egg

large

2

egg whites

yolks discarded

2

tsp

vanilla extract

¾

cup

buttermilk
Instructions
Preheat the oven to 350 degrees Fahrenheit and line a muffin tin with muffin liners. This recipe makes 20-24 cupcakes depending how much batter you use, so you can line 2 muffin tins or bake and repeat.

In a small bowl mash the bananas until creamy, it's ok if there are some lumps. In a medium size bowl combine the 2 cups flour, 1 tsp baking powder, 1/2 tsp baking soda, and 1/2 tsp kosher salt. Whisk until combined.

In the bowl of a hand mixer or stand mixer fitted with the paddle attachment cream the ½ cup butter with the ½ cup granulated sugar, and the ½ cup brown sugar until creamy, about 2 minutes.

Scrape down the bowl and add the egg, 2 egg whites and 2 tsp vanilla extract. Mix for 1 minute on medium speed.

Add in the mashed banana and mix until well combined.

Next add in 1/3rd of the dry ingredients, then half of the buttermilk and alternate, starting and ending with the dry ingredients.

Mix only until combined. Do not overmix.

Using a 3 tbsp cookie scoop, scoop the batter into the muffin liners ¾ of the way full. Bake for 19 minutes or until the cake is set.

Cool and frost with cream cheese frosting
Nutrition
Nutrition Facts
Moist Banana Cupcakes with Real Banana
Amount Per Serving (1 cupcake)
Calories 148
Calories from Fat 45
% Daily Value*
Fat 5g8%
Cholesterol 21mg7%
Sodium 163mg7%
Potassium 85mg2%
Carbohydrates 23g8%
Protein 2g4%
Vitamin A 176IU4%
Vitamin C 1mg1%
Calcium 32mg3%
Iron 1mg6%
* Percent Daily Values are based on a 2000 calorie diet.