These classic Chanukah jelly donuts will get you through this holiday season.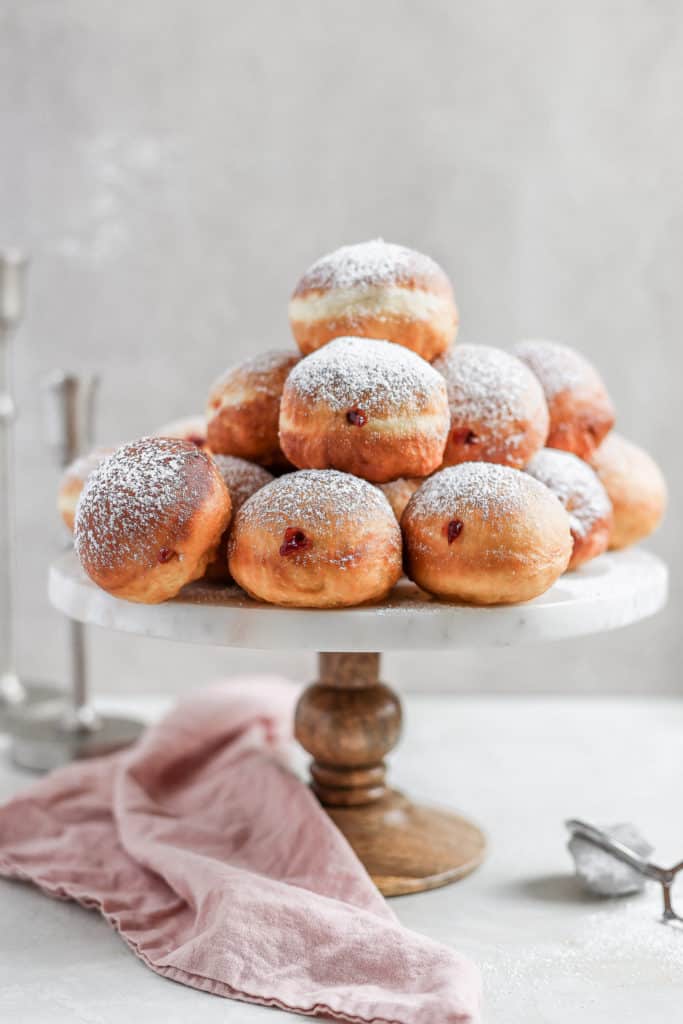 Chanukah is the ultimate treat y'oself Jewish holiday. There's presents, fried foods, lots of family and friends time, and therefore, it is my favorite.
Getting back to the fried foods- I confess, I'm not so into latkes. Its just not my thing. BUT there are also sufganiyot, aka Chanukah jelly donuts, and those are TOTALLY my thing.
I don't go crazy with any flavors, injections, or insane toppings-mostly because I'm lazy, but also because I just like the classic sufganiyah (jelly donut).
Soft, pillowy rounds of fluffy dough fried to perfection, stuffed with strawberry jam and topped with confectioners sugar. I do however, add in a not so secret ingredient of orange zest that gives the donut the perfect little extra hint of flavor, so if you can, don't skip it!
You make also notice that there is baking powder in the recipe. I know most recipes that call for yeast don't call for baking powder as well, but I've found that it gives the donuts just that little extra fluffy texture that I'm looking for.
Growllllll, could so go for one of these right now.
Luckily Chanukah jelly donuts are super easy to make, so I highly recommend treating yo'self and yo'family to these!
Happy Holidays friends!
Chanuka Jelly Donuts aka Sufganiyot
Sufganiyot are jelly donuts that are eaten traditionally over Chanukah. These are soft, fluffy, and have a hint of orange zest, utterly delicious!
Print
Pin
Rate
Ingredients
1 1/2

cups

warm water- not boiling

4 1/2

tsp

instant yeast

or 2 envelopes rapid rise or active yeast

1/3

cup

granulated sugar

Zest from one medium orange about 2 tablespoons

1

tablespoon

vanilla extract

2

large eggs

1/3

cup

vegetable oil

5 1/2

cups

all purpose flour

1

teaspoon

baking powder

just do it

2

tsp

kosher salt

For the stuffing:

Strawberry Jam or jam of choice

For the topping:

Confectioners sugar
Instructions
In a large mixing bowl, mix the warm water with the yeast and leave to sit until it froths, about 10 minutes.

Add sugar, zest, vanilla, eggs, and oil to the bowl and mix until well combined.

Add flour, baking powder, and salt, and knead or mix on medium for 5 minutes until a soft, non sticky dough forms. You will know the dough is ready when it separates easily from the bowl, or when it stops sticking to your rolling surface. Add in more flour by a 1/4 cup if you need to while mixing if the dough is too sticky, but you should be fine with just 5 1/2 cups.

Grease or spray a large bowl with pam and place dough inside to rise for 1 hour.

Remove the dough from the bowl onto a lightly floured surface. Punch it down and roll it out into a rectangle- 3/4 of an inch in thickness.

Using a 3 inch round cookie cutter cut out circles, and set aside on a parchment paper lined cookie sheet. Gather scraps and repeat.

You can alternatively take pieces of dough and roll them into balls and let them rise instead of rolling out the dough and cutting shapes. If you have a kitchen scale its best to measure out the dough at about 60-65 grams (about the size of a golf ball).

Let the circles or balls rise for another 45 mins to an hour.

Using a deep fryer or a large stock pot, heat your oil to 350 degrees F.

If you don't have a thermometer, a good way to tell if your oil is read for frying is to heat it on medium for a few minutes. Then using a wooden spoon, stick the handle into the oil, if it starts to bubble around the handle, then you know your oil is ready. You can also take a small piece of dough and do a test.

When the oil is ready, fry the donuts for 30 seconds on each side or until golden brown.

Remove donuts from oil, and drain on a cookie sheet or paper towel to remove excess oil.

Once cooled, fill the donuts with jelly- the easiest way to do this is with a squeeze bottle. Fill the bottle with jelly, stick the tip into the donut and squeeze.

Top donuts with confectioners sugar.

Enjoy!
Notes
*Dont skip the orange zest, it gives the dough such great flavor!
**These can be made into mini donuts using 2 inch cutter and then dipped into jelly instead of stuffed.