This vanilla dairy free cupcake recipe is as quick and straightforward as baking a box of vanilla cupcake mix -no special equipment is needed. They contain oil and non-dairy milk, so these cupcakes are totally dairy-free, but you'd never know the difference! They are moist, fluffy, and perfect for dairy-free buttercream frosting.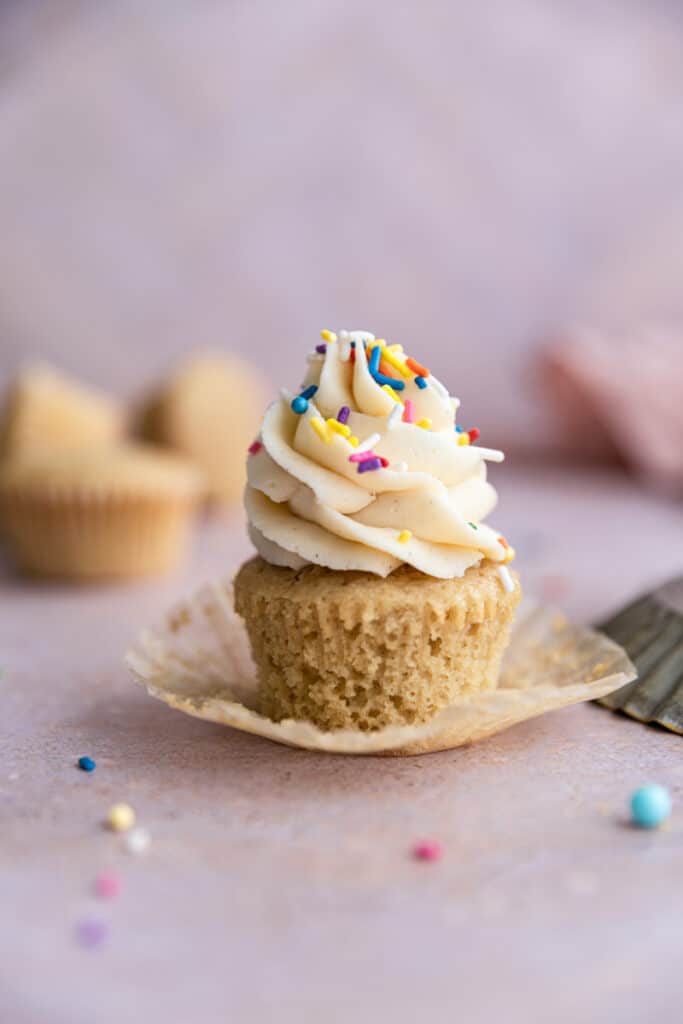 One of my takeaways from graduating pastry school is the importance of a tried-and-true vanilla cupcake recipe. The reason is that when you have a really good vanilla cupcake recipe, you can use it as the canvas for all your favorite cupcake flavors!
These vanilla cupcakes are a dairy-free variation of my vanilla cupcakes with oil, which I tested FIVE times to promise you that they're perfect! Cow's milk is replaced with plant-based milk, and just like that -they become dairy-free!
As for topping, my dairy-free frosting is the perfect pairing. It's vanilla based and pipes like a dream!
Also, it tastes just like regular vanilla buttercream frosting and can easily be revamped into flavors like strawberry frosting, lemon buttercream frosting, or even a coconut frosting.
WHY YOU SHOULD MAKE THIS RECIPE
The cupcake batter comes together in one mixing bowl, and the whole recipe comes together in less than 30 minutes.
These dairy-free vanilla cupcakes are perfectly adorned with any dairy-free buttercream frosting flavor.
These cupcakes are easy to adapt to the aesthetic of any special occasion with dairy-free food coloring and decorations.
The combination of oil and dairy-free milk makes the cupcakes delightfully tall and thick yet also light and fluffy.
INGREDIENTS NEEDED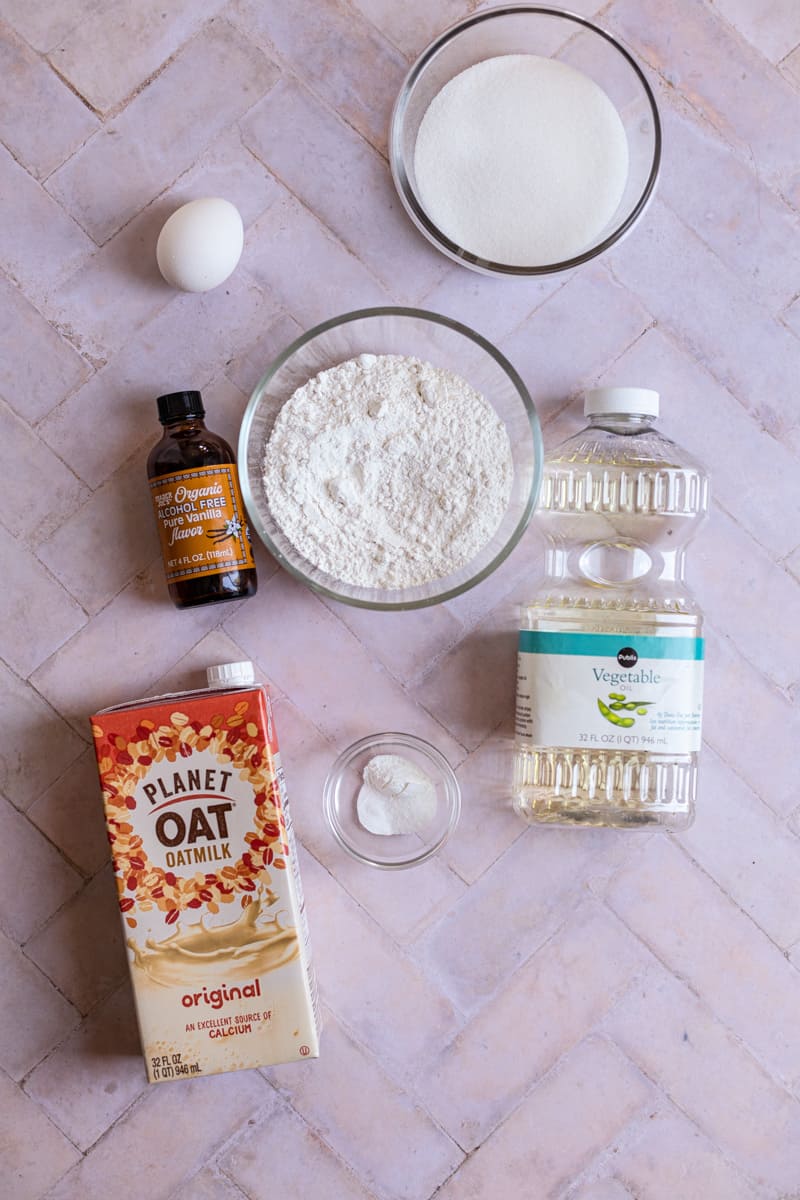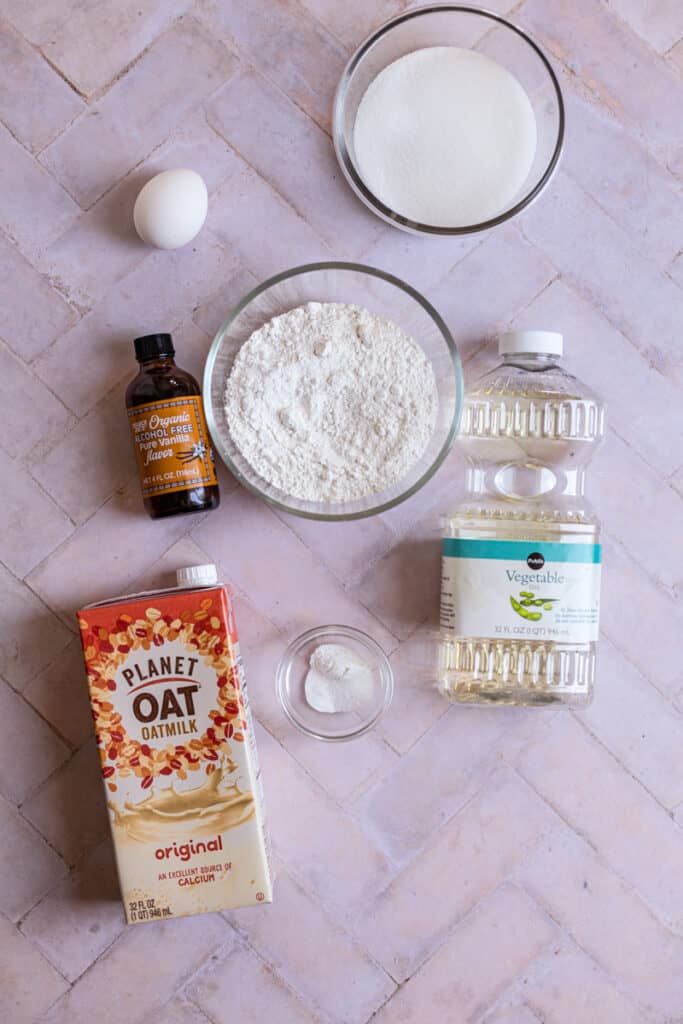 Granulated sugar – Sweetens the batter and improves the moist-tender crumb.
Flour – All-purpose flour acts as the framework of these cupcakes and gives them their structure.
Baking powder & baking soda – This pair of leavening agents cause a reaction as the batter bakes, so it expands and rises into plump, stable cupcakes.
Kosher salt – Helps activate the leavening agents while balancing the sweet flavors in the batter.
Oat or Soy milk – Loosens the mixture of ingredients into a rich, creamy, pourable cupcake batter. You can also use full-fat coconut, almond, or rice milk here.
Vanilla extract – Adds the classic sweet and creamy vanilla cupcake flavor. To switch up the base cupcake flavor, try almond, lemon, maple, or coconut extract instead.
Vegetable oil – Oil is the high-fat element that produces decadent, moist cupcakes. Canola, grape seed, and sunflower oil also work.
Egg – An egg binds the batter, so it bakes into tender, golden cupcakes.
Best dairy free milk to use
I like using oat milk because of its creamy consistency but you can use any dairy free milk you want. This recipe also works with soy milk, rice milk, or even coconut milk. Whatever you have on hand will work!
HOW TO MAKE DAIRY FREE CUPCAKES FROM SCRATCH
Prepare for baking: Preheat the oven to 350F, and line a muffin tin with cupcake liners.
Combine dry ingredients: Add the sugar, all-purpose flour, baking powder, baking soda, and kosher salt to a large mixing bowl, and whisk lightly to combine.
Mix with wet ingredients: Next, add the oat milk, vanilla, vegetable oil, and egg to the dry mixture, and mix until well incorporated, but do not overmix!
Pour batter and bake: Fill each muffin cup 2/3rds (a 3-tablespoon cookie scoop portions the perfect amount!). Then, bake for 18 minutes (or until a toothpick inserted in one of the cupcakes comes out clean.
Cool, then decorate: Remove from the oven and let cool completely on a wire rack before removing the cupcakes from the muffin tin and frosting with vegan vanilla buttercream. Enjoy!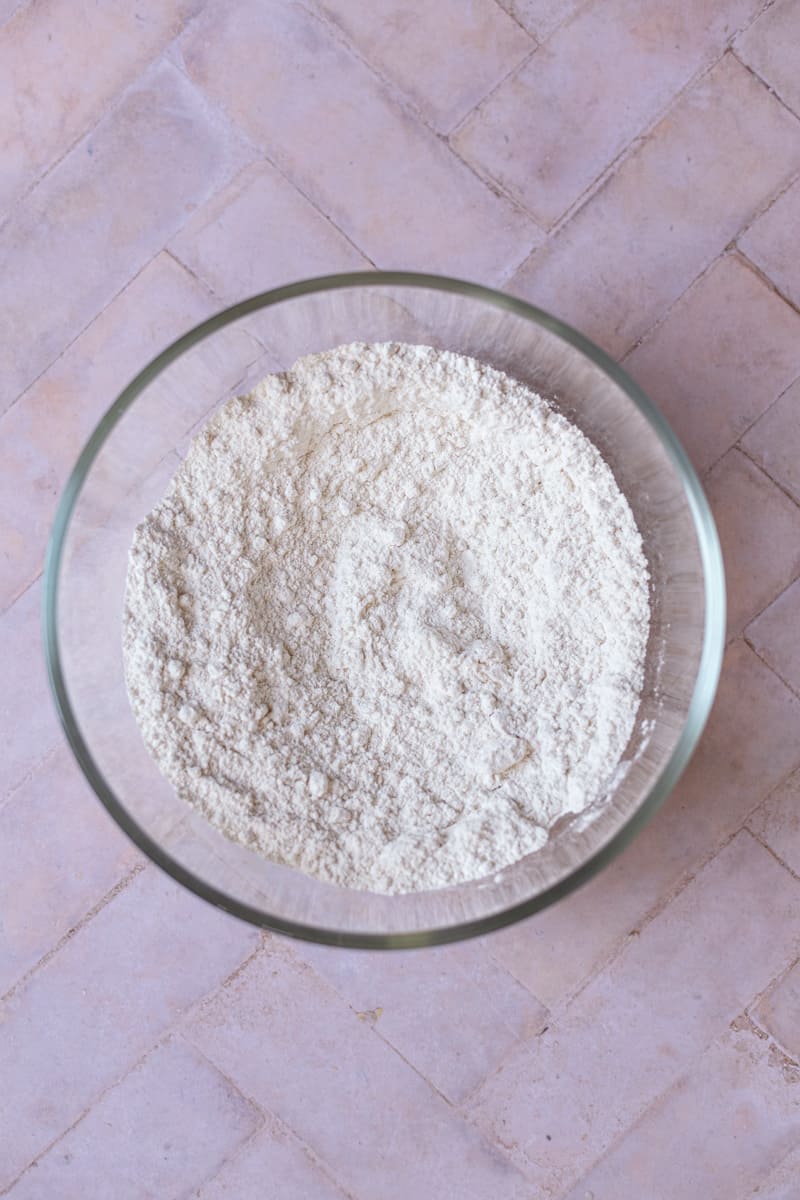 TIPS FOR RECIPE SUCCESS
Spoon, never scoop baking flour. Instead of scooping the flour directly from the container with your measuring cup, spoon it into the measuring cup and level it off with a knife. If you scoop you will end up with too much flour making a dense cupcake.
Everything must be room temperature. Chilled ingredients don't absorb as well, resulting in overly thick batter and a rubbery texture.
Do not overmix the cupcake batter. Overworked batter tends to yield dense, chewy cupcakes, so mix just until everything is incorporated and the batter is silky smooth.
The muffin pan color matters. Lighter colored tins distribute heat more evenly. Darker pans tend to get too hot and burn whatever is baked in them.
Do not open the oven door! Instead, wait until the cupcakes rise in the middle and are set before pulling them out of the oven.
Wait until the cupcakes are cool to frost them. You dont want the frosting to slide off!
Decorating the cupcakes
I like frosting these cupcakes using piping bags and Wilton 2D decorating tips.
If you don't have a piping bag, you can use a zip-top bag with a snipped corner. Otherwise, simply slather on the frosting with an offset spatula or spoon!
Don't forget to top them with sprinkles!
STORAGE AND FREEZING
Storing: Unfrosted dairy-free cupcakes are okay to leave at room temperature for up to two days. After that, they should be kept in an airtight container in the refrigerator for up to five days. If frosted with vegan buttercream, they must be refrigerated, or the frosting will melt quickly at room temperature.
Freezing: To freeze, let cool completely, then place the cupcakes on a baking sheet and set it in the freezer until the cupcakes are firm. Next, transfer the frozen cupcakes to a freezer-safe zip-top bag, and freeze for up to 3 months—Thaw in the fridge overnight or at room temperature for a few hours before frosting.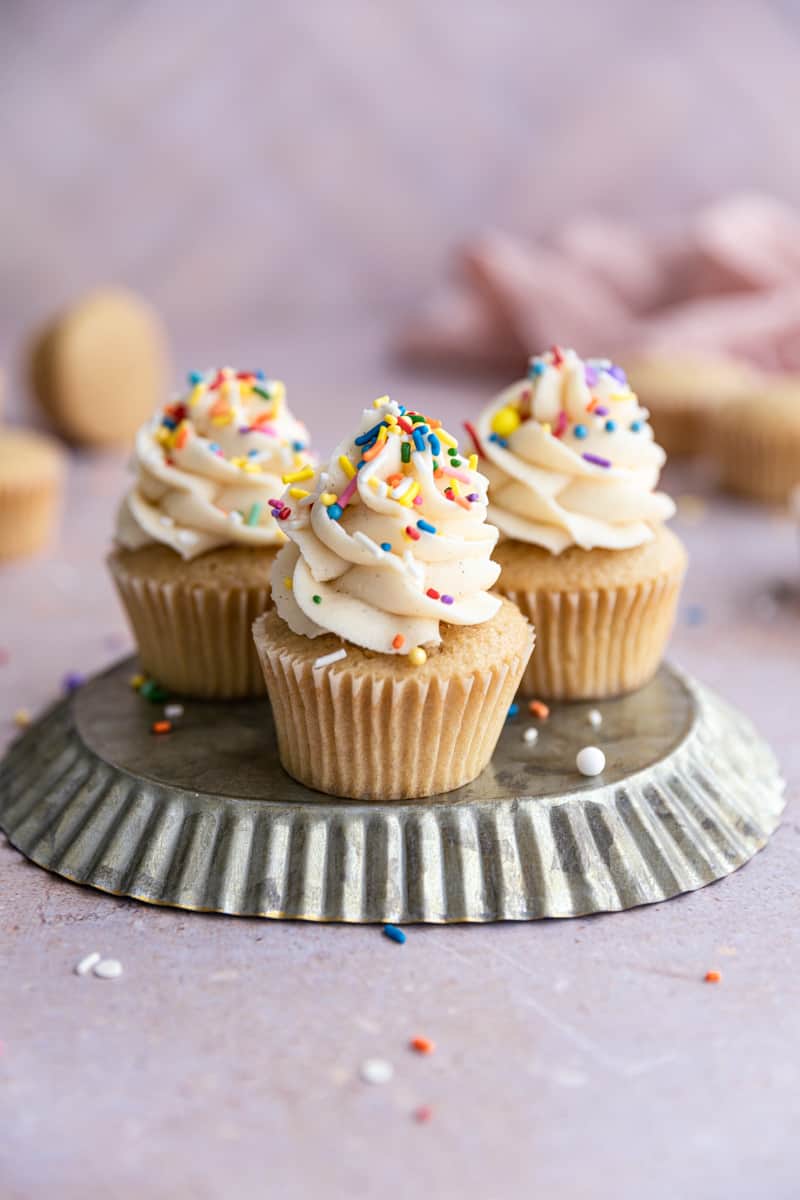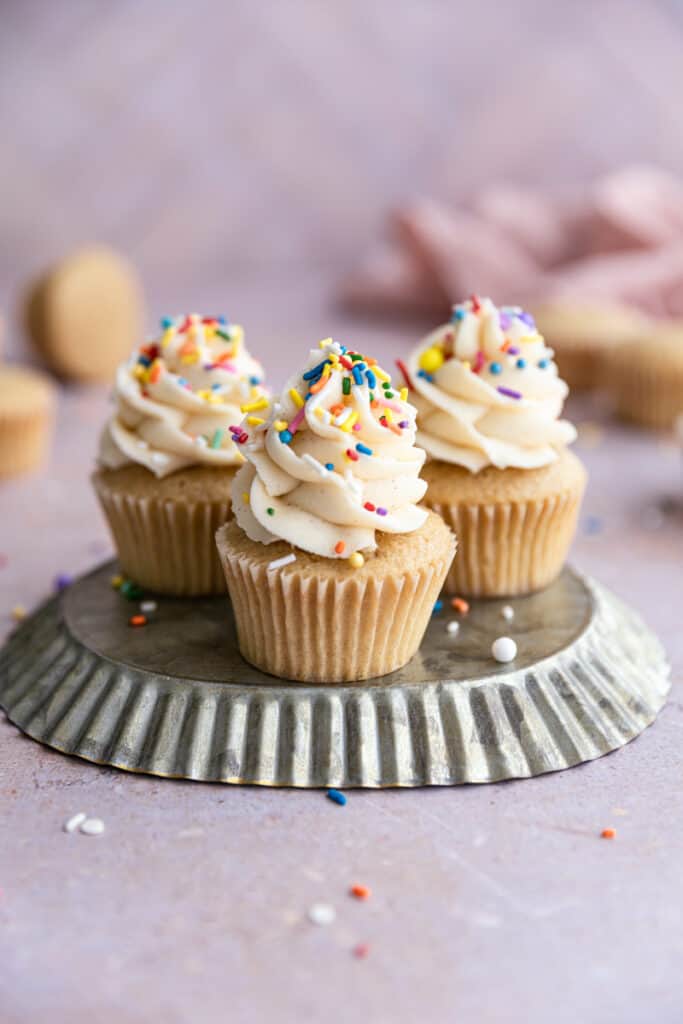 FAQ
Why are my dairy-free cupcakes dry?
If they are not overbaked, then you probably used too much flour. Weighing your dry ingredients with a kitchen scale is a great way to eliminate the margin for measuring errors.
Why did my cupcakes sink in the middle?
Oh, no! This happens for several reasons. Let's troubleshoot. You may have overworked the batter, used too cold ingredients, or your oven was too hot.
Can I make mini dairy-free vanilla cupcakes?
Yes! For minis, bake the batter in a mini cupcake ban for 12 minutes or until set.
Can I make these cupcakes egg-free/vegan?
While I've only tested this recipe with an egg, I'm fairly certain using replacing it with a flax egg will not sacrifice the success of your cupcakes. To make one flax egg, mix one tablespoon of flaxseed meal with three tablespoons of water, and let it sit for about 5 minutes or until the mixture thickens into a gelatinous, eggy consistency.
WAYS TO ENJOY
These vanilla cupcakes are super flexible and pair well with many dairy-free frosting flavors! Use my vegan American buttercream as the base of your frosting, and switch up the flavor with the flavoring ingredients listed in these homemade buttercream recipes:


Quick and Fluffy Dairy Free Cupcakes
This vanilla cupcakes recipe is as quick and straightforward as baking a box of vanilla cupcake mix -no special equipment is needed. They contain oil and non-dairy milk, so these cupcakes are totally dairy-free, but you'd never know the difference! They are moist, fluffy, and perfect for dairy-free buttercream frosting.
Print
Pin
Save
Saved!
Rate
Ingredients
¾

cup

granulated sugar

(157g)

1 ¼

cup

flour

(160g)

1

tsp

baking powder

(4g)

¼

tsp

baking soda

(1 ½ g)

½

tsp

kosher salt

(3g)

¾

cup

Oat milk

(6 oz) Sub soy milk

1

tbsp

vanilla extract

(14g)

¼

cup

vegetable oil

(2 oz)

1

egg

(50g)
Instructions
Preheat the oven to 350F and line a muffin tin with cupcake liners.

In a large mixing bowl combine the ¾ cup sugar, 1 ¼ cup all purpose flour, 1 tsp baking powder, ¼ tsp baking soda, and ½ tsp kosher salt and whisk lightly to combine.

Next add in the ¾ cup oat milk, tablespoon of vanilla, 1/4 cup vegetable oil, and 1 egg.

Mix until combined but do not overmix.

Fill each cup ⅔ of the way full. Do not overfill.

Bake for 18 minutes.
Notes
Use any dairy free milk you have on hand but I like to use oat milk because it is creamier than other dairy free milks.
Nutrition
Nutrition Facts
Quick and Fluffy Dairy Free Cupcakes
Amount Per Serving (1 cupcake)
Calories 151
Calories from Fat 45
% Daily Value*
Fat 5g8%
Cholesterol 14mg5%
Sodium 168mg7%
Potassium 42mg1%
Carbohydrates 23g8%
Protein 2g4%
Vitamin A 78IU2%
Vitamin C 1mg1%
Calcium 45mg5%
Iron 1mg6%
* Percent Daily Values are based on a 2000 calorie diet.