Learn everything you need to know about how to decorate a cake with flowers for weddings, birthdays and more! This detailed post will give you a bunch of ideas and tips on how you can create a beautiful floral cake.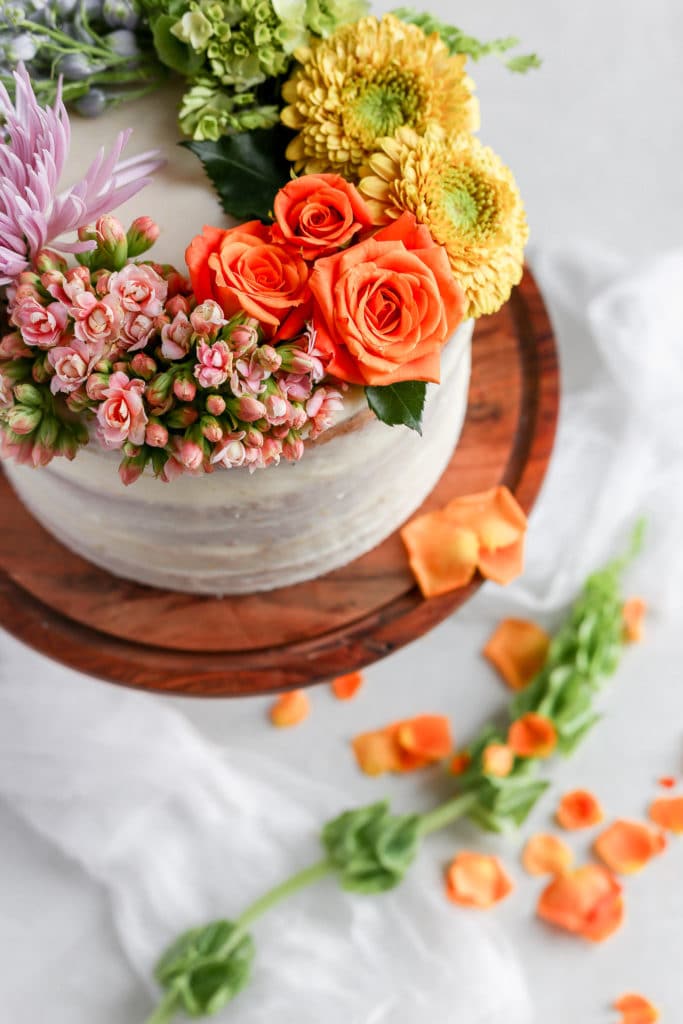 If you've been around these parts a while, then I think you know that I love to decorate a cake with flowers. Fresh (non-edible) flowers, to be exact. I think I would even go far enough to say that it's my favorite way to decorate my cakes.
Decorating with non edible flowers:
There's something so dainty and rustic about putting flowers on a cake, plus the options are endless.
You can make a bold statement with a bunch of flowers in the same varying hues, or you can simply place one or two pastel colored flowers off the side of a cake for a girlish touch.
Examples of both right here!
Bold and Dramatic Cake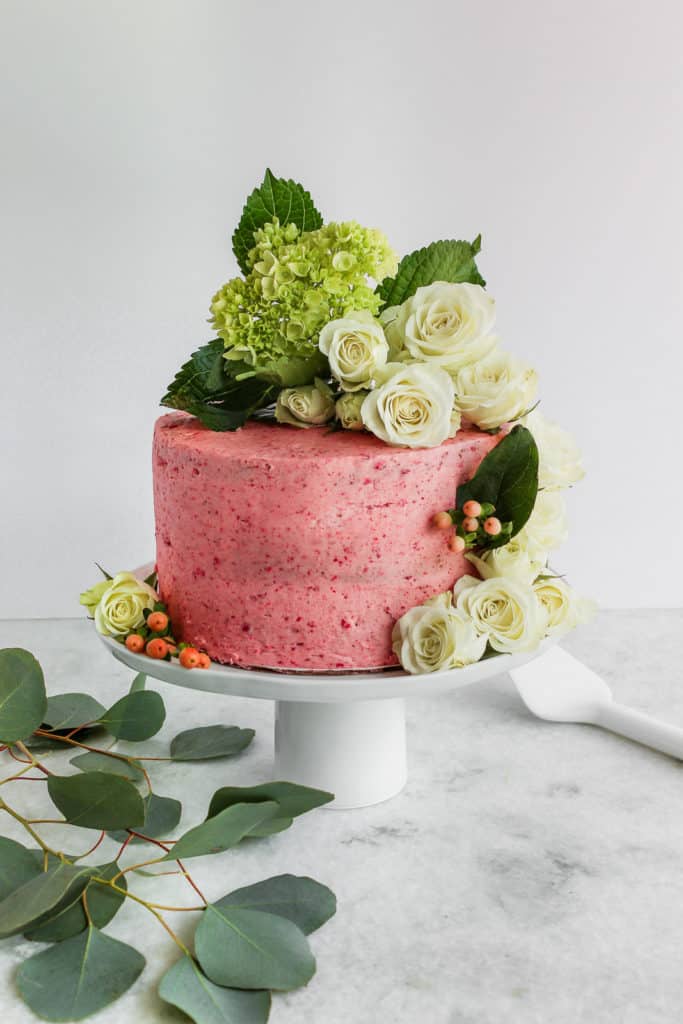 Dainty and Girly Cake
Tools Needed:
a frosted cake
flowers
a sink
a towel
scissors
plastic wrap
I think one of the things I love most about decorating cakes with flowers actually is that it requires no piping bags or equipment at all.
This might sound weird, but I really dislike working with buttercream; especially when you need multiple colors of it.
You need a lot of bowls to mix the colors, then you (I***) inevitably make a huge mess, while your (my***) hand cramps from all the mixing, and you (I, again***) haven't even gotten to putting the colors in the piping bags yet.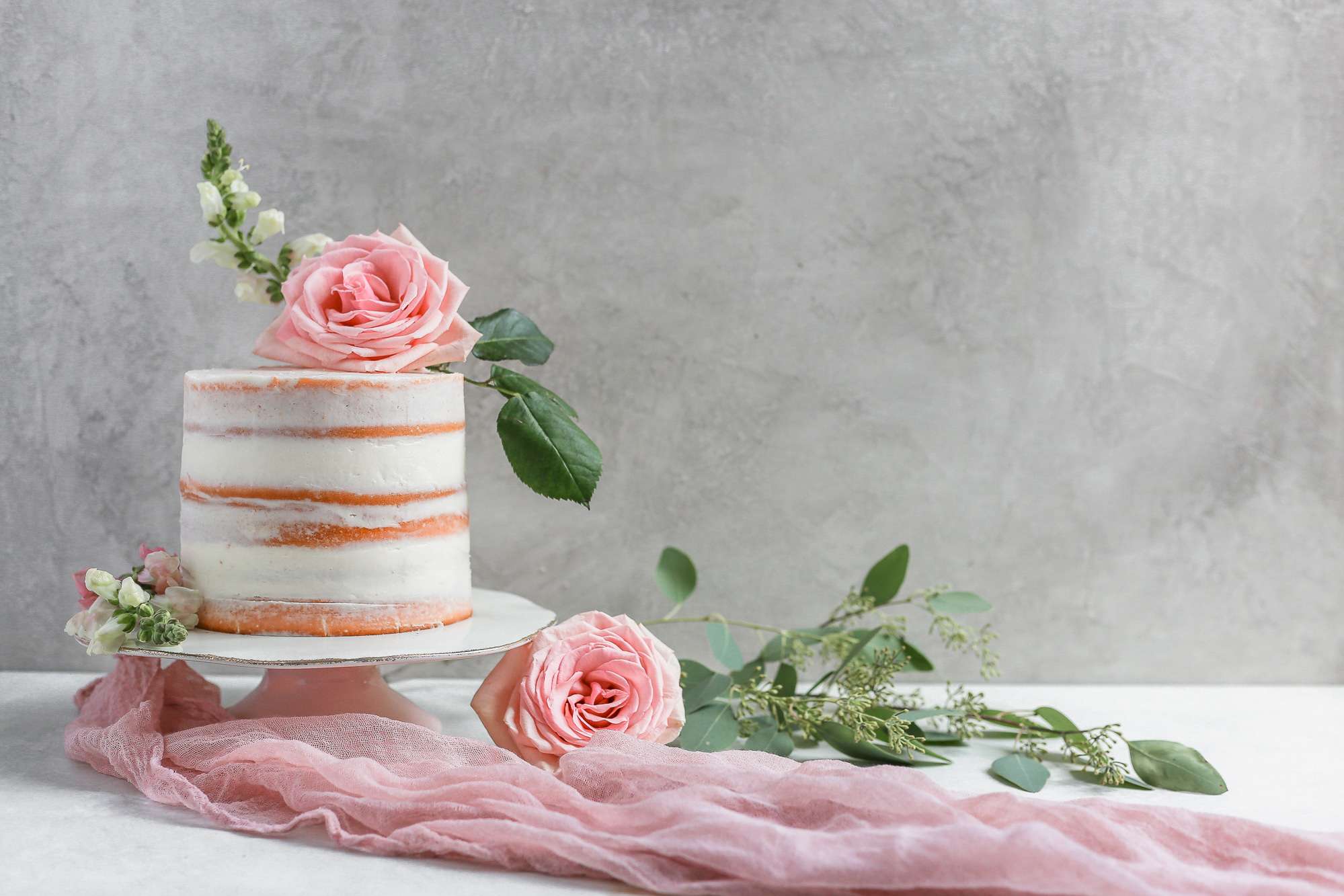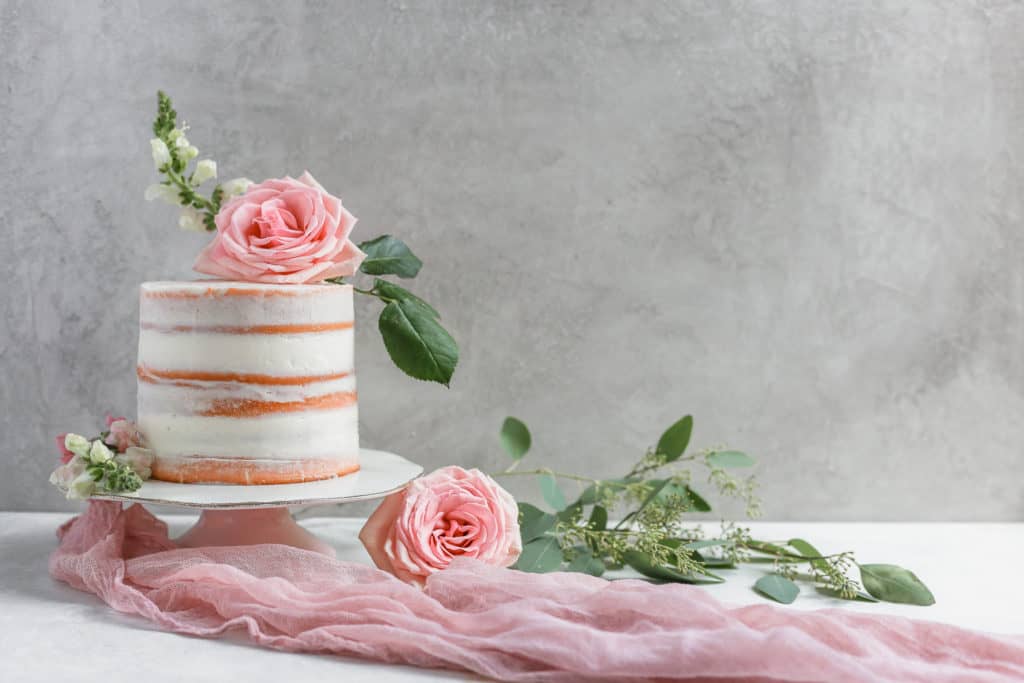 How to decorate a cake with flowers
But how do you safely decorate a cake with non-edible flowers? Amazing question! It's super simple, let me tell you!
1. Choose the right type of flowers
First, the best kind of flowers to use obviously are organic, pesticide-free flowers. If that's not an option, it's totally fine, there are ways around it.
Pro tip though: when you buy your flowers DO NOT put the flower food in the water while you prep. I mean obviously, but just a disclaimer if you are someone who always uses flower food and would do it mindlessly.
2. Cut the stems
Next, take your flowers and cut them as short as you think you might need. For flowers that will lay flat on their own, you can cut the stems shorter, but for flowers that might need a little stability, leave a little bit of the stem to stick into the cake.
3. Wash the entire flower
Now comes the washing. You need to wash every single part of the flower that you are putting on the cake. So stem, leaves, petals, the whole deal.
Washing the inside of the flower isn't really for pesticides because no one is actually eating the flower. It's more so that you don't find a bug come out of one of them and onto your cake. yeah. ew. gross. Wash those petals!
4. Dry the flowers
Now dry them good. Shake the flowers out and dry them well with paper towels. If I'm using roses, I make sure to turn them upside down, because sometimes water will pool up in their petals.
5. Start decorating!
Now on to the decorating! You can do this one of two ways.
If you are just placing your flowers onto the cake (flat) without actually sticking them in, you can place a piece of wax paper or plastic wrap over the area of the cake where you will be placing the flowers, and decorate away!
You can use little dabs of buttercream to keep the flowers in place. Make sure you cover the area completely so no one sees your tricks, and if a petal or two gets onto the cake, I'm sure it's fine because you washed it well anyways (right?).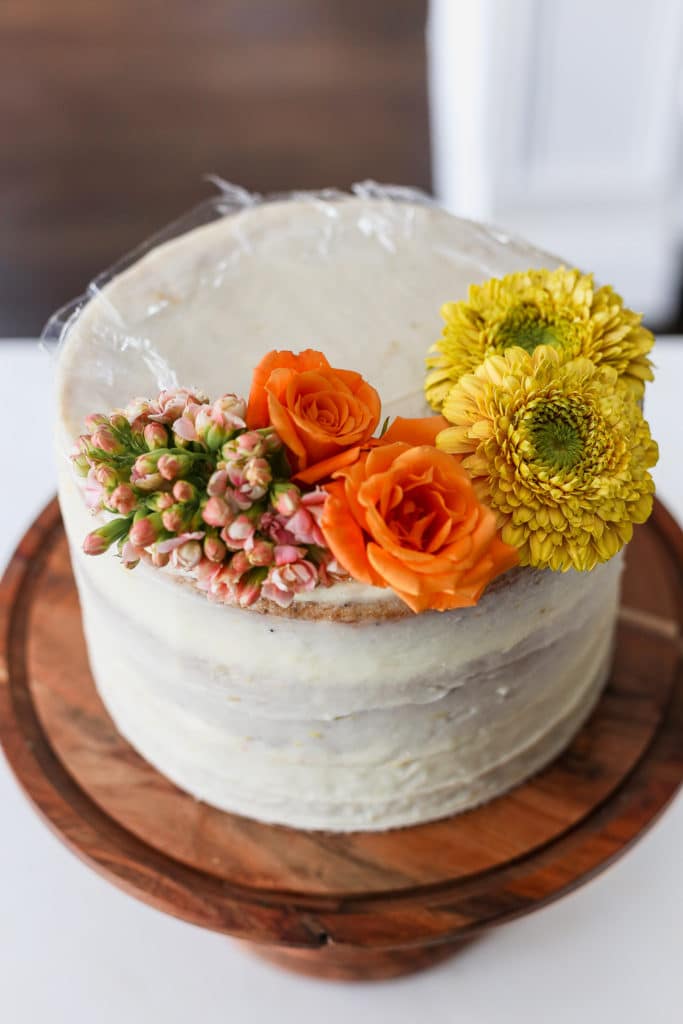 If your flowers need more stability and you need to stick the stems in the cake, the other way to decorate a real flower cake is to wrap the stems in plastic wrap. It's super simple, just a little time consuming.
Take a small piece of plastic wrap and wrap it around the whole stem up to the base of the flower. Now you can stick it into your cake, and your cake will still be safe to eat.
More tips for decorating cakes with flowers
It's best to decorate with fresh flowers on the same day you will be eating the cake, but if that's impossible, do it as close to the time as you can and store the cake with flowers on it in the fridge. Beware that if you wait too long (+24 hours), the flowers may wilt.
You can also play around with height with the flowers. Sometime I like to stack a bunch on one side and leave the other side open.
Or you can go horizontal and play with the way leaves look hanging off the sides of the cake for a dramatic effect. Like I said, endless options!
You can also use edible flowers! My fellow real flower cake loving friend Karlee, over on Olive and Artisan, has some super helpful tips on how to do that, plus she found an online store that will ship edible flowers to you! So getting on that, thanks girl!
I should also mention that cakes with flowers look pretty too once you cut the cake into slices. Remember when you were 5 and everyone at birthday parties would scream I WANT THE FLOWER but there was only like 3 for 25 kids?
Well, now don't be surprised if that happens again, but this time there's enough for everyone.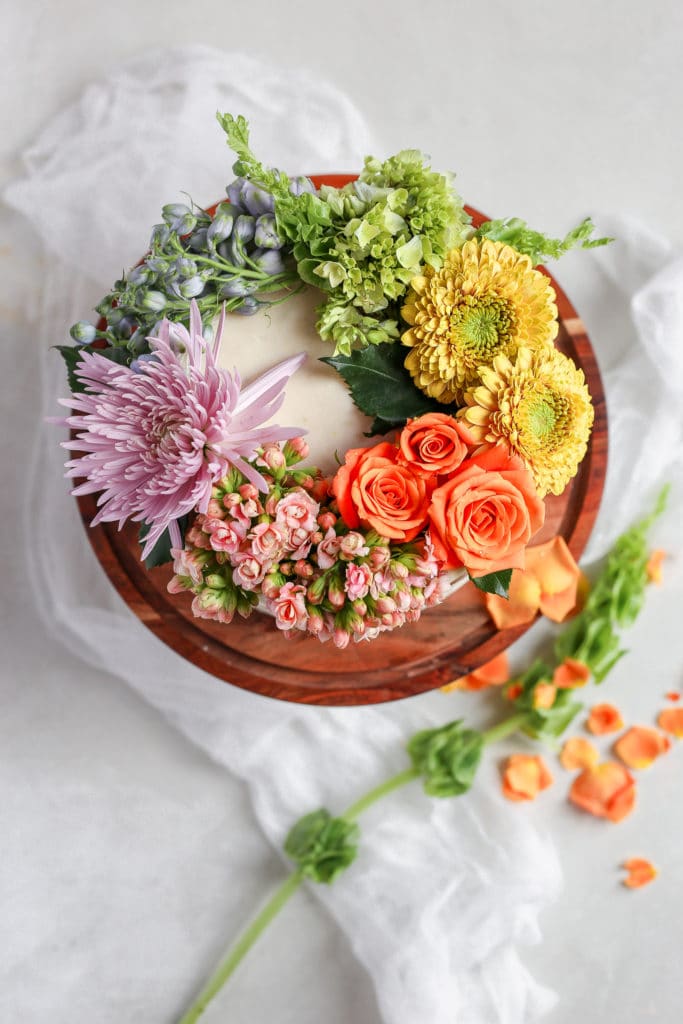 Voila, that's it!
See, I told you it was super simple to decorate a cake with flowers!
Usually the hard part for me is deciding on the design. Sometimes I have an idea in mind, like for this one, I wanted to do a rainbow theme so I went out looking for specific colors.
Other times, I have no idea and just buy what looks nice in the store and figure it out when I get home.
If you are looking for an easy cake to practice this on, my one bowl vanilla cake is a great one to try.
Or if you are struggling with how to make your cakes look more professional, be sure to read this post first for 10 tips on that and then start decorating away!
I would love to see any of your flowers on cake creations! Tag or send me your pics on Instagram!
Happy flowers on cake decorating, friends!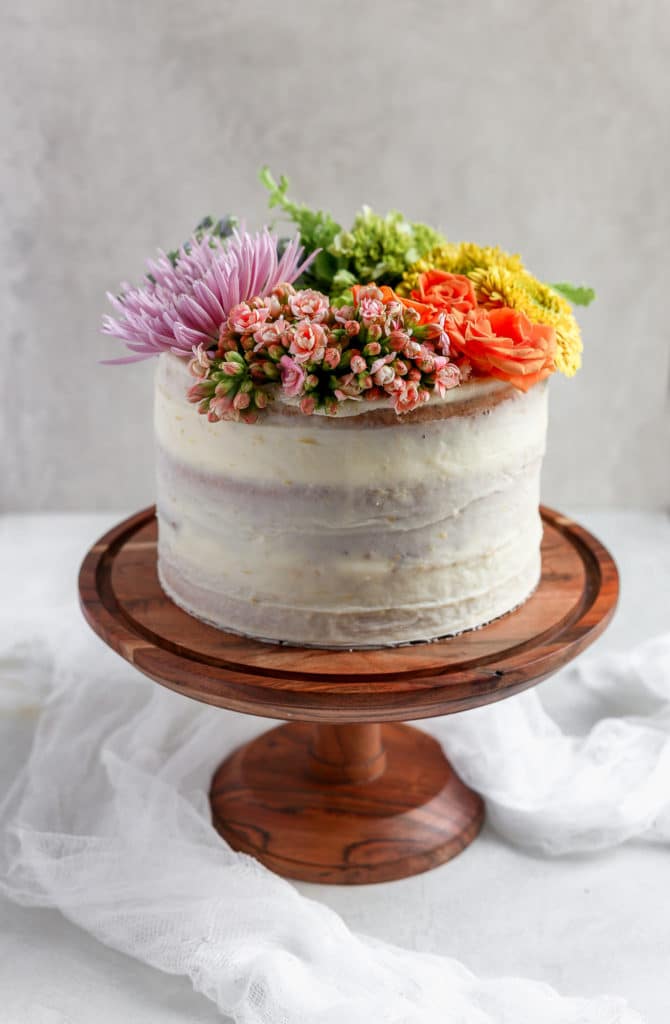 More tutorials to try:
Need more cake recipes?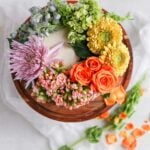 Print
How to decorate a cake with flowers
Learn everything you need to know about how to decorate a cake with flowers for weddings, birthdays and more!
Equipment
a sink

scissors

plastic wrap

Paper or kitchen towels
Materials
1

Frosted Cake

Flowers of your choice
Instructions
Choose the flowers you want to decorate the cake with. Pesticide free and edible flowers are best.

Cut the stems of the flowers to as short as you think you need them for the cake.

Wash the entire flower from stem to petals, then dry well on a towel.

When the flowers are dry you can wrap the stems or bottoms in plastic wrap and then stick them on the cake. If using edible flowers you don't need the plastic wrap. Alternatively you can place plastic wrap on the cake and then place the flowers on top making sure to cover up all the plastic area so it's not visible.

Start decorating the cake!
Notes
DO NOT place the flowers you want to use on your cake in a vase with flower food. That is poisonous! Just use fresh water instead.
Decorate as close as possible to the event for the flowers to look their best. Keep the cake in the fridge to keep the flowers looking crisp.