These cookie butter biscotti cookies are so incredibly irresistible and are made to easily dunk in your morning coffee over and over!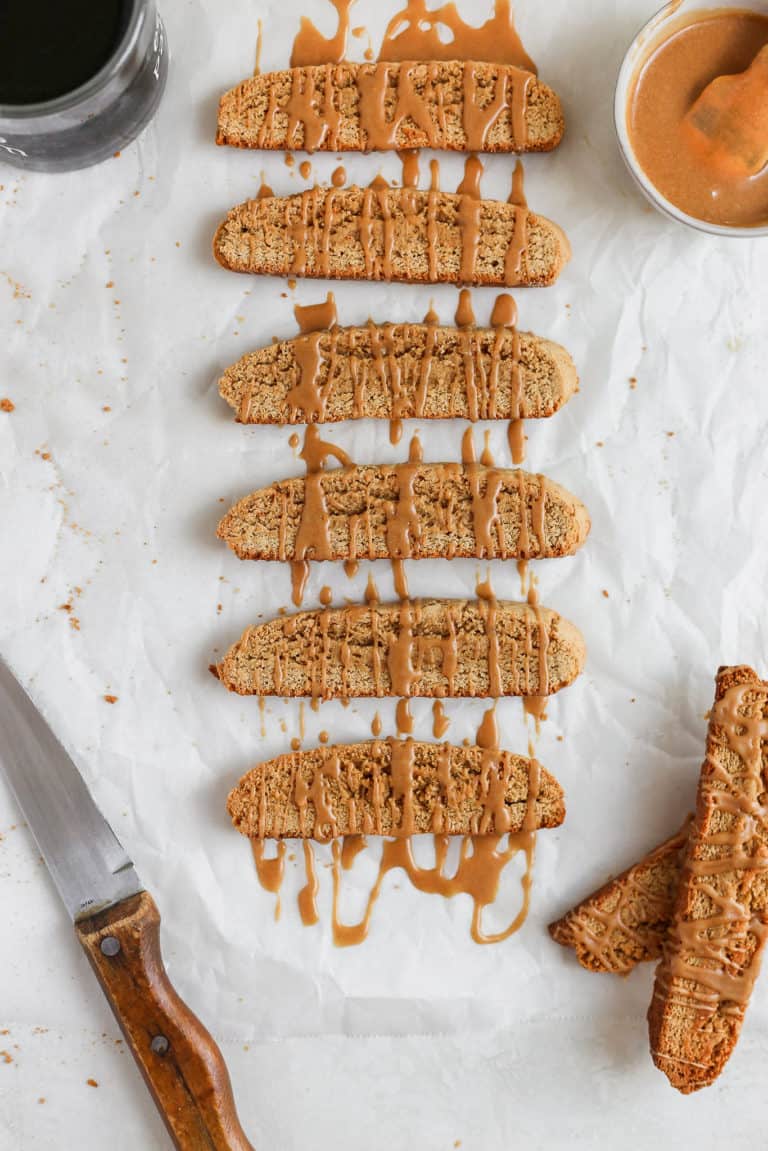 These cookie butter biscotti are packed with cookie butter flavor, in the dough and the glaze!
Cookie Butter Biscotti Cookies
Crispy, crunchy, and full of deliciously irresistible cookie butter flavor.
I came up with this easy biscotti recipe just about a year ago but didn't put them on the blog, and instead sent the recipe into a magazine hoping they would be featured. Spoiler alert: they weren't.
So now as we head into fall, and me not being quite ready to dive into the heart of all things warm and cozy — it's still 90 degrees outside! — I thought I could ease myself into fall baking with a nice dozen or two of cookie butter biscotti cookies.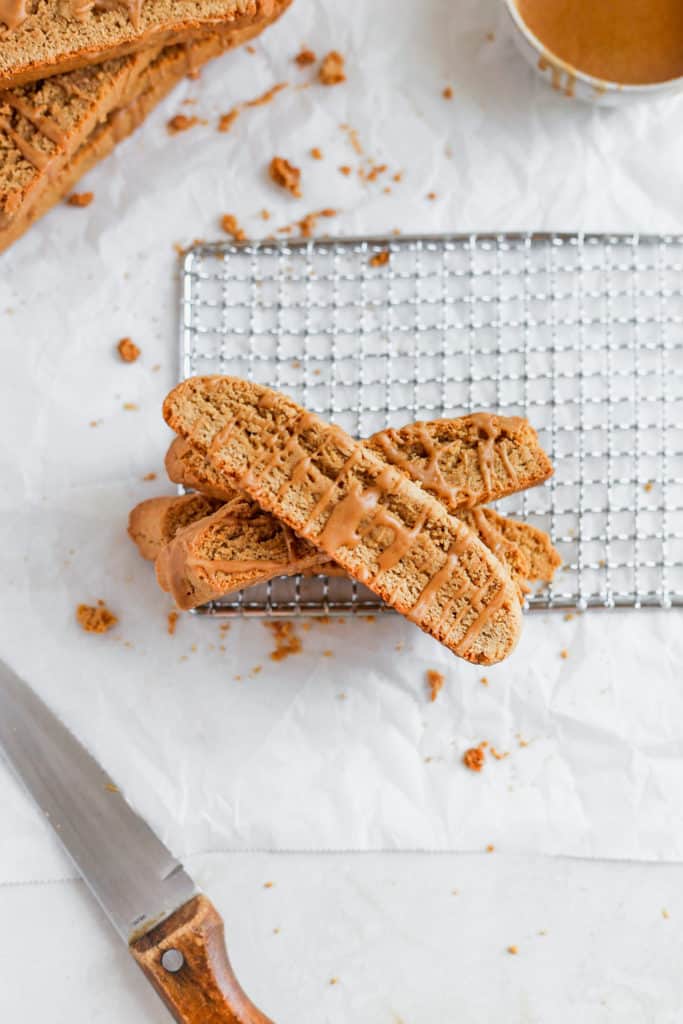 What Are Biscotti Cookies?
Biscotti are Italian cookies that are baked twice, but don't let that intimidate you, they are so easy to put together. After combining the ingredients, you bake the biscotti log, then cut it on a diagonal into individual cookies, then lay them flat and bake again to get them nice, crisp, and toasty.
After they cool off, drizzle them with — yep, you guessed it — more cookie butter flavor, in the form of a glaze.
Cookie butter on cookie butter, can't get much better than that.
Where to buy cookie butter
Let's talk about the cookie butter.
If you go through my site you'll see this is not the first time we're highlighting cookie butter. We have Cookie Butter Fudge, Cookie Butter Bark, and my ultimate favorite, Cookie Butter Babka.
Basically, it's because cookie butter is INSANELY AND IRRESISTIBLY addictive. I mean it's cookies and butter, not sure how it could be any other way. Last year during Hurricane Irma, I was so nervous I just started eating it out of the jar with a spoon. Instant comfort. For like three seconds, but whatever that's a story for another day.
I buy the Walmart brand Speculoos cookie butter — don't judge. I would love to buy the Lotus Bischoff spread on the regular but the Kosher one is majorly expensive because they have to import it.
So I buy the Walmart cookie butter for less than $3 and lose the shame because now I can buy 4 jars of cookie butter for the price of one. WIN.
What else is a win? These cookie butter biscotti!!
What's in these biscotti cookies?
Besides cookie butter (yum), the biscotti ingredients you'll need to make these twice-baked cookies include eggs, granulated sugar, all-purpose flour, vanilla extract, baking powder, and salt.
I know bloggers say this all the time, but I bet you really do have all the ingredients you need to make these homemade biscotti cookies right now. (No seriously, you should be starting a batch of these RIGHT NOW).
How to Make Biscotti Cookies
These are so easy to make from scratch! Simply combine the wet and dry ingredients in two separate bowls, then combine the two to form an epic cookie butter biscotti dough. Divide the massive dough ball in two, and shape each half into a log.
Bake the logs for 25 minutes, then remove from the oven and cut into inch-thick slices. Bake the biscotti cookies for another 20 minutes total, flipping them halfway through.
Once the cookie butter biscotti are out of the oven, drizzle on that glaze and dive in.
Tips for the best biscotti cookies
To make things easier, use a serrated knife to cut the biscotti cookies when you first take them out of the oven. If you try to cut these with a dull blade, you'll wind up smashing the biscotti rather than slicing them.
Note that the cookie butter biscotti will crisp up as they cool. These babies taste even more incredible once they've cooled and have had time to become crispy crunchy. Dip one (or five) into your morning cup of coffee for a real treat.
You'll also want to store these homemade biscotti in an airtight container at room temperature. These will last for quite a while! If you have more willpower than I do, that is.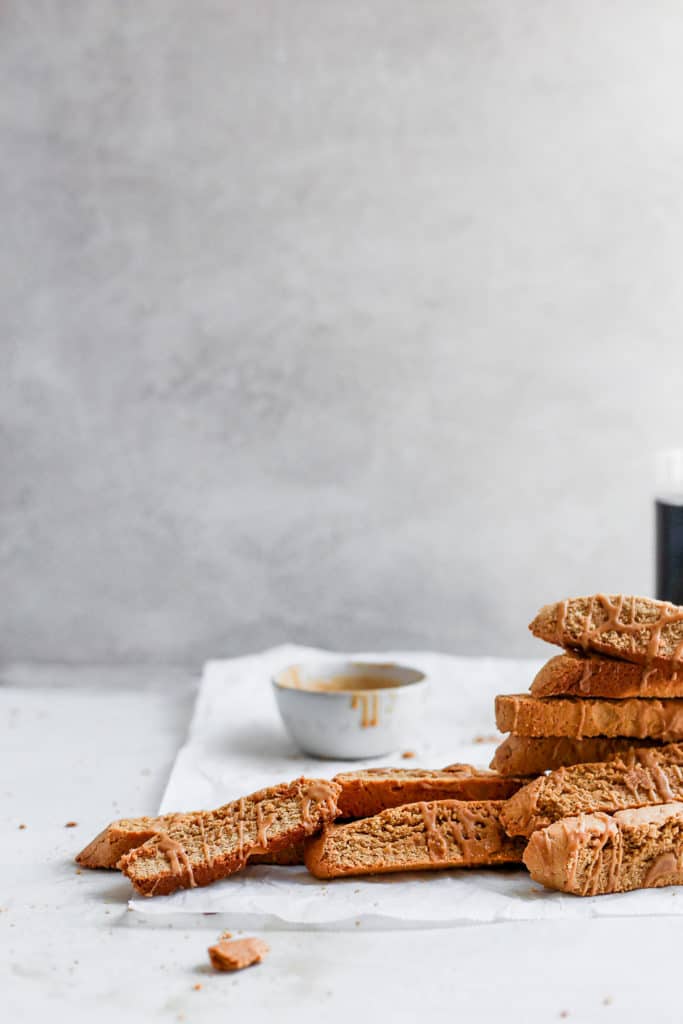 How to Store Biscotti:
I store these cookies in a ziplock bag or airtight container on my counter top for 3-4 days. You can also freeze them in a freezer safe bag or double wrap them with tin foil in a tin.
Need more cookie recipes?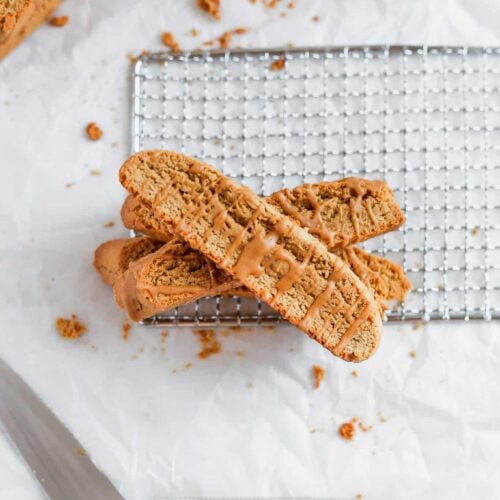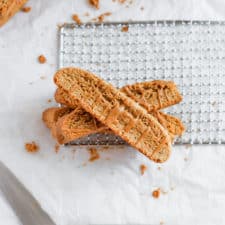 Cookie Butter Biscotti
These biscotti cookies are so easy to make from scratch and are flavored with cookie butter in the dough and in the glaze!
Print
Pin
Save
Saved!
Rate
Ingredients
For the Biscotti:
4

large eggs

1

cup

cookie butter such as Lotus Biscoff Biscuit Spread

1

cup

granulated sugar

2

teaspoons

vanilla extract

4

cups

all purpose flour

1 1/2

teaspoons

baking powder

1/2

teaspoon

kosher salt
For the Glaze:
½

cup

confectioners sugar

2

tablespoons

cookie butter Lotus Biscoff Biscuit Spread

2.5

tablespoons

water
Instructions
Make the biscotti
Preheat your oven to 350° F.

Line 2 baking trays with parchment paper or grease them with baking spray and set aside.

In a medium size bowl combine the eggs, cookie butter, sugar, and vanilla and whisk until smooth.

Add in the flour, baking powder, and salt and mix well until all the flour is incorporated.

Divide the dough into 2 equal parts and shape each into a long log, about 3'' by 9'' on the baking trays.

Bake for 25 minutes, then remove from oven and allow to cool for 5 minutes.

Lower the oven temperature to 325 degrees F.

Move the logs to a cutting board and using a long serrated knife, slice each log on a diagonal into 1" thick sliced cookies.

Move the cookies cut side down back to the baking tray and bake for 10 minutes.

Flip the cookies and bake for another 10 minutes.
Prepare the glaze
Combine the confectioners sugar, cookie butter, and water in a small bowl and whisk until combined.

Spread the cookies out on a cooling rack and pour the glaze over the cookies.
Notes
You'll also want to store these homemade biscotti in an airtight container at room temperature.
Nutrition
Nutrition Facts
Cookie Butter Biscotti
Amount Per Serving (1 g)
Calories 217
Calories from Fat 63
% Daily Value*
Fat 7g11%
Cholesterol 31mg10%
Sodium 77mg3%
Carbohydrates 34g11%
Protein 4g8%
* Percent Daily Values are based on a 2000 calorie diet.