The idea for triple berry coffee cake came to me one day after seeing these cute little Staub cocottes (these little pots) at Williams Sonoma.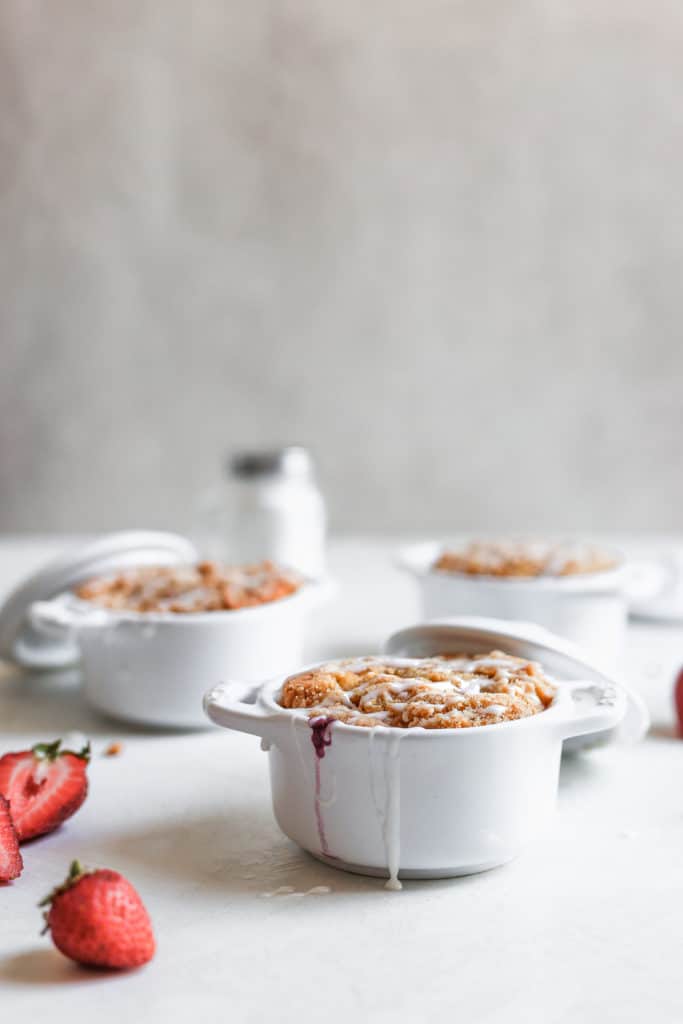 Actually no, thats a lie. I saw the cocottes first and after squealing from the cuteness and thinking how pretty they would be to photograph, I thought well what am I gonna make in them first?
Many people like to make fruit cobblers in the summer with the abundance of berries, stone fruit, and healthier desserts on their minds. So cobbler was the first thing that came to mind when I saw these cuties.
But then I remembered that I for one am not a cobbler person, and I didn't want to blog about something that I didn't love because whats the point? I don't know what it is but something about hot fruit doesn't do it for me. So I looked into alternatives and thought about cake. What kind of cake would I want to eat with berries?
Ding! Ding! Ding! Coffee cake! From Apple coffee cake, to banana coffee cake, to cherry coffee cake, you jus cant go wrong!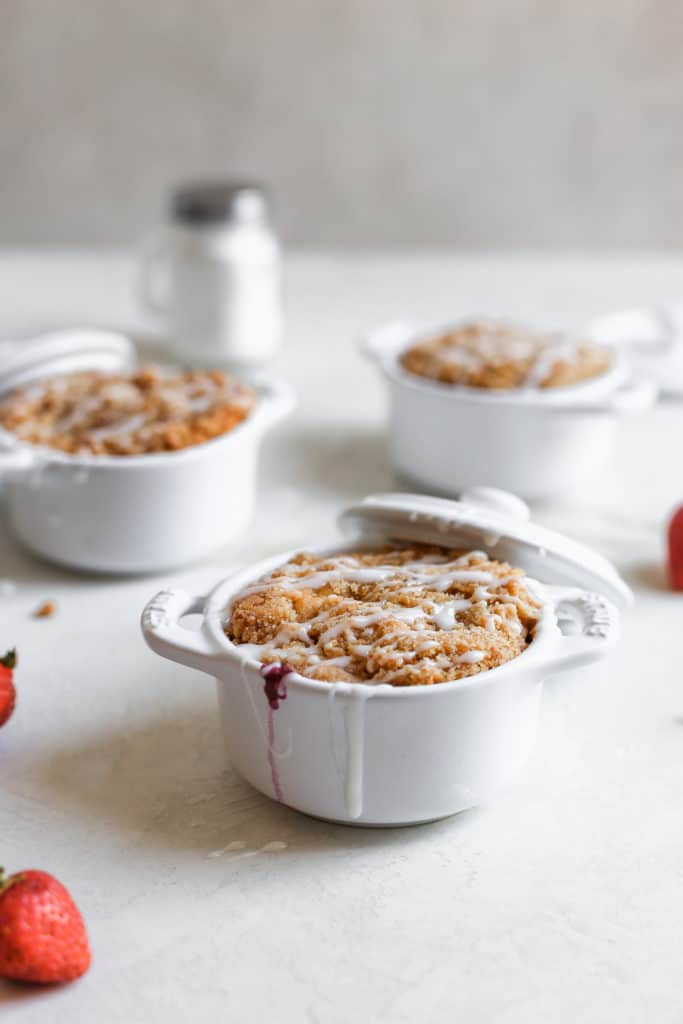 I have loved coffee cake even longer than I have loved coffee. We used to get those Drake's Coffee Cakes all the time when I was little, (someone please tell me why they discontinued them because its not ok) and loved the buttery fluffiness of the cake and obviously the cinnamon streusel on the top. The struggle was always real trying to open the package without losing all those crumbs.
So when I set out to make these, I knew there had to be a serious crumb to cake ratio, and that the cake still needed a buttery taste to it just with the added touch of berries.
I made sure to coat the berries in a little bit of flour so they wouldn't sink to the bottom of the batter, filled up my little cutie cocottes and shoved them in the oven.
Can I just tell you that just by the smell of them 25 minutes later, I knew they were gonna be insane. After patiently waiting for them to cool, I dug my spoon in and took a big bite.
EUPHORIA. They were incredible.
The cake is fluffy and has the buttery taste I was going for, and the berries add the perfect contrast between sweet and tart, which is what makes berries so delicious. Top it off with a nicccccce amount of cinnamon streusel and you got yourself the next best thing since Drake's coffee cakes.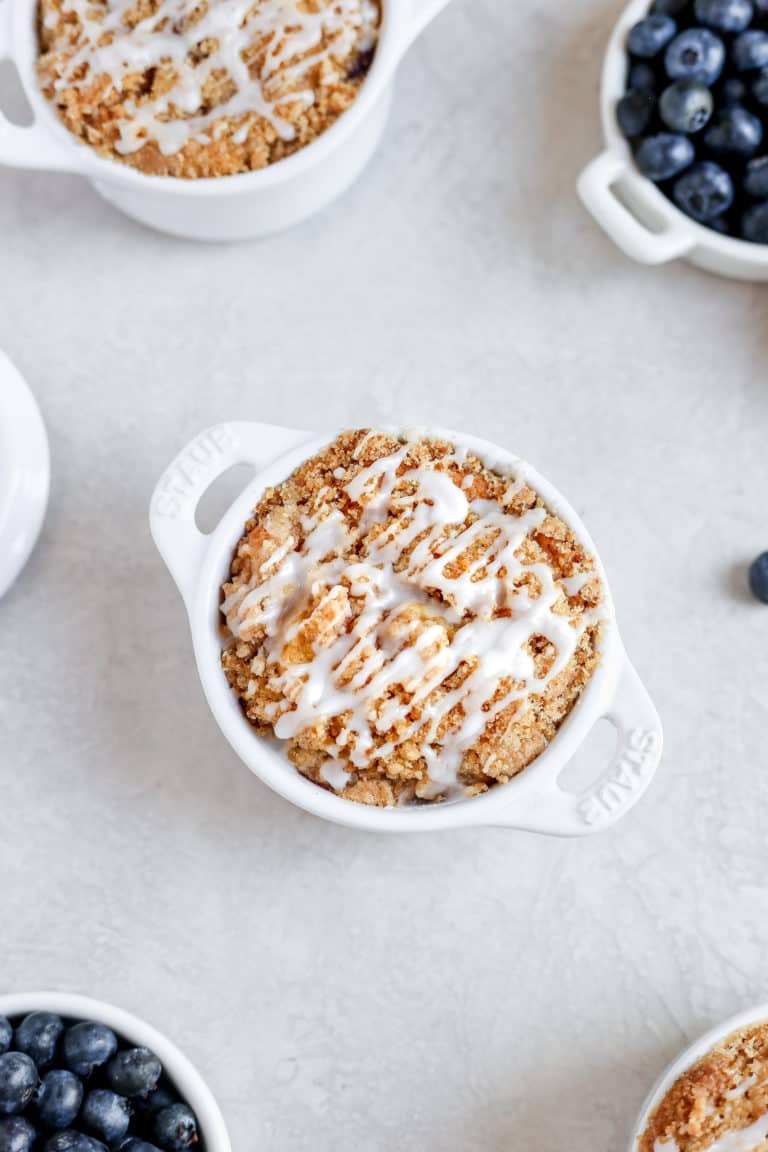 After making these triple berry coffee cakes, maybe I'm not so sorry they don't make them anymore.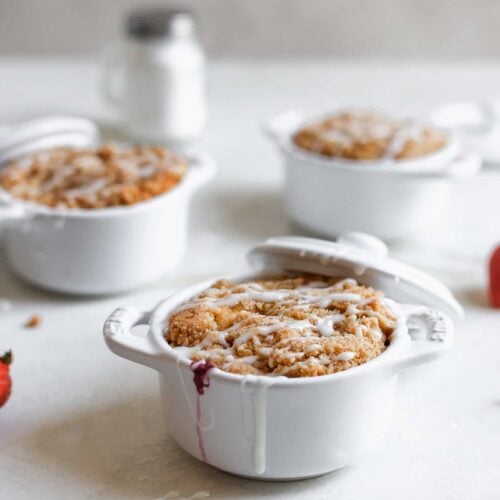 Mini Triple Berry Coffee Cakes
These mini triple berry coffee cakes make the cutest individual desserts and are a great way to use up all those berries in your fridge! Make them for your family and friends this weekend!
Print
Pin
Save
Saved!
Rate
Ingredients
For the cinnamon crumb topping:

1

cup

all purpose flour

½

cup

brown sugar

¼

cup

granulated sugar

¼-½

teaspoon

cinnamon

depending on preference

½

cup

cold butter

diced small

For the cake:

¼

cup

butter

softened at room temperature

¼

cup

brown sugar

¼

cup

granulated sugar

1

large egg

1

cup

all purpose flour plus 1 tablespoon

separated

¼

teaspoon

kosher salt

½

teaspoon

baking powder

¼

teaspoon

baking soda

½

cup

sour cream

½

teaspoon

vanilla extract

½ - ¾

cup

strawberries

chopped small

½ - ¾

cup

blackberries

cut in half

½ - ¾

cup

blueberries

whole

For the glaze:

1

cup

confectioners sugar

1

tablespoon

milk or water
Instructions
Preheat your oven to 350° F.

Make the crumb topping first- In a small bowl combine the flour, sugars, and cinnamon. Use a pastry cutter to cut in the butter or pinch the butter into the mixture with your fingers gently until medium clumps for. Put it in the fridge until you are ready to use.

In the bowl of an electric mixer fitted with a paddle attachment, cream the butter and sugars together on medium speed for two minutes, until light and fluffy. Add in the egg and mix for another 30 seconds.

Meanwhile in a medium sized bowl, combine the dry ingredients except for the 1 tablespoon separated flour. Add ½ of the dry ingredients to the mixture and beat on low till mostly combined.

Add in the sour cream and vanilla, and mix to combine again, then add in the last of the flour and continue mixing.

Remove the bowl from the mixer and set aside. Then in a small bowl combine the berries with 1 tablespoon of flour and gently mix so you don't break up the berries. Fold the berries into the cake batter gently.

Spray the cocottes or ramekins with non stick spray and fill them up ⅔ way full. Remove the cinnamon crumb topping from the fridge and sprinkle it all over the tops of the batter.

Bake for 20-25 minutes or until the cake is golden brown and a skewer inserted comes out clean. Cool.

Make the glaze. In a small bowl combine the confectioners sugar and milk, mix with a fork and drizzle over the mini cakes.

Enjoy!
Notes
Makes 6 mini cakes in either cocottes or ramekins. Can be made in and 8x8 inch pan as well but you will have to adjust your baking time to probably 10 minutes longer.