This easy peach slab pie has a delicious combo of nutmeg and vanilla added in so that it is the perfect pie to make in the winter or summer! Make it today!
Has it been 6 months since I've eaten the best peach slab pie at the Saveur Blog Awards?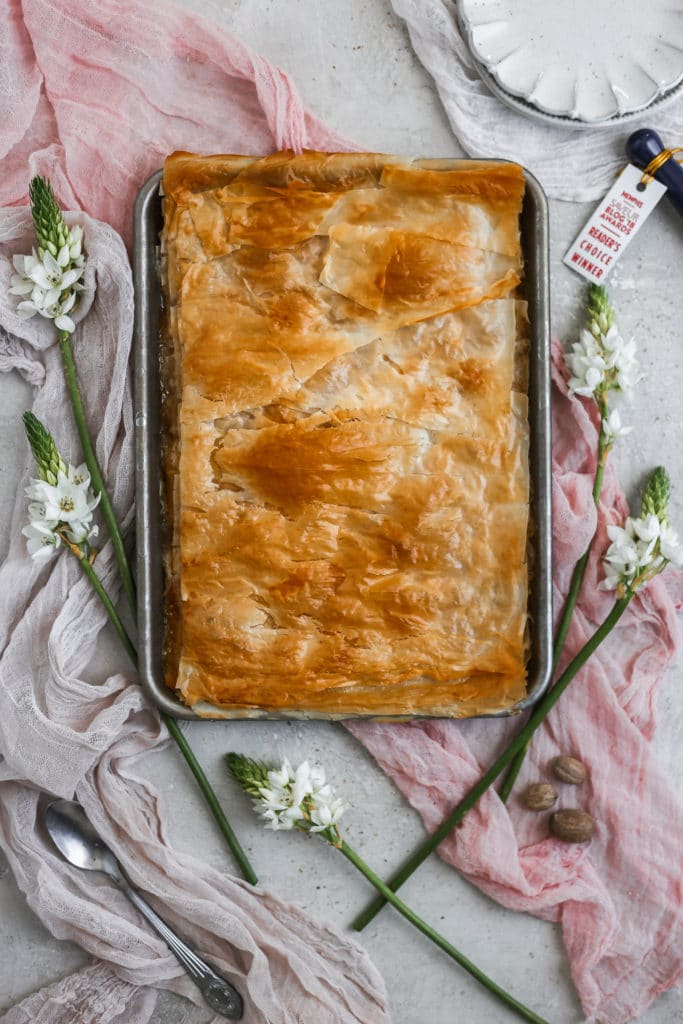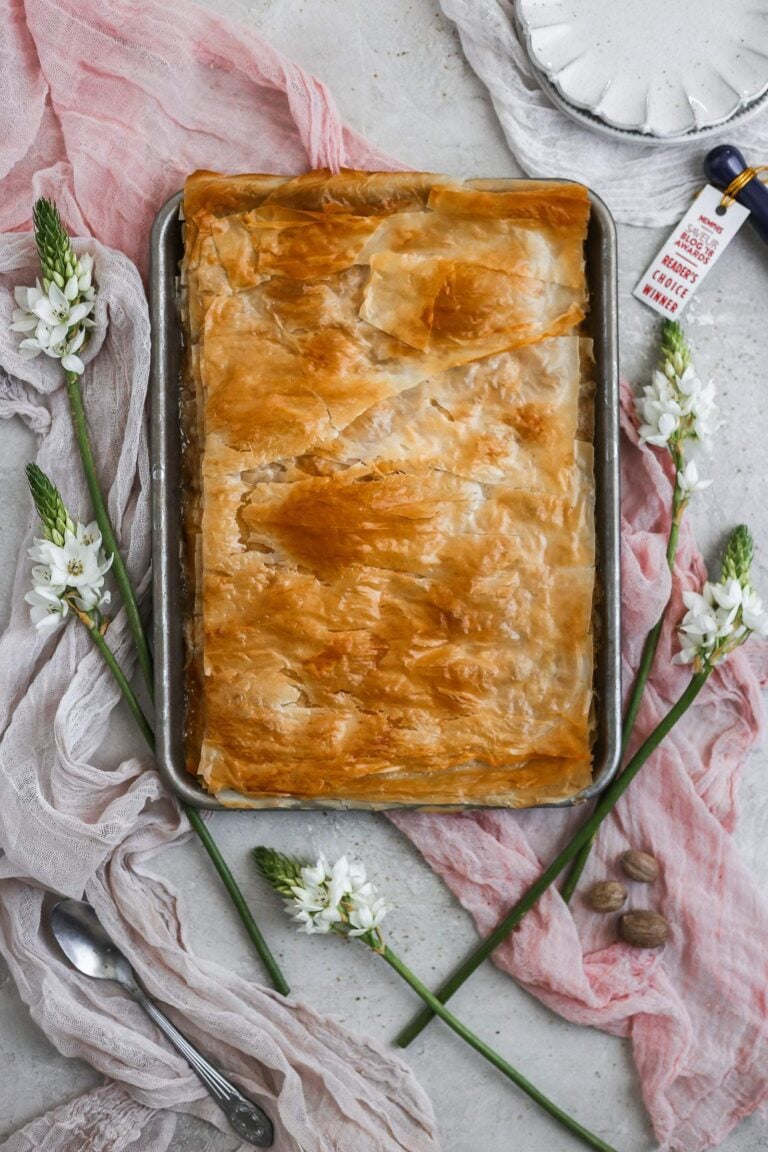 Yes.
Do I care that it has taken me this long to get this copy cat pie recipe plus a recap of my time up here?
No. Ok, maybe yes. But better late than never right?!
This is also my first post since taking off a month of creating new content to update some old blog posts, and I think that this deserves to be my first one back. So let's get to it.
What are the Saveur Blog Awards?
Every summer Saveur Magazine asks for nominations for people's favorite blogs in different categories. This year (or last really) there were 11 categories a blogger could be nominated under. It means so much to a blogger to even just be nominated for this award because they are like the oscars of the blogging world.
They ranged from best photography -lookin at you Karlee, but well get to that later- to best travel blog, best baking blog, best food Instagram account, and more. You could ask your followers (or your mom and sister) to nominate you and you can even nominate yourself.
I remember getting an email to vote for the nominees in the Saveur blog awards a few years ago and was like oh maybe one day. Then last year I got the email again (hello duh it is every year), and I thought well who freakin knows what can happen, lets just try.
I voted for myself every day in the voting period, and voted for my other blogger friends blogs, and some of my favorites. I also asked the above family members and my total of 6,500 Instagram followers if they would be so kind as to vote for me. It was a total shot in the dark but I had nothing to lose.
I think there was about a month in between when you could vote and when they announced who was nominated. I REALLY REALLY didn't think I had a chance at being nominated and didn't think about it often. Then August 23rd -nomination day- came around and I had a friend over. I kept checking the site to see who was nominated, knowing that I would probably not be on that list.
Disappointed at not seeing any news at all- I wanted to know who was on that list still even if it wasn't me- I was chatting with Karlee from Olive and Artisan because I knew she had done the same as above. The day went on and on, I was busy shooting some recipes for a client, and then I got an email:
AND CUE THE SHAKING AND THE TEARS.
The tears. There were so. many. tears. I called my husband, my mom, my best friend, all from different spots crying on my kitchen floor because I just could not believe it.
I'm not kidding when I say I really didn't think I had a chance. There are so many incredible bloggers out there, blogging away everyday for the last 10 years, and here I was, this itty bitty baking blogger only a little but more than a year into it, and my name was on that list.
You know who else was on that list?
Karlee!! And my awesome friend Lorena Salinas from Cravings Journal, Bea Lubas, Sarah Fennel from Broma Bakery and Jenn Davis from Two Cups Flour- among other incredible talents.
What does being nominated for the Saveur Blog Awards mean?
Being nominated means you are recognized for your work in this industry and gives incredible validation to all those scary doubts and fears every food blogger has.
Am I good enough? Do I work hard enough? I don't think I can live up to *insert blogger name here*. It means you can get an influx of jobs you might not have gotten before, it means you can charge more. It means a lot of incredible things, it is straight up street cred if I'm being totally honest. And I am SO SO beyond grateful that I was included.
It also means you get to go to the Saveur Blog Awards 2 months later. There is one more voting period where you can ask your friends and family (again, sorry, not sorry) to vote for you for a short time for the two awards given to each category. One for editor's choice, and one for reader's choice.
So for 11 categories, there were 6 people nominated in each which equals 66 people (maybe the only time ever I'm excited to do math) and only 2 out of those 6 people in each category were going to win. I didn't care though because honestly I felt like I had already won with just being nominated.
That sounds SO LAME but it was true- let the countdown to the blog awards begin, I could not wait!
How did the Saveur Blog Awards go?
2 months later I got on a TEENY TINY PLANE that you had to board from outside because it was so damn small, took a Xanax, and was on my way to Memphis.
Karlee and I decided to go halvesies on a hotel room with a rate from the magazine and stayed at the Peabody Memphis. Oh did I mention that I had never actually met her IRL?
It didn't matter because the second she walked in it was like we knew each other for years- slumber party and makeup tutorials and staying up late talking here we come.
Full disclosure- The magazine paid for all our food, activities, and travel in Memphis, but did not cover the cost of flights or the hotel. When I got to the hotel, they gave out swag bags and t shirts, and I got a badge with my name on it and literally started crying again.
The first night activity was a welcoming cocktail party at a distillery. We had snacks and cocktails, got to meet the editors- who I promptly made a fool out of myself in front of:
Stacy- "Hi whats your name and your blog?"

Me- "Hi! I'm Sam, I run Frosting and Fettuccine, whats yours?"

Stacy (EXECUTIVE EDITOR)- "Oh nice! I'm Stacy Adimando, the Executive Editor of Saveur."

Me- "OF COURSE I meet the Executive Editor of the magazine and make a fool out of myself"

Super Nice Stacy- "Don't worry, how would you know!"
And that is how I met the Executive Editor of Saveur Magazine.
Can I just tell you that I purposely bought the latest Saveur magazine in the airport to study the editors names but never looked up to see what they look like? A for effort Sam, A for effort.
Anyways, after the distillery we were supposed to go bar hopping to 3 different bars but it was freezing and super late so we went to only 2 of them and then went back to the hotel.
The next day we had breakfast at the hotel, got a private red carpet duck march from the famous Peabody Ducks, and then listened to a panel of speakers ranging on different topics in the world of food.
Then we went on to the Four Way Restaurant where everyone else had insanely delicious looking fried chicken and Mac n cheese, and I had a green house salad because #kosher.
While listening to another panel, they brought out dessert- A peach slab pie cut into pieces that was OUT OF THIS WORLD. Like I could not stop eating it. It was not your average peach pie, there was a spice in there that I could not pin point, and it was a combo I never had before. It was insane.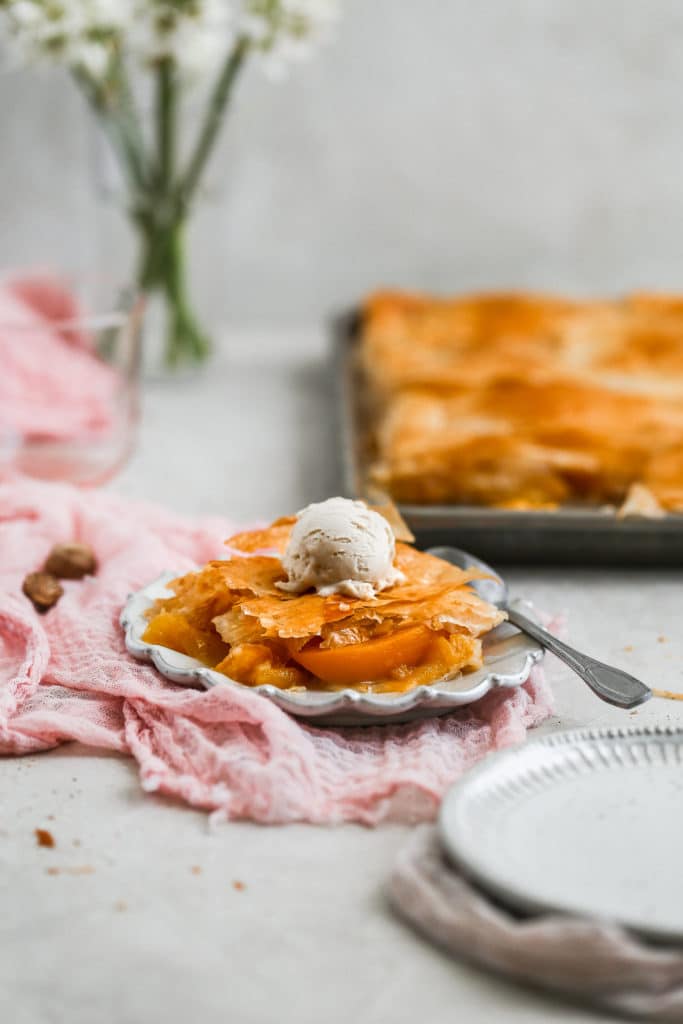 To the point where when the panel was over and they asked if anyone had questions, I raised my hand and asked what the hell was in it because it was so damn good, and the restaurant manager said that if she told me what was in there I could never leave.
Considered it for a minute. Weighing my family against this peach slab pie hmmmm.
But instead of never being able to leave Memphis, I decided to recreate that peach slab pie back in the comfort of my own city and home.
Figured out that the spice I couldn't put my finger on was nutmeg, and my mind was blown because nutmeg is such a fall/winter spice and peach is such a summer flavor. That explains why I never had it together before, but when you put the two of them together its like magic.
It only took me 4 tries to get this peach slab pie to what *I think* is very close to the one we had at The Four Way.
Crispy phyllo dough layers with juicy plump peach slices all layered in the middle, with a hint of vanilla and a lingering nutmeg flavor.
All in all it is a very easy dessert to make and I didn't complain at all having to make it a few times. I had to play around with how to cook the peaches, whether or not I needed a simple syrup (you do) and how much vanilla and nutmeg to use.
I knew I did it right the 4th time when I took a bite, and the smell and flavor brought me right back to the restaurant.
What makes this peach slab pie so special
Well, the good thing about this pie is that you can use frozen peaches in the winter, and in the summer you can use fresh, so its perfect for the whole year round! Especially with some ice cream on top.
Ice cream is also for celebrating because I ended up winning the Reader's Choice Saveur Blog Award for Best Food Instagram!!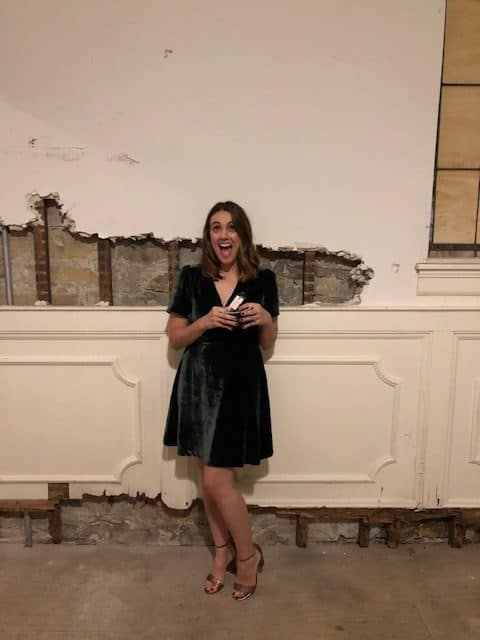 Gahhhh! Omg! It still amazes me to this day even these many months after!
I owe it to my amazing followers (YOU!) who voted for me and my blogger friends Cosette, Lena, and Ari who constantly supported me and spoke up everyday about the importance of voting so THANK YOU GUYS!!!!! I am so so honored you all took time out of your busy lives to help me with mine and I am forever grateful to you!
A recap of that night:
We all gathered at the Claybourn Temple for the awards ceremony where there was a lot of food, drinks, and nerves happening.
There was a big screen up on the stage and it went through all the nominees in each category just like it does in other awards ceremonies, it was unreal!
Our categories were each called out and I totally felt like I was gonna barf like 17 trillion times but I had to keep. it. together. lady.
They came to my category, Best Food Instagram, called out my name, and I shot out of my seat with hands on my face Macaulay Culkin style like WHATTTTTTTTT. I can't even describe the feeling. I was so excited and happy, and also wasn't sure what was really happening.
What did you win?!
Each winner got a little mortar and pestle set from Le Creuset as a gift and got to say something on stage. I think I said something like "is this real life?" But then got it together and thanked everyone for voting and tried to exclaim how grateful I was for the award.
Guess what! My roomie from above won too! Karlee won for Reader's Choice Best Photography and I couldn't be more proud of her.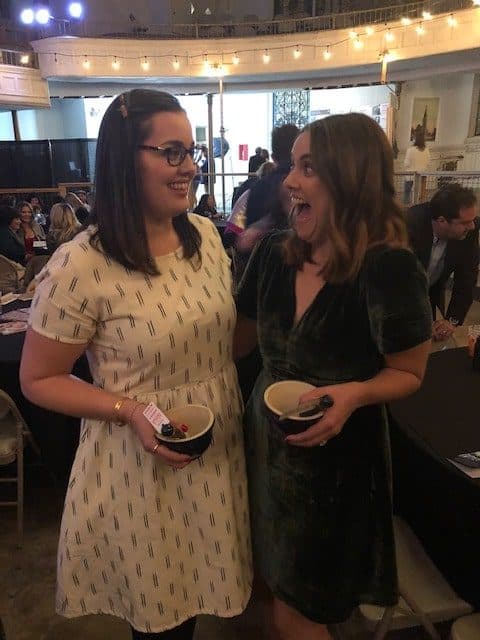 That night we went out on the town dancing to celebrate with other nominees, then went back to the hotel room giggling and went to bed super late on cloud 9.
The next morning we went to breakfast at The Arcade Diner, and listened to a couple more panels from Joy the Baker and Peter Meehan, A L.A Times Contributing Food Writer.
Next it was sadly time to say goodbye. I ended up staying for the weekend at the Peabody and my mom came to stay with me so I didn't have to spend shabbos (sabbath) alone. I could not make it back to Florida in time for sundown, so a Memphis weekend it was.
And a damn good one too.
For A full detailed recap with some more things we did, head to Saveur's recap of the blog awards!
And THANK YOU GUYS AGAIN OMG I LOVE YOU SO MUCH
For more easy pie recipes look here:
Deconstructed Blueberry Pie Star Stack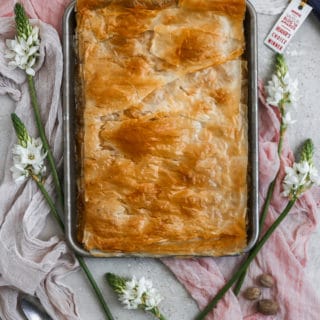 Peach Slab Pie Inspired by the 2018 Saveur Blog Awards
This easy peach slab pie has a delicious combo of nutmeg and vanilla added in so that it is the perfect pie to make in the winter or summer! Make it today!
Print
Pin
Save
Saved!
Rate
Ingredients
½

cup

butter

melted, or baking spray

1 16

oz

filo dough

1 box

½

cup

granulated sugar

½

cup

water

32

oz

frozen peaches

2 16 oz bags

1

tablespoon

vanilla extract

¼

teaspoon

ground nutmeg
Instructions
Leave the filo dough in its package to defrost on the counter for about 30 minutes. Make sure it is completely defrosted before you start working with it because it will be easier to use and less likely to crack.

Combine the water and sugar in a medium size pot over medium heat. Stir until the sugar melts, bring it to a boil for one minute, then reduce to a simmer for 5 minutes.

Add in the peaches and raise the heat to medium again. Stir in the vanilla extract and nutmeg and cook until the peaches are soft, about 10 minutes.  

Preheat the oven to 350°. On a 1/4 sheet tray or 9x13 pan start by laying one thin sheet of filo down. Either brush the first layer with butter or spray with baking spray and then add on another thin layer. Keep doing this until you are about 10 sheets in. It's totally fine if the filo cracks you can just patch it up with another piece.

Next using a slotted spoon, scoop out the peaches and spread them out on top of the filo layers then continue adding on filo layers like you did before. Lay one layer down, brush with butter or spray and continue until you have 10 more layers and then bake for 15 minutes until the top is golden brown.
Notes
This doesn't have to be refrigerated and will last for up to 3 days! Its delicious topped with ice cream!
This works with fresh or frozen peaches. Use 6-8 peaches if using fresh.
Nutrition
Nutrition Facts
Peach Slab Pie Inspired by the 2018 Saveur Blog Awards
Amount Per Serving (1 slice)
Calories 253
Calories from Fat 90
% Daily Value*
Fat 10g15%
Cholesterol 20mg7%
Sodium 262mg11%
Potassium 173mg5%
Carbohydrates 37g12%
Protein 4g8%
Vitamin A 483IU10%
Vitamin C 5mg6%
Calcium 11mg1%
Iron 1mg6%
* Percent Daily Values are based on a 2000 calorie diet.