Skip the store-bought tub of cream cheese frosting and make this decadent, cinnamon-spiced Pumpkin Cream Cheese Frosting. It comes together in 3 minutes flat and is excellent paired with cozy fall-flavored goodies, like pumpkin cupcakes, chocolate cake, apple bundt cake, and so much more!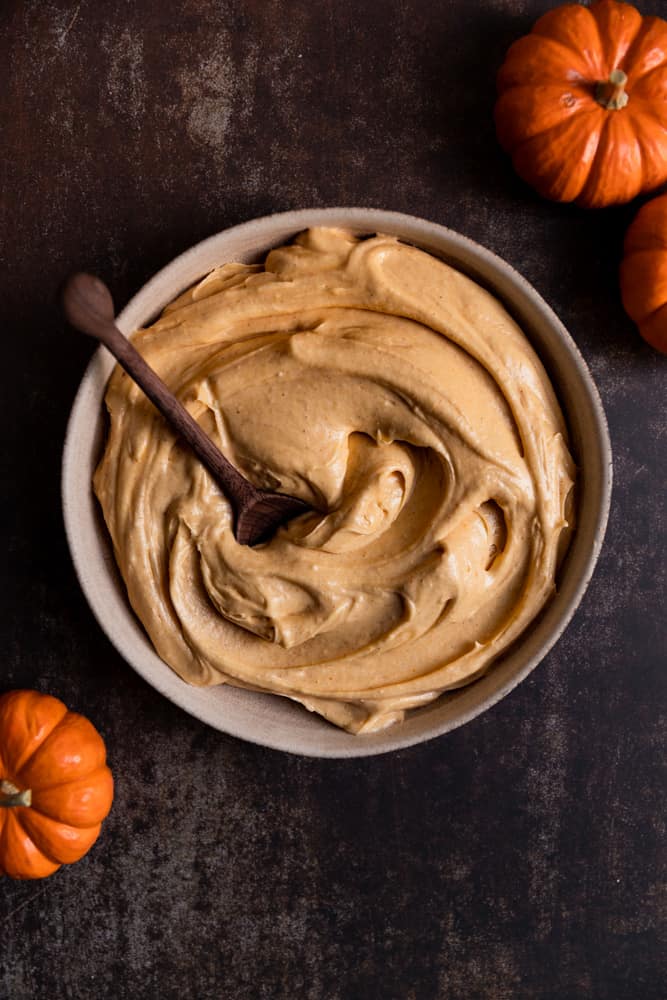 As a trained pastry chef, I always try new flavors with icing and frostings. In this case, I needed a frosting for my chocolate pumpkin cake, so I enlisted the help of classic cream cheese frosting, a can of pumpkin, and some cinnamon -and just like that, this delicious pumpkin cream cheese frosting was born.
This frosting has a really nice balance between sweetness and tang. The pumpkin adds that traditional fall flavor and the cinnamon really livens it up! You can also soften cream cheese quickly if you forgot to leave it out!
The list of ways to use pumpkin cream cheese frosting is endless! It would go really well with caramel cupcakes, or you can double up on the pumpkin and use it for pumpkin cupcakes!
WHY YOU SHOULD MAKE THIS RECIPE
The texture- It's rich and creamy yet fluffy and great as a cake icing.
The flavor-

Pumpkin and cinnamon plus tangy cream cheese are an irresistible combination.

The flexibility– The pumpkin frosting is an excellent base for warming fall spices, including pumpkin pie spice.
The possibilities-This pumpkin icing is an excellent way to elevate your favorite autumn desserts.
INGREDIENTS NEEDED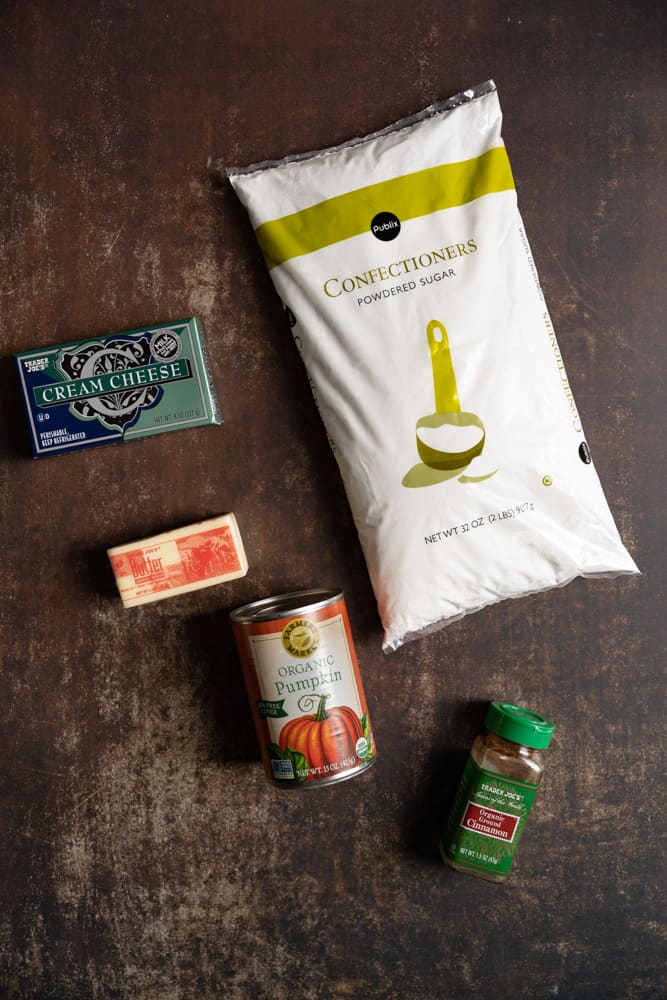 Unsalted butter – Like buttercream-style frostings, cream cheese frostings also begin with butter. The butter must be softened before getting started. Learn how to soften butter quickly!
Cream cheese – The cream cheese you use matters. It must be a block of softened full-fat cream cheese. If you use low-fat cream cheese or cream cheese spread sold in a tub, your cream cheese frosting may be thin and runny.
Confectioners sugar – The fine powdery consistency sweetens and absorbs moisture, so the frosting thickens into a smooth, cohesive frosting.
Pumpkin puree – A can of pumpkin, like Libby's 100% canned pumpkin, is what you're looking for –NOT the pumpkin pie mix. The cans look very similar, so make sure you have the right one. See FAQs for tips on making your pumpkin puree.
Ground cinnamon – For a touch of warming fall spice. You can use more or less to taste.
HOW TO MAKE PUMPKIN FROSTING
Combine ingredients in one bowl: Add softened butter, softened cream cheese, powdered sugar, pumpkin puree, and cinnamon to a mixing bowl.
Cream on low speed: Using a hand mixer, mix on low speed in a large bowl until the mixture incorporates and becomes a frosting consistency (about 30 seconds). Alternatively, you can make the frosting using a stand mixer fitted with the paddle attachment.
Blend on medium speed: Switch to medium and continue mixing until smooth (about 1 minute).
Decorate dessert and store: Use your fluffy pumpkin frosting right away to decorate your favorite pumpkin-y sweet treats, or store it in a covered container in the fridge for up to 5 days.
Yield
This icing makes enough to frost 12 cupcakes or fill and frost a 2 layer 8″ cake or a 9×13 sheet cake.
TIPS FOR RECIPE SUCCESS
The butter and cream cheese must be at room temperature or else they wont cream smoothly and you'll have a lumpy frosting.
If you forget to set the butter and cream cheese out, you can place it in a microwave-safe bowl and pop it in the microwave for 15 seconds to soften it quickly.
Sifting the confectioners' sugar into the mixing bowl improves the light and airy element. I recommend always sifting icing sugar, especially when it seems clumpy from sitting in storage.
If the frosting seems too thin, mix in 1-2 tablespoons of confectioners sugar until it thickens and no longer appears glossy and wet.
If the frosting seems too thick, mix in 1-2 tablespoons of pumpkin puree at a time to integrate additional moisture and loosen it up a bit.
Mix the frosting on high for 2 minutes to get rid of any lumps.
STORAGE AND FREEZING
Storing: This cream cheese frosting is best kept in an airtight container in the refrigerator and used within 4-5 days. Bring it to room temperature before using it. Rewhip the frosting to restore its fluffiness if you need to.
Freezing: Due to cream cheese frostings' high-fat content, it freezes like a dream. Scoop the frosting into a freezer-safe container, then place a piece of plastic wrap directly on top of the frosting before putting the lid on the container. Keep frozen for up to 3 months. Before using, thaw it in the fridge overnight and bring it to room temperature. It will most likely lose volume as it defrosts, but you can return it to the mixer and reblend it back into shape.
Decorating Tips
After icing a cake or cupcakes keep them in the fridge till you are ready to serve so the frosting holds it's shape.
This frosting is better used as a cake icing rather than piping on to cupcakes.
If you want to pipe with it, fill a piping bag with the frosting and refrigerate it for 10 minutes before using so it holds it's shape better.
The desserts will be fine after you take them out of the fridge for a few hours!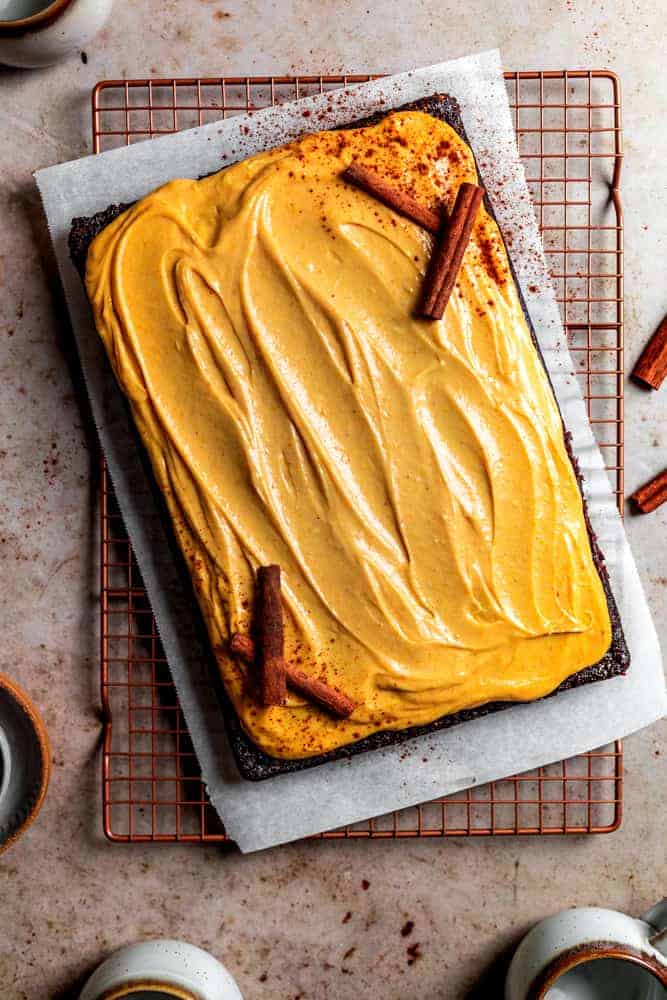 FAQ
Can I make my own pumpkin puree for frosting?
It's more labor-intensive than opening a can, but yes, of course, you can make your own pumpkin puree! First, cut your pumpkin in half and remove the seeds and stringy things. Next, place the halves on a baking sheet, flesh side down, and bake at 375 degrees until fork-tender. Add the flesh to a food processor and puree until smooth. Remember that fresh pumpkin puree is typically more watery than canned, so you may need to add more powdered sugar to soak up the extra moisture.
What other spices can I add to pumpkin frosting?
I like keeping it simple with plain cinnamon so the natural pumpkin flavor shines, but please do not feel limited to cinnamon. Mix in other vibrant dessert spices like ginger, nutmeg, allspice, and clove. Pumpkin pie spice also works.
Can I make pumpkin frosting with store-bought cream cheese frosting?
A tub of cream cheese frosting is okay to use, but it simply can't compare to the decadence of making it from scratch. If you opt for store-bought, add it to your stand mixer fitted with the paddle attachment and mic mix in the pumpkin puree and spices until combined.
How do I make pumpkin frosting more orange?
Canned pumpkin is naturally pigmented, and it will add an orange hue to your frosting. Still, you can always fold a couple of drops of orange food coloring or gel food coloring into the finished frosting to deepen the color.
WAYS TO ENJOY
Try applying a luscious layer of pumpkin frosting on any of these delicious fall desserts.


3 Minute Pumpkin Cream Cheese Frosting
Skip the store-bought tub of cream cheese frosting and make this decadent, cinnamon-spiced Pumpkin Cream Cheese Frosting. It comes together in 3 minutes flat and is excellent paired with cozy fall-flavored goodies, like pumpkin cupcakes, chocolate cake, apple bundt cake, and so much more!
Print
Pin
Save
Saved!
Rate
Ingredients
1/2

cup

unsalted butter

softened

1

cup

cream cheese

or 8 oz, softened

3

cups

confectioners sugar

1/3

cup

pumpkin puree

1

tsp

ground cinnamon
Instructions
Combine the 1/2 cup softened butter, 1 cup softened cream cheese, 3 cups of powdered sugar, 1/3rd cup of pumpkin puree, and 1/2 tsp cinnamon in the bowl of a hand or stand mixer. Mix on low until the frosting forms about 30 seconds. Switch to medium for 1 min to get rid of any lumps.

Spread the frosting all over the cooled cake. Garnish with more cinnamon and store in the fridge for up to 5 days.
Notes
This frosting makes enough to frost 12 cupcakes or frost and fill a 2 layer 8″ chocolate cake.
If the frosting is too thin, add 1/3 cup more powdered sugar. 
Nutrition
Nutrition Facts
3 Minute Pumpkin Cream Cheese Frosting
Amount Per Serving (1 portion)
Calories 253
Calories from Fat 126
% Daily Value*
Fat 14g22%
Cholesterol 39mg13%
Sodium 61mg3%
Potassium 43mg1%
Carbohydrates 32g11%
Protein 1g2%
Vitamin A 1550IU31%
Vitamin C 0.3mg0%
Calcium 24mg2%
Iron 0.1mg1%
* Percent Daily Values are based on a 2000 calorie diet.