Originally posted April 2018, updated July 2020.
This is an easy strawberry cake that is flavored with fresh strawberries and basil! Perfect for when you have a bunch of garden fresh strawberries and basil that you don't know what to do with!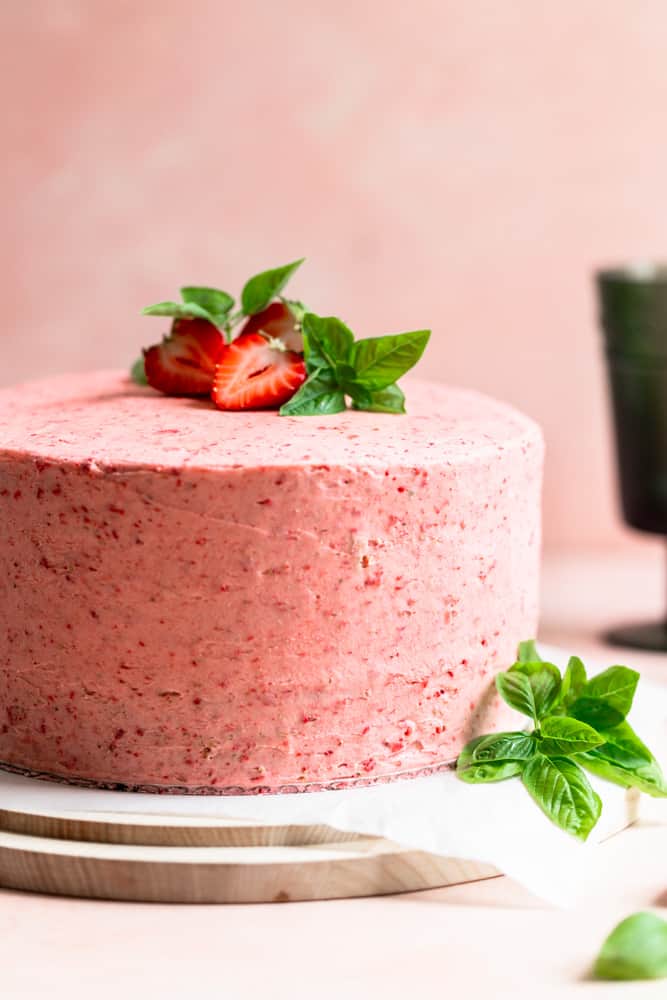 There is so much strawberry goodness inside this cake. For this recipe I used both fresh and freeze dried strawberries.
The fresh berries get creamed with the basil and are added straight into the cake. We are also going to use them for a simple syrup for extra flavor.
The freeze dried strawberries are the key to making delicious homemade strawberry buttercream that is not watered down or runny.
Easy strawberry basil cake
I know it sounds weird to have basil in a cake, but trust me, the flavor combo is just so summery and delicious.
The ripe strawberry flavor brings out the sweetness of the basil and the flavors balance each other out so nicely.
Ingredients you'll need
fresh strawberries
fresh basil
unsalted butter
granulated sugar
all purpose flour
eggs
baking powder
baking soda
kosher salt
milk (low fat or reg)
vanilla extract
freeze dried strawberries
confectioners sugar
You'll need different quantities of the above ingredients for different parts of the recipe so let's get started!
How to make strawberry cake
First start by prepping the ingredients.
Clean the fresh strawberries and chop them up. Size doesn't matter in this case because you will adding them to a blender with the basil.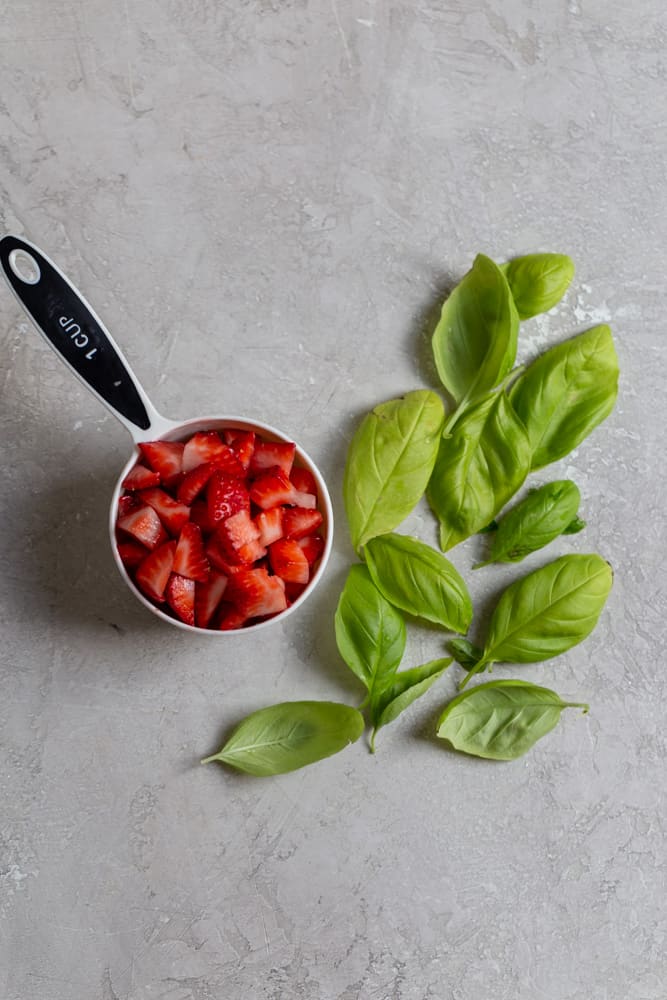 Add fresh basil and the chopped strawberries to a blender or food processor and blend until creamy. Set it aside.
Next start the cake:
Add softened butter and sugar to a stand or hand mixer and mix on medium speed until light and frothy. Scrape down the sides and add the eggs one at a time, stopping in between to scrape down the bowl as needed.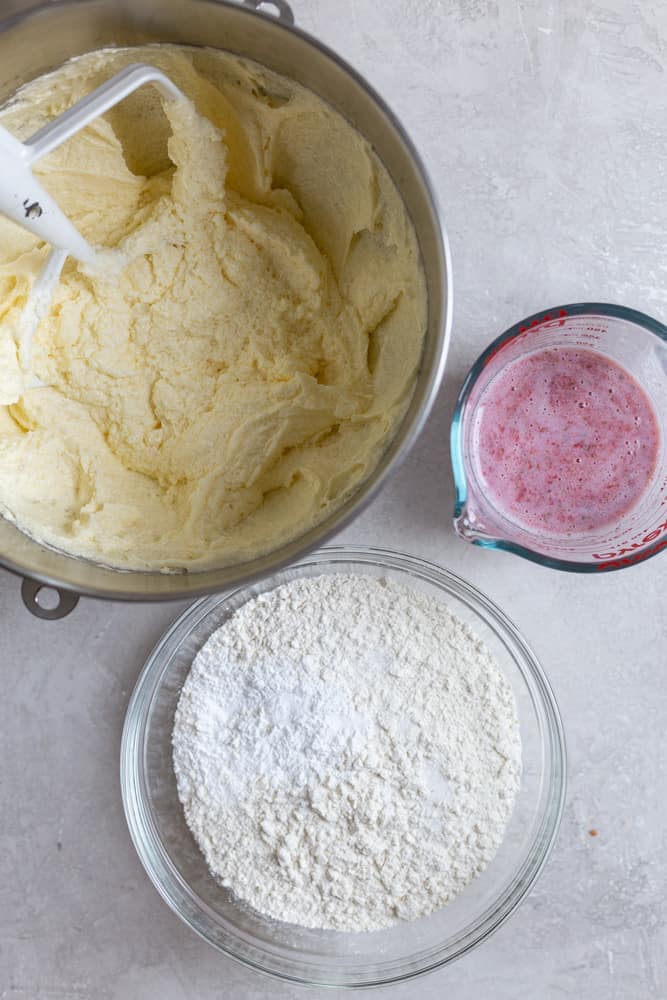 Time for dry ingredients:
Combine the dry ingredients (flour, baking powder, soda, & kosher salt) either in another bowl or on a large piece of parchment paper.
I like to use the parchment paper sometimes because then there is no bowl to clean after. All you do is put all the dry ingredients on the paper. Then fold the paper in half to control the pour into the mixing bowl.
Mix the wet ingredients:
In a measuring cup, measure out the milk. Then add the strawberry basil mixture to the milk. Throw the vanilla extract in there too.
Put it all together:
Alternate adding in 1/3 of the dry ingredients with 1/2 of the wet ingredients. Continue doing so on low speed until both are done. You should start and end with the dry ingredients.
How to Bake
I bake this cake in 3, 8″ baking pans. You can bake it into a sheet cake using a 9×13 pan, or even cupcakes.
Spray the baking pans with baking spray. Alternatively you can cut out parchment circles the same size of the pan and line it with that.
Pour the batter into the pans and bake for 35 mins on 350° F. A sheet cake will need about 35-45 minutes. Cupcakes will bake for 18 minutes.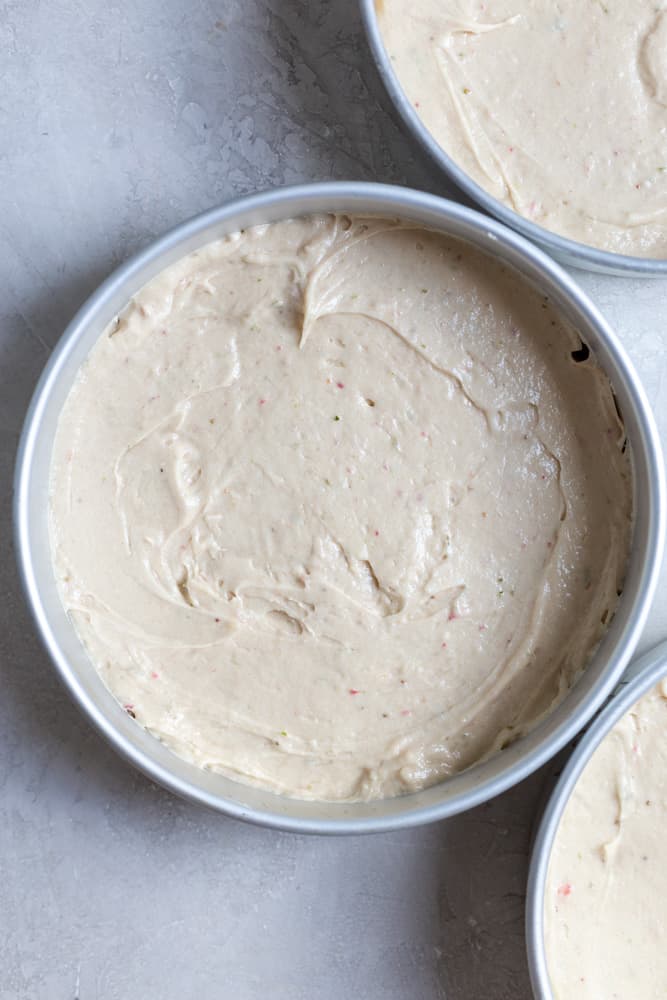 Make the simple syrup:
Meanwhile make the simple syrup.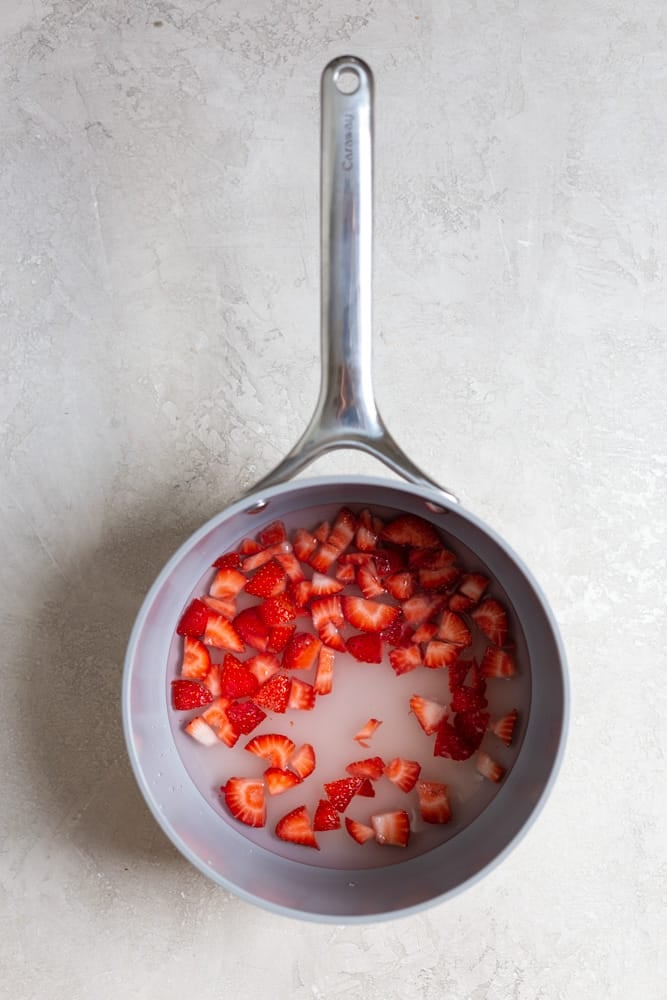 What's a simple syrup?
A simple syrup is a combination of water and sugar boiled down till it's thickened.
You can flavor it any way you want really, and then use it to brush it or drizzle it on top of your cakes to keep them moist.
Plus it adds another subtle layer of flavor.
To make the simple syrup:
Combine 1/2 cup chopped strawberries, 1/2 cup granulated sugar, and 1/2 cup water in a small saucepan.
Bring to a boil for 5 minutes. Then bring the temperature down to a simmer and let the mixture thicken for 10-15 minutes.
It's ready when it looks like syrup.
Strain the simple syrup to remove the strawberry chunks. Cool it in the fridge or leave it on the counter.
Time for the buttercream!
Strawberry buttercream
The secret to perfect strawberry buttercream is freeze dried strawberries. A lot of people try to use fresh strawberries for buttercream and end up disappointed.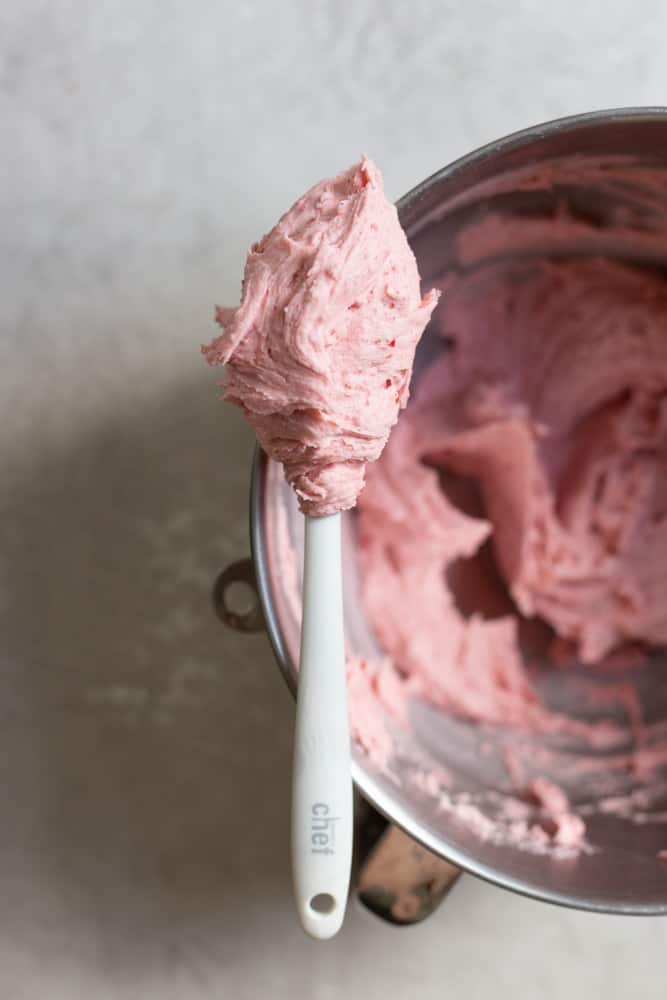 Fresh strawberries add way too much moisture to the buttercream which can make it watery (gross!). Plus, you need a lot of them to really get that flavor.
Freeze dried strawberries to the rescue! They don't add in any extra moisture like fresh strawberries do, plus they have a concentrated flavor. This means you absolutely do not and should not use strawberry extract.
How to make strawberry buttercream
First, pulverize the freeze dried strawberries in a spice grinder until they are powdery. Alternatively you can put them in a ziploc bag and crush them with a rolling pin.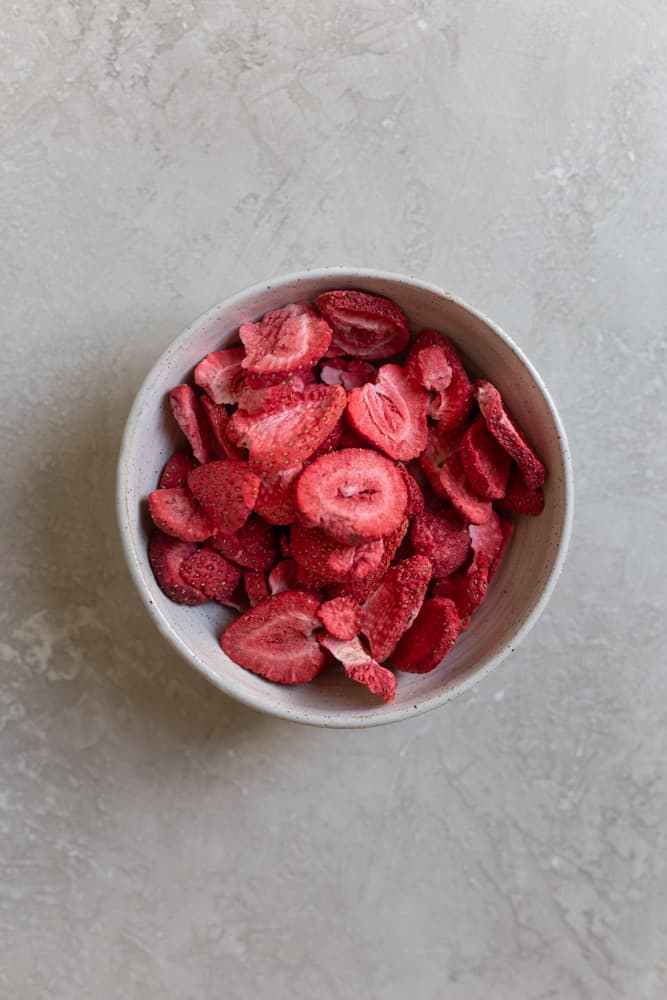 In a mixer (stand or hand), cream the butter, confectioners sugar, and powdery strawberries starting on low. Work up to high speed as the butter incorporated the dry ingredients.
Add in cream and vanilla if using to the consistency that you like. The more cream you add, the looser the buttercream will be.
Assemble the cake
Finally! All your hard work is about to pay off!
To assemble the cake:
First level your cake tops. Cut off the dome tops with a sharp knife.
Brush or drizzle the simple syrup all over the top on the first layer.
Spread a layer of buttercream on top.
Place another cake layer on top and repeat steps 2 & 3
Place the last layer on top and cover the whole cake with the rest of the strawberry buttercream.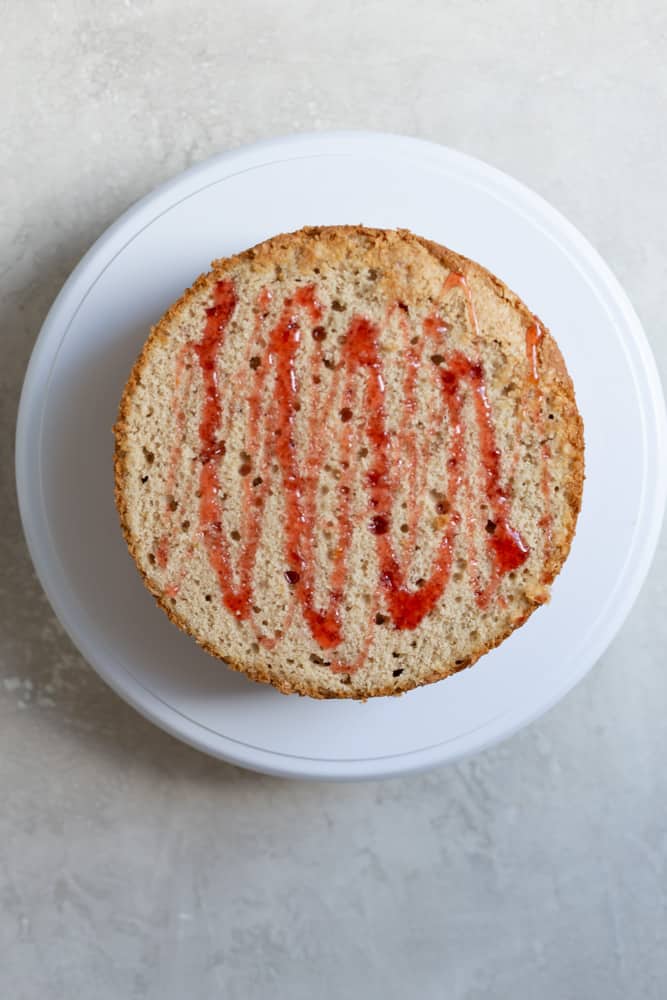 Garnish and decorate
Garnish and decorate the cake with fresh basil, or chop up some strawberries and put them on top of the cake.
This cake is definitely the ultimate strawberry cake but feel free to mix and match the cake and buttercream up!
I bet this strawberry buttercream would be insaaaaaane on this one bowl chocolate cake!
And this cake would be so delicious with a classic American buttercream frosting too.
Make ahead instructions
You can make the cake ahead and freeze it for up to 2 months. You can make the simple syrup up to a week ahead. Only make the buttercream when you are ready to frost!
Freezing
Wrap the cake tightly in plastic wrap and freeze for up to 2 months.
Serving
This is a tall cake so you can cut smaller slices. It will feed 12-16 depending on how big you cut the slices
Need more strawberry recipes?
A whole bunch of us food bloggers (90+!!!) got together to collaborate on all different kinds of strawberry recipes, thanks to Annie and Rebecca and Ruth for putting this all together!
Totally check out these other strawberry recipes from these lovely bloggers:
From my girl Ari – This gorgeous vanilla, marscarpone, and strawberry cake
Kate's gorgeous Strawberry Icebox Pie
Becky Sue's cutest Mini Strawberry Lemon Cupcakes
And for some savory ideas check out:
Jordan's beautiful Summer Strawberry Kale Salad with Pistachios and Lemon Vinaigrette
Donnas yummy Strawberry Spinach Almond Salad
If you make this cake, I would love for you to leave and review and let me know how you liked it! Happy baking!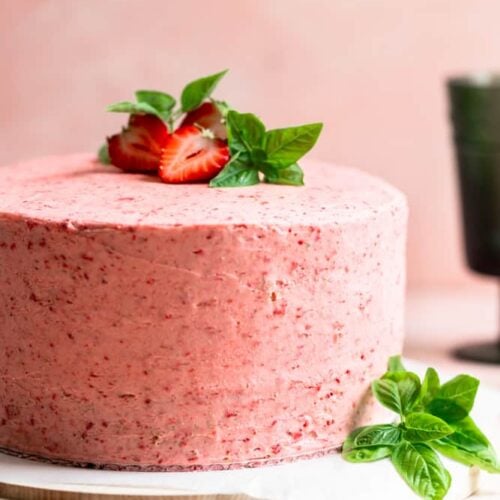 Strawberry Basil Cake with Strawberry Buttercream
This homemade strawberry basil layer cake is bursting with strawberry flavor from the cake to the buttercream! With a hint of basil, this cake will for sure be a summer favorite!
Print
Pin
Save
Saved!
Ingredients
Strawberry Basil Cake
1

cup

chopped fresh strawberries

hulled, and cleaned

1/4

cup

fresh basil leaves

1

cup

unsalted butter

softened

2.5

cups

granulated sugar

4

eggs

large

1

yolk

(extra to make 5 eggs total)

3

cups

all-purpose flour

2

tsp

baking powder

1/4

tsp

baking soda

1/2

tsp

kosher salt

1/2

cup

milk

1

tsp

vanilla extract
Simple Syrup
1/2

cup

chopped strawberries

hulled, cleaned

1/2

cup

granulated sugar

1/2

cup

water
Strawberry Buttercream
1

cup

unsalted butter

softened

1 1/2

cups

freeze dried strawberries

or 1.2oz bag

3

cups

confectioners sugar

1-2

tbsp

cream

or milk

1

tsp

vanilla extract

optional
Instructions
For the cake
Preheat your oven to 350° F and spray 3- 9" round baking pans with baking spray.

Using a small blender or food processor, blend the strawberries and basil until creamy and set aside

In the bowl of a stand mixer fitted with the paddle attachment, add the butter and sugar. Cream on low-medium speed until light and fluffy, then scrape down the sides and add in the eggs one at a time with the mixer on low.

In another bowl or a large piece of parchment paper combine the remaining dry ingredients- flour, salt, baking powder, and baking soda.

Add the milk and the vanilla to the strawberry basil mixture.

With the mixer on low, and add in 1/3 of the dry ingredients, then 1/2 of the wet ingredients, continue until theres nothing left, making sure to end with the dry ingredients. Mix on medium for two minutes.

Pour the batter into the cake pans and bake 35-45 minutes or until a skewer inserted in the center of the cake comes out dry.
Meanwhile make the simple syrup:
In a small pot combine the 1/2 cup of chopped strawberries, sugar and water. Bring the mixture to a boil for 2 minutes. Then reduce to a simmer for 10-15 minutes or until syrupy. Strain, but do not press down on the strawberries otherwise you might push some pieces through the mesh.
Make the Strawberry Buttercream
Crush the freeze dried strawberries in a ziplock bag with a rolling pin or pulverize them in a spices grinder.

In the bowl of a stand mixer fitted with the paddle attachment, add softened butter, crushed freeze dried strawberries, and confectioners sugar. Cream on low building up to high when the butter has incorporated most of the sugar so it doesn't blow up in your face.

Mix on high for 2-3 minutes. Next add in the vanilla and cream or milk and continue to mix for another minute.The buttercream should have stiff peaks.
Assemble the Cake!
Cut off the tops of your cake layers to even out. Place the bottom layer down and brush simple syrup all over the cake. Fill with buttercream. Continue until the top layer and then frost the cake with the remaining buttercream. Enjoy!
Notes
If your buttercream is too liquidy, add more confectioners sugar 1/3 cup at a time. Or, if it is too thick, add 1 tsp creamer until you have reached the desired consistency.
You can bake this cake into cupcakes. Bake for 18 minutes.
You can make this cake into a sheet cake, bake for 45 minutes.
Nutrition
Nutrition Facts
Strawberry Basil Cake with Strawberry Buttercream
Amount Per Serving (1 slice)
Calories 641
Calories from Fat 225
% Daily Value*
Fat 25g38%
Cholesterol 116mg39%
Sodium 178mg8%
Potassium 373mg11%
Carbohydrates 99g33%
Protein 5g10%
Vitamin A 831IU17%
Vitamin C 279mg338%
Calcium 68mg7%
Iron 6mg33%
* Percent Daily Values are based on a 2000 calorie diet.