This peppermint cake is covered in a creamy white chocolate peppermint buttercream and is the perfect cake to make for Valentines day, or any time you want to show someone some love! Complete with an easy to make candy cane cake topper!
A peppermint cake decorated with candy canes is perfect for this time of year, plus I LOVE a good festive cake!
Peppermint Cake
A while back on Instagram I polled everyone to see if they would rather a red velvet cake recipe or a peppermint cake recipe.
A lot of votes came in for peppermint cake, which was surprising to me because it is actually not one of my favorite flavors- I never realized how many people love peppermint!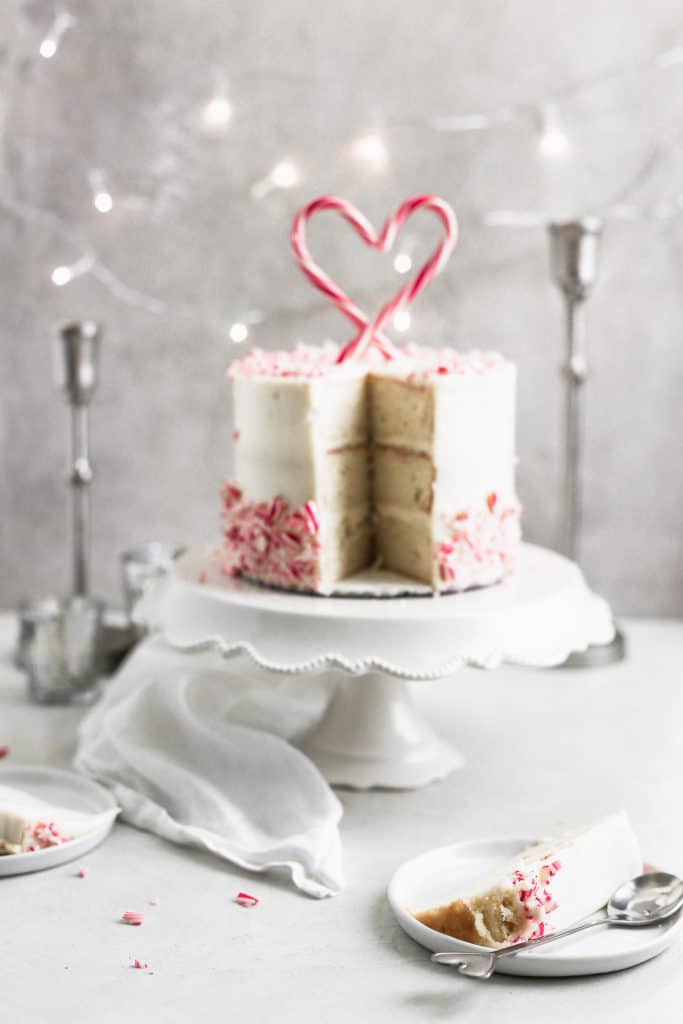 But I went with it and came up with this peppermint cake with white chocolate peppermint buttercream.
I made this cake a few times. To make sure the peppermint flavor was there but not overwhelming, I had to experiment a little with peppermint extract.
Peppermint Extract
Just an FYI, a little bit of peppermint extract goes a long way. Yes I learned that the hard way.
For the whole cake I used 1/2 teaspoon extract, and then for the buttercream I used only 1/4 teaspoon. Usually I use double or even triple those amounts when I add vanilla extract to my recipes, so again a little goes a long way!
I can't complain though- I'm so happy with how the cake turned out!
This cake is buttery and minty in all the right places.
It is a little more on the denser side, which makes it great for stacking into a layer cake because it holds the buttercream and it's shape really well.
How to make a peppermint layer cake: 
This cake follows the creaming method. Cream the butter and sugar together, then add the egg. Combine the dry ingredients together and the wet ingredients together. Alternate adding them in starting and ending with the dry ingredients.
Bake and make the buttercream!
White Chocolate Peppermint Buttercream
Creamy and delicious, it is also easily spreadable which is perfect for decorating.
I filled the cake layers with it first and then used the rest to ice the cake.
How to decorate:
Crush up some candy canes with a rolling pin, which by the way is an amazing form of stress relief, and press the shards against the top and bottom border of the cake.
Make sure that you crush the candies before you frost the cake! If the frosting sets before the candies are ready they won't stick to the cake.

Two full candy canes inserted on a diagonal make a heart!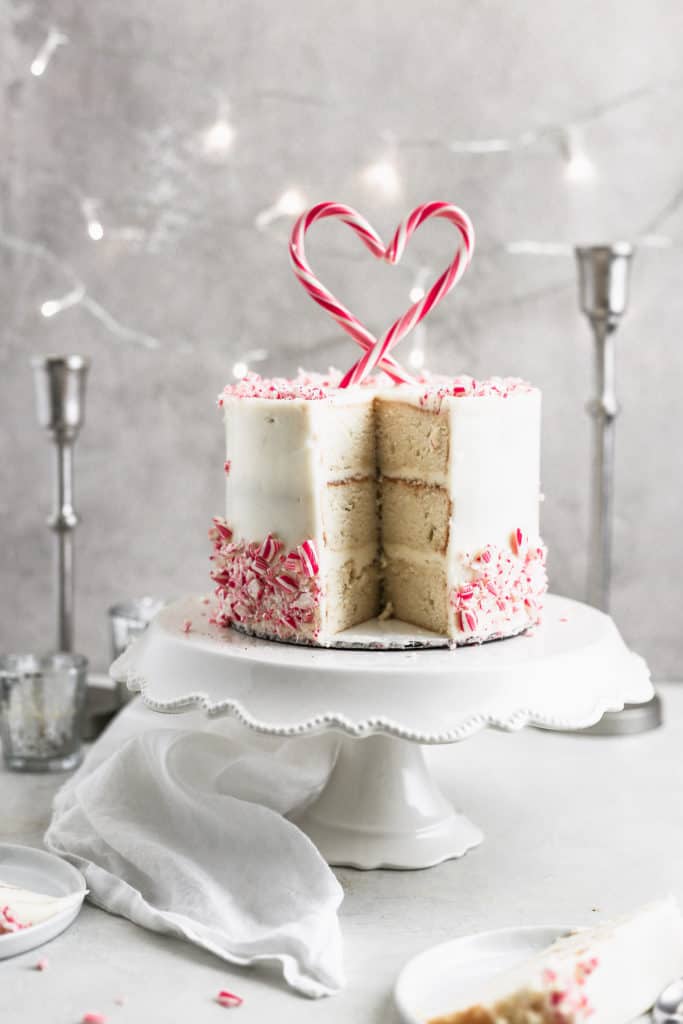 I only got the idea because as I was crushing up the candies, a few canes were just lying about and I noticed they made a heart shape.
So thank you to the candy canes for that idea, and also thank you for the stress relief.
Youda best.
For more cake decorating tips check out these posts:
This post contains affiliate links which means that if you purchase something using one of those links, I make a small commission at no extra cost to you! Thats right, you're helping me make that money, so thank you!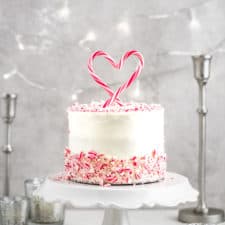 Peppermint Cake
This peppermint cake is covered in a creamy white chocolate peppermint buttercream and is the perfect cake to make for Valentines day, or any time you want to show someone some love! Complete with an easy to make candy cane cake topper!
Print
Pin
Rate
Ingredients
For the cake:

¾

cup

butter

or 12 tablespoons, softened

1 ½

cups

granulated sugar

3

large eggs

2 ¼

cup

all purpose flour

1 ½

teaspoons

baking powder

½

teaspoon

kosher salt

1

cup

buttermilk

½

teaspoon

vanilla

½

teaspoon

peppermint

Candy canes for garnish- about 12-15 pieces

For the white chocolate peppermint buttercream:

6

ounces

about 1 cup, white chocolate, melted

1

cup

butter

softened

3.5

cups

confectioners sugar

¼

teaspoon

peppermint extract

½

teaspoon

vanilla extract

1

teaspoon

half n half
Instructions
Preheat your oven to 350° F and spray 3 6"inch or  2 8" cake pans with baking spray or alternatively line them with parchment paper.

In the bowl of a stand mixer fitted with the paddle attachment, cream the butter and sugar on low-medium speed for 2 minutes or until it is a pale yellow color and fluffy. Add the eggs in one at a time, and mix until incorporated.

In a separate bowl combine the flour, baking powder,and salt. Lightly mix to combine and set aside. Now prepare the buttermilk, vanilla, and peppermint extracts in a measuring cup.

Alternate adding the dry and liquid ingredients in stages.  Start by adding 1/3rd of the dry mix to the batter, mix on low- medium speed, then add in half the liquid, continue mixing, add in another 1/3rd of the dry ingredients, mix. Then add in the last of the liquid, mix, and add the last of the dry ingredients.

Continue mixing on medium speed for another 30 seconds to make sure everything is combined.

Stop and mix the batter with a spatula, scraping the bottom of the bowl to make sure everything got into the mix. Fill the pans up half way with batter and bake for 30-35 mins depending on size of the pans. You will know the cake is done when the edges start to pull away from the pan and the middle is springy.

Meanwhile make the buttercream- In a microwave safe bowl, microwave the white chocolate until fully melted, 30 seconds at a time. Let cool 3 mins. In the bowl of a mixer combine the butter and sugar, and beat on medium speed until combined. Lower the mixer to low speed and add in the white chocolate. Mix until combined. Scrape down the bowl and add in the extracts and half n half and continue to mix until peaks form.

Fill and ice the layers, then garnish with candy canes!
Notes
If you substitute milk for buttermilk, reduce the baking powder to 1 teaspoon
If the buttercream is too thick, add a little more cream by the 1/2 teaspoon. If it is too liquid, add 1/3 confectioner at a time until your desired consistency.
Recipe serves 12-14 for smaller cake and up to 20 for larger cake
Nutrition
Nutrition Facts
Peppermint Cake
Amount Per Serving (1 g)
Calories 384
Calories from Fat 162
% Daily Value*
Fat 18g28%
Cholesterol 71mg24%
Sodium 209mg9%
Carbohydrates 54g18%
Protein 3g6%
* Percent Daily Values are based on a 2000 calorie diet.