This football cake is a great way to celebrate game day! It looks like a giant cake but it is actually made from cupcakes and is way easier to make than it looks!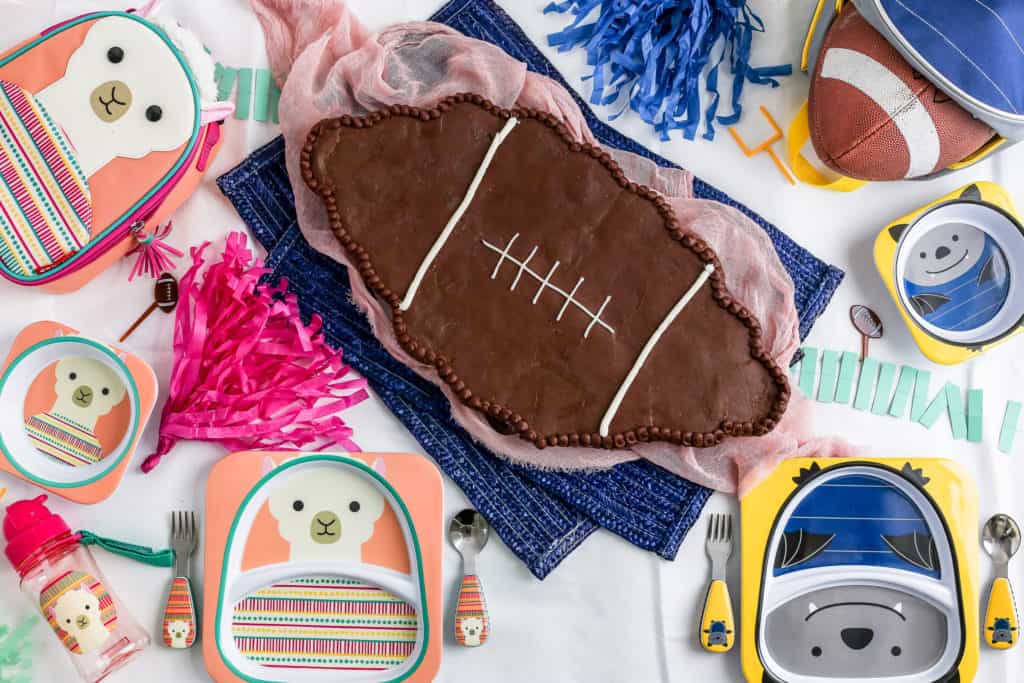 Ok lets be real, I'm just here for the cupcakes.
I'm not the biggest sports fan, so I don't get all excited to watch the big game every football season. But game day means there's gonna be snacks and treats, and I am SO into snacks and treats.
Can you guess what else I'm into? I'm super into snacks that have a theme!
I love throwing a party or going to a friend's house who has gone all out with decorations, and matching themed food and desserts.
I may have gone just a *tad* overboard with my son's first nautical themed birthday. Those gummy fish didn't pack themselves into tiny plastic bags, then tie themselves up with string, and then tie that string to a wooden skewer to make it look like a fish caught on a fishing rod.
Okay, a tad "overboard" (ha! I didn't even plan that one out), but worth it!
So obviously when the nice people at Skip Hop (who sponsored this post) asked me to create a treat for kids for the big game featuring their meal time zoo products, my response was a big fat "AHH YES!
Omg, can I make a DIY pull apart football cupcake cake?!"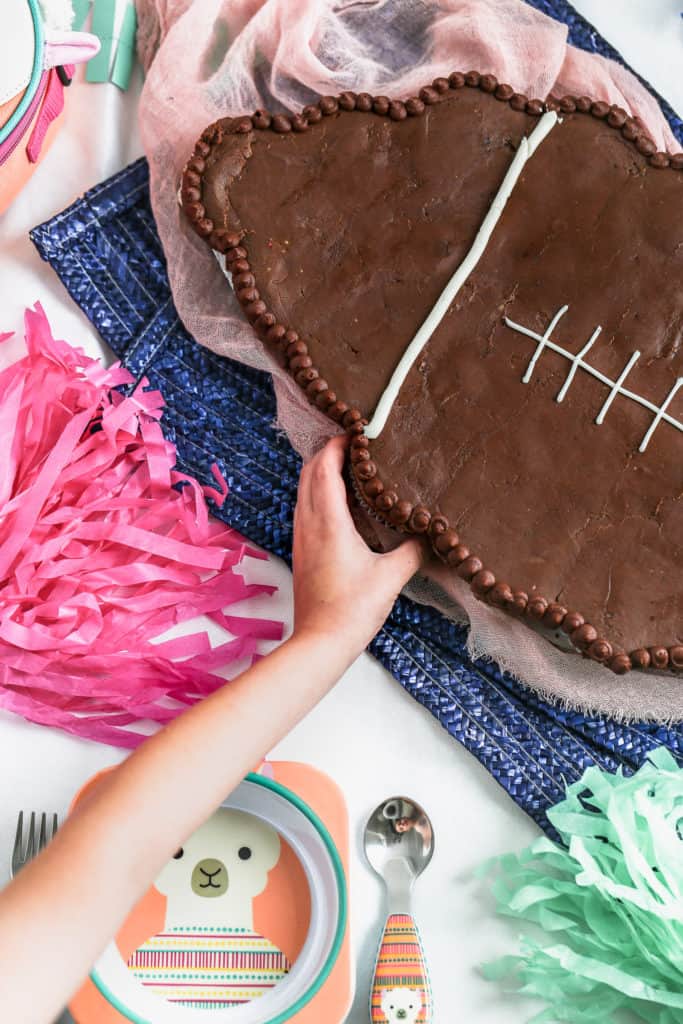 Firstly, we have been a long time Skip Hop loving family.
That son I mentioned above? His first backpack was this cute dog backpack, which we got when he was 2.5. He is now 7 and we still use it!
Also, if you've been following me along on Instagram for a while, you know my daughter has a serious unicorn obsession so obviously this is the one she uses everyday.
Both of my diaper bags were also from Skip Hop when I had my kiddos! I really love the quality of all their products from mama to baby's needs, plus the designs are always on point! Hello, should we talk about this llama?
Or what about this cutie bat, who by the way is hanging upside down — EEEEE squealing with cuteness!
Secondly, I couldn't wait to finally make a pull apart cupcake cake! I had seen these kinds of cakes all over the internet the last few years and was dying to try one out.
Combine that with my love of themed desserts, and I present you with this DIY pull apart football cupcake cake!
Creating this pull apart cupcake cake
Because there may be other goodies and treats for the kiddos, I decided to make a healthier version of my one bowl chocolate cake into cupcakes without sacrificing on the flavor.
I reduced the sugar, and replaced the all purpose flour with whole wheat pastry flour.
Then I took out the coffee (because children DO NOT need more energy), upped the vanilla extract, and replaced the oil with all natural apple sauce.
When I made the chocolate buttercream though, I decided to stick to a more classic recipe using butter and confectioners sugar because there aren't many great replacements for those without sacrificing on the ease of frosting and decorating.
Plus, I figured there weren't going to be mounds of frosting on each cupcake so it was justified.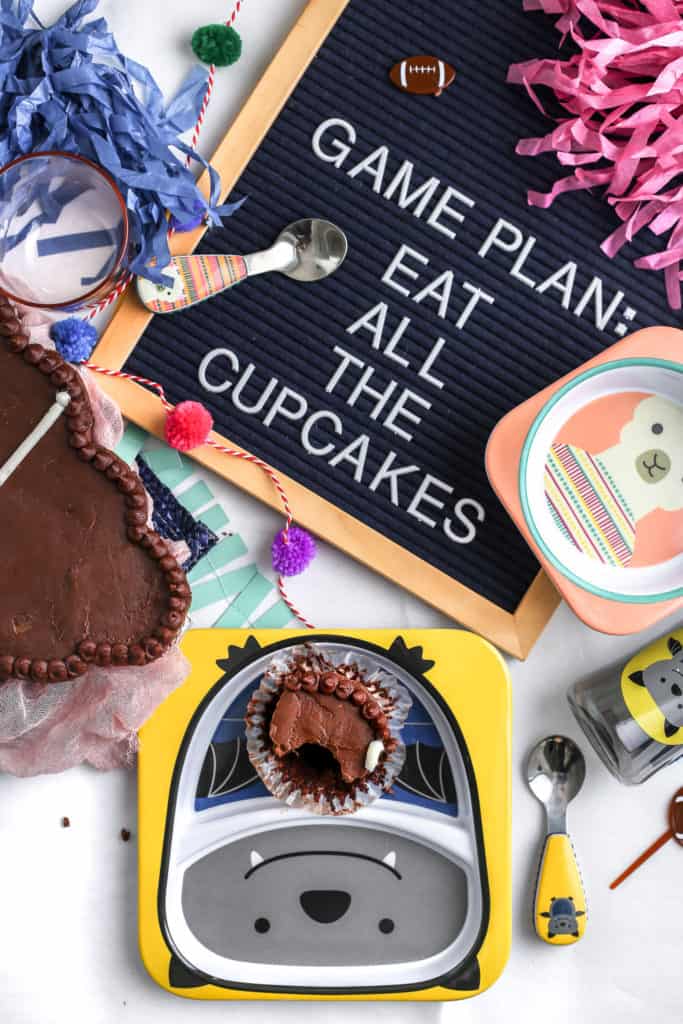 Kid tested
I then tested these cupcakes out on my own kids ("Kidddddds, who wants cupcakes") and they had NO IDEA that they were any different!
They loved them and both asked for seconds, which I was happy to give them because they are on the healthier side, yet still super fluffy, chocolatey and delicious.
I also went the extra mile and decided it would be fun to hide a sprinkle surprise inside the cupcakes!
Obviously totally optional, but if you want to personalize your football cake according to the teams who are playing, you can buy sprinkles in their coordinating colors and stuff 'em in the cupcakes!
Why you should make this
You bake cupcakes, arrange them into any shape you want on a board, then frost it all over and decorate so it looks like one big cake.
The beauty of this is that they are so easy to serve, just pull one off! No help needed from parents who are busy watching the game (not me) or stuffing their faces with snacks (me).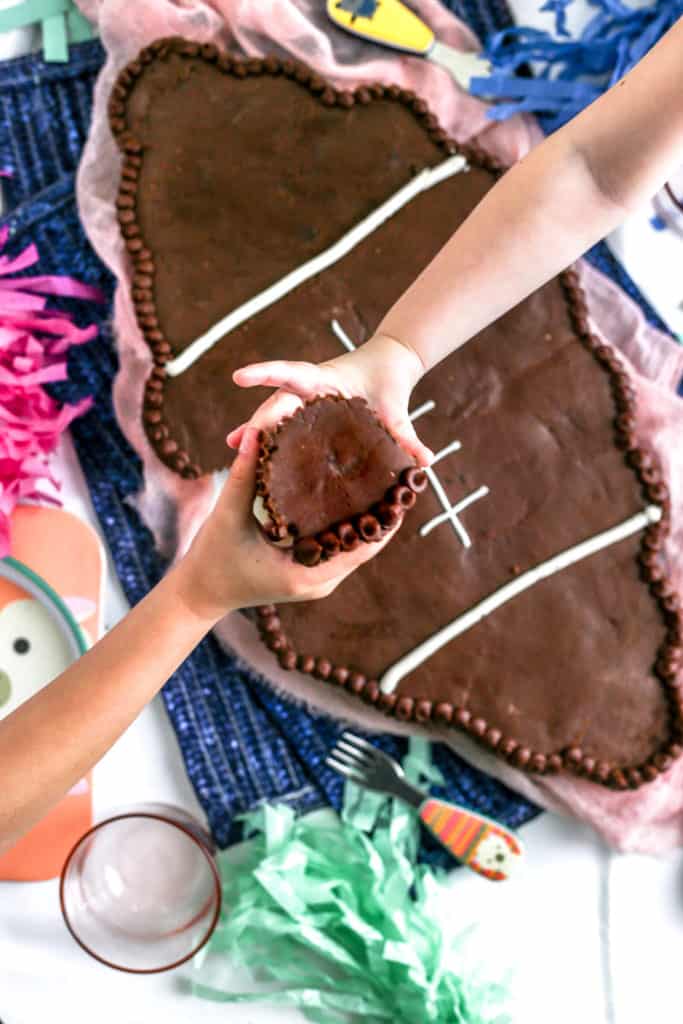 How to make a football cake out of cupcakes
Essentially, you'll need to arrange 24 cupcakes in rows to create the classic football shape. You start with a few rows of 4 cupcakes in the center, then work your way down to a single cupcake on either end of the football.
Once the cupcakes are arranged into the shape of a football cake, spread a little frosting on the bottom of the cupcakes to keep them from moving around as you frost the top (don't skip this step, or you'll hate yourself later!).
Then, just smooth the chocolate frosting over the cupcakes with an offset spatula, and don't forget to pipe some white lines onto the top to finish off your football!
Sprinkle Surprise
Cut a small little circle 1/4 inch deep off the top of the cupcake, lift and put it to the side. Using a measuring spoon, fill the hole with sprinkles, then put the cupcake circle top back on and press down lightly.
Then frost away as normal, don't tell your children, and watch how excited they are when they take their first bite!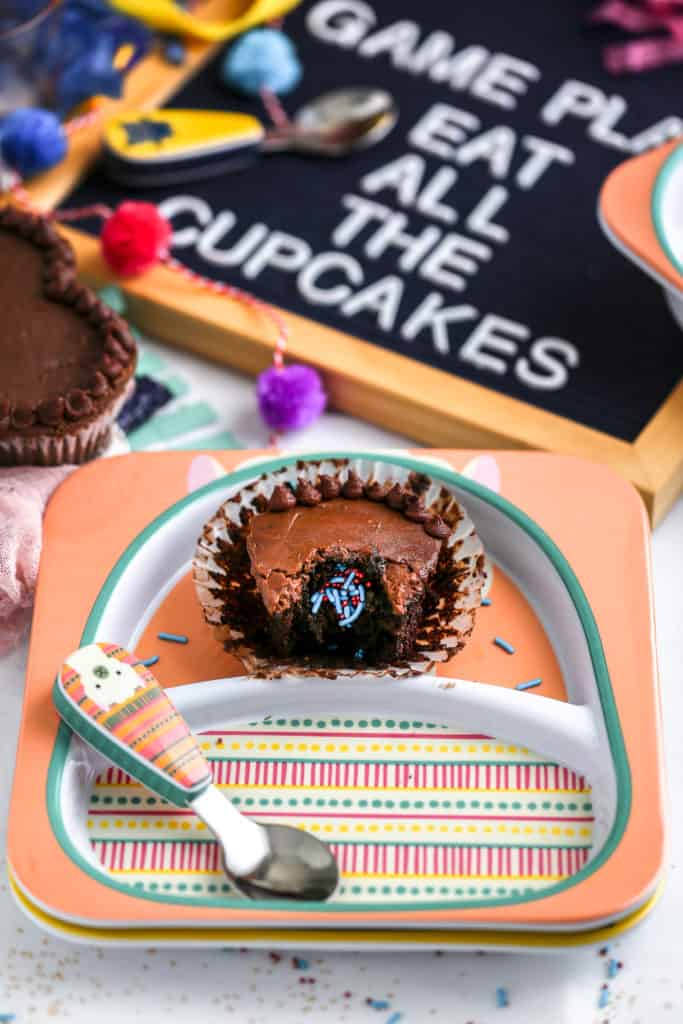 Even more cupcake cake ideas
I think a football cake is one of the most popular cupcake cake ideas, but you can make a pull apart cupcake cake into pretty much any shape! A few other designs you could try out are:
I'm already dying for another excuse to make a themed pull apart cupcake cake!
If you have kids, then you know they can be the biggest critics. My son has no problem telling me that his dinner that I made him was, and I quote "like a little bit good, but not that good."
Thanks bud.
But I got none of that from him with this football cupcake cake! The only comment I got this time was, "Can I have another one?"
I call that a win, or touchdown — whatever.


Need more dessert recipes?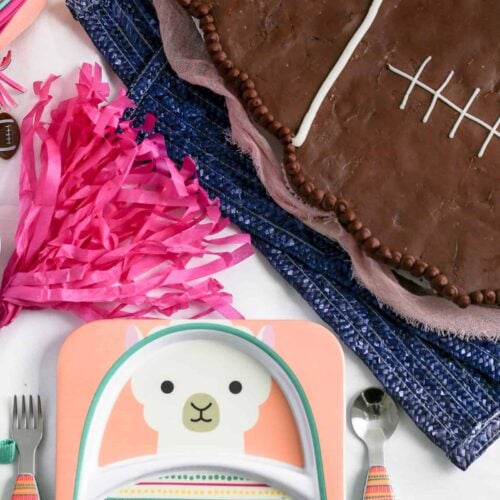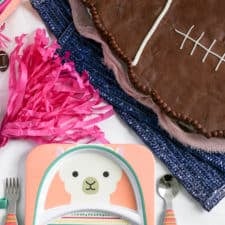 Pull Apart Football Cupcake Cake
Celebrate the big game with this easy to make pull apart football cupcake cake!
Print
Pin
Save
Saved!
Rate
Equipment
13x9 cake board

white decorators icing (sold in a small tube in grocery store)
Ingredients
For the cupcakes
3/4

cup

brown sugar

1 1/2

cups

whole wheat pastry flour

3/4

cup

unsweetened cocoa powder

1/2

tbsp

baking soda

1/2

tsp

baking powder

1/2

tsp

kosher salt

2

eggs

large

3/4

cup

milk

lowfat

3/4

cup

boiling water

1

tbsp

vanilla extract

1/2

cup

applesauce

all natural
For the buttercream
1/2

cup

semi sweet chocolate

1

cup

unsalted butter

3

cups

confectioners sugar

1

tsp

vanilla extract

1

tsp

milk
Instructions
For the cupcake
Preheat your oven to 350° F and line a cupcake tin with baking liners enough for 24 cupcakes.

In the bowl of a stand mixer fitted with the paddle attachment, combine the 3/4 cup brown sugar, 1 1/2 cups flour, 3/4 cup cocoa powder, 1/2 tbsp baking soda, 1/2 tsp baking powder, and 1/2 tsp salt.

Mix on low speed to combine for 30 seconds. Add in the 2 eggs, one at a time mixing continuously on low speed. Slowly add in the 3/4 cup milk, then the 3/4 cup water, 1 tbsp vanilla, and 1/2 cup applesauce. Mix on medium speed for 1 minute or until mixed well. Remove and mix with a spatula to make sure everything from the bottom of the bowl got incorporated into the mix.

Fill the cupcake liners up ⅔ of the way full with the batter. Don't fill any higher than that or your cupcakes will overflow when baking and you won't have enough batter for 24 cupcakes. Bake for 17-18 minutes, or until the tops are firm but still a little springy.
Make the buttercream
You will have to clean your mixing bowl. Microwave the 1/2 cup chocolate in a microwavable safe bowl for 30 seconds at a time until fully melted. Make sure to stir in between each time too. Cool for 5 minutes.

In the bowl of a stand mixer fitted with the paddle attachment, combine the 1 cup butter and 3 cups confectioners sugar and mix on low, leading up to medium speed. Turn the mixer back to low and pour in the melted chocolate in a steady stream. Add the 1 tsp vanilla and 1 tsp milk and continue to mix until fully combined. Mix with a spatula to make sure everything is combined.
Assemble the cupcake cake
You will need all 24 cupcakes to make the football shape. Arrange your cupcakes on the rectangle board by lining them up one line at a time. Start in the middle to make 3 vertical lines next to each other of 4 cupcakes each. Then work your way out to the end of each side with one line of 3 cupcakes, then one line of 2 cupcakes, then one cupcake to finish (on each side).

Now that you have your template, you will lift each cupcake and spread a little dollop of frosting on the bottom then stick it back into the football shape. This helps to make sure the cupcakes wont move while you are frosting. 

If you opted for the sprinkle surprise, cut a small little circle 1/4 inch deep off the top of the cupcake, lift and put it to the side. Using a measuring spoon, fill the hole with sprinkles, then put the cupcake circle top back on and press down lightly.

Next- put the cake in the freezer for 10 minutes. This will make your frosting easier to smooth and also minimizes crumbs! Continue here if even if you didn't add the sprinkles.

Smooth the frosting all over the cake with a spatula (an offset one is best), or you can fill a piping bag with the chocolate buttercream and using a round tip, outline the border of the cake and then fill in the center with the rest of the buttercream.

To smooth the buttercream out, fill a clean spay bottle with water and lightly spray the cake. Smooth over the damp frosting with the offset spatula.

Finish up the decorating by adding white lines to either side of the football and  lines in the center.
Notes
If you need some tips on how to decorate easily with buttercream be sure to check out this post for some help!
*Yes, there is a difference between whole wheat pastry flour and whole wheat flour. Whole wheat flour has more protein in it than the pastry version, which means there is more gluten, which will result in a denser cupcake if you don't use the whole wheat pastry flour.
Nutrition
Nutrition Facts
Pull Apart Football Cupcake Cake
Amount Per Serving (1 cupcake)
Calories 219
Calories from Fat 90
% Daily Value*
Fat 10g15%
Cholesterol 35mg12%
Sodium 139mg6%
Potassium 121mg3%
Carbohydrates 32g11%
Protein 3g6%
Vitamin A 273IU5%
Vitamin C 1mg1%
Calcium 33mg3%
Iron 1mg6%
* Percent Daily Values are based on a 2000 calorie diet.