These cinnamon rolls have no yeast and are made using Athens Foods phyllo dough for the ultimate phyllo dough dessert recipe! The filling is made with brown sugar, butter, and cinnamon, and then the dough is rolled up in the shape of a cinnamon roll. They are baked in a cast iron skillet then drizzled with cream cheese frosting.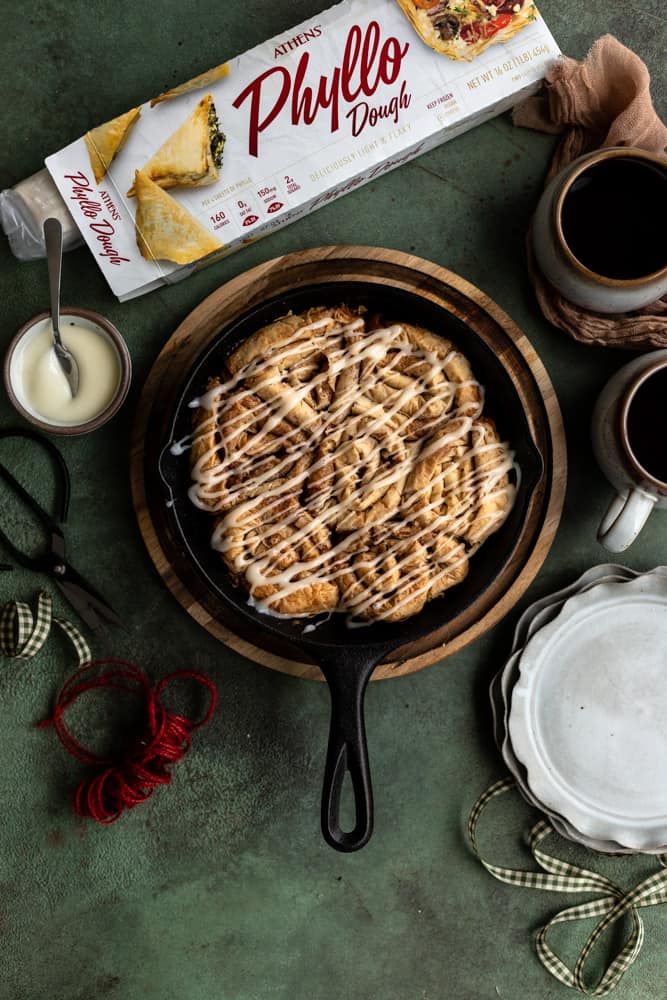 I am honored to have this post sponsored by Athens Foods, thank you!
Move over classic cinnamon rolls, there's a new phyllo dough recipe in town! Instead of slaving over a yeasted recipe, you can make crispy cinnamon rolls using Athens phyllo dough!
What I love about this recipe is that it is EXTRA crispy and has so much flavor in every single bite. The buttery sweet filling is lined between each sheet of phyllo dough and then rolled up to look like a cinnamon bun. You can then drizzle a cream cheese glaze or frost with cinnamon cream cheese frosting.
As a trained pastry chef I love coming up with fun and inventive new recipes. This phyllo dough recipe definitely hits the spot just like this Strawberry cheesecake and this Napoleon dessert, made with Athens phyllo dough too!
If you have been looking for a new fun phyllo dough recipe to try that won't take you hours to make, this is it!
What is phyllo dough?
Phyllo dough is a paper thin unleavened dough that is used to make sweet and savory pastries. Some people get it confused with puff pastry but it is not the same thing!
What is the difference between phyllo dough and puff pastry?
The difference between phyllo dough and puff pastry is that phyllo dough does not contain butter and is much thinner than puff pastry. It will not puff up in the oven the way puff pastry does. Puff pastry is a laminated dough, so when it is baked the steam from the layers of dough make it puff up. Phyllo dough stays in its paper thin state and gets very crispy instead. This is why you have to use many sheets of phyllo dough versus only using one for puff pastry.
How to work with Phyllo dough
Make sure to completely defrost and thaw out the phyllo dough before you start this recipe. I will either leave mine out at room temperature for a couple hours, or I will thaw it out in the fridge overnight. This will really ensure that you have full length pieces of phyllo to work with and not so many cracked pieces!
Keep a damp paper towel over the sheets of phyllo while you aren't using them, this will help to not dry them out and cause more cracks.
If the pieces crack, that's ok, just keep working with it.
Why you should make this recipe
It's pretty easy to make.
The phyllo dough makes this recipe super crispy.
It's a fun new recipe to make for the holidays.
Ingredients needed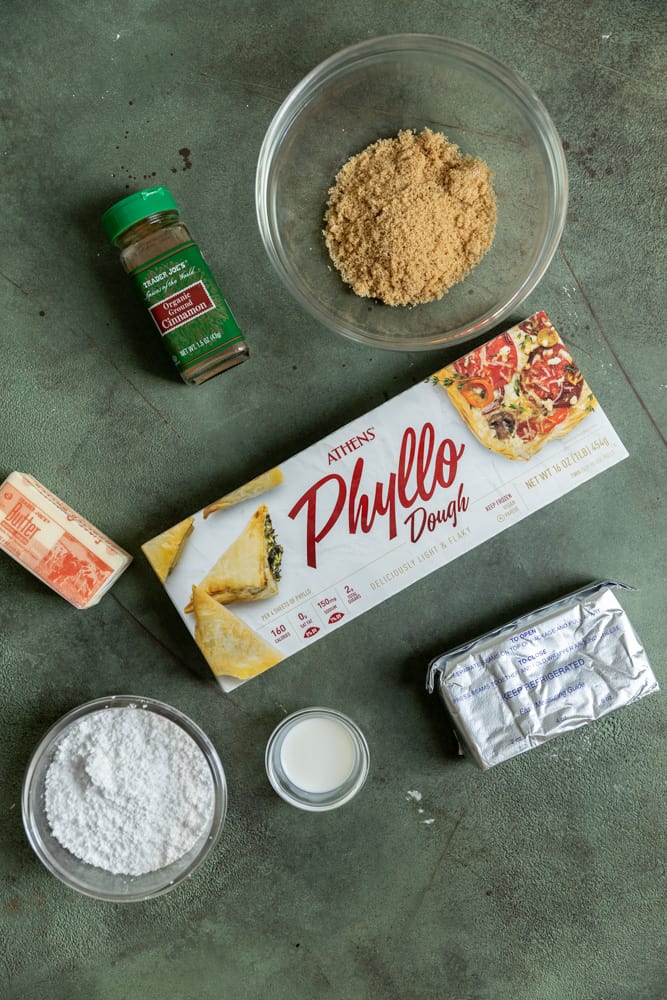 1 box Athens Foods Phyllo Dough ( you will use 1 ½ packages)
Unsalted butter– you'll melt this and brush it over the phyllo dough sheets.
Brown sugar– Used for sweetness!
Cinnamon– Cinnamon adds the nice warm flavor to the dish.
Cream cheese- This is used for base of the cream cheese glaze.
Powdered sugar– Makes the glaze sweet.
Milk– Thins out the glaze.
Equipment Needed
For equipment, you will need an 8" cast iron skillet for this recipe. If you don't have one, you can make this in a round 8" cake pan or an oven safe skillet.
How to make this Cinnamon Roll Phyllo Dough Recipe
Defrost the phyllo dough: Make sure that your phyllo dough is at room temperature. This is crucial! The dough will crack too much if it is still even a little bit frozen. Preheat the oven to 375° F and grease an 8" cast iron skillet.
Make the filling: Melt the butter, brown sugar, and cinnamon on low heat until melted. Make sure to watch it so that it doesn't boil- otherwise it will harden.
Roll the phyllo dough: Unwrap the dough and keep a damp paper towel over the sheets when not in use. Brush 5 layers of dough with the butter mixture, then roll into a log. Roll the log into itself to make it look like a cinnamon roll and place into the cast iron skillet.
Repeat: Repeat the process until you have 7 cinnamon rolls.
Bake: Bake for 20-25 minutes or until the edges are crisp and golden.
Make the glaze: Meanwhile make the cream cheese glaze. Mix together cream cheese, confectioners sugar, and milk until smooth. Drizzle over cinnamon rolls and enjoy!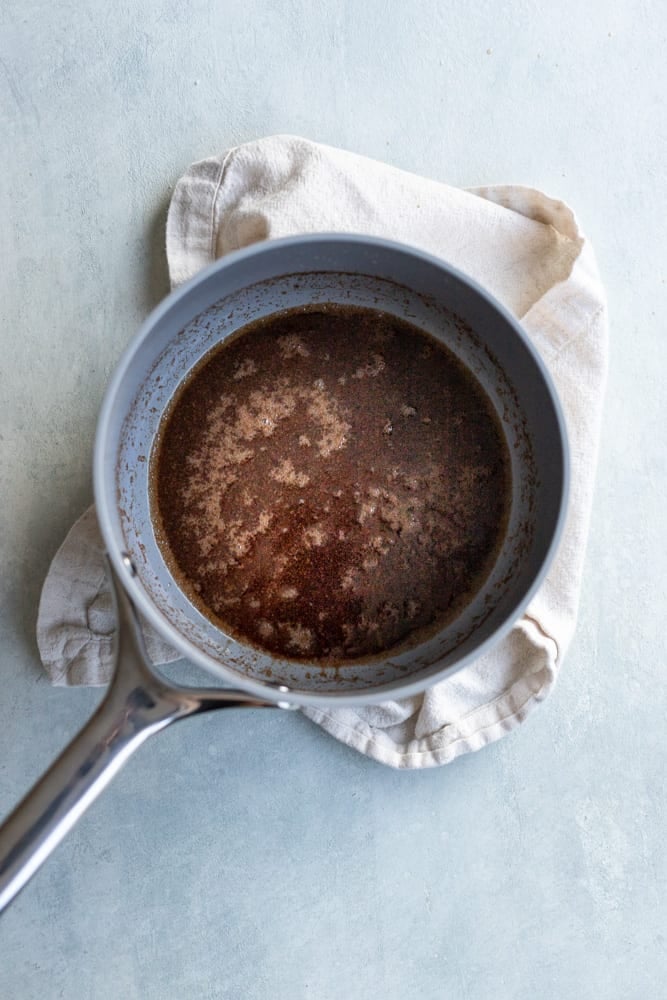 Storing & Freezing
Storing:
This recipe is best made and enjoyed the day of but will also be ok the next day. Store it on your counter covered tightly in plastic wrap.
Freezing: I do not recommend storing it in the fridge or freezing this recipe.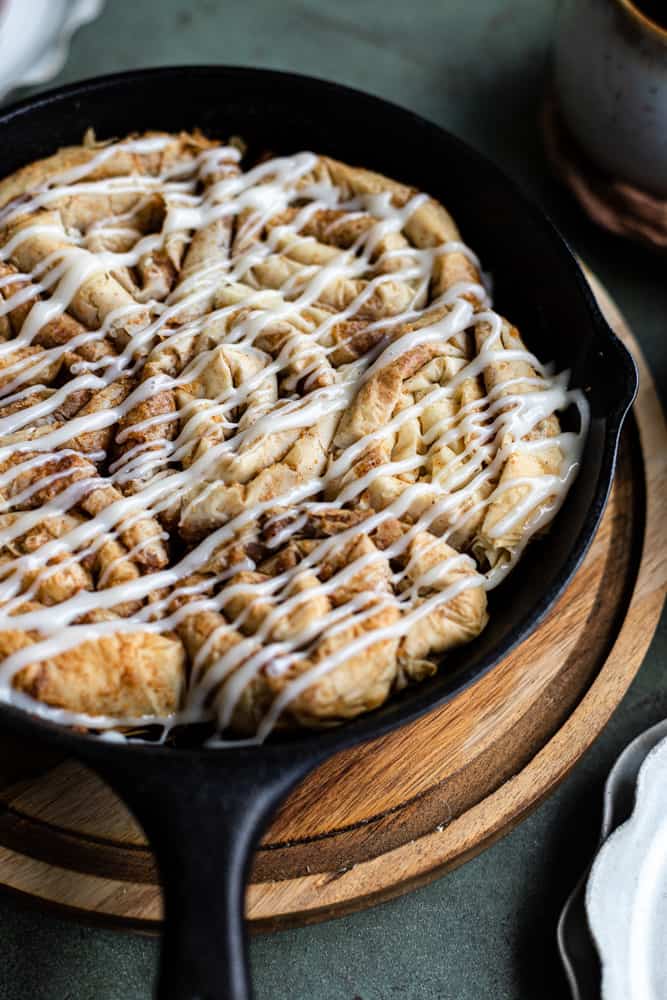 Recipe tips for success
Take the phyllo dough out of your freezer and place in the fridge the night before making them so that it will be at a perfect temperature when you want to start.
If the butter mixture hardens as you are brushing the sheets, reheat it on low to melt it again. Make sure not to bring to a boil so it doesn't harden that way either.
You will be using 1 ½ of the packages inside 1 box of Athens phyllo dough for an 8" skillet. If you have a larger skillet (10") then you will use all of both packages.
Make sure the cream cheese is at room temperature before mixing it for the frosting.
Recipe FAQ
How many sheets of phyllo dough should I use? For this recipe you will use 1 1/2 packages of Athen's Phyllo Dough. Each pack has about 18 sheets per package. So you will use about 27 sheets total.
How do you roll the phyllo dough? To roll the phyllo dough start at the long edge and tightly roll it over itself so it rolls into a tight log. Then roll the dough into itself like a snail shell. See the photos above for reference!
What can I make with leftover phyllo? You can make mini chocolate tarts! Cut the remaining sheets in half and spray a muffin tin with baking spray. Press 5-6 layers of phyllo into the muffin tin and spray with baking spray in between. Drop some chocolate chips in the middle and cover with 3-4 more sheets. Bake for 15-20 mins on 350° F.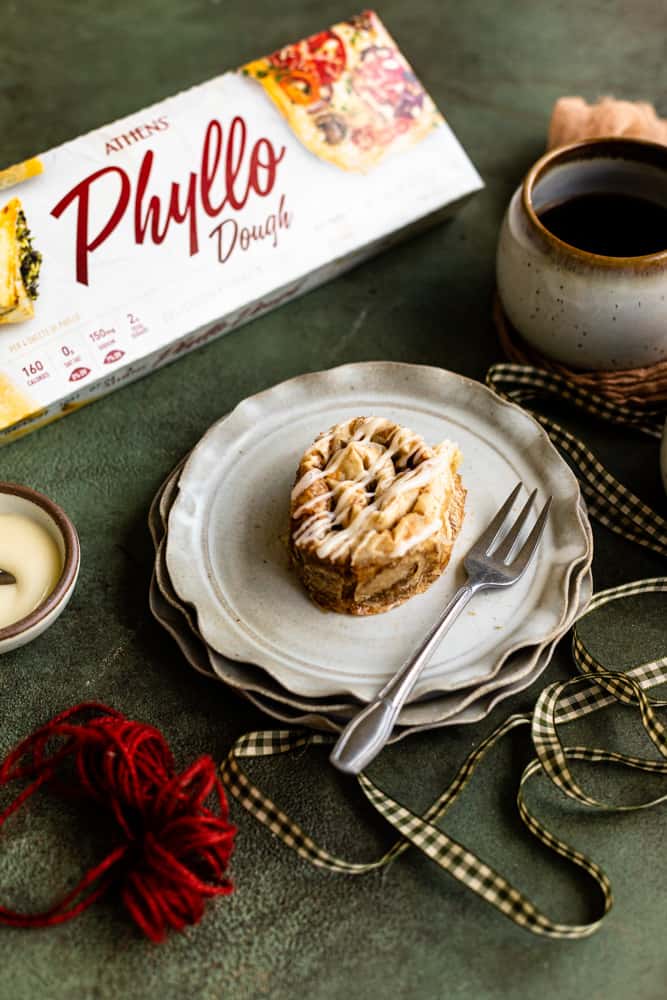 Find more phyllo dough recipes here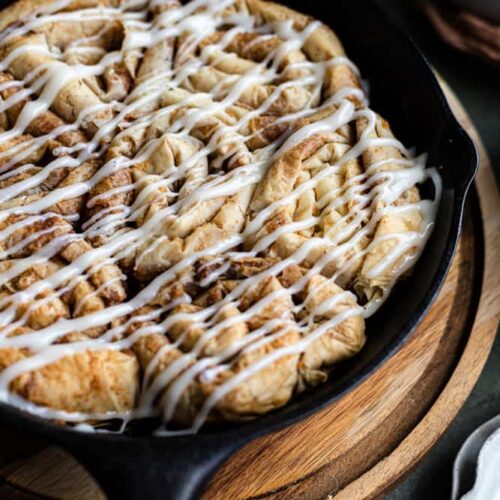 Cinnamon Roll Phyllo Dough Dessert
These cinnamon rolls are a fun new way to make a phyllo dough dessert and can be made I less than an hour! They have no yeast and are super crispy and filled with flavor I every bite.
Print
Pin
Save
Saved!
Rate
Ingredients
For the phyllo buns
1

box

Athens Foods Phyllo Dough

1/2

cup

unsalted butter

3/4

cup

brown sugar

1

tbsp

cinnamon
For the cream cheese glaze
2

tsp

cream cheese

1/2

cup

powdered sugar

1

tsp

milk
Instructions
Preheat the oven to 375° F and grease an 8" skillet with baking spray.

Remove the phyllo dough from the package, roll it out, and place a damp paper towel over it.

Melt the ½ cup butter, ¾ cup brown sugar, and 2 tbsp cinnamon in a small saucepan over low heat.

Brush the melted butter mixture over 1 sheet of phyllo dough and repeat 4 more times for a total of 5 sheets together.

Roll the dough into a long log, then roll the dough into itself to form the shape of a cinnamon bun.

Place the roll in the skillet and repeat 6 more times to fit 7 cinnamon rolls into the skillet. You may have to squeeze them in, but they fit!

Bake the rolls for 20-25 minutes until the outside is crispy and golden brown.

Make the cream cheese glaze. Combine 2 tsp cream cheese with ½ cup powdered sugar, and 1 tsp milk, and mix until a smooth glaze forms.

Drizzle over buns and enjoy!
Notes
There are 2 packages of phyllo in each box of phyllo dough. You will need 1 1/2 packages phyllo dough for an 8″ skillet. If you only have a 10″ skillet you will use all of both packages within the box. 
You can also frost these with cinnamon cream cheese frosting.
Nutrition
Nutrition Facts
Cinnamon Roll Phyllo Dough Dessert
Amount Per Serving (1 g)
Calories 441
Calories from Fat 162
% Daily Value*
Fat 18g28%
Cholesterol 36mg12%
Sodium 326mg14%
Potassium 91mg3%
Carbohydrates 67g22%
Protein 5g10%
Vitamin A 429IU9%
Vitamin C 1mg1%
Calcium 44mg4%
Iron 2mg11%
* Percent Daily Values are based on a 2000 calorie diet.