This Cream cheese glaze can be made in 3 minutes or less and with only 4 simple ingredients. It's a thin glaze that can be drizzled over desserts like red velvet bundt cake or white chocolate oatmeal cookies. With its sweetness and hint of tang this icing is a great addition to top any dessert!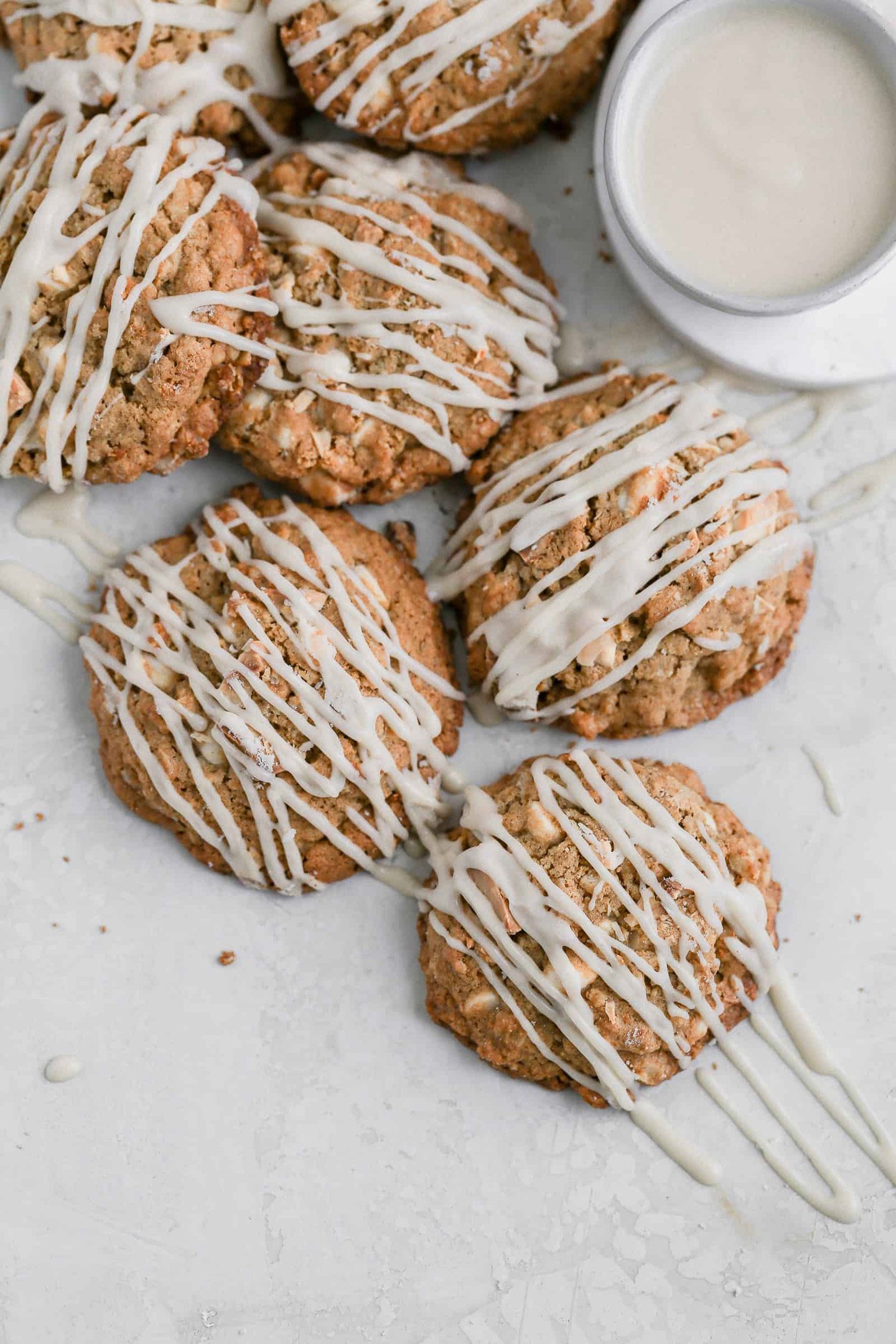 This cream cheese glaze is a thin icing that can be drizzled over all kinds of desserts! You really only need 3 minutes, a couple small portioned ingredients, a bowl, and a whisk to create a silky glaze that will take your desserts to the next level.
As a professional baker, I love a good white glaze that can be drizzled over desserts. It really elevates the pretty factor of desserts and also can hide cracks when the cake doesn't come out of the pan perfectly!
Cream cheese glaze is the perfect balance of sweet and tangy. The cream cheese is slightly savory and the powdered sugar makes it soft and sweet. It's a great option for everything from carrot bundt cake to rich red velvet bundt cake, as well as thumbprint cookies and even white chocolate oatmeal cookies.
One of the best things about this cream cheese glaze recipe is just how easy it is to make. Once you learn how to soften cream cheese-combine it with powdered sugar, vanilla extract, and cream or milk, and whisk until smooth. You also cannot mess this up! Learn how to thicken frosting to see how easy it is to fix.
That's it! In just three minutes, you'll have a delicious, creamy glaze that will take your desserts to the next level.
WHY YOU SHOULD MAKE THIS RECIPE
It's super quick to make!
Theres only a few ingredients.
It easily hides cracks or imperfections on cake!
INGREDIENTS NEEDED
Softened Cream Cheese – Makes up the base of the glaze and provides a rich, creamy texture and a slightly tangy flavor that pairs perfectly with sweet baked goods.
Powdered Sugar – Also known as confectioner's sugar, it sweetens the glaze and creates a smooth texture. It also helps to thicken the glaze and give it a glossy finish.
Vanilla Extract – Added to the glaze to enhance the overall flavor and provide a subtle hint of sweetness.
Cream or Milk – Used to thin out the glaze and make it easier to drizzle over your baked goods. It also adds a little extra richness to the glaze and helps to balance out the sweetness of the powdered sugar.
HOW TO MAKE CREAM CHEESE GLAZE
Soften cream cheese: Using the tips on how to soften cream cheese– mix it with a spatula in a medium bowl until its a spreadable consistency.
Add ingredients: To the bowl, add the powdered sugar, vanilla extract, and milk or cream.
Whisk and enjoy: Use a whisk to combine all of the ingredients until the glaze is smooth and can be poured. Drizzle over your favorite desserts. Enjoy!
TIPS FOR RECIPE SUCCESS
Use softened cream cheese for this recipe to ensure a smooth and creamy glaze. If your cream cheese is still cold, it will not mix well with the other ingredients.
When adding the powdered sugar to the cream cheese, sift it first to prevent any lumps or clumps from forming in the glaze. This will ensure a smooth and even texture throughout.
After drizzling the glaze on your desserts, let it harden fully before consuming or storing it to ensure it doesn't smear.
If its too thick or thin learn how to thicken frosting. This post helps with both issues!
VARIATIONS
For a citrus twist, add a tablespoon of lemon or orange zest to the glaze mixture before whisking it together. This will add a bright and fresh flavor that pairs well with fruit-based desserts.
To create a chocolate cream cheese glaze, add one tablespoon of cocoa powder to the mixture along with the powdered sugar. This will create a rich and indulgent glaze that's perfect for chocolate cakes and brownies.
For a boozy twist, swap out the cream or milk for a tablespoon or two of your favorite liqueur. Baileys Irish Cream, Amaretto, and Kahlua are all great options!
Add a pinch of cinnamon or pumpkin pie spice to the glaze mixture to create a warm and cozy flavor that's perfect for fall-inspired desserts like pumpkin bread or spiced apple cake.
For a fruity variation, mix in a tablespoon of your favorite fruit jam or preserves to the glaze mixture before whisking it together. This will add a burst of fruity flavor that pairs perfectly with cakes and cookies.
Instead of cream cheese, you can also use mascarpone cheese to create an ultra-rich and creamy glaze. The texture will be slightly thicker than a cream cheese glaze, but it adds a wonderful flavor that pairs well with almost any dessert.
STORAGE AND FREEZING
To store the cream cheese glaze, transfer it to an airtight container and store it in the refrigerator for up to one week. Before using, let it come to room temperature and give it a quick stir to ensure it's smooth and spreadable.
Cream cheese glaze is not recommended for freezing, as it can separate and become grainy when thawed.
MORE WAYS TO ENJOY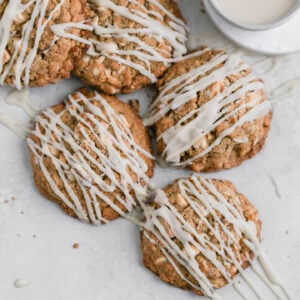 Ingredients
2

tablespoons

cream cheese

softened at room temperature

1

cup

powdered sugar

1

teaspoon

vanilla extract

1

tablespoon

cream

or milk
Instructions
In a medium bowl add the softened 2 tbsp cream cheese.

Give it a good stir with a spatula to spread it around.

Add the 1 cup powdered sugar, 1 tsp vanilla extract, and 1 ½ tbsp cream milk.

Whisk until smooth.
Nutrition
Nutrition Facts
3 Minute Thin Cream Cheese Glaze
Amount Per Serving (1 portion)
Calories 53
Calories from Fat 9
% Daily Value*
Fat 1g2%
Cholesterol 4mg1%
Sodium 8mg0%
Potassium 5mg0%
Carbohydrates 10g3%
Protein 0.2g0%
Vitamin A 51IU1%
Vitamin C 0.01mg0%
Calcium 3mg0%
Iron 0.01mg0%
* Percent Daily Values are based on a 2000 calorie diet.