Looking for the perfect cookie? This is it! Crispy on the outside, chewy on the inside, these crispy and chewy giant funfetti cookies are the best!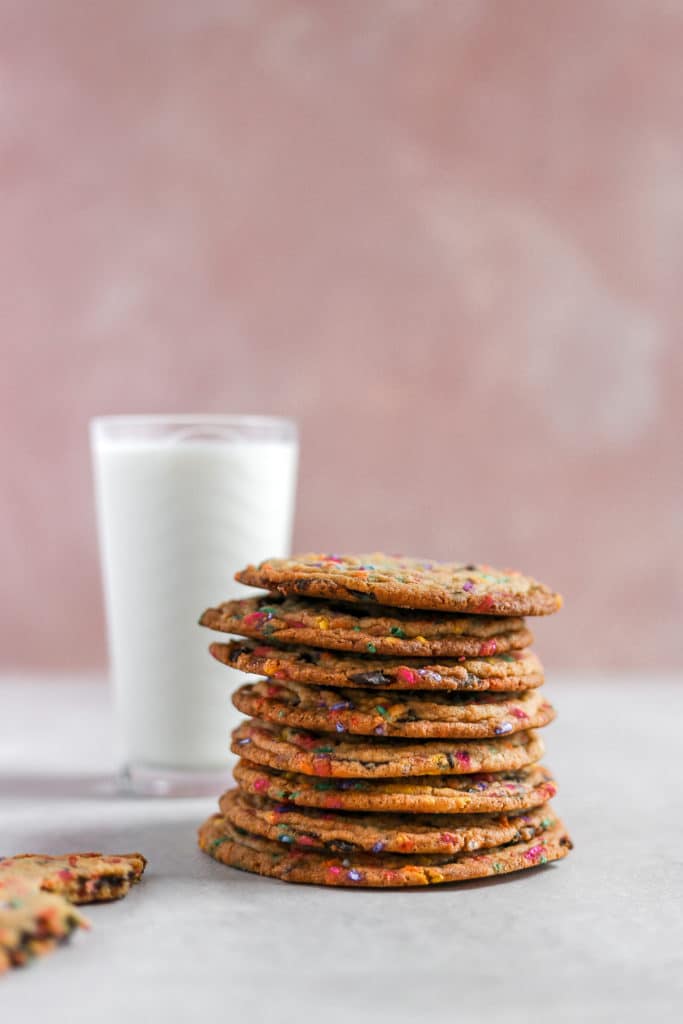 Giant cookies that are crispy and chewy!
If you are looking for a crispy and chewy cookie, well ladies and gentleman (yes man, I'm pretty sure there's only one of you here — you know who you are) you have come to the right place. And if you happen to be looking for one that is giant like the size of your face, then today is your lucky day!
These giant cookies are crispy on the outside but chewy on the inside and full of chocolate and sprinkles — aka the perfect cookie.
So how do you make the perfect cookie? You Pan Bang
What is pan banging, you say?
Pan banging is a technique that I learned from Sarah Kieffer. She's one of those people in the culinary world who's cookie recipe broke the internet. You couldn't log onto Instagram without seeing at least 5-10 of these in your feed, not that I'm complaining.
I mean, this is a gift to the world, just look at them.
These were on my to-do list for so long, but to be honest I wasn't interested so much in finding out how they taste, more so how to achieve this rippled, shar pei face cookie.
I remember reading Sarah's recipe that says to lift the pan and bang it every 2 minutes after the initial 10-minute marker — I was like what?! Everybody knows you don't open the oven before your desserts are fully baked, otherwise they will deflate. But then I realized DUH that's the point.
So how does the pan banging method work?
Basically this technique ensures that the edges of the cookies bake first, then when the middle starts to bake and get puffy, you bang the crap out of it to deflate, and repeat every 2 minutes until fully baked so that it never gets a chance to rise. Result: crispy edge, chewy, gooey inside.
Creating this giant cookie recipe:
I came up with my own recipe for these giant funfetti cookies and played around with it a lot. The first couple of times I didn't get enough ripples no matter how many times I banged. I decreased the egg and the flour, made sure I didn't freeze them for too long or too short — don't worry it's only 15 minutes — and tried out different sizes. I also knew that I wanted them to be full of sprinkles and chocolate, but I wasn't sure how the weight of those ingredients would affect the ripples.
I'm now happy to report that after some rigorous testing and many friends who have selflessly volunteered to taste test even the bad ones, it worked!
So thank you Sarah Kieffer for teaching me this new technique, and thank you friends for contributing to my research — hope you're not just keeping me around for the baked goods.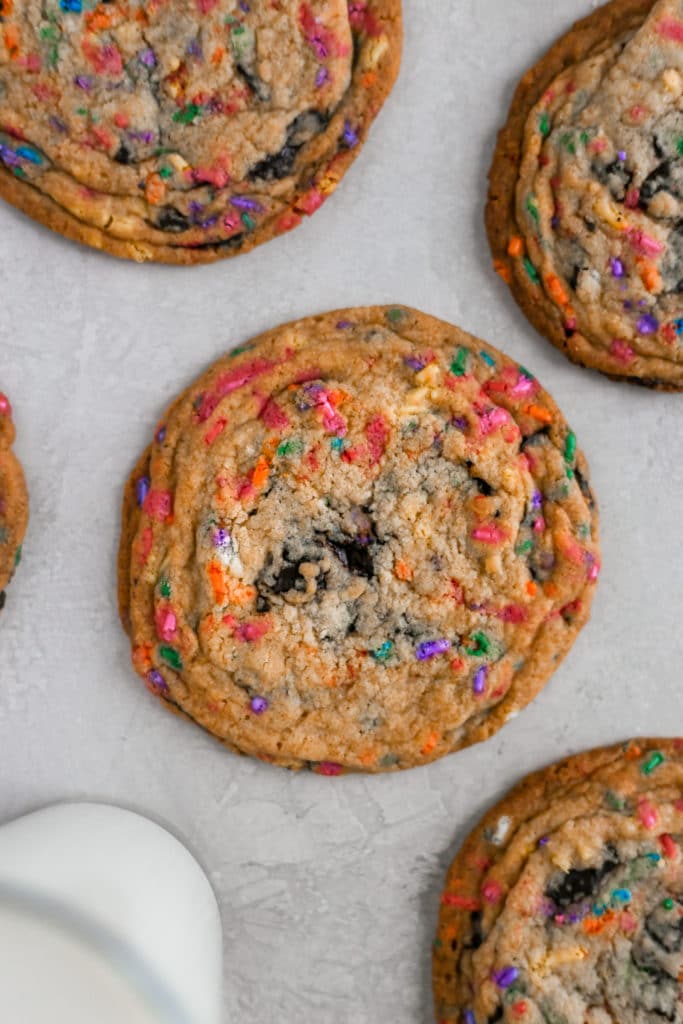 What's in these giant cookies?
The list of cookie ingredients is actually super simple — don't let the rainbow sprinkles fool you into thinking otherwise. I packed these chewy cookies with the usual suspects like:
butter
brown sugar
regular granulated sugar
all purpose flour
vanilla extract
I also added a teeny amount of orange juice into the cookie dough (just trust me, it works!).
To make these cookies truly spectacular, I added chocolate chunks — NOT CHIPS — to the cookie dough, as well as regular jimmies. I like to chop my own chocolate from a big bar because that way the tiny flecks of chocolate you chop will be all throughout the dough; and you can then chop some larger pieces to top your cookie dough before you bake = those pools of chocolate.
Chocolate chips will not give you the same results as a good quality baking bar chopped up! They don't spread well and sometimes they are full of other ingredients you just don't need. Chocolate chunks are the way to go!
All of these simple ingredients come together to make the most incredible chewy cookies.
How to make giant cookies
Simply combine the wet ingredients, and then pour in the dry (be careful when first mixing in the dry ingredients, the flour has a tendency to blow up in your face). I always always always stir the chocolate chunks and jimmies in by hand, otherwise they break up in the cookie dough.
Once the cookie dough is made, scoop it onto a parchment paper-lined baking tray and freeze for 15 minutes. After the dough balls have had time to chill out, the banging may commence. Bake the funfetti cookies for 10 minutes, then bang. Bake another 2 minutes, then bang. And repeat this process once more for good measure.
Let the cookies cool a little bit before eating them — they become chewier the longer you let them cool. Store them in an airtight container or air tight bag for 3 days at room temp.
Can I freeze these cookies?
TOTALLY. I would line them up in a ziplock or freezer safe bag and get out as much air as you can. Then freeze for up to two months. Or you can make the dough balls and freeze them for when you need a giant cookie STAT.
How to freeze cookie dough:
Follow the recipe up until the part where you start scooping out the dough. Instead of putting 5 scoops on a baking tray, scoop all the dough and line up the balls 1/2 inch next to each other. They should all fit on one half sheet or cookie sheet. It's ok if they touch but they are easier to release if they arent.
Freeze the dough balls for one hour on the sheet then transfer them to a ziplock and stash in the freezer for up to 3 months. Bake as needed when you need a fresh cookie, no need to defrost!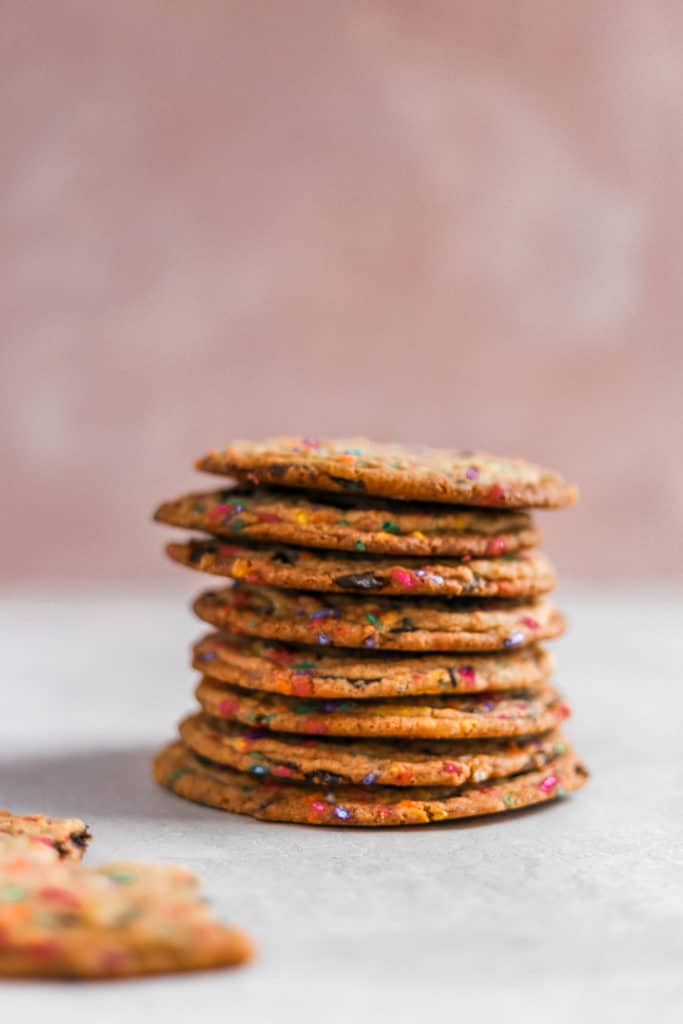 Need more cookie recipes?
This post has affiliate links which means if you purchase something off that link, I make a small commission at no extra cost to you! Thanks for supporting me and my blog! YOU DA BEST!
Giant Funfetti Cookies
These funfetti cookies are the best of both worlds! Crispy on the outside and chewy on the inside — totally cookie perfection.
Print
Pin
Save
Saved!
Rate
Servings:
10
giant cookies
Ingredients
1

cup

unsalted butter

softened

1

cup

brown sugar

½

cup

granulated sugar

1

egg

large

1

tablespoon

orange juice

1

teaspoon

vanilla extract

2

cups

all purpose flour

½

teaspoon

kosher salt

½

teaspoon

baking powder

¼

teaspoon

baking soda

1

cup

chocolate chunks*

½

cup

sprinkles

classic jimmies
Instructions
Preheat your oven to 350°F.

In the bowl of a mixer fitted with the paddle attachment, cream the butter and sugars together on medium speed until light and fluffy.

Reduce the speed to low and add in the egg, orange juice, and vanilla extract.

Mix to combine.

Turn off the mixer and add in the dry ingredients.

Turn the mixer on low speed and mix until the dough comes together (it will be sticky).

Take the bowl off the mixer, and pour in the chocolate chunks and sprinkles, and mix slowly with a spatula.

Line two cookie sheets with parchment paper and set aside.

Use an ice cream scooper to make even balls of dough and place 5 on each sheet, separated enough to allow them to spread — remember they are big!

Place one cookie sheet in the freezer for 15 minutes, then bake for 10 minutes.

After 10 minutes, open the oven door, lift the cookie sheet and bang it hard on the oven rack. You can do this once or several times if you like.

Bake for 2 more minutes — repeat banging.

Bake for 2 more minutes again — repeat banging.

Bake for the last two minutes, and remove from the oven.
Notes
*You need to use chocolate chunks not chips for this recipe. The chips are too heavy and don't spread well when baking. Either buy a bag of chunks or a large bar and chop them yourself.
Nutrition
Nutrition Facts
Giant Funfetti Cookies
Amount Per Serving (1 g)
Calories 418
Calories from Fat 171
% Daily Value*
Fat 19g29%
Cholesterol 65mg22%
Sodium 180mg8%
Potassium 68mg2%
Carbohydrates 59g20%
Protein 3g6%
Vitamin A 591IU12%
Vitamin C 1mg1%
Calcium 42mg4%
Iron 1mg6%
* Percent Daily Values are based on a 2000 calorie diet.