Its my first blogaversary! Im one!
I can't believe it's been a whole year of being in this blogosphere. To be honest, I started (read: have been paying for) this food blog since the summer of 2014, but soon after, life got in the way and I basically abandoned it. Then last year, the guilt and motivation finally kicked in to start it up again, and I guess I stuck through with it, and now I'm here!
HOORAY.
So what are we doing to celebrate?
Well first off I have a recipe for these INSANELY delicious lemon cupcakes with raspberry frosting for you; and for me really, because Ive already eaten 6 of them. The cake is light, fluffy, and has a bright burst of fresh lemon flavor.
Since summer is right around the corner, I topped them with their classic counterpart- raspberry frosting. These two flavors pair so well together- both a little tart, but the sweetness from the confectioners sugar ties it all together. I made the frosting using freeze dried raspberries- it gives you all the flavor you need without the added moisture of using fresh berries that would ultimately water down your frosting- nobody wants that.  To finish I threw on some sprinkles because its my blog birthday and we're here to celebrate.
I also wanted to share with you guys what I learned over the last year as a full time blogger. I think if you are wondering wtf does a blogger do all day, then this will shed some light, but also if you are already a blogger (HIIII, we're in this together) then maybe you can laugh a little, cry a little, and just relate.
Lets get to it!
Number 1 on the list of things Ive learned this year is that:
1- Blogging is Hard- Maybe you're rolling your eyes at me right now, or maybe you are giving me a virtual high five, but I speak the truth. Blogging- if you are taking it seriously and want to call yourself a blogger -is hard work. Yes I said work. It is not all about what I feel like baking and then ramble on about it in a blog post.
First its creating a functioning website, learning how to manage that site, and then troubleshooting and figuring out why the hell your logo that you asked your sister to design for you six times (pays to have a graphic designer in the family) is only showing up on your PC site but not on your mobile or iPad sites.
Really Y THO. Still haven't figured that out- check it on your phone, you won't see it.
You are spending long nights and weekends googling "how to" phrases and trying to best match up the responses to your specific coding problem that you need an answer for. You are taking hours and hours to figure out where to place widgets on your blog, and what plug-ins (apps for blogs) will work best for you, and then updating them to make sure they are still working the way you want them to. Don't even get me started on SEO- how to optimize your blog in search engines to get in front of as many eyeballs as possible- it haunts my dreams.
And this is all just the beginning- once you've got a basic understanding of what you are doing- or faking it till you make it- then you have to fill it with content. Which brings me to number 2…
2- Content is King- and it reigns supreme. I didn't fully grasp this concept until I took a food photography course and it was explained to me more clearly. There is something like 227 million blogs out there in the world- obviously not all about food- but I bet you can list at least 5 people off hand who run a food blog, or food related social media account. So what does this mean? It means that the food blog world is overly saturated and you need to produce high quality content to get anyone to stop and notice you, like your picture, comment on your post, or subscribe to your email list.
Then how do you make them stay and keep coming back? CONTENT. How do you turn those people into more traffic? CONTENT. How do you increase the traffic on your site or social media? CONTENT. For example- I haven't posted since last week and I can see that my monthly blog page views have gone down. Thats because I usually try to post twice a week (mon/thurs), but since this is a long post, I decided to just go with just the one for this week. So I missed out on my Monday blog post which = decrease in users because THERE WAS NO CONTENT to get those users to my site.
3-There is No End Game in Blogging- you have to keep going and going and going. Its not like you say to yourself "I just finished my post on XYZ recipe so I'm done now". No. You have to stay one step ahead and know whats coming next, how you're gonna get there, and also be better than you were last time.  You are the mother freaking energizer blogger bunny.
A lot of bloggers plan out whole months of blog posts ahead of time, which I have found to be super hard for me, so I do it weekly. It keeps me from stressing out about what to post, but also allows me to switch things around if I need to, and save a post for the week after if something comes up unexpectedly- like those pesky national food days- who comes up with those anyways!!
4- You Have to Invest in Yourself- whether thats time wise, money wise, or both. How are you supposed to run your blog and create attention grabbing content if you don't learn how. I think this goes for all bloggers and not necessarily just in the food world. There are countless free resources online that will help you learn how to start a blog, make it look pretty, market it, and eventually monetize it, if thats your goal. The hard part about this is weeding out the useful, helpful information versus the people who are just trying to sell you something you don't need.
That's absolutely not to say you shouldn't spend the money on something you find to be resourceful. So many experienced bloggers share their knowledge by hosting free online webinars and then offering paid virtual classes to learn their tips and tricks of the trade. Find the ones that are tailored to your needs and goals. And as much as it sucks to pay for something when you don't have much coming in the other way- if you put the work in, it can change your life.
A huge aspect of my blog is food photography, so for me, this was finding Sarah from Bromabakery.com and her Foodtography School. No she is not paying me to write this. I took both of her courses, invested my time and money to learn everything I could about getting better at taking food photos, put the work in, and it has already paid for itself.
Some other bloggers that offer free and paid resources are:
5-You Have to Treat it Like a Business- I really struggle with this. Working from home means there are always distractions. Laundry that needs to be folded, tv shows to catch up on, friends to go to lunch with, but if you don't treat your blog like an actual business, it will be very slow going. Like I said, I struggle with this. It is so tempting to push off writing to go shopping with your friends, but I learned that when I do this and I have work that needs to be done, I end up feeling completely overwhelmed and annoyed at myself when I finally sit down to do it. The beauty of this job is that I can work at night and on the weekends when I want to, so if there is something that I have to do during the day I can work my schedule around it if I put enough thought into it before.
6-Find Your Tribe- Join blogger Facebook groups, find fellow bloggers on Instagram, get out to a conference and meet those bloggers you have been stalking online because they will become part of your tribe. They get you and you get them. If I try to explain to one of my friends that I'm frustrated with the Instagram algorithm, she will look at me and be like WUT? But a blogger friend? She will tell you she freaking hates it too, and then share 3 tips she learned from another blogger on how to make it work better for you. These are your people. Lean on them and let them lean on you. Ask for help if you need it, and then when you see someone else struggling, pay it forward and offer your words of wisdom if you have any.
That's what I really love about the blogging world- in all the rat race of trying to get noticed, you essentially build up a support system and have people rooting for you. You have a friend offering to FaceTime you because she knows a better way of editing photos, you have a friend who recommends you for a job she thinks you would be great at, you have friends sending clapping emojis and tagging you on the big Instagram food feeds when your picture (finally!) gets reposted, you have Instagram DM's turn into iMessages because you are LEGIT friends now. Im telling you these are your people and you stick with them because they will support you all the way through.
So with that said I just want to highlight some bloggers (now, friends!) that I speak to mostly every day and support, look up to, get inspired by, and just want to send some love.
Melinda from Kitchen Tested
Gina from Healthy Little Vittles
Rena from No Way Thats Healthy 
Sam from The Little Ferraro Kitchen
Roberta from Healthy Little Cravings
Vanessa from Plates and Petals
7- You. None of this would be possible without you. Yeah thats right Im talking about you. You who is reading this right now, and being like who me? YES YOU (stealing cookies from the cookie jar). But YOU. Thank you so much for being here, for reading my blog, for following me on Instagram, for watching my stories with my horrible dancing, and for making my recipes. If it weren't for the feedback I get on anything I post then I wouldn't stay motivated to keep doing this. I appreciate you and lurrrrrv you too.
And there you have it, the main things that I learned over this past year.
Some came easily and some the hard way (ahem, looking at you number 1). There are still so many other things to talk about when it comes to blogging that I won't go into today but will just make a quick list because I think it should be noted:
You have to be your authentic, crazy, and weird self. There's no point in trying to be like someone else.
 This is not a get rich quick job. Yes there are ways to make money directly and indirectly from your blog but it takes patience and hard work.
You have to love and have a passion for what you are doing to stay motivated.
But it's ok to feel burnt out and take breaks.
Dont compare yourself to other people- easier said than done but it does no good for your mind or work.
Understand that you have value!!! I am currently still working on this.
Did I miss anything? If you have any additional blogging tips, or anything that you learned, I would love to hear about them!
And if you are just here for the food (thats cool), tell me what your favorite thing is to eat on your birthday- maybe if you try these lemon cupcakes with raspberry frosting, they will be it!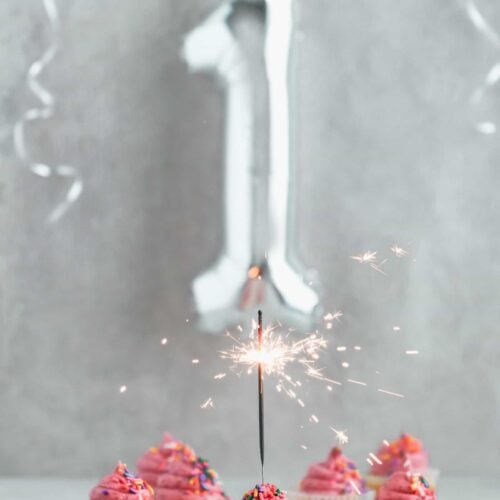 Lemon Cupcakes with Raspberry Frosting Plus Things I learned in my First Year of Blogging
These fluffy and bright lemon cupcakes are topped with a sweet yet tart raspberry frosting and make for the perfect celebratory treat!
Print
Pin
Save
Saved!
Rate
Ingredients
For the Cupcakes:
1

cup

unsalted butter

softened

2

cups

granulated sugar

4

large eggs plus 1 yolk

2.5

cups

all purpose flour

1/2

teaspoon

kosher salt

1/2

teaspoon

baking powder

1/4

teaspoon

baking soda

1

large lemon

zested and juiced

1/2

teaspoon

vanilla extract

1

cup

milk or milk substitute
For the frosting:
1

cup

unsalted butter

softened

1

cup

freeze dried raspberries- pulsed in a spice grinder or food processor

3

cups

confectioners sugar

1

teaspoon

vanilla extract

2-3

tablespoons

heavy cream

depending on consistency

Sprinkles for garnish
Instructions
For the cupcakes:

Preheat your oven to 350° F and line a muffin tin with baking liners.

In the bowl of a stand mixer fitted with the paddle attachment, cream the butter and sugar on medium speed until light and fluffy.

Add in the eggs and yolk one by one, with the mixer on low.

In a separate bowl combine the dry ingredients and set aside.

Measure out the liquid ingredients adding the lemon zest, juice, and vanilla extract to the milk. With the mixer on low, pour ⅓ of the dry ingredients into the mixer, then ½ the liquid.

Mix well, and scrape the sides of the bowl down if you need to.

Next add in another ⅓ of the dry ingredients, then the rest of the liquid, and finish off by adding in the last of the dry ingredients.

Move the speed up to medium and mix to combine for two more minutes.

Using a ⅓ cup measuring cup, scoop the batter into the muffin tin, stopping ⅔ of the way up to ensure even baking.

Bake for 18 minutes or until the edges of the cupcakes are lightly golden and the middles are set.

Cool.
For the Frosting:
In a spice grinder or food processor, combine the dried raspberries with ½ cup of the confectioners sugar and pulse until it has turned into a powder. Set aside.

In the bowl of a mixer fitted with the paddle attachment, add the butter and cream on medium speed for 1 minute.

Add the raspberry mixture plus the remaining confectioners sugar and start on low speed to mix.

Work up to medium speed to combine well.

Stop the mixer to add in the liquid ingredients, then mix on medium speed working up to high speed.

Mix for 2 minutes until the frosting is fully combined and has stiff peaks. If you think your frosting is too dry, add 1 teaspoon of milk at a time. If you think your frosting is too liquidy, then add in ⅓ cup of confectioners sugar at a time until you reach the correct consistency.

Top the cupcakes with the frosting using either a piping bag, spatula, or knife.

Garnish with sprinkles.

Enjoy!
Notes
Always zest your citrus over sugar or liquid when baking so you don't lose oils when transferring it to different bowls.
Non dairy ingredients such as margarine or soy milk can be substituted for the dairy.
Freeze dried raspberries are essential to making this frosting work- using fresh adds to much moisture and waters down the consistency.
SaveSave
SaveSave