Hello pretty red rhubarb ice cream sandwiches. Today is rhubarb redemption day.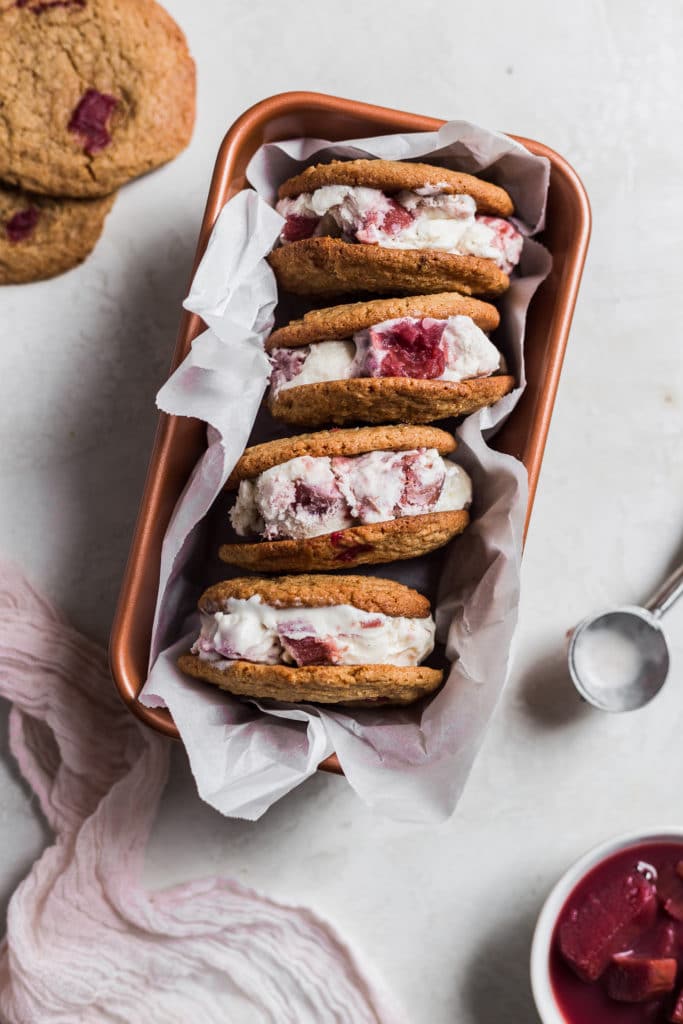 Honored to have Oregon Fruit Products sponsor this post, thank you!
If you guys were watching my stories on Instagram a few weeks ago, you know that I had quite the rhubarb fail.
It's weird but it is actually kind of hard to find fresh rhubarb in South Florida and I haven't worked with it much, so when I found it at a local store I was very excited.
I tried to make one of those tarts, you know, with the pretty lines and everything. It straight up didn't work. Not only did it not work, but the rhubarb completely fell apart while I was cooking it. Nothing about it was pretty.
I had raised my white flag in rhubarb defeat and closed the door on making anything fun while fresh rhubarb was in season.
Until… Oregon Fruit Products asked me to create a recipe using their new canned Rhubarb in Strawberry Sauce, and I was seriously STOKED.
A few reasons that got me super excited:
You can buy this on Amazon! AMAZON people! You don't need to wait for rhubarb season and then hunt it down to make any rhubarb recipes, and you know the rhubarb will always be consistently fresh because Oregon Fruit only packs freshly picked ripe fruit.
They also use a non-BPA can lining, non GMO fruit, and only pack their fruit in cane sugar and water, which means no high fructose corn syrup!
Another awesome thing about this rhubarb is that it is already cooked and preserved in a sweet strawberry sauce. You know you were going to pair the two flavors together anyways, and now you have one less thing to do, hooray!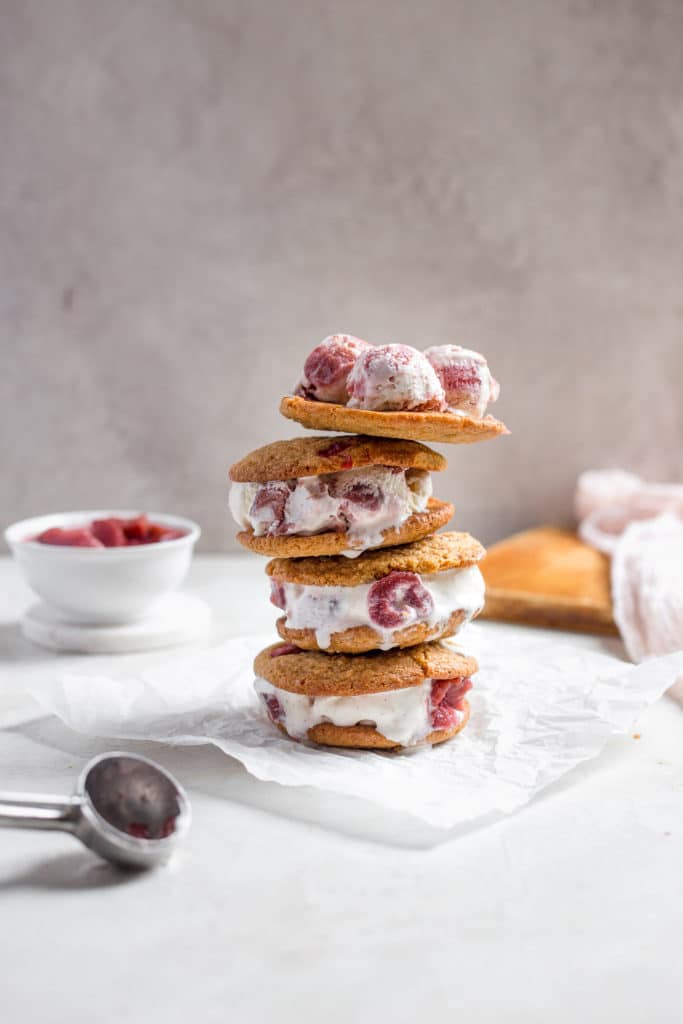 Since it's basically summer around here and summer equals ice cream season- I bring you these rhubarb strawberry ice cream sandwiches. Vanilla bean ice cream swirled with sweet, strawberry infused chunks of rhubarb sandwiched between two buttery, chewy, soft cookies. Those cookies by the way- they also have rhubarb in them! Kind of tempted to give them a post of their own but everything is better with ice cream am I right?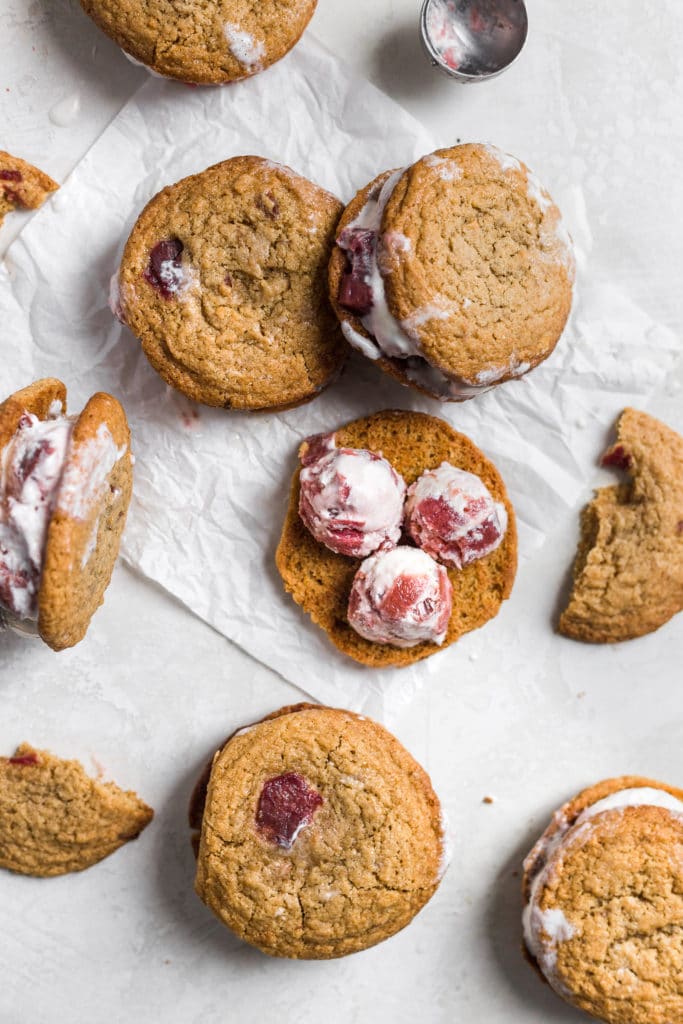 These really make for the perfect summer treat especially because you can streamline this process with store bought ice cream and cookies because we all know the summer is better spent outside!
How to make ice cream sandwiches at home:
This is a really easy process. First you have to defrost your ice cream until its an easily spreadable consistency- it takes about 15-20 minutes on the counter and I used a store bought vanilla bean ice cream.
Then you take out ½ or up to ¾ of the ice cream from its container, (just put it into a bowl because we're still gonna use it!) pour the rhubarb in strawberry sauce into the ice cream and swirl it with a knife or skewer, then top it with the ice cream you removed and swirl again! I did it by thirds so that the swirl was really apparent.
Place it back into the freezer to harden and make the cookies. Or alternatively you can buy cookies too to really save on time. Next you need to freeze the baked or store bought cookies, for about 20 minutes or so until they are really hardened.
Why do I need to freeze the cookies?
You want to freeze them so that they don't break when you go to sandwich them with that delicious ice cream you just semi made. Nobody likes a cracked cookie in their ice cream sandwich!
When the ice cream is hardened again, flip over half your cookies and scoop 2 regular sized scoops or 3 mini scoops of ice cream onto each one. Top and press down with another cookie and either serve right away or stick them in the freezer to have on hand for later or any time a rhubarb craving hits.
How to store ice cream sandwiches:
To store these beauties, I would recommend using an air-tight freezer safe container for up to 4 weeks. To serve, if you're feeling fancy, I would line these up on their sides in a loaf pan, each one separated by a tiny parchment paper square.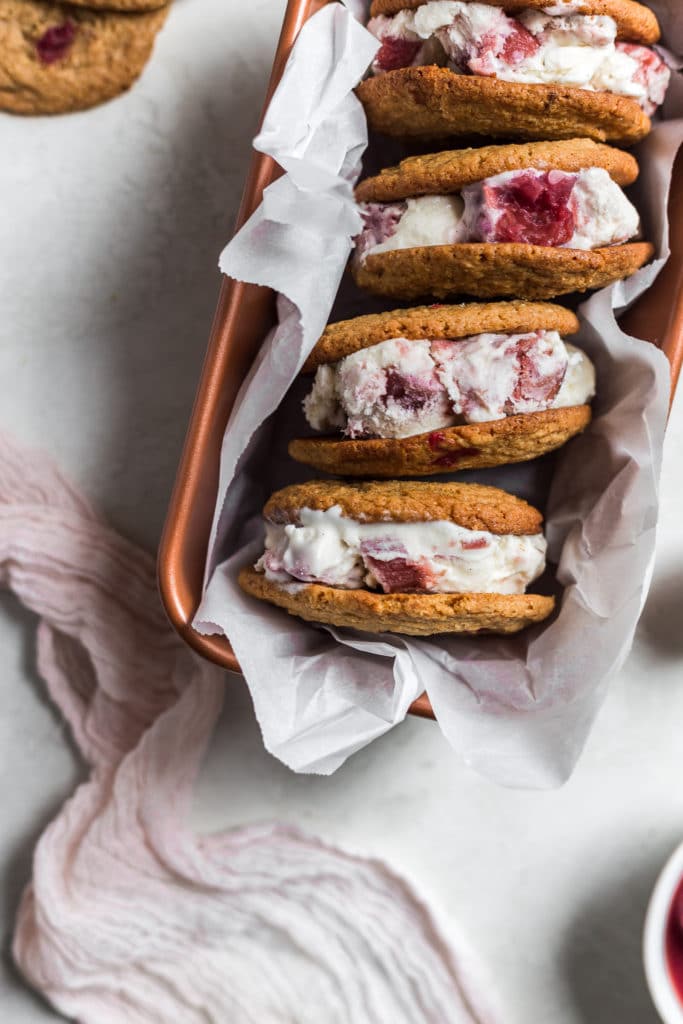 But really no one will care how you serve these guys because the second they come out, they will be gone!
Rhubarb redemption day indeed.
This post contains affiliate links which means that if purchase something from that link, I make a small commission at no extra cost to you. Thank you for supporting Frosting & Fettuccine!
For more summer desserts check out these recipes:
Peach Muffins with Crumb Topping
Rhubarb Strawberry Ice Cream Sandwiches
These gorgeous rhubarb ice cream sandwiches are the perfect summer dessert! Make the rhubarb cookies or use store-bought, you can't go wrong with this ice cream sandwich recipe!
Print
Pin
Save
Saved!
Rate
Servings:
6
-8 cookie sandwiches
Ingredients
1

cup

unsalted butter

room temperature

1 ½

cup

brown sugar

¼

cup

Oregon Fruit Products Rhubarb in Strawberry Sauce drained

1

egg

room temperature

1

egg yolk

room temperature

2.5

cups

all purpose flour

1

teaspoon

baking powder

½

teaspoon

baking soda

Pinch

of salt

Oregon Fruit Products Rhubarb in Strawberry sauce pieces

drained and dried for garnish
Instructions
For the Rhubarb Strawberry Swirl Ice cream: 

Ingredients:

1 can Oregon Fruit Products Rhubarb in Strawberry Sauce

1 half gallon vanilla bean ice cream

 Method:

Defrost the ice cream for 15- 20 minutes on the counter, or alternatively you can scoop out small scoops into your stand mixer, and use the paddle attachment on low for 2 minutes to soften it up.

Once softened to spreadable consistency, fill the container, or another freezer safe container, ⅓ of the way with the loosened ice cream. Using a ⅓ cup measuring cup pour the rhubarb in strawberry sauce on top of the ice cream and swirl it with a knife. Continue this pattern of ice cream topped with rhubarb in strawberry sauce until you fill the container back up.

Place the container back in the freezer to firm up. * Place the ice cream container on a sheet tray or in a pan in case the ice cream spills over.

Now make the cookies! Or wait for the ice cream to harden if you are using store bought.

In a medium size bowl combine all of the cookie ingredients and mix well with a spatula until a sticky even dough forms. If using a mixer, use the paddle attachment on low speed until combined.

Line a cookie sheet or sheet pan with parchment paper.

Using a regular sized ice cream scoop, scoop out the cookie dough and place on the cookie sheet 2 inches apart from each other- the cookies will spread!

Place in the freezer for at least 30 minutes or up to overnight.

To make these cookies extra fancy, drain some Oregon Fruit Products Rhubarb in Strawberry Sauce pieces, and blot them with a paper towel so they are dry. Stick them into the sides and top of the cookies to garnish.

Preheat your oven to 350° F and bake for 15-16 minutes until the edges of the cookies turn a deep golden color.

Cool the cookies on a baking rack.

When the cookies are cool, place them in the freezer for 10 minutes, and take out the ice cream to soften.

When the cookies have hardened, take one and turn it upside down. Using a regular sized ice cream scoop, scoop the ice cream on top of the cookie, then sandwich it between another cookie.

Enjoy right away or if you are making in advance you can freeze the cookie sandwiches for later!
Notes
You will need two cans of Oregon Fruit Products Rhubarb in Strawberry Sauce.
You can use store bought cookies as an alternative to making them.
Nutrition
Nutrition Facts
Rhubarb Strawberry Ice Cream Sandwiches
Amount Per Serving (1 g)
Calories 439
Calories from Fat 234
% Daily Value*
Fat 26g40%
Cholesterol 123mg41%
Sodium 200mg9%
Carbohydrates 38g13%
Protein 6g12%
* Percent Daily Values are based on a 2000 calorie diet.