Challah French Toast is the the ideal breakfast or brunch recipe for a crowd. To make it easier you make this recipe overnight! Prep the ingredients the night before and just bake in the morning!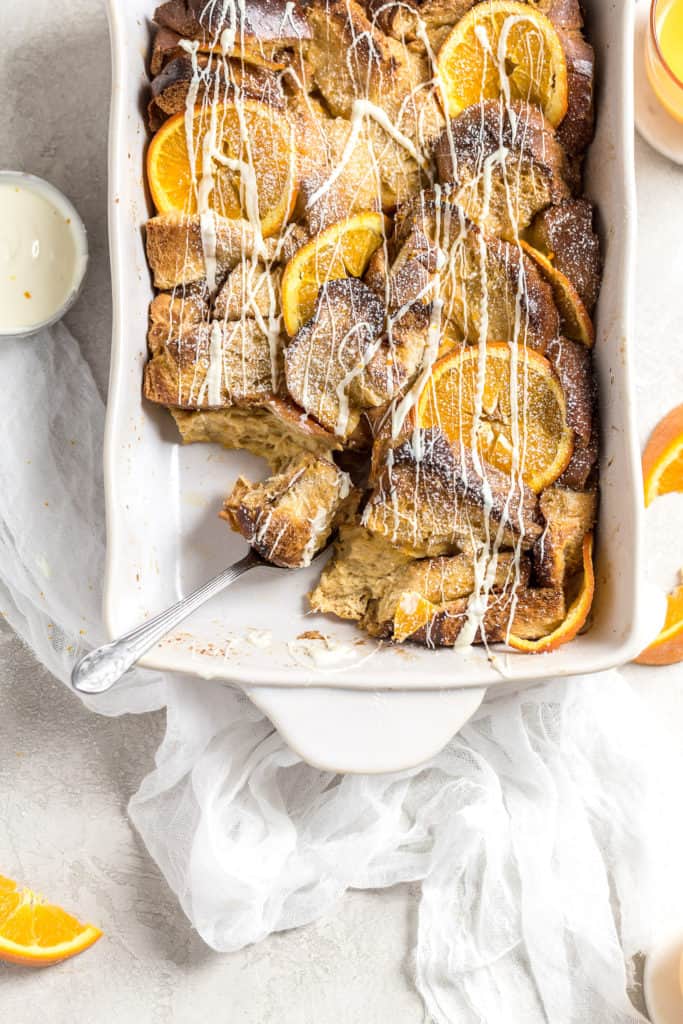 Do you always have leftover challah in your house? We do! This is the best way to use it up so it doesn't go to waste!
Leftover Challah is best!
As Sabbath observers we have challah every Friday night dinner and Saturday lunch time. It's tradition and there's honestly nothing like biting into that warm slice of fluffy challah.
The thing is that after Saturday, the leftover challah gets forgotten and we sometimes even have a whole loaf we didn't touch.
Most of the time I remember to put it in the freezer for the next week, but sometimes when I forget or if I'm too lazy to wrap it (yes I know it takes two seconds but I am seriously lazy sometimes), I use the challah for French toast!
Why is challah so good for making French toast?
Challah is a thick bread that can soak up the egg and milk mixture needed to make the French toast custard. It's sturdy enough that it won't fall apart when you soak it. Also, when toasted it gets crispy on the outside but stays chewy on the inside. Perfect combo for French toast making!
Can I use a different bread?
Yes, you can as long as it's a thick brioche type bread. A thin white bread will not work well because it doesn't have enough chunk to it to soak up the custard without falling apart or becoming soggy.
You can also use a sourdough bread. For an awesome recipe check out Chandice's Sourdough French Toast.
For really good French toast results you need a thick heavy bread. But like I said I am seriously lazy sometimes and don't want to stand over the stove frying each piece of challah, so instead I decided to come up with this recipe!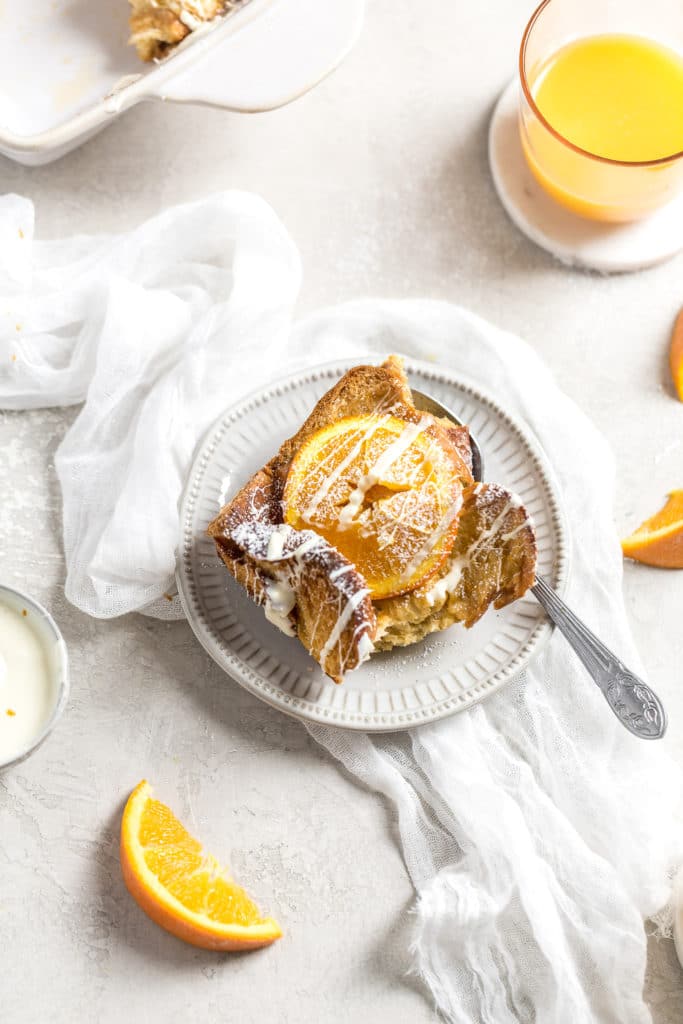 Why you should make this recipe
Infused with orange juice, fresh orange zest, vanilla and sliced oranges, this French toast is not your ordinary breakfast. It is like next level breakfast and perfect for a crowd or a holiday morning.
The vanilla and orange flavors compliment each other so well and then topped with an optional drizzle of white chocolate = LEVEL UP.
It's sweet but not overly so, and the orange flavor really comes through. I think it's my favorite part. I have also tried it without the chocolate chips and with a drizzle of maple syrup instead and its a win either way. There's definitely no going wrong with the topping here!
Can I use other fruit?
Absolutely you can! Some suggestions:
Blueberries and coconut
Blackberries and almonds
Raspberries
Peaches
Apples and cinnamon
How to make it
The first step is to cut up or rip apart your challah into small pieces, and then toast them for a few minutes on each side in the oven. This will make sure the the outside of the challah stays crunchy and the inside will be soft. No soggy French toast around here!
Place the toasted challah in a 9×13 oven proof dish.
Next make the custard filling. Combine the eggs, milk, orange juice, vanilla extract, salt, sugar and zest in a medium size bowl and whisk until combined well.
Pour the custard over the bread and press down lightly to make sure the custard gets soaked up. Cover it and leave in the fridge for at least two hours or overnight.
In the morning- bake! And enjoy that delicious smell coming from your oven.
Can I bake this right away or does it really need to soak?
I do not recommend baking this right away. The custard and the flavors really need time to soak into the challah, if you bake it right away it will definitely become soggy- not an ideal situation.
The best thing about this is that you can get up in the morning and just pop this into the oven and within the hour you will have a glorious breakfast.
Especially if you have guests over and you are tired and don't feel like slaving in the kitchen, this will be your life saver.
If you want another easy breakfast dessert check out this post how to make cinnamon rolls!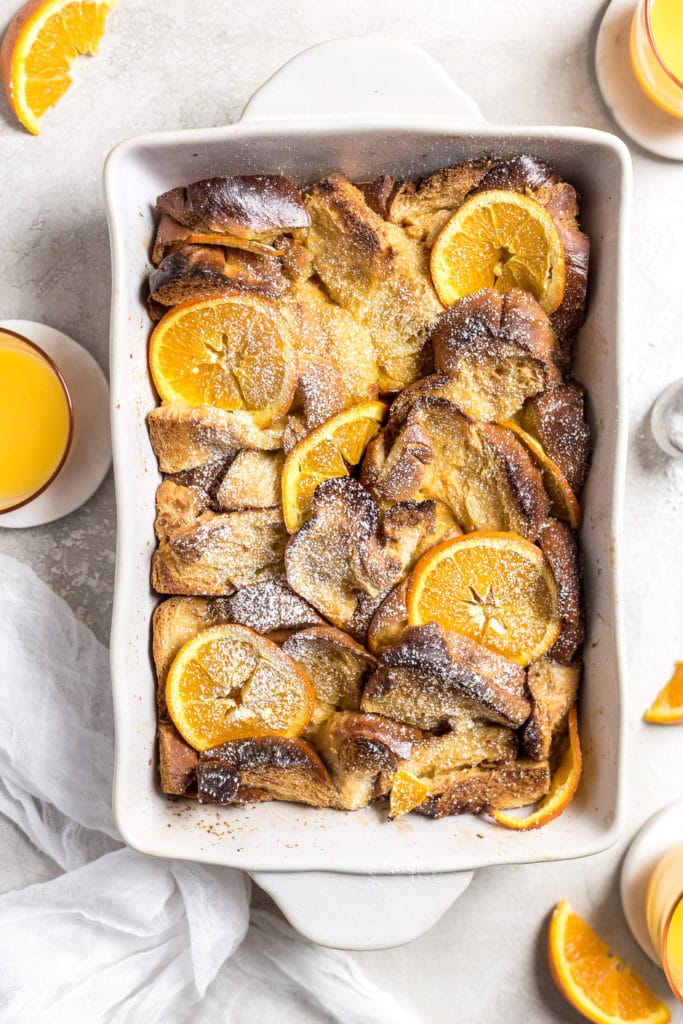 It also looks wayyyy fancier than the effort put into it which again in my opinion is breakfast goals.
If youre looking for something on the savory side that's easy to make, try these Hawaiian roll sliders!
Also as a side note, if you bake this in a white ceramic dish, the colors will totally pop and look so super pretty!
For more breakfast recipes you might like: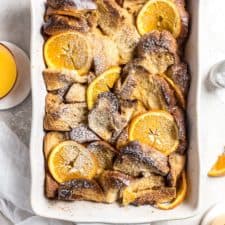 Challah French Toast Recipe
This Challah French Toast is infused with orange and is the ideal breakfast or brunch recipe for a crowd! 
Print
Pin
Save
Saved!
Rate
Ingredients
1

large challah loaf cut into quarters

6

eggs

large

1 ¾

cup

whole milk

¾

cup

orange juice

1

tablespoon

vanilla extract

¼

teaspoon

kosher salt

½

cup

brown sugar

Zest of 1 orange

1

cup

white chocolate chips

melted for garnish

Orange slices

for garnish

Maple syrup

for topping
Instructions
Preheat your oven to 300° F and toast the challah pieces on a sheet tray for 5 minutes. Flip the challah pieces and continue to toast for another 3-5 minutes.

While the challah is toasting, combine the eggs, milk, orange juice, vanilla extract, salt, sugar and zest in a medium size bowl and whisk until combined well.

Spray a 9x13 inch pan and transfer the toasted challah pieces there. You can just throw the pieces inside, no need to arrange in any specific way.

Pour the egg mixture over the challah and press down slightly to make sure all the pieces will absorb the mixture.

Cover with plastic wrap and leave overnight or at least 2 hours.

In the morning, preheat your oven to 350° F. Sprinkle the top of the french toast with chocolate chips (optional or melt the chips and drizzle on top once baked) cover with foil and bake for 20-25 minutes.

Uncover and bake for another 20 minutes until the top is golden brown and the egg mixture is set.

Top with maple syrup, confectioners sugar, and fresh orange slices.  
Notes
This needs time to soak up all the flavors, so don't be tempted to bake right away! Try it with berries instead!!
Nutrition
Nutrition Facts
Challah French Toast Recipe
Amount Per Serving (1 slice)
Calories 269
Calories from Fat 108
% Daily Value*
Fat 12g18%
Cholesterol 133mg44%
Sodium 167mg7%
Potassium 245mg7%
Carbohydrates 32g11%
Protein 7g14%
Vitamin A 318IU6%
Vitamin C 12mg15%
Calcium 138mg14%
Iron 1mg6%
* Percent Daily Values are based on a 2000 calorie diet.