Making cheesecake doesn't have to be scary, follow these tips on how to make the perfect homemade cheesecake!
Making your own homemade cheesecake can be daunting.
You get all your ingredients together, pour it into the springform pan, put it in the oven, water bath or not (we'll get to that), and cross your fingers you don't get the dreaded crack.
But it doesn't have to be that way!
How to make Homemade Cheesecake
Today I'm sharing with you a bunch of tips for how to make homemade cheesecake. And as a bonus- how to cover it up if it doesn't come out perfect- because crack (insert other word here) happens.
So here we go!
Room temperature ingredients:
This may seem like a no brainer, but for a creamy consistency you need to have room temperature ingredients.
If you forget to take everything out of the fridge and need to bake asap, then you can fill a bowl with lukewarm water and place the cold ingredients in there to help it along.
Add flour to the batter:
 Some cheesecake recipes call for a little bit of flour. The reason for this is that it helps to firm up the batter a little and will also help in crack prevention. Hee Hee.
Water Bath Hack:
 Oh the dreaded water bath. I can't even tell you how many times I've either spilled the water everywhere and/or burned myself when I was taking the cheesecake out (rookie mistake).
A lot of recipes say to wrap your springform pan with tin foil and then bake it on a sheet tray with water poured in.
I tried. I spilled. I cried.
Try this water bath hack instead!
Instead of putting the water on the same tray as the cheesecake, put a separate sheet tray on the bottom rack of the oven (or a 9×13 inch pan) and fill that with an inch or so of water. Then put the cheesecake on the oven rack on top of that.
This fixes two things:
1) There is no chance of any water seeping into the springform pan.
2) I don't have to freak out about spilling the water everywhere because most of the water has evaporated by the time I take the cheesecake out.
Do you have to use a water bath?
I think yes.
The steam from the water will rise and make sure your cheesecake is extra smooth and creamy. Some people will say no if you already have the flour in there, but I haven't found a reason not to now that I'm not terrified of it.
Cooling:
 That rookie mistake I mentioned above? That was me not letting the cheesecake cool for an hour in the oven after baking. To prevent cracks, the cheesecake needs to be cooled properly. If you take it out of the oven right after its finished, then it will most certainly crack because of the drop in temperature.
Crack Prevention:
To prevent the cheesecake from cracking, turn the oven off when it is done baking and leave the oven door slightly open. Do not take the cheesecake out.
Cool it like this for at least an hour and then move it to your counter to continue cooling.
Then move it to your fridge to chill.  You want to chill it for at least 4 hours or overnight. If you cut into it before its completely chilled, you will have an ooey gooey mess.
Releasing the cake from the pan:
Ok so now that you have a beautiful crack free cheesecake, you need to take it out of the springform pan to present it in all its glory to your family, your guests, or your mouth.
I have unfortunately gotten to this step easily, and then sadly unlocked the spring form pan only to crack my cheesecake in half.
More tears.
To help with this, take a knife or an offset spatula and run it along the edges of your pan to loosen the cake up.
This is a super simple tip, and I used to do it on all my cakes before I found my love of bakers joy baking spray.
Clearly I forgot about it and I'm happy it made its way back into my life.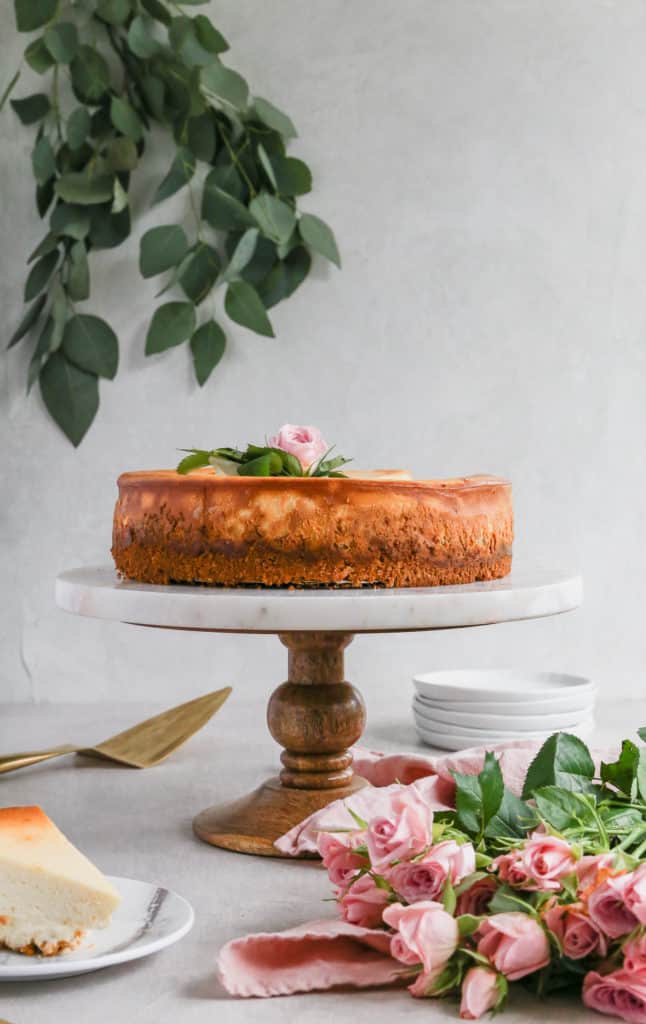 How to Cover up Cheesecake Cracks:
What happens if the cheesecake still cracks?
Well that sucks, but sometimes it still happens.
Good news is you can cover it up with a number of things and noone will ever know.
Things like:
Crushed cookies
Fresh Fruit
Any type of dessert sauce- caramel, chocolate, strawberry.
Nuts
Whipped cream
These will all just add to the deliciousness that is this rich and creamy cheesecake, crack or no crack.
How to make a cheesecake to give away:
If you plan on making a cheesecake for someone because thats the nice kind of person you are, then you should definitely put a cardboard cake board in your springform pan before making the crust.
That way you can take the cake out and give it to someone without having to sacrifice your precious springform bottom part you probably would never get back.
Now that you know all the tips and tricks, lets make some cheesecake filling!
How to make cheesecake filling:
It's so easy! Let the mixer do all the work!
In the bowl of a mixer, cream the cream cheese until soft and fluffy. Add in the sugar and sour cream and mix until the mixture is smooth. It's ok to have some small lumps.
Next add in the eggs one at a time. Add in the half n half and vanilla. Stop the mixer and scrape down the sides to make sure it's all getting mixed evenly. With the mixer on low, add in the flour. Mix until combined and smooth.
Pour the filling into a prepared crust or a springform pan prepared with a graham cracker crust (see recipe below!) and bake!
How to tell when a cheesecake is done baking:
The cheesecake is done when the outer edges are set but there is still a little jiggle in the middle.
This is important because most cakes need to be set in the middle before it is done but cheesecake is the opposite. If the cheesecake is set in the middle it is over-baked and will likely crack.
Don't worry about that jiggle in the middle, it will firm up in the fridge!
I'm not so worried about my jiggle in the middle either haha I would rather have this cheesecake!
Heads up! This post contains affiliate links which means if you purchase something from one of  those links I make a small commission. This allows me to keep this site up and running and do what I do, do THANK YOU!
5 Tips To Make Perfect Cheesecake
Follow my tips and you'll be smacking your lips with this rich and creamy cheesecake in no time!
Print
Pin
Rate
Servings:
1
9" round cheesecake
Ingredients
For the crust:
9

graham crackers/1 package

crushed or about 1 1/2 cup crumbs

⅓

cup

butter

melted

2

tablespoons

granulated sugar
For the Cheesecake:
4 8

oz.

cream cheese packages

at room temperature

1

cup

granulated sugar

1

cup

sour cream

4

large eggs

1/2

cup

half n half

2

teaspoons

vanilla extract

1/3

cups

all purpose flour
Instructions
For the crust:
Preheat your oven to 375° F.

Place the graham cracker crumbs in a medium sized bowl.

Add the sugar and melted butter and stir to combine. The mixture should resemble wet sand.

Spray your 9" springform pan with baking spray and press the graham cracker mixture into the bottom and sides. You can use the bottom of a measuring cup to help press it down hard and evenly.

Bake for 8-10 mins until it smells like heaven from your oven and the crust is golden brown.
Meanwhile make the cheesecake:
Lower your oven temperature to 350° F.

In the bowl of a stand mixer fitted with the paddle attachment, add your cream cheese.

Mix on low-medium speed for 1 minute, then add in your sugar and sour cream.

Continue mixing on low-medium speed, then add 1 egg at a time, mixing for a few seconds in between additions.

Stop the mixer and scrape down the sides of the bowl.

Start the mixer again on low speed and add in the half n half and vanilla.

Mix for 30 seconds.

Add in the flour slowly then move your speed up to medium and mix for 2-3 minutes.

Scrape down the sides and bottom of the bowl to make sure everything is mixed evenly.

Pour the batter into the spring form pan, then place it on a sheet tray.

Take a second sheet tray and put it on the lower rack of your oven.

Fill it with 1 inch of water. Alternatively you can use a 9x13 in pan and fill it with water.

Place the cheesecake on the upper rack of the oven.

Bake for 45-55 minutes.

The cheesecake is done when the edges start to brown and break away from the sides of the pan. It will still be jiggly in the middle- you want that!

Turn the oven off and crack the oven door open a little bit.

Leave the cheesecake to cool for one hour, then remove to finish cooling on the counter.

Chill in the refrigerator at least 4 hours or overnight.
Notes
Cheesecake will be good for up to a week!
Nutrition
Nutrition Facts
5 Tips To Make Perfect Cheesecake
Amount Per Serving (1 g)
Calories 313
Calories from Fat 180
% Daily Value*
Fat 20g31%
Cholesterol 95mg32%
Sodium 466mg20%
Carbohydrates 22g7%
Protein 9g18%
* Percent Daily Values are based on a 2000 calorie diet.