This apple bundt cake is so super moist! It has fresh chopped apples baked inside and is topped with a cinnamon spiced honey glaze. It is the perfect cake to make for Thanksgiving or anytime you need a treat.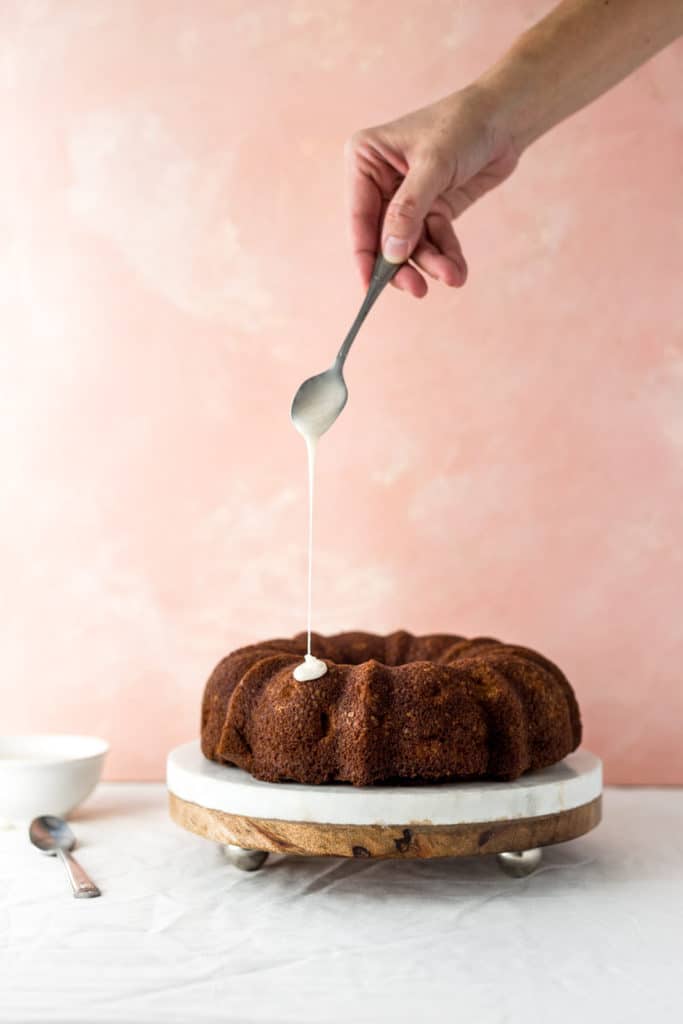 It's that time of year again- the weather's getting a little cooler, school routines are back in action, and Rosh Hashanah- the Jewish new year, is coming up!
Traditionally we eat lots (and lots) of food at family get togethers, and dip apples in honey for a sweet new year ahead. So I went ahead and stuck both flavors into this dessert!
Why you should make this recipe
Well if you celebrate Rosh Hashanah, this is the absolute perfect cake to make. And if you don't well it's still perfect to make for fall!
How to make this recipe
Make sure to check out my post on how to bake and get a bundt cake out of the pan perfectly.
You can make this using a hand or stand mixer with a paddle attachment or make it in a medium sized bowl with a good sturdy spatula. Sometimes I like to make this recipe without any mixer help and just enjoy the process.
Step one: Make the cake batter
Start off by mixing the eggs, oil, (if using- see note below), applesauce, and sugars. Next measure out the dry ingredients and the wet ingredients separately. Then dice up the apples and add the cinnamon.
Switch off adding in the dry ingredients into the wet ingredients mixing the batter in between.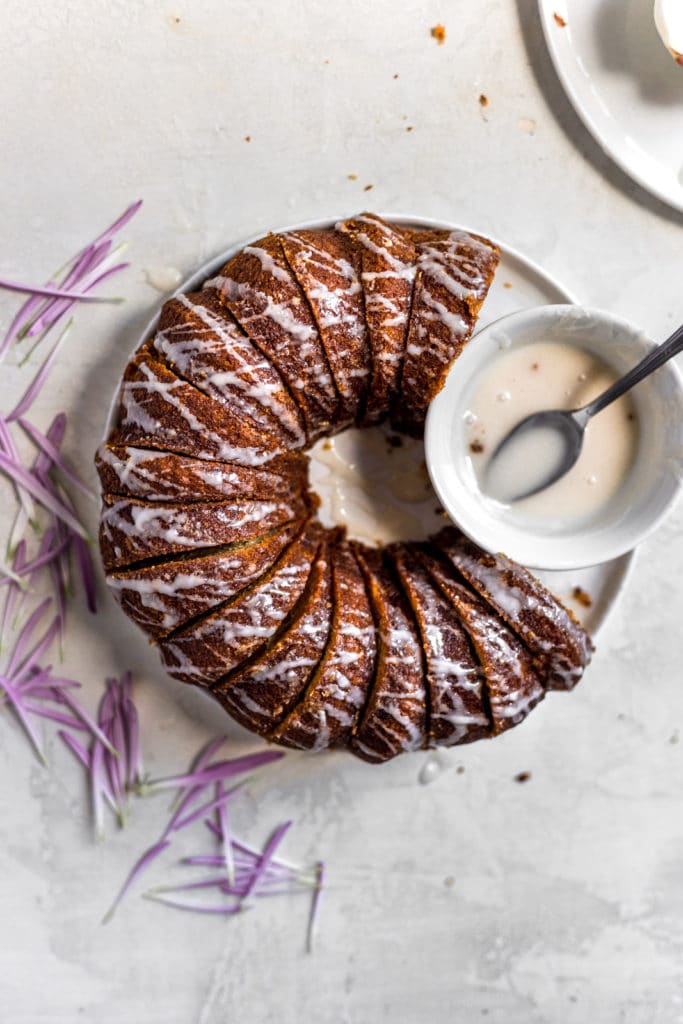 Step 2: Add the apples
Dust the apple cinnamon mixture with 1 teaspoon of flour. This ensures that they don't sink to the bottom of the cake. Add them into the cake batter and mix lightly.
Step 3: Bake and glaze!
Pour the batted into a greases bundt pan and bake for about 50 minutes. Don't make the glaze until the cake is cooled off and you are ready to frost it. If you make it ahead, it will harden and you wont be able to use it.
How to make this cake healthier
The fun thing about baking with applesauce is that you can use it to substitute some or even all of the oil in a recipe to make it healthier.
I decided to try it both ways, because why not! Here's the verdict:
The cake with no oil and only applesauce was super moist, but a little dense. Not enough for me to be upset about it-it was still great, but just want that noted.
The cake with oil and applesauce had a more tender crumb (lol why do I feel like that's out of a romance novel or something LOL) and I preferred it to the other one, but that's just me!
How to substitute oil for applesauce
Super easy, it's like 1:1 ratio!
Either use 1 whole cup of applesauce and no oil. Or use 1/2 cup oil and 1/2 cup applesauce. I also added in some sour cream so that the cake is a little fluffier- if you are making this dairy free, I tried it with the Tofutti brand fake sour cream and it was still delicious!
BTW- you dont just have to make this in a bundt cake pan.
You can also make this cake in a 9×13 inch pan to make it into a snack cake, or you can bake it into 2 9″ rounds. I would adjust the baking time to about 28-30 minutes though.
Freezing
YEP you can do it. Don't glaze it though until you are ready to serve.
Also make sure you wrap it really well in plastic wrap and then tin foil. It should stay fresh for up to 2 months!
To store
Keep this cake in an airtight cake dome or wrapped in plastic wrap before you glaze it. Again don't glaze this until you are ready to serve because if you do and then wrap it up, well that's not gonna look so pretty. Keep it up to 5 days.
How to make a glaze without a recipe:
Ok so the base of glazes are confectioners sugar. All you need to do to make a glaze is to add a liquid to the sugar.
BUT a little goes a long way. So for about 1 cup of confectioners sugar you probably only need 2 teaspoons to make a pourable glaze depending on how thick or thin you need it.
That's the beauty of making a glaze too- if it is too thick, just add a tiny bit more liquid to it and stir. If it is too thin- add more confectioners sugar and mix until you get the consistency you want.
Seriously it's fool proof, just go slowly and you'll get it right! You can add any kind of liquid too- juices, water, milk, coffee. Seriously anything, it's so versatile!
So for this, I added honey and cinnamon to the confectioners sugar, and a tiny bit of rice milk to get the consistency I wanted. The result was a sweet and cinnamon flavored glaze that was just the perfect topping to an already festive and delicious dessert.
Hope you make this cake and enjoy it, and if you are celebrating the Jewish new year, Shana Tovah!
For more fall inspired desserts try these: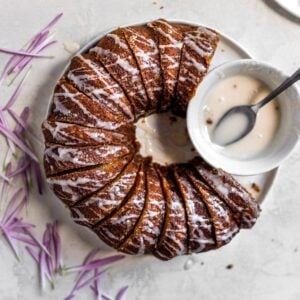 Apple Bundt Cake Recipe with Spiced Honey Glaze
This apple bundt cake recipe is a traditional Rosh Hashanah dessert that can be made with no oil, substituting applesauce instead. Delicious either way!
Print
Pin
Save
Saved!
Rate
Ingredients
For the cake
Baking spray

3

large eggs

at room temperature

1/2

cup

applesauce

or 1 4 oz Motts applesauce cup

1/2

cup

vegetable oil

1

cup

granulated sugar

1/2

cup

brown sugar

2

cups

all purpose flour

1

tsp

baking soda

1/2

tsp

kosher salt

1/2

cup

rice milk

soy milk, or reg milk

1/2

cup

non dairy sour cream

you can also use dairy

1

tablespoon

vanilla extract

1

teaspoon

ground cinnamon

1

apple

large, peeled, cored, diced small

1

teaspoon

all purpose flour
Instructions
Preheat the oven to 350° F and spray a bundt pan REALLY WELL with baking spray and set aside.

In a large bowl or in a mixer bowl combine the eggs, applesauce, oil (if using), granulated sugar, and brown sugar, and mix well to combine. If using a kitchenaid, mix on low- medium speed until light and frothy. 

In a small bowl combine the flour, baking soda, and salt and set aside. In a large mixing cup add the milk (or milk substitute), sour cream (or substitute) and vanilla extract and set aside as well. 

In another small bowl add the cinnamon to the apples and then dust with flour- yep put those aside too. Now its time to put it all together.

Start off by adding in 1/3rd of the flour mixture into the batter. Mix well, then add in 1/2 of the milk mixture and mix. Next another 1/3rd of the flour followed by the last of the milk, then the last of the flour, making sure to mix well in between each addition. 

When the batter is evenly mixed add in the apple and mix lightly. 

Pour the batter into the bundt pan and bake for 45-50 minutes. The cake is done with the top is firm and no longer jiggly, or when a skewer inserted comes out clean.

Make the honey glaze when the cake is cool and drizzle all over.
Notes
You can substitute all of the oil with another 1/2 cup applesauce. This recipe can be made dairy or dairy free. Don't glaze until ready to serve! If the glaze is too thick add a little bit more water (1 teaspoon). If the glaze is too thin add a little bit more confectioners sugar- start with 1/3rd cup. 
Nutrition
Nutrition Facts
Apple Bundt Cake Recipe with Spiced Honey Glaze
Amount Per Serving (1 slice)
Calories 283
Calories from Fat 90
% Daily Value*
Fat 10g15%
Cholesterol 37mg12%
Sodium 186mg8%
Potassium 70mg2%
Carbohydrates 46g15%
Protein 3g6%
Vitamin A 102IU2%
Vitamin C 1mg1%
Calcium 25mg3%
Iron 1mg6%
* Percent Daily Values are based on a 2000 calorie diet.