This apple cider cake is full of delicious apple flavor from concentrated apple cider and fresh apples baked inside. Combined with a delicious (and also dairy free) caramel buttercream, this is the perfect cake to make this fall!
Why you'll love this cake
This cake has so many goodies in it! Concentrated sparkling apple cider (not vinegar!!), chopped apples, and brown sugar for a more caramel-y taste. It's for sure one of my favorite apple recipes besides for these apple pie bars, this apple bundt cake, or even this caramel apple pie, which says a lot!
The smell of this cake while its baking is something sent from heaven!! Even my kids were like "woah what is that smell?" Usually that means something else coming from them, but in this case it was a good thing.
Apple cider cake means a few things:
Fall is coming
it's almost my birthday.
people are going batsh*t crazy over pumpkin flavored everything and leave apple cider in the dust.
I'll admit it, I'm not a huge pumpkin fan.
I don't hate it- I will take a pumpkin flavored dessert sometimes, but a pumpkin spice dessert, never. I just can't handle the strong spice flavors, I'm not into it.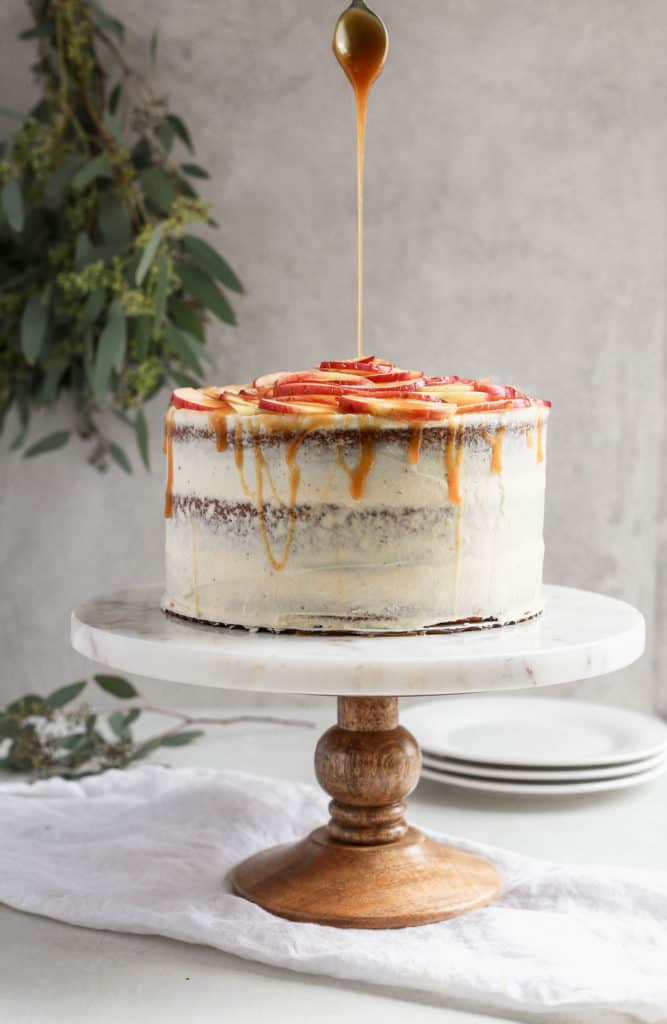 I make a version of this apple cider layer cake every year around this time because it usually coincides with one of the Jewish holidays and then sometimes with my birthday.
Every year though I look for which recipe I used the year before and obviously can never seem to find it, so this year I decided to be super organized, write it down, and blog about it so I will always know where to go.
How To Make This Recipe
This recipe has a few steps to it but is well worth it!
Boil down the apple cider to make it more concentrated in flavor
Make the cake by using the creaming method I learned in pastry school: combine the dry ingredients in one bowl and set aside. Mix together the fat and sugar, then alternate adding in the dry and wet ingredients starting and ending with the dry ingredients. Then bake!
Make the dairy free caramel using coconut cream, (not milk!) and set aside to cool. Recipe follows below!
Make the dairy free caramel buttercream with the caramel that you just made. Fill and frost the cake.
How to make Dairy free caramel buttercream.
I have been on a hunt for a good dairy free caramel sauce FOR YEARS. No exaggeration. I remember asking my chef instructors and that was in 2012.
I know nothing really compares to butter and cream, but sometimes I need a dairy free alternative for kosher dietary reasons.
OH MY GOODNESS YOU GUYS I DID IT.
Ok, so I basically have been terrified of making caramel sauce always because of so many reasons-
I am so nervous I am going to burn the sugar because theres only a small amount of time between amber colored sugar and burnt sugar.
I have burned myself so many times and still have scars, physical and emotional.
Then I followed Sally's Baking Addiction caramel sauce recipe and it was a huge success. No burning of anything, sugar or hands.
So I thought, how could I adapt it to what I need?
Then I remembered that I have an obsession with Trader Joe's coconut cream, and I basically sub it for all my cream needs in other recipes likes this chocolate ganache tart so why not try to sub it here and see what happens!
It happened. It was awesome. I love it. We are now best friends.
Assembling the cake
Cut off the tops of your cake with a sharp knife to create even flat layers. Next take one layer and top it with 1/3rd cup of the buttercream and smooth it out. Repeat with the next layer, then frost the entire cake with the rest of the buttercream.
Decorating the cake
Slices apple super thinly and then lay them down on the cake, overlapping them around and around to look like a giant rose.
Obviously I drizzled more caramel sauce on top because this apple cider layer cake is something worth going batsh*t crazy over.
Storing
Keep this cake in the fridge especially if you have the fresh fruit on top. It was stay moist for about 3-5 days!
Freezing instructions
You can either freeze the layers of the cake or freeze the entire cake once it's assembled. Leave the apples off if you plan to freeze. Wrap the cake or cake layers well in plastic wrap and freeze for up to 3 months.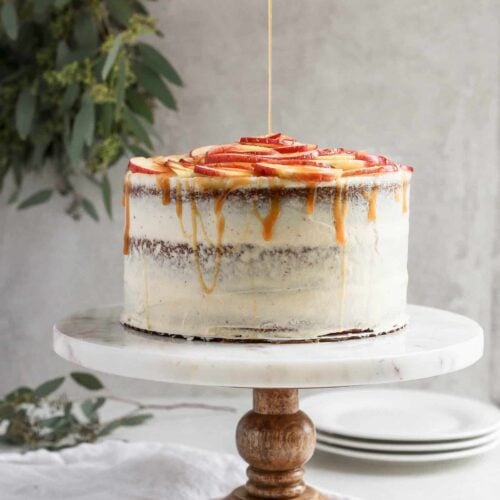 Apple Cider Layer Cake with Dairy Free Caramel Buttercream
This apple cider cake is filled with dairy free caramel buttercream, chopped up apples, cinnamon, and apple cider baked right in! It is super moist and fluffy, you will just love this cake!
Print
Pin
Save
Saved!
Rate
Ingredients
For the cake
12

oz

sparkling apple cider

1

gala apple

medium, peeled, cored, diced small

4

cups

all purpose flour

1

tbsp

baking powder

1 1/2

tsp

baking soda

1 1/2

tsp

cinnamon

1/2

tsp

kosher salt

1/2

cup

brown sugar

1/2

cup

granulated sugar

1

cup

vegetable oil

4

eggs

large

3/4

cup

non dairy milk
For the caramel sauce
1

cup

granulated sugar

6

tbsp

non dairy butter

such as earth balance, diced

1/2

cup

coconut cream

such as trader joes brand, cold

1/2

tsp

kosher salt
For the buttercream
1

cup

non dairy butter

such as earth balance, at room temp

3 1/2

cups

confectioners sugar

3

tsp

dairy free caramel sauce

1

tsp

dairy free milk
Garnish
1

gala apple

sliced thin (optional)
Instructions
Apple Cider Layer Cake
Preheat your oven to 350 degrees F and spray 3, 9" baking pans with baking spray or line them with parchment paper.

In a medium sized pot, add the sparkling cider and bring it to a boil. Continue boiling until reduced by half, about 10 minutes. Add the diced apples to the cider and put the mixture in the fridge to cool.

In a large bowl combine the flour, baking powder, baking soda, cinnamon, and salt. Mix and set aside.

In the bowl of a stand mixer fitted with the paddle attachment, add the sugars and oil, and beat on medium speed just until combined. Turn the mixer to low add the eggs in one at a time after each one is incorporated.

Combine the dairy free milk and the cider together. With the mixer on low, alternate adding in the dry ingredients with the dairy free milk mixture starting with 1/3rd of the dry ingredients and ending with it too.

Pour the batter into the prepared baking pans and bake for 30-35 minutes or until the cake edges separate from the pans and a toothpick inserted in the middle comes out clean. Cool.
Dairy Free Caramel
In a medium sized pot over medium heat add the sugar and stir continuously with a heat proof spatula or wooden spoon.As the sugar heats up it will clump together and turn a golden amber color. Keep stirring well and eventually the clumps will melt.

Stand back and add in the Earth Balance or margarine. The coldness of the margarine will cause the sugar to boil vigorously so make sure you are not too close. Stir until the margarine melts, and then slowly add in the coconut cream, standing back again!

Add in the salt and stir until combined.Allow the caramel to cool just a little, then add it to a heat proof container.
Dairy Free Caramel Buttercream
In the bowl of a stand mixer fitted with the paddle attachment, add in the cold Earth Balance or butter alternative, and the confectioners sugars and mix on medium speed until combined.

Add in the dairy free milk and caramel sauce, and continue to mix on medium speed for 1 minute until light and fluffy. You may have to scrape down the bowl once or twice to mix it well.
Assemble the cake
Using a long sharp serrated knife, cut off the domed tops of the cake to create an even top.

Place one cake layer on a cake board or plate, and top with ⅓ cup or so of buttercream, smoothing it out evenly over the cake. Add another cake layer, and more buttercream. Top with the last cake layer and frost the whole cake with the remaining buttercream.

Take the apple slices (for garnish) and arrange them along the top of the cake, and then drizzle the top with the caramel.Keep in the fridge and enjoy!
Notes
Dairy free caramel sauce recipe adapted from Sally's Baking Addiction caramel sauce.
Squeeze some lemon juice on the apple slices that are for garnish, it will prevent them from turning brown.

If the buttercream is too liquidy, add in more confectioners sugar. If it is too dry add in more liquid starting with ½ teaspoon at a time.

It's best to use the Earth balance straight from the fridge because it melts quickly. If the buttercream softens quickly, stick it in the fridge for a few minutes to harden slightly.
Nutrition
Nutrition Facts
Apple Cider Layer Cake with Dairy Free Caramel Buttercream
Amount Per Serving (1 slice)
Calories 390
Calories from Fat 189
% Daily Value*
Fat 21g32%
Cholesterol 62mg21%
Sodium 207mg9%
Carbohydrates 44g15%
Protein 6g12%
* Percent Daily Values are based on a 2000 calorie diet.