Caramel Apple Pie. Go on, name a better dessert for fall. You might say pumpkin. Ok. I can understand that. But pumpkin lasts only until Thanksgiving.
Apple pie is where it's at the whole season!
Actually apple pie is where it's at also in the summer, so basically this is the perfect dessert to make any time!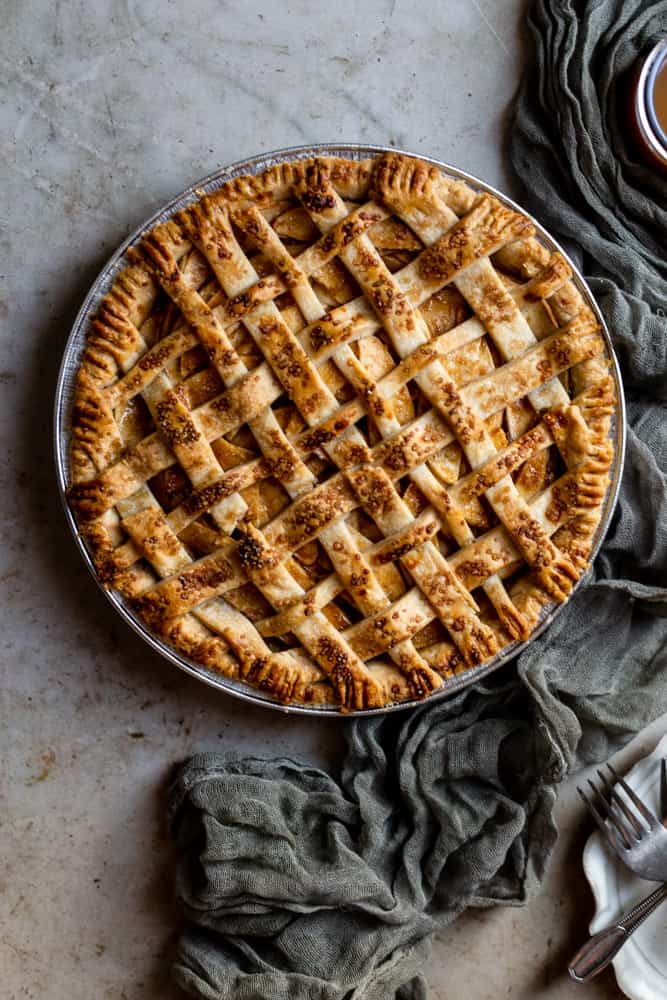 This classic dish gets a twist with some salted caramel sauce, that makes you want to go in for seconds. You cannot turn down a slice of this!
Ingredients:
Pie crusts- You will need two pie crusts for this recipe. One for the bottom and one for the top. You can either make your own with my super easy flaky pie crust recipe, or you can just buy it from the store. NO judgements here. I did that for years until I started making my own!
Apples– I like using Gala but you can use whatever you prefer. I would say stay away from red delicious because they aren't great for baking. Granny smith will add a punch, try them!
Salted Caramel Sauce– Again you can either make your own- I have a dairy free version, that you can substitute with dairy ingredients or store-bought is fine. That being said in my most Ina Garten-ist voice.
The rest of the ingredients you probably already have in your house- lemon juice, sugar, flour, and cinnamon. For optional garnish you will need 1 egg and turbinado sugar- aka coarse sugar.
How to make the filling
Peel and slice 4 apples according to the thickness that you like. I like my apple pie with thin slices of apples so I cut them about 1/4 inch thick. Feel free to make them a little chunkier if you like.
Place the apples in a bowl and pour 1/3rd cup of lemon juice over them and let it sit for a few minutes.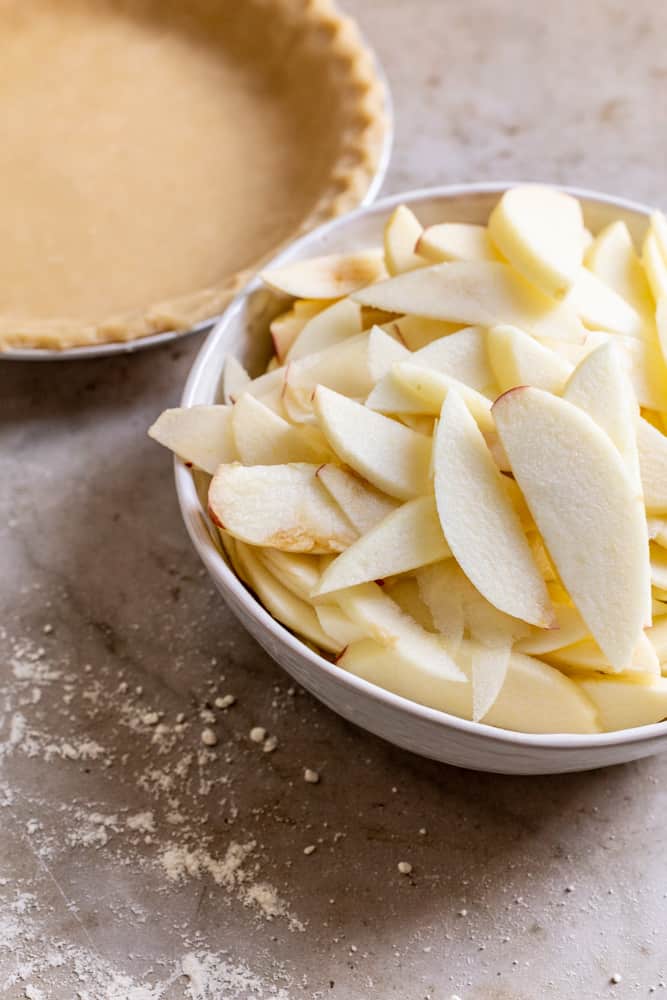 Prep the dry ingredients by mixing 2 tablespoons of flour with 1/2 teaspoon cinnamon and 1/4 cup sugar in a large bowl.
Drain the apples and pour them out onto a cutting board or a piece of parchment paper. With a paper towel, dry them off as best you can.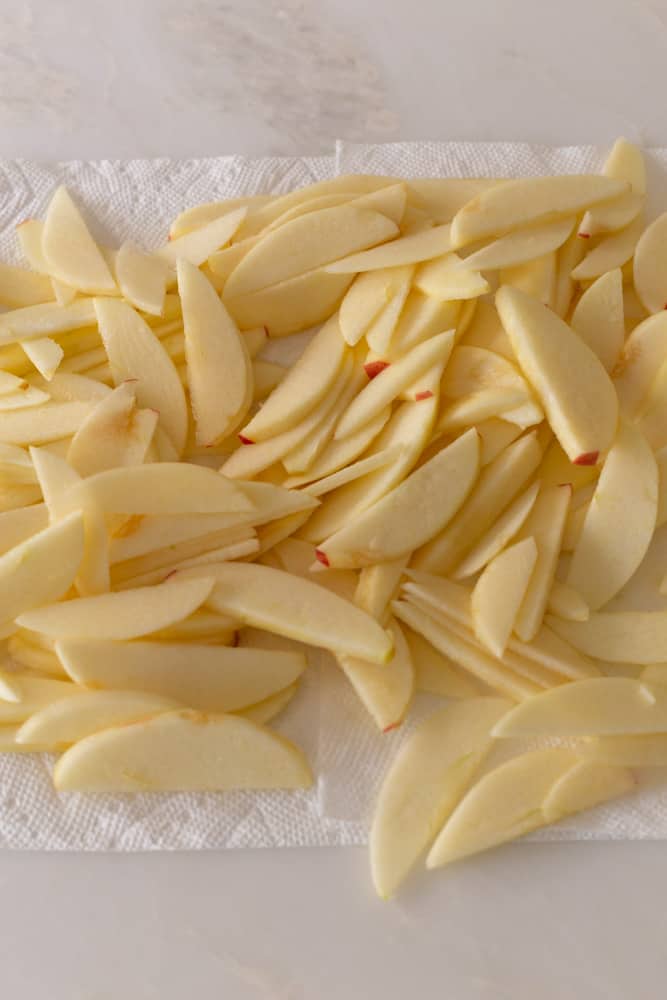 Place the dried apples into the larger bowl with the dry ingredients and mix until the apples are coated really well.
How to make the pie
First combine 1 teaspoon flour + 1 teaspoon sugar in a small pinch bowl. Mix it together and then sprinkle it all over your bottom pie crust. This will help soak up any remaining apple juices.
Layer one layer of apples on the bottom of the pie shell, then drizzle with the caramel sauce, about 1-2 tablespoons. Repeat this process until there are no more apples left. Drizzle one more spoonful of caramel sauce on top.
Set aside to work on the top crust.
You have a couple options now. You can either
roll out the dough and place it over the pie making sure to add a couple slits so that steam can escape
Make a lattice crust
Come up with a crazy design.
If you want to do a lattice or design, I suggest you make your own pie crust. The store bought ones don't hold up well to designs and then tend to tear more.
How to make a lattice crust
This is not as scary as it seems! It is an easy technique once you learn it, which you will then be shocked as to actually how easy it is.
You will need 10-12 strips total. One set for horizontal strips and one set for vertical. It's helpful to keep them different widths so you don't get confused!
I laid it all out for you here in step by step pictures:
Crimp the edges with a fork to seal down the edges, or trim with a sharp knife.
Easier pie crust
If you want to go the easy route, roll the dough into a 10″ circle on a floured surface making sure to turn the dough after each roll so it doesn't stick.
To lift- fold half of the pie dough onto your rolling pin and lift it up. Place it down on top of the apples. Seal the edges either by crimping with fork tines, or by pinching the edges with your fingers.
Cut 3 1″ slits in the middle of the pie with a sharp knife to allow the steam to escape.
Baking
Before you bake, whisk an egg in a small bowl and brush it all over the top of the crust. This will make the crust shiny and golden. Sprinkle with turbinado sugar for an extra crunch!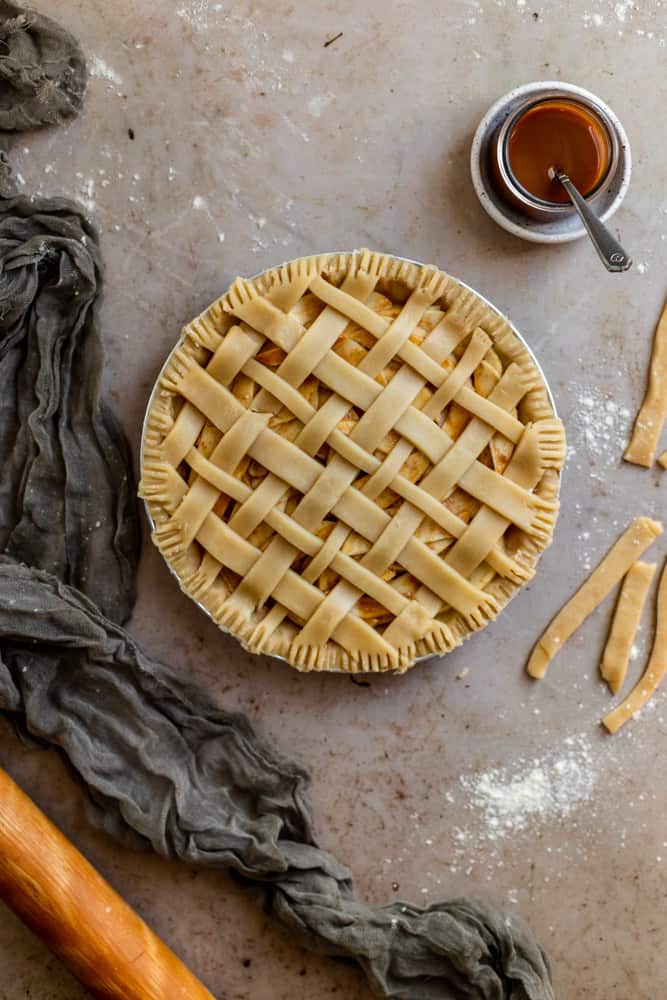 Bake the pie on 375° F for 30-35 minutes depending on how golden brown you like the crust.
Serving
Make sure to let the pie sit for 15-20 minutes at room temperature to firm up before serving. If you don't let it rest the juice from the apples will run.
Serve with ice cream and more caramel!!!! Maybe better for the summer, but just another excuse to make this pie!
Storing & Reheating
Store the pie covered with foil on the counter for 2 days or in the fridge for up to 5 days. To reheat I would pop it into the toaster oven for 2-3 minutes. The microwave works too but the crust wont be as crisp. I don't suggest freezing.
Tips
To keep the edges of the pie from burning cover them with foil. Take a large piece of tin foil and place the pie on top. Crimp it up over the edges of the pie, then bake.
Keep the pie dough cold at all times. If you are re working your dough to make the top and it gets to warm and rips, place it back in the fridge for 30 minutes before working with it again.
You can bake this pie without the caramel
Want more pie recipes? Check these out:
Caramel Apple Pie Recipe
This caramel apple pie is the ultimate fall dessert! It's filled with juicy apples, cinnamon, and salted caramel. Don't be intimidated by the lattice top, it's easier than you think!
Print
Pin
Rate
Ingredients
2

9"

Pre-made pie crusts

homemade or store-bought

4

Apples

gala, medium size

1/3

cup

lemon juice

fresh or bottled

2

tbsp

all-purpose flour

Plus 1 teaspoon divided

1/4

cup

granulated sugar

Plus 1 teaspoon divided

1/2

tsp

ground cinnamon

3-6

tbsp

caramel sauce

homemade or store bought

1

egg

for brushing

turbinado sugar

for garnish
Instructions
Prepare the apple filling
Preheat the oven to 375° F. Peel and slice 4 medium apples into 1/4- 1/2 inch slices. Place the slices in a medium sized bowl and pour 1/3 cup lemon juice over them. Mix lightly. Set aside while you prepare the dry ingredients.

In a large bowl combine 2 tablespoons flour, 1/4 cup sugar, and 1/2 teaspoon cinnamon.

In a small pinch bowl, combine the remaining 1 teaspoon flour and 1 teaspoon sugar. Mix to combine. Sprinkle this mixture all over the bottom of one pie crust.

Drain the apple slices and pour them out onto a few paper towels. Dry them as best as you can then mix them into the dry ingredients in the large bowl. Toss the apples to coat them evenly.
Assemble the pie
Layer one layer of apples on the bottom of the pie and top with 1-2 tablespoons of caramel sauce. Repeat until there are no more apples left. Finish with a last drizzle of caramel sauce.
Prepare the pie crust
Decide which design you are using. Roll out the pie crust on a floured surface into a 10" round with 1"2 thickness. Fold the crust onto the rolling pin, lift and place it on top of the pie. Trim and crimp the edges with the tines of a fork or your fingers. Add 3 1" slits into the middle of the pie to let steam escape. Alternatively you can choose to make a lattice crust. See post for instructions!

Whisk an egg in a small bowl and brush it over the pie crust. Sprinkle with turbinado sugar and bake for 30-35 minutes. The pie is down when its golden brown and bubbly!
Notes
Bake the pie on a cookie sheet to ensure that your oven stays clean.
To keep the edges from burning cover them with tin foil. Take a large piece of tin foil and place the pie on top. Crimp it over the edges and bake. 
You can bake this without turbinado sugar, caramel sauce, or egg. 
Keep it in the fridge for maximum freshness and reheat for 2 minutes in the toaster oven
Let the pie sit for 15 minutes before serving to firm up. If you cut into it right away the juices will flow out. 
Nutrition
Nutrition Facts
Caramel Apple Pie Recipe
Amount Per Serving (1 slice)
Calories 109
Calories from Fat 9
% Daily Value*
Fat 1g2%
Cholesterol 21mg7%
Sodium 36mg2%
Potassium 122mg3%
Carbohydrates 26g9%
Protein 1g2%
Vitamin A 86IU2%
Vitamin C 8mg10%
Calcium 14mg1%
Iron 1mg6%
* Percent Daily Values are based on a 2000 calorie diet.
If you make this recipe, please let me know by leaving a comment and a star rating below! I love to read all the comments. Thanks for supporting my blog!!