These cherry pistachio oatmeal cookies are the perfect combination of sweet, salty, and tangy and would be perfect to serve all throughout the holidays!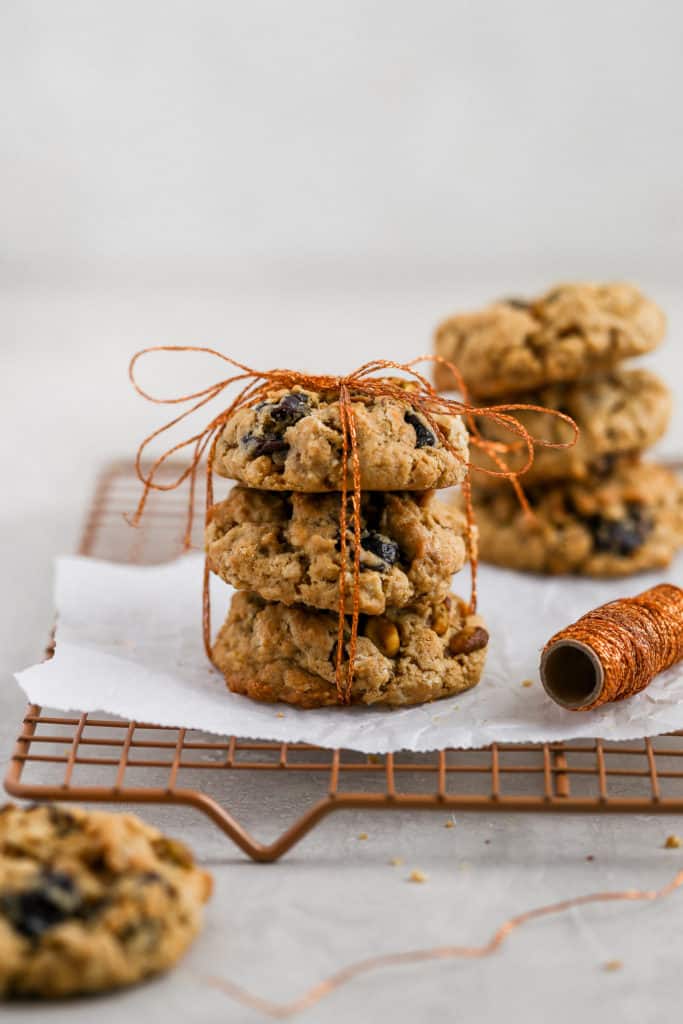 I don't know about you but I am not so into raisins.
I don't like raisins on their own, and I don't like raisins baked into things.
The only time I like raisins is when I go to the movies, get a huge popcorn and throw some Raisinetes in.
Damn that sweet and salty is such a good combo.
But anyways, I most especially DO NOT LIKE raisins in my oatmeal cookies. No thank you, never ever, bye.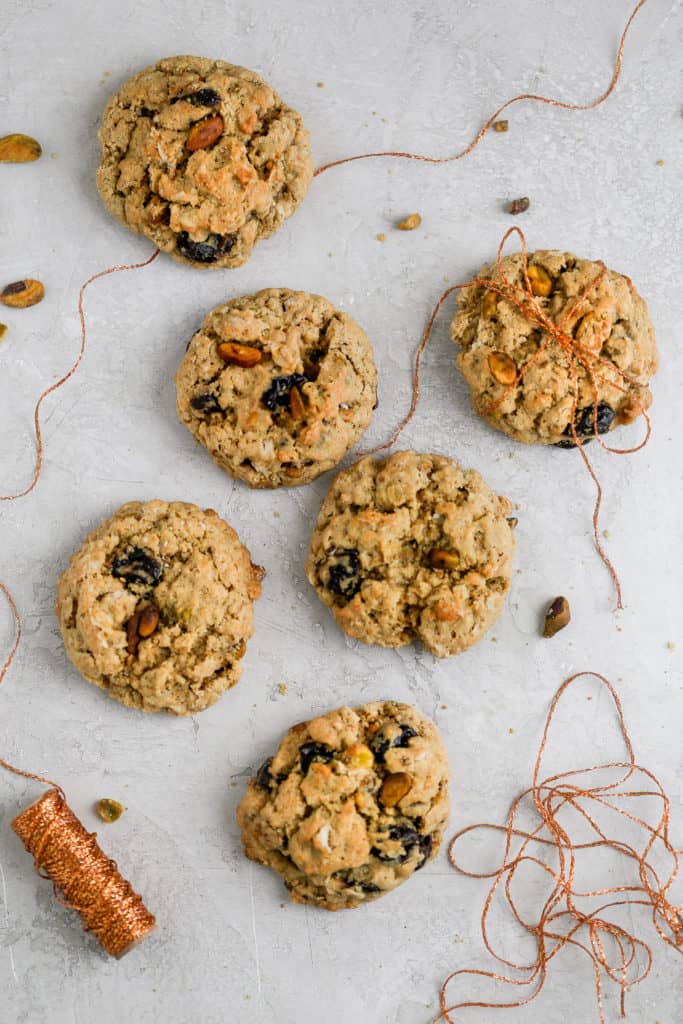 I don't know who came up with that combo or why it is so popular but honestly why ruin a good cookie with raisins I ask.
Why?
When I was recipe testing for my holiday cookie gift box, I knew I wanted to add in an oatmeal cookie of some sort and thought about what I could add in that is way less gross than raisins.
My first thought is always chocolate, because let's be honest, when is chocolate never not on my mind. That led me to these chewy white chocolate oatmeal cookies.
But then after ravaging through my pantry for ideas, I found dried cherries and pistachios and thought ding! ding! ding!
Cherry pistachio oatmeal cookies!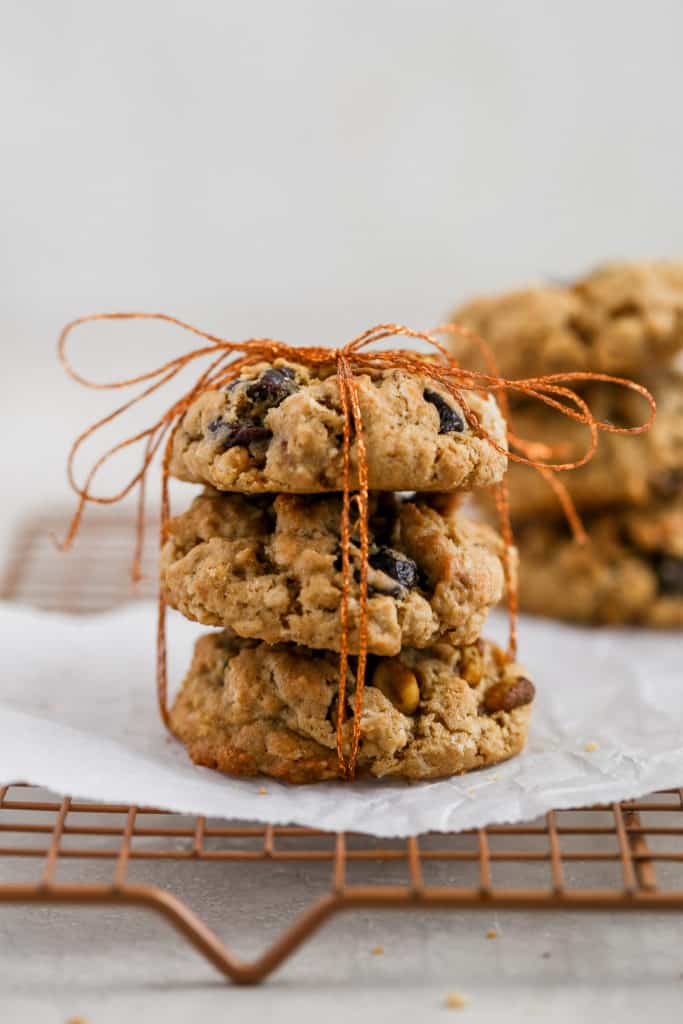 What I love about these chunky cherry pistachio oatmeal cookies is that they have a great balance of sweetness, saltiness, and tanginess.
In one bite you get all three sensations and the impulse to just keep shoving them into your mouth.
Plus we can pretend that these are healthier because they have fruit and nuts baked in, which means that this cookie is basically a salad so go ahead and eat another one. If you love pistachio like I do you can also try these pistachio cookies!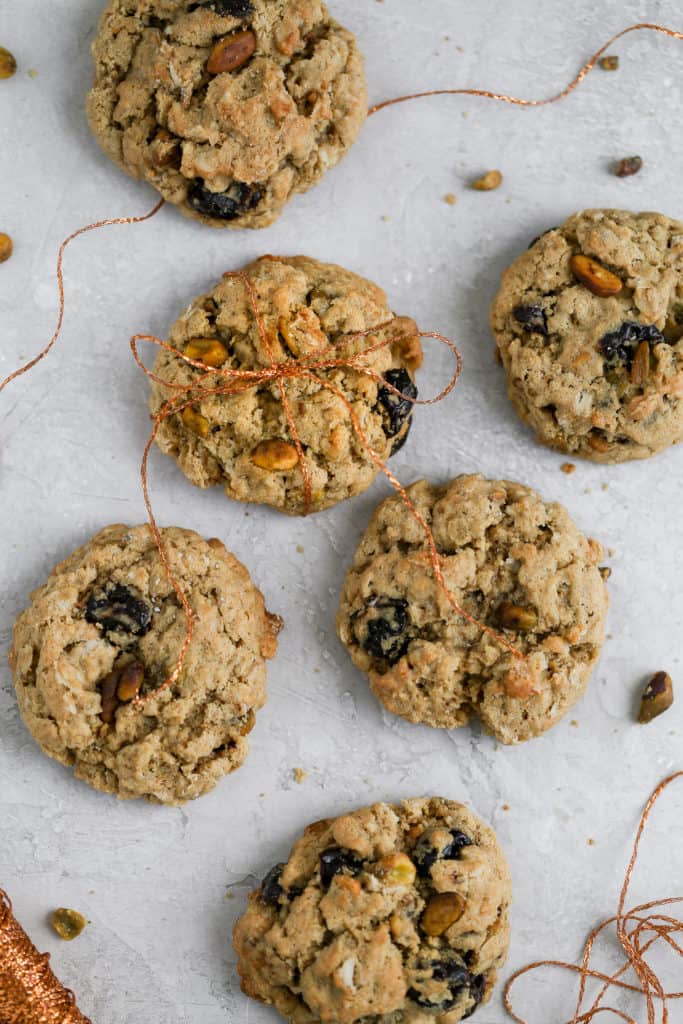 I also love how festive looking these are!
If you celebrate Christmas then whats better than a "healthy" cookie that has red and green baked right in.
So many good things about these cherry pistachio oatmeal cookies, you just have to try them! If you love pistachios like me you can also try these aquafaba meringues with pistachios!
To see the rest of the cookies that I added to my holiday cookie gift box this year and for a how-to on creating your own cookie box, be sure to check out these links below: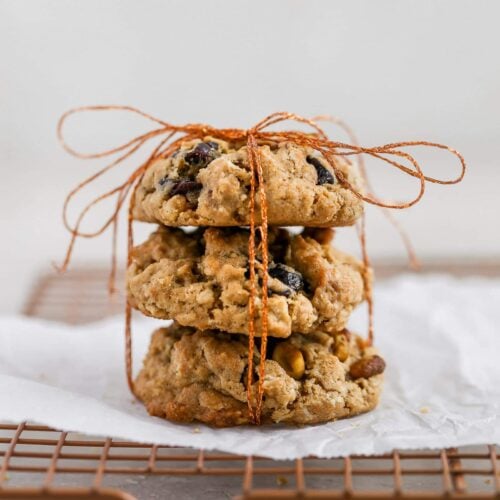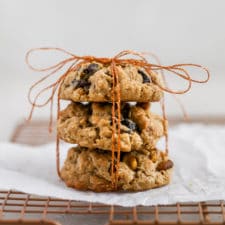 Cherry Pistachio Oatmeal Cookies
These cherry pistachio oatmeal cookies are the perfect combination of sweet, salty, and tangy and would be perfect to serve all throughout the holidays!
Print
Pin
Save
Saved!
Rate
Ingredients
1

cup

unsalted butter

softened to room temp1 cup brown sugar 2 eggs, large1 teaspoon vanilla extract1.5 cups all purpose flour 1 teaspoon baking soda1 teaspoon cinnamon½ teaspoon kosher salt3 cups old fashioned oats ½ cup salted pistachios, shelled½ cup tart montmorency dried cherries
Instructions
Prepare 2 half sheet trays with parchment paper.In the bowl of a stand mixer fitted with the paddle attachment beat the butter and sugar on low-medium speed until light and fluffy, about 1 minute. Add the eggs one at a time, combining into the mix before adding the next. Add the vanilla extract and continue to mix. You may have to scrape down the sides of the bowl to mix everything together. Add the flour, baking soda, cinnamon, and salt and continue to mix until dough forms. Then add in the oats and mix on low till combined.Stop the mixer, add the pistachios and cherries, and mix by hand, so you don't break up the pieces too much.Using an ice cream scooper, or a ¼ cup measuring cup, scoop the dough into even shaped balls and line then up on the sheet trays with about 1" of space in between. Freeze for 1 hour or overnight.Preheat your oven to 350°F, then bake the cookies for 15 minutes or until the edges are golden brown.
Notes
These freeze well!
Prep time includes chill time
Nutrition
Nutrition Facts
Cherry Pistachio Oatmeal Cookies
Amount Per Serving (1 g)
Calories 278
Calories from Fat 117
% Daily Value*
Fat 13g20%
Cholesterol 54mg18%
Sodium 129mg6%
Carbohydrates 37g12%
Protein 4g8%
* Percent Daily Values are based on a 2000 calorie diet.