Learn how to create the ultimate cookie gift box for your family and friends! It makes the perfect hostess or thank you gift!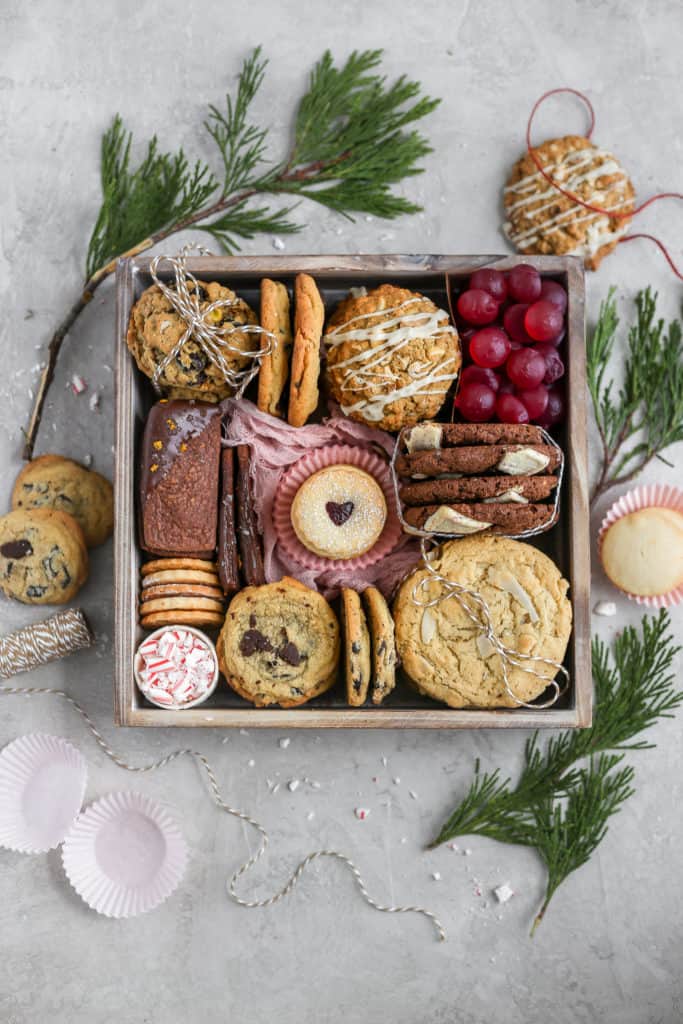 Tell me, would you be excited if someone brought you a cookie gift box?
I know I would be screaming of joy!
So many different holiday themed cookies and treats filled beautifully and neatly in a festive box.
Honestly I think this is the perfect gift to bring to family and friends over the holidays, but why stop there!
It's actually the perfect gift to bring to anyone all year round. I mean, I know December is cookie season and all, but its not like people stop liking cookies the rest of the year!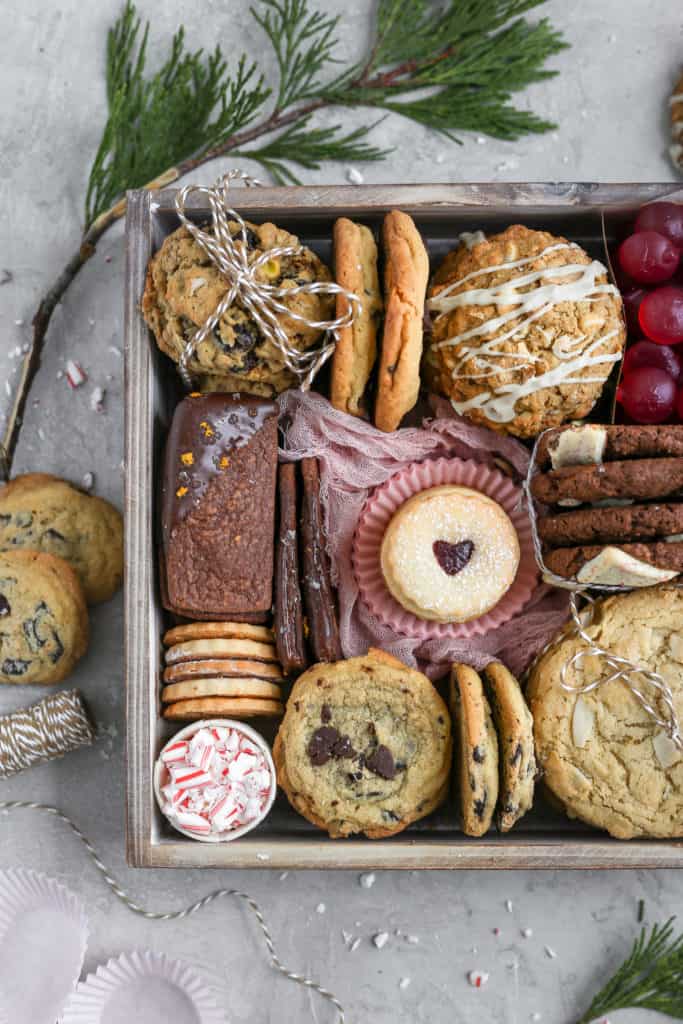 How to create a cookie gift box:
First you need to know what kinds of cookies you are adding into your cookie gift box.
These can be either homemade or store-bought. Don't be ashamed if you're using store bought, you are taking the cookie out of the packaging anyways hehehe.
My recommendations when you're thinking about cookie selections is to think of:
Different shapes and sizes– You definitely want a variety here so that your cookie gift box has a dynamic look to it. That means some classic round cookies, but also a rectangular shortbread cookie, and then a fun shaped cookie like these raspberry lemon linzer cookies.
Different flavors– Again you want the variety so that there are different flavors and your gift receiver cannot resist trying each one!
Add in candies or other treats– The main focus of this box is obviously cookies but its fun to add in little treats to break up the space visually.
How to keep the cookies fresh
Start early. Make the cookies over a few days and freeze the cookie dough. Then bake on the day that you want to pack the cookies so they are fresh!
Here are all the cookie recipes that I added into my cookie gift box this year (2018):
I also added in some crushed peppermint candies, and some Trader Joe Christmas gummies for added fun.
Next, make it pretty!
How to decorate a cookie gift box:
First you need something to put all your delicious treats in.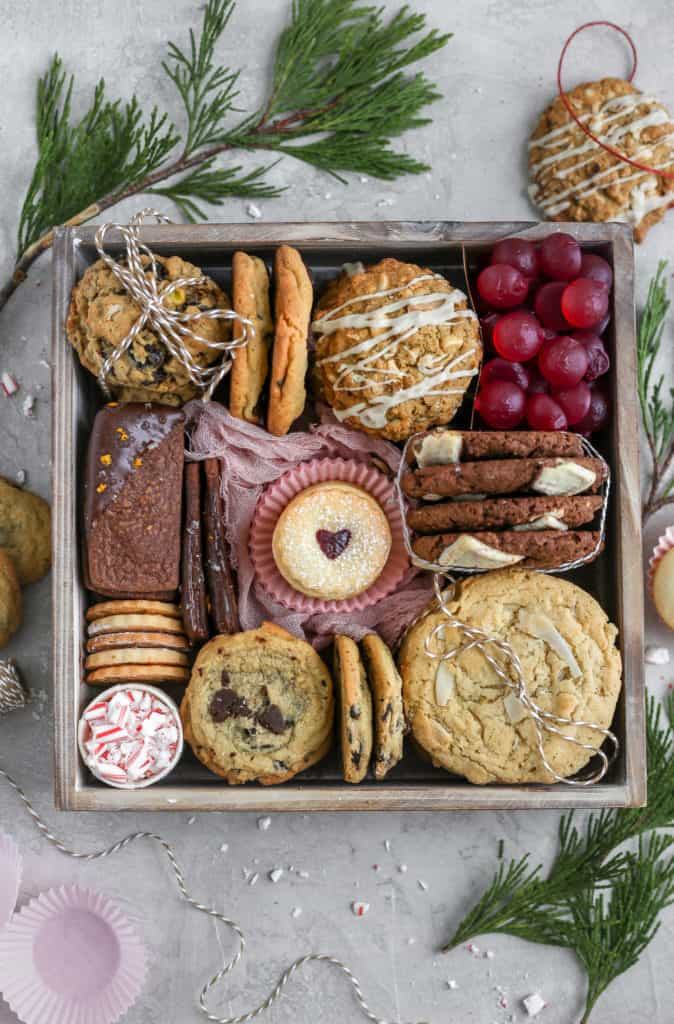 You can definitely get something disposable like these boxes, but if you want to make it extra special and are looking for something prettier and more stable you need a box like this.
The box I used, I bought in store at my local Michaels. I looked for it online but cannot find it anywhere, sorry friends!
Basically what you want is a large, shallow-but not too shallow, tray or box that does not have a lid. Next get some fun ribbon, and maybe a small pretty napkin or two.
How to assemble:
This is my favorite part- when it all comes together.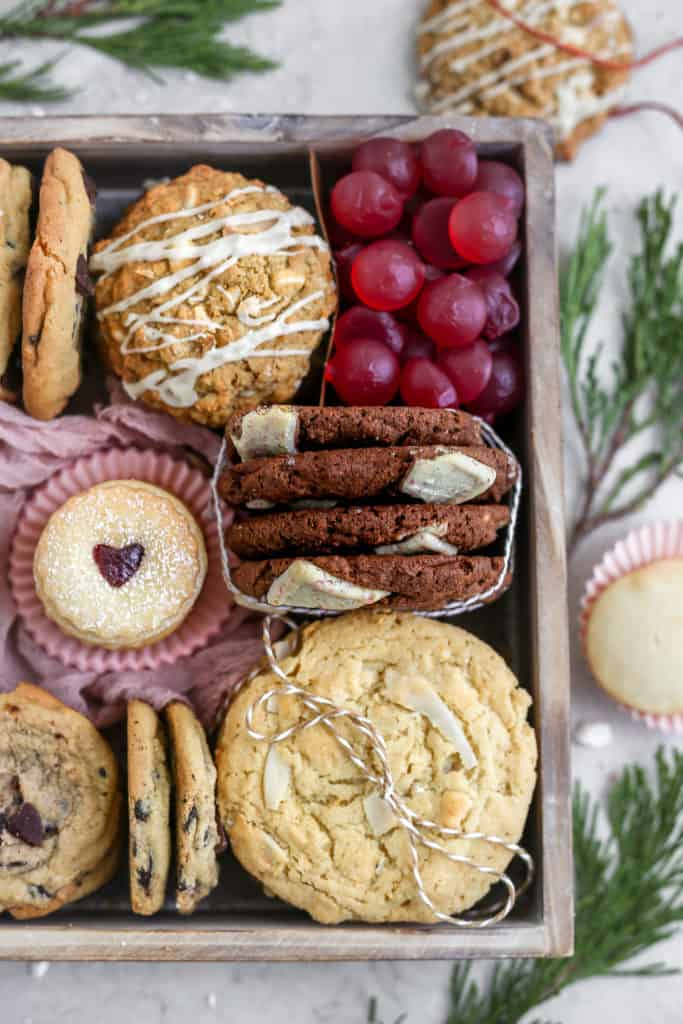 Like I said before you want your cookie box to look dynamic and visually pleasing.
That means sectioning off and stacking the cookies in different ways, layering them either with napkins or cupcake liners, or tying them with ribbon.
I started decorating my cookie gift box by adding my cookies and treats to the corners first, then placed the raspberry linzer cookie in the middle to be the focal point.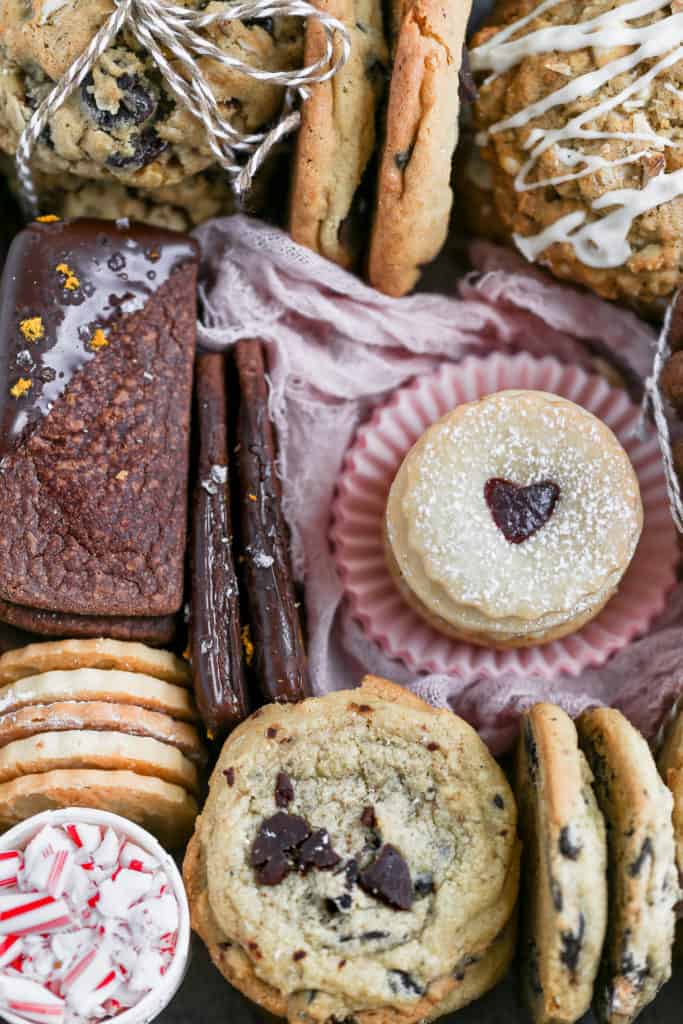 Then I started to fill in all around them. There is no right or wrong way to do this so let your imagination run wild.
Some ideas to help you:
Stack a few cookies, tie them with ribbon, then place them standing up.
Stack a few cookies, tie them with ribbon, then place them on their side.
Use pink cupcake liners to add visual appeal under smaller cookies.
Use little containers to add your treats to like I did with my crushed peppermint candies. I actually used a stack of these instead of just one, to make sure it was on the same level as the cookies.
If you need to section off a part for candy, I cut a heavier cardstock envelope to make a partition for the gummies.
Now that you're done, stand back and admire your beautiful cookie gift box!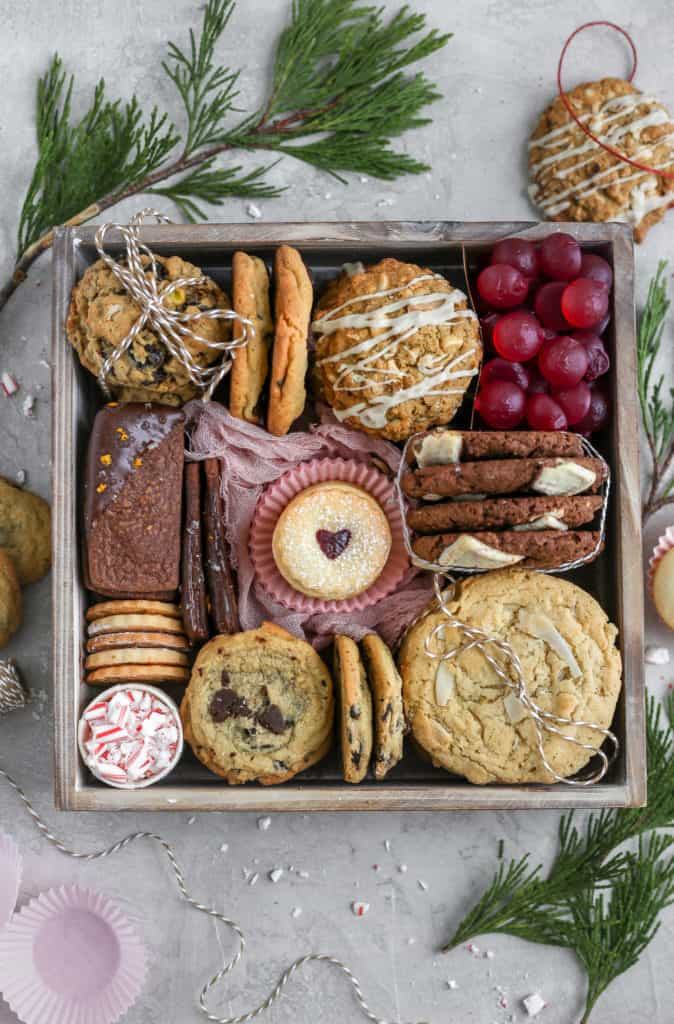 Isn't she pretty?
So hard to give away something you love so much, but I know it will be so very much appreciated to whoever gets to receive something as special as this!
Happy cookie box gifting and holidays friends!
More cookie boxes!
Here is my cookie box from December 2019. Not all recipes are included but the ones I did use are: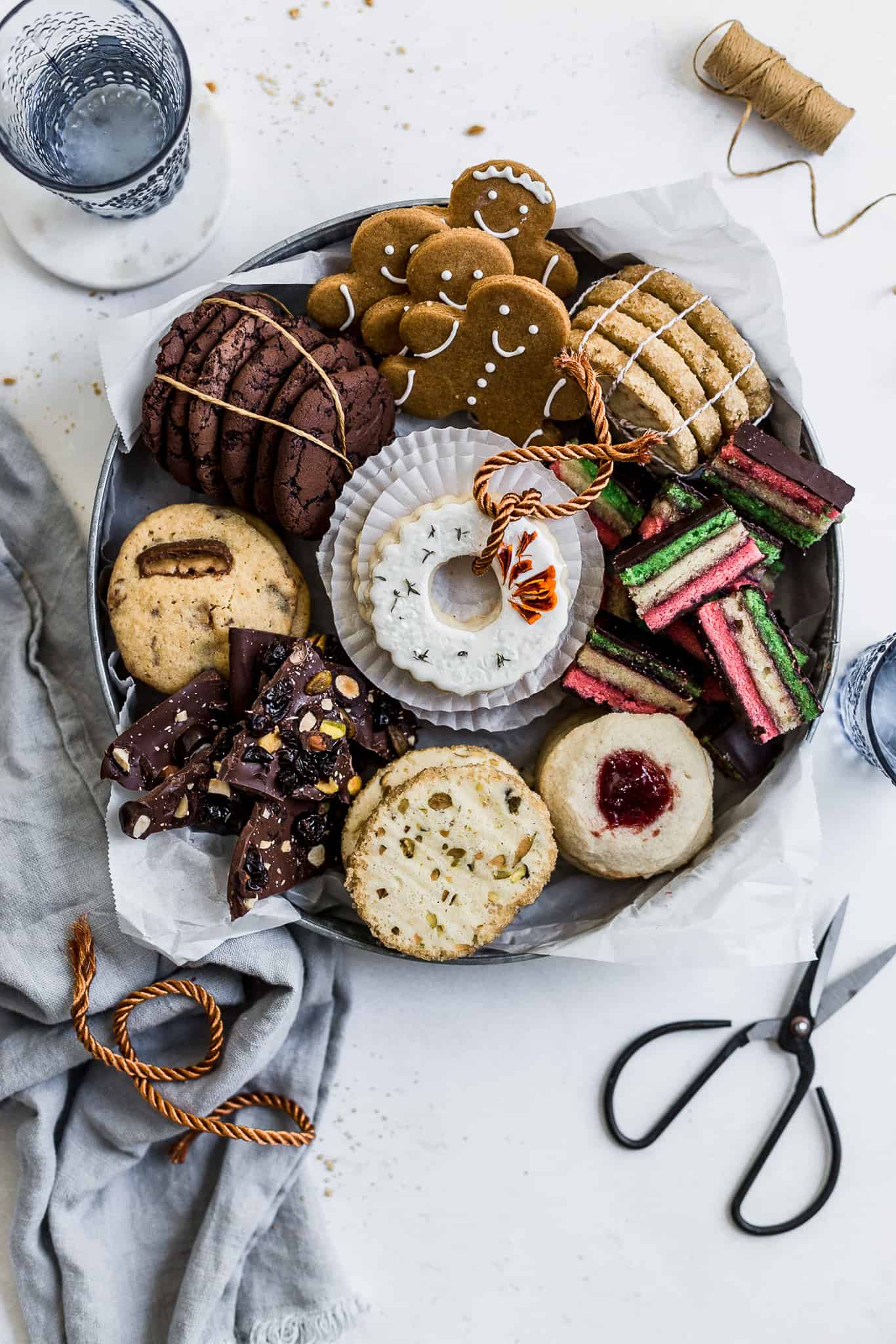 Here is my cookie box from December 2020. Yes those are mini bottles of alcohol. No need to explain!
The recipes I included are: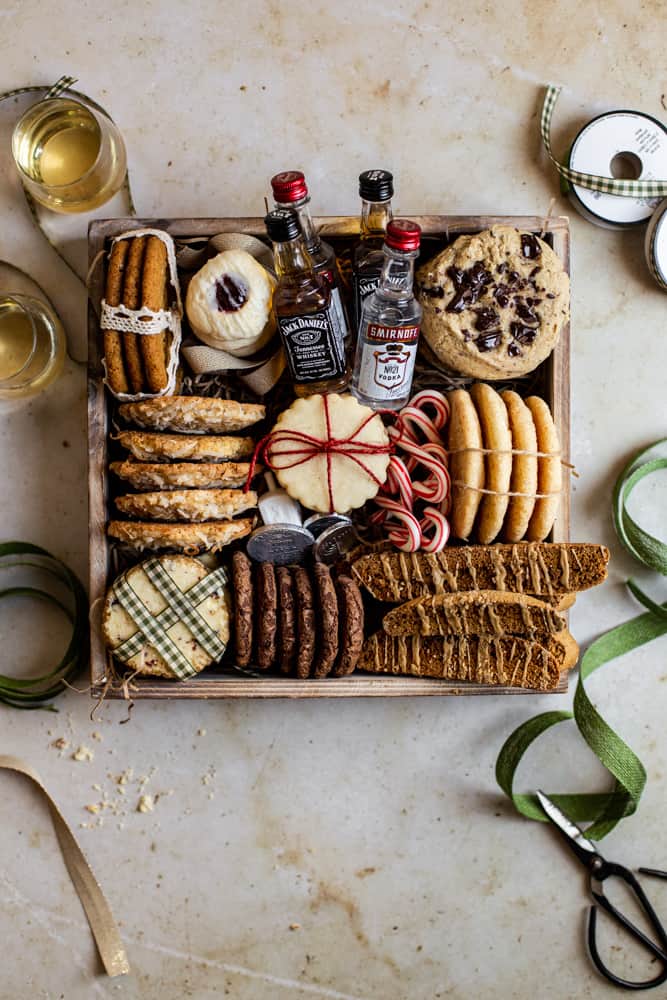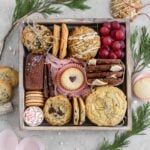 Print
How to Create the Ultimate Cookie Box
Learn how to create the ultimate cookie gift box for your family and friends! It makes the perfect hostess or thank you gift!
Materials
Assemble the box
1

large but shallow box

Parchment paper or crinkle paper

any color

6

cookie recipes

homemade or storebought

ribbon

different size and color

festive napkins

for layering

cupcake holders

for layering
Instructions
Take the box or tin you are using and layer it with a layer of parchment or crinkle paper.

Group the cookies together to stack and tie them with the different ribbon. Start adding the cookies either on their side or right side up to the corners. Then place a cookie stack in the middle for a focal point.

Fill in the gaps with more cookies or candies/treats. Use pretty napkins or cupcake liners to layer the cookies on top of to add dimension.

Keep going and rearranging until you are happy with how it looks, theres no wrong way to do this!
Notes
Any homemade or store bought cookies work here.
To deliver this as a gift, wrap the box in cellophane and tie with ribbon.