Who doesn't love a cute cupcake! In this post you'll learn exactly how to bake and decorate cute cupcakes in a bunch of different ways. These cupcakes are perfect for birthday parties, showers, anniversaries or any type of celebration!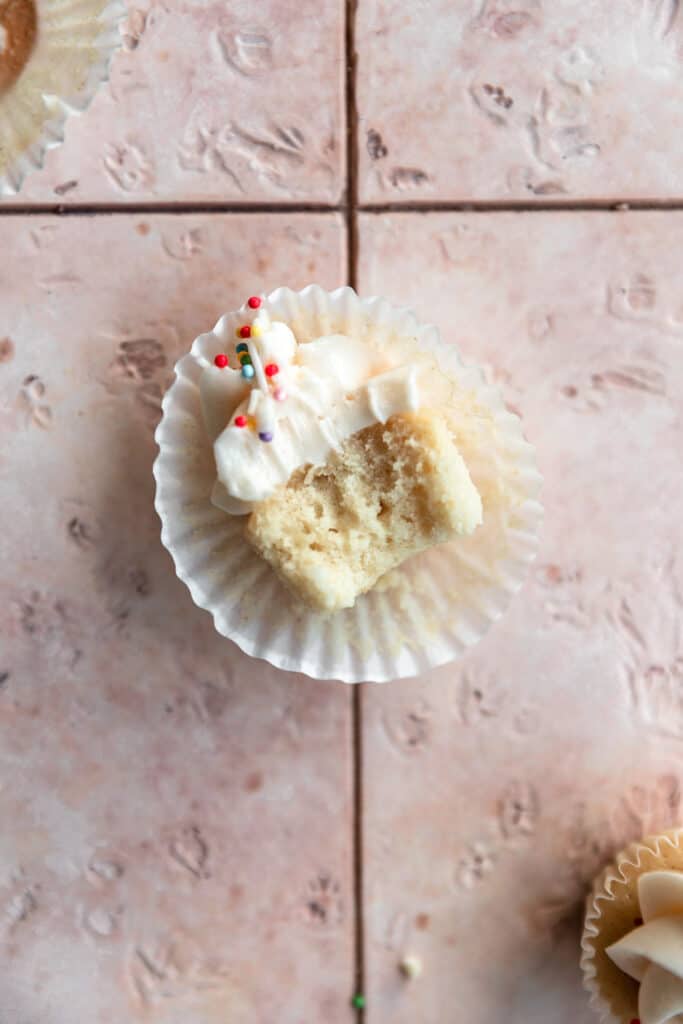 Cute cupcakes make every party more fun but sometimes can be hard to make if you don't know what you're doing. As someone who is a professionally trained baker and ran a custom cake shop for 5 years, I have made literally hundreds of cupcakes in fun and different themes!
Now im here to show you how you can easily do it too!
First, in order to make super cute cupcakes you need to know how to bake a basic cupcake recipe and then we can move on to the decorating part!
I have a ton of homemade cupcake recipes that you can start with. You can try these classic vanilla cupcakes, or these rich chocolate cupcakes. If you want something more fun try these confetti cupcakes or strawberry lemon cupcakes.
You can also make mini vanilla cupcakes or mini chocolate cupcakes!! I mean they just scream HI, IM CUTE!
Equipment Needed
Mixer- This can be a stand mixer or hand mixer. Either one works great.
Muffin pan- Get the right size for the cupcake you want to make. Buy a regular size one for a standard cupcake or make sure to buy a mini muffin tin for mini cupcakes.
Cupcake liners- These come in different colors so if you are sticking to a theme you can make it extra cute by getting a color to match.
Ice cream scoop– Not just for ice cream! Using and ice cream scoop is the best way to measure out your cupcake batter because it will measure the batter evenly and minimizes the mess!
Piping bags– These make decorating cupcakes a lot easier and more professional looking. They are easy to use, disposable and help to decorate the cupcakes easily.
Decorating tips- Tips help you create fun designs on cupcakes. The different shapes create different designs and create a more professional and put together look. Get to know your tips and practice with them, it will make your cupcakes look so much better! My favorite tips are from Wilton.
How to bake cute cupcakes
You can follow any of my easy cupcake recipes to start but there a few universal things to know about baking cupcakes.
Use room temperature ingredients- this ensures the batter mixes smoothly and bakes up correctly. Cold ingredients do not mix well with each other and can hinder a cupcake from rising.
Make sure not to over mix- over mixing a cupcake batter can make the cupcakes tough and leads to a dense cupcake.
Fill 2/3 way- Always fill the cupcake tin 2/3 of the way full unless the recipe instructs otherwise. This is the right amount for the cupcakes to rise perfectly. Any more and they can spill over creating a mess and wonky looking cupcakes tops.
Bake on 350° F– Unless otherwise instructed this is the correct temperature for baking cupcakes.
Baking time- For regular cupcakes bake for 18-20 minutes. For mini cupcakes, bake for 12 minutes.
Cool- Cool the cupcakes for just 5 minutes in the pan. Then transfer them to a wire rack to cool completely.
How to decorate cute cupcakes
There are SO many ways you can make and decorate cute cupcakes, the options are really endless! Below you'll see some of my favorite ways to but know that there are hundreds of ways to do this, you just need to use your imagination!
Make mini cupcakes
What's cuter then a mini dessert?! You can make mini vanilla cupcakes, or mini chocolate cupcakes and frost and decorate them according to the them of your party. You'll need an easy vanilla frosting that you can color easily too.
You'll need a piping bag and a small star tip to make these easy decorations. Don't forget the rainbow sprinkles!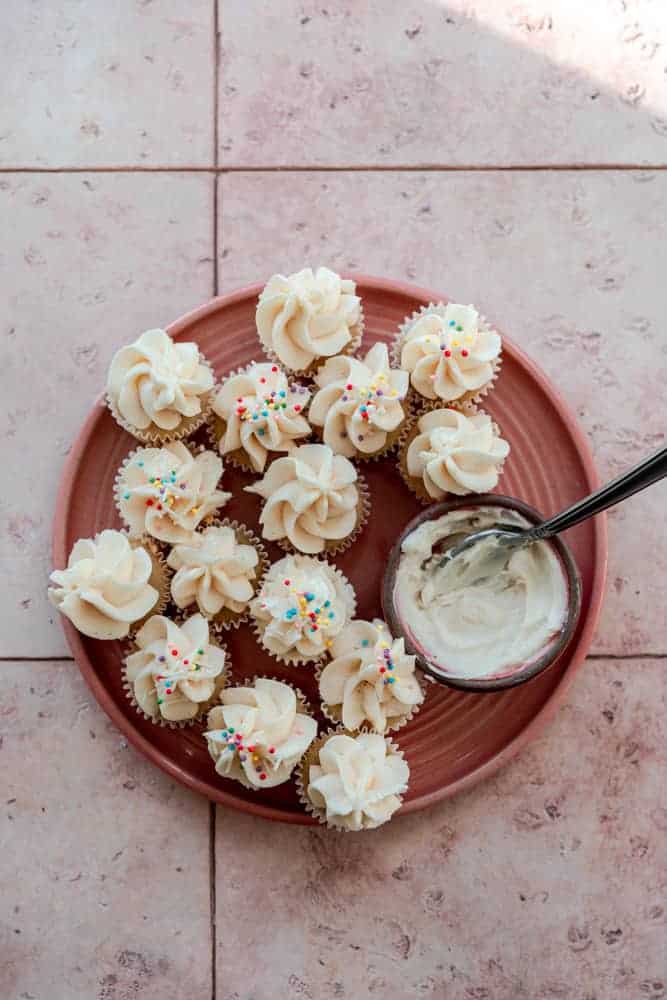 Rosette Cupcakes
Rosette cupcakes look A LOT harder to make than they actually are. All the work is done by the decorating tip.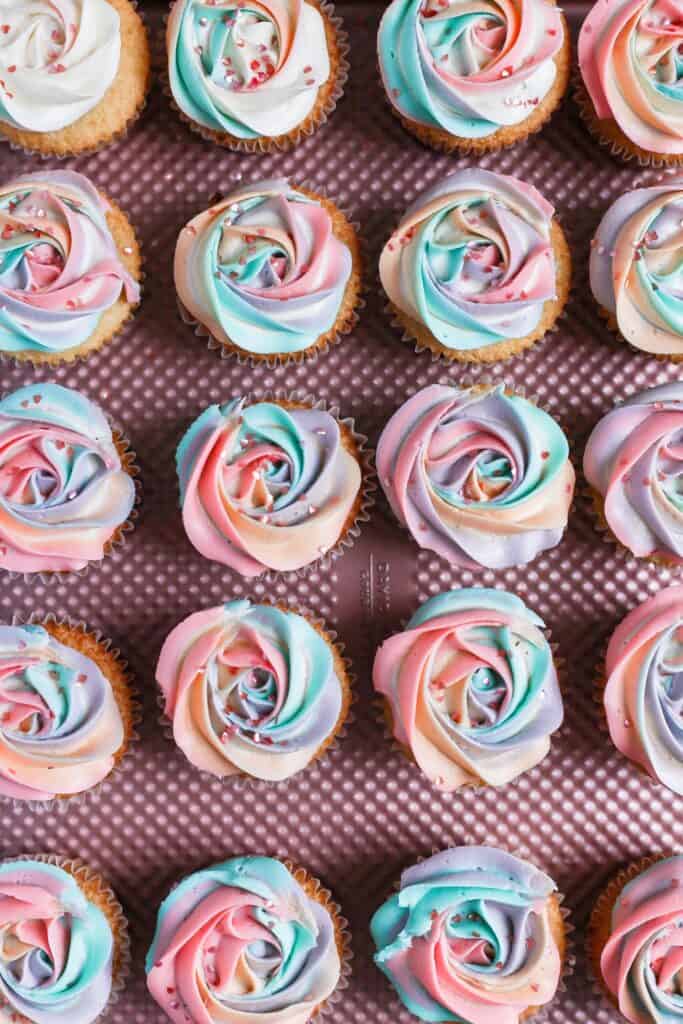 You will need a piping bag and an open star tip, also known as a Wilton 1M tip. All you have to do is start from the center of the cupcake and go in a circular round motion towards the outer edges. Tada! You just made a beautiful rosette.
Try making these in different colors for a pretty spring look. There is also a tip called a "grass tip" or a "leaf tip" which makes the frosting look like leaves & grass!
You can pipe a rosette with grass around it to make it look really cute!
Decorate with Flowers
Decorating your cupcakes with flowers is a really beautiful way to decorate cupcakes. Make sure you are using edible flowers or flowers that are acceptable to put on food. To get all the info check out this post on how to decorate a cake with flowers.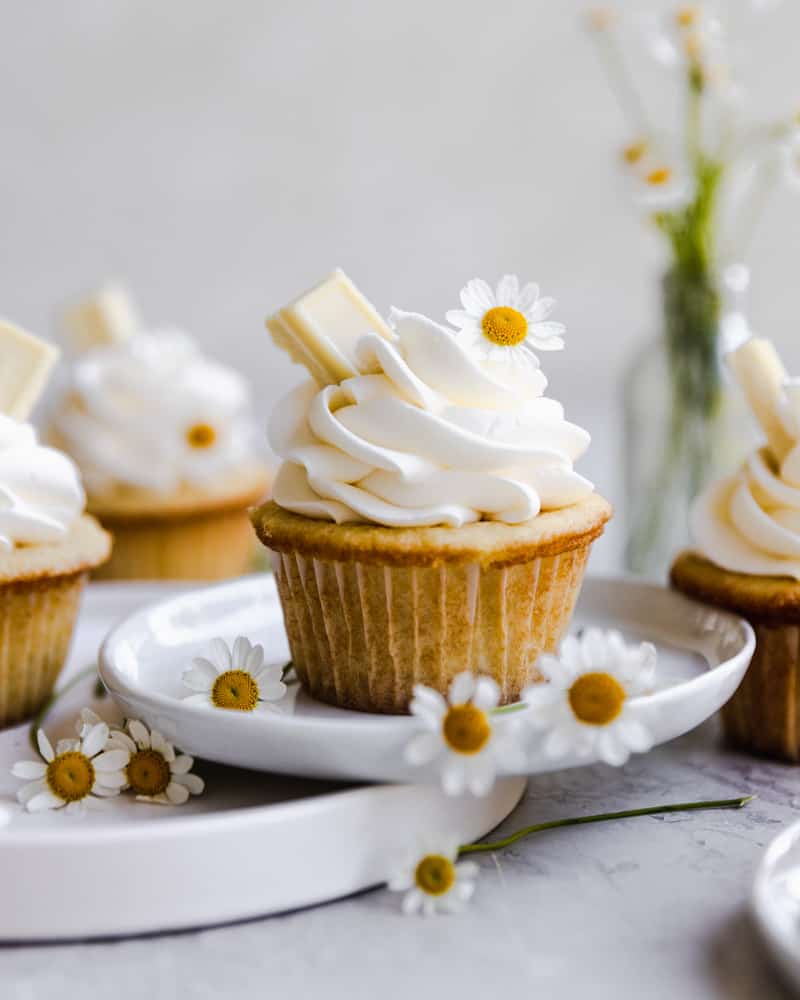 Buy cupcake decorations
When I ran my custom cake shop, I did this a lot to match the theme of the party. Craft stores like Michaels or Hobby Lobby sell a ton of edible decorations that make it easy to just plop on top of the cupcake and transform it into something really cute!

You can also use non edible decorations like cocktail pics and cupcake toppers to add a fun theme without too much hassle.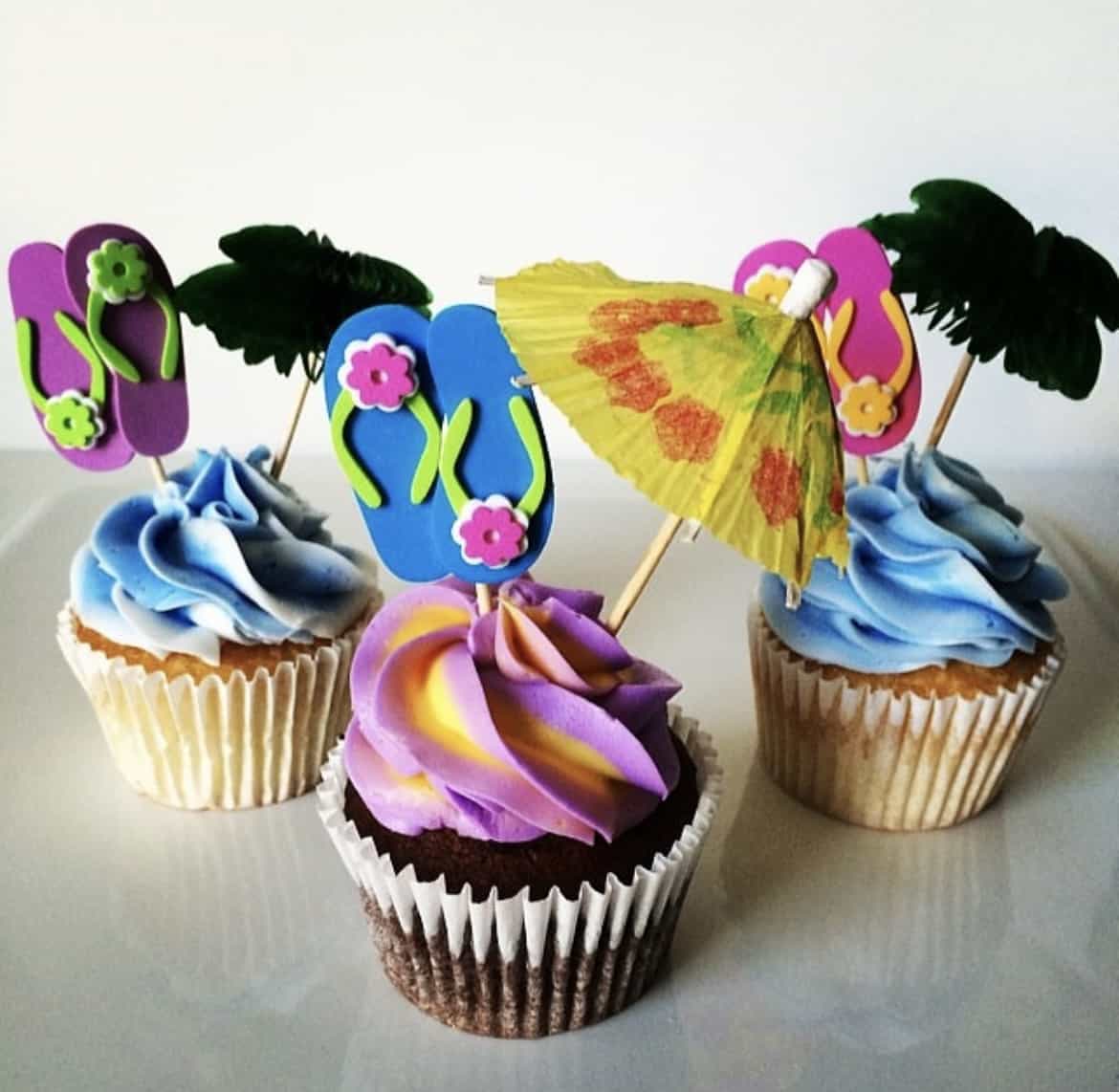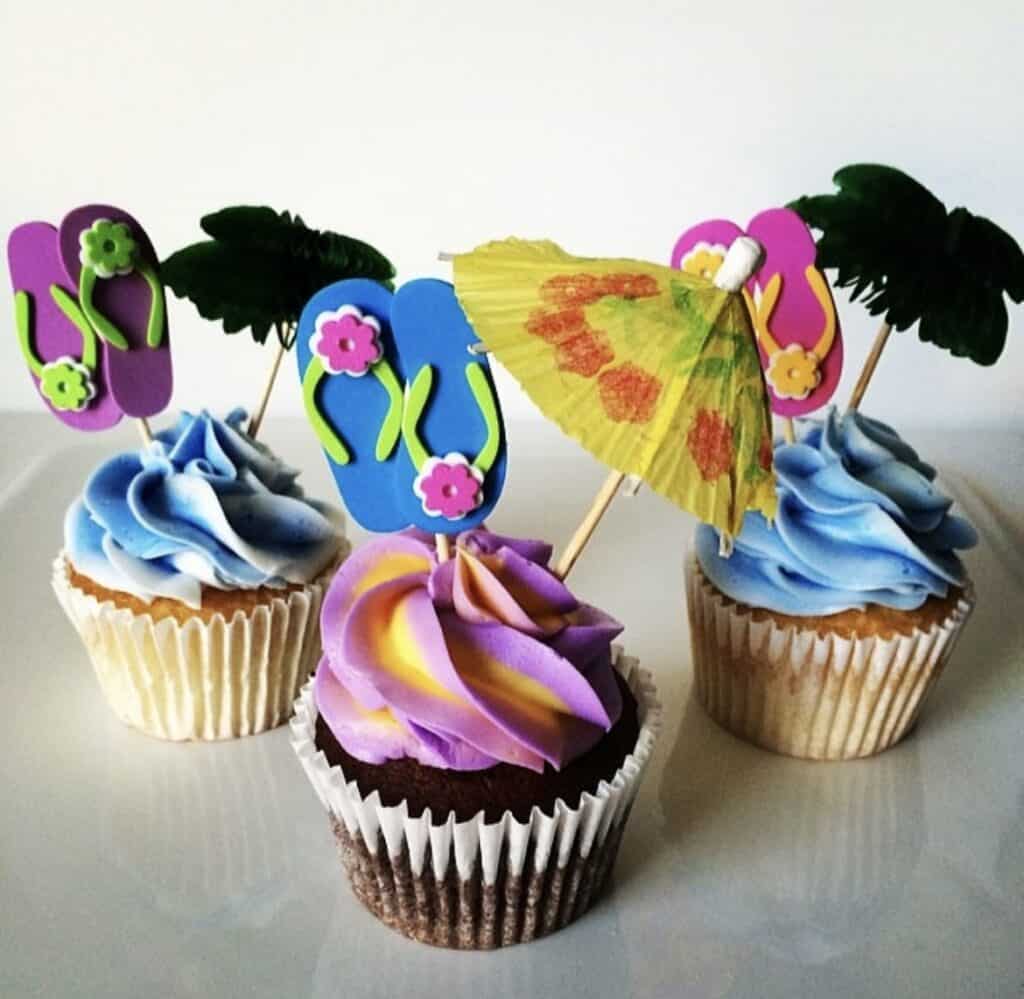 Make designs out of Fondant
Fondant is a type of sugar paste that you can mold into shapes and place on top of cupcakes and cakes. Think of it as an edible play dough. It comes in every color under the sun, and can be bought online or at most craft stores. It dries hard when exposed to air so its great to top frosted cupcakes with!
Just like your favorite childhood craft, its also easy to mold into shapes with silicone molds. They come in all shapes, sizes, and themes and are super easy to use if you aren't confident in molding something yourself.
This is such a fun way to decorate cute cupcakes because they literally make the molds in any theme you might need!
You can also use cookie cutters to cut out fondant shapes. When they are dried, just place them on top of the cupcake!
Molding your own decorations is an option if you like! When I started doing this I was really overwhelmed by it. But if you just think about what you are molding in terms of shapes that come together instead of looking it as a whole its much easier.
Last tips
As you can see there really is no end to the designs you can come up with for cute cupcakes. Plus there are SO many ways you can do it. It all depends on your theme and how much you want to DIY. Here's a couple things of last minute things to keep in mind:
Once you find good cupcake recipes, make sure to save them! Same goes for easy frosting recipes. This way you can come back to a trusty recipe every time.
Practice your piping skills. There are SO many decorating tips out there that create easy designs, practice the designs on parchment paper so you can easily clean it up after and reuse over and over again.
You can make pretty cupcakes with different colors of frosting and sprinkles.
Remember that you can make a cupcake for literally every theme under the sun, you just have to get creative!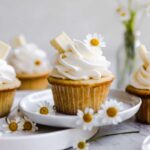 Print
How to Bake and Decorate Cute Cupcakes
Who doesn't love a cute cupcake! In this post you'll learn exactly how to bake and decorate cute cupcakes in a bunch of different ways. These cupcakes are perfect for birthday parties, showers, anniversaries or any type of celebration!
Materials
1

dozen

cupcakes

any flavor

1

batch

buttercream frosting

1

bunch

Assorted Flowers

as needed

1

package

cupcake toppers

as needed

1

box

fondant

multiple colors (as needed)

Fondant silicon molds

as needed
Instructions
Pipe Rosette Cupcakes
Using a piping bag filled with frosting and a 1M tip from Wilton, start piping from the middle of the cupcake and go around evenly until you reach the outer edge. Repeat for all the cupcakes.
Decorate with Flowers
First make sure you are using edible flowers or safe to use flowers on your cupcakes. Frost the cupcakes with a piping bag and star tip, then add flowers on top to your liking.
Buy Cupcake Toppers / Decorations
Craft stores like Michaels and Hobby Lobby sell cupcake toppers and edible decorations in all kinds of themes. Choose the one that matches best.

Frost the cupcakes with a piping bad and piping tip, then add on the decorations right away.
Make Designs out of Fondant
Buy the fondant in the colors that you need and decide how you will use it. You can buy molds for easy decorations or you can use cookie cutters, or even mold your own designs.

After shaping, leave the fondant decorations out to dry overnight.

Frost the cupcakes with frosting and place the decorations on top.
Notes
Remember that you can really come up with any theme to decorate cupcakes with, you just have to get creative!