This whipped mascarpone frosting recipe couldn't be easier to make—it takes just 4 ingredients and 10 minutes! Because this frosting hold it's shape nicely, it's perfect for cakes, cupcakes, as a dip for berries, and plenty more.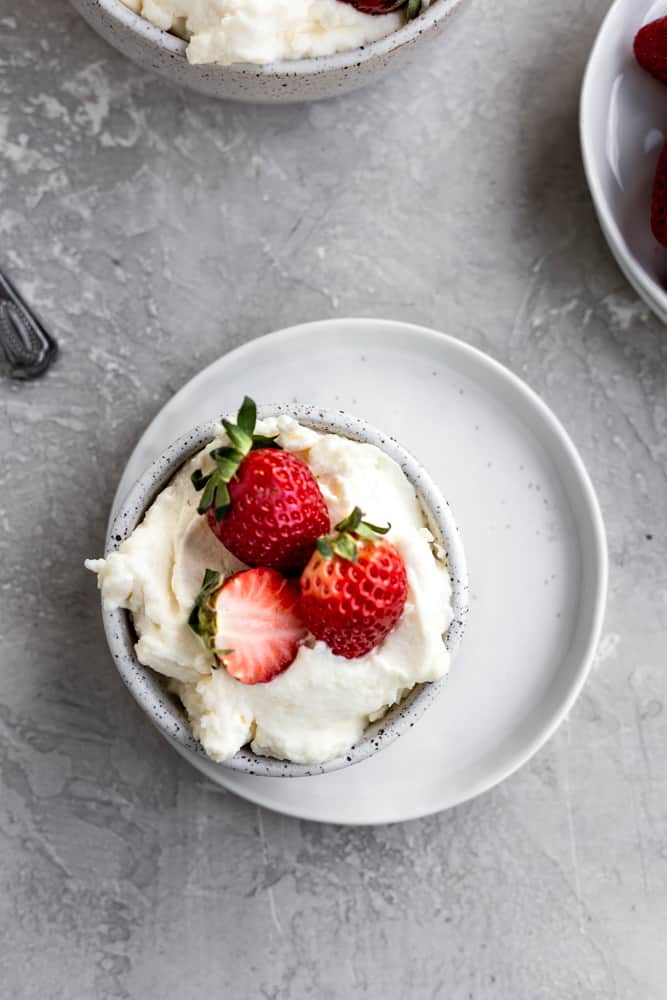 As a pastry school graduate, I am telling you to ditch the store bought frosting! I have so many from scratch frosting recipes that are easy to make, taste way better than store bought, and have WAY less chemicals. It really only takes 5 minutes or less to make most frosting and icing recipes so please, I am begging you, ditch the store bought and go with home made!
This recipe for Mascarpone frosting is definitely not something you can get in stores. Think of it as an elevated whipped cream frosting recipe. It's light and sweet but has an extra richness to it. It also is way more stable than whipped cream which makes a great frosting for cakes or cupcakes!
A mascarpone cake frosting would go especially well slathered on this banana cake, or in between this 6 inch chocolate cake. If you love delicious frostings as much as I do then you NEED (I'm serious) to check out this chocolate frosting for brownies, this coffee buttercream frosting, and this fluffy coconut buttercream frosting!
Why you will love this recipe
You can use this mascarpone icing recipe to pipe decorations and designs onto cake and it will hold it's shape!
It takes only 10 minutes to make.
Using (and saying) Mascarpone will make you feel fancy.
What is Mascarpone anyways?
Mascarpone is a type of Italian Cheese and is made up of only two ingredients- heavy cream and citric acid. The mixture is filtered through cheese cloth to make it silky smooth. Some people think it's the same as American cream cheese but its not!
The difference between Mascarpone cheese and American Cream cheese is that Mascarpone has a more creamy taste because of it's higher fat content. It is also a more yellowish color and has less acidity in it than cream cheese giving it less of that tangy taste.
Ingredients needed
Mascarpone Cheese– I buy mascarpone cheese at Trader Joes, or the BelGioioso brand. They are both kosher!
Heavy whipping cream– you cannot substitute this because you will need to whip it.
Confectioners sugar- adds sweetness and helps to stabilize the frosting
Vanilla extract– you can substitute this with almond extract too.
How to make whipped Mascarpone Frosting
In a medium bowl beat the mascarpone, vanilla, and confectioners sugar together either with a spatula or with a hand or stand mixer with the paddle attachment until combined.
In another bowl, add the heavy cream and whip on high until stiff peaks form, about two minutes. You will need a hand or stand mixer with the whip attachment for this part.
Gently fold the whipped cream into the mascarpone mixture and it is ready for use!
Tip:Do not over mix the heavy cream or the finished frosting. It's easy to do, so just keep an eye out on it. If the frosting is over mixed it can curdle and nobody wants that.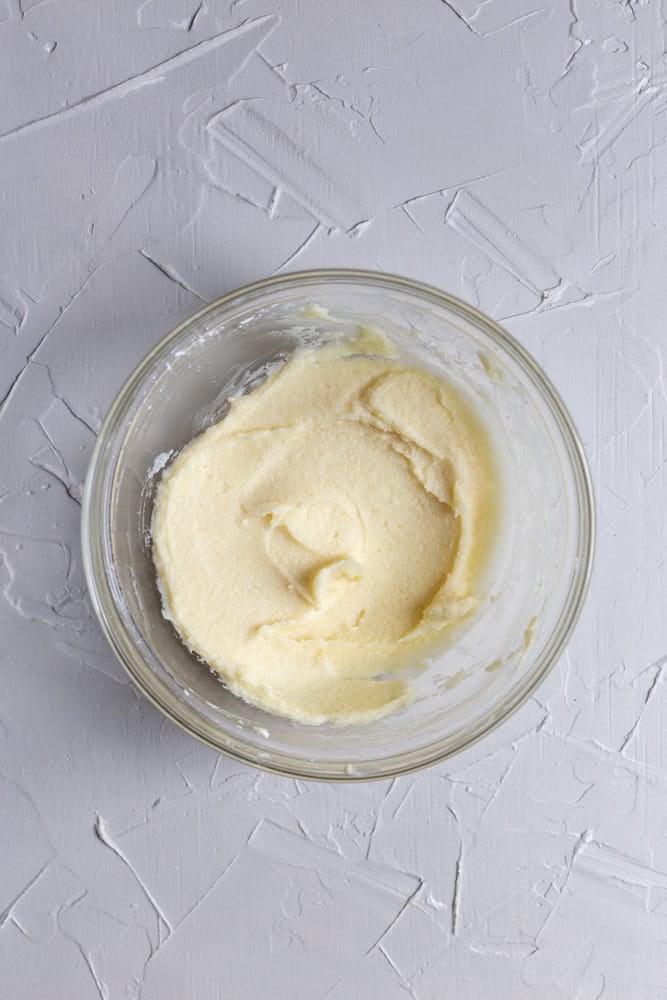 Mascarpone Substitute
Some people say you can substitute mascarpone with American cream cheese, but I think the whole allure of this recipe is using the mascarpone. I wouldn't substitute it unless you absolutely had to.
Making ahead, storing and freezing
Making ahead- This recipe can be made up to 2 days in advance and kept in the fridge. It wont get hard, yet it will still be stabilized. If your are topping a cake with this, I would store the cake in the fridge.
Storing– Store the frosting in a bowl with a piece of plastic directly over the frosting. Keep it in the fridge for 3-5 days.
Freezing- Place the Mascarpone icing in a zip top bag or dump it onto a piece of plastic wrap and wrap well. Freeze for 2 months.
Recipe Tips
Chill the bowl and whip attachment of your mixer in the freezer for 10 minutes before whipping the heavy cream. It will whip faster and hold it's shape better!
Make sure not to over whip the whip cream, otherwise it can curdle. If you accidentally over whip it, you can add a small amount of cold cream (2 tbsp) to the curdled whipped cream and stir with a spatula till it un-curdles.
Recipe FAQ
What is the difference between Mascarpone and American Cream Cheese?
Mascarpone is creamier and has less of a tang from the cream cheese we are used to in America.
Can I substitute anything for the Mascarpone?
To be honest, no. This is a Mascarpone frosting so there really isnt anything to substitute it with. If you only have cream cheese, try this ultimate cream cheese frosting.
Why is my mascarpone icing runny?
Your frosting shouldnt be runny at all but if it is, it could be that the whipping cream or the mascarpone were not cold enough when you combined them. Chill the mixture for 20 minutes, then mix with a spatula. If it's still runny, you may need to add some more sugar.
Variations
Instead of the vanilla extract, try using strawberry extract or an almond extract. I'm sure it would be delicious!
Ways to use this frosting
More Frosting Recipes
10-Minute Whipped Mascarpone Frosting
This whipped mascarpone frosting recipe couldn't be easier to make—it takes just 4 ingredients and 10 minutes! Because this frosting hold it's shape nicely, it's perfect for cakes, cupcakes, as a dip for berries, and plenty more.
Print
Pin
Save
Saved!
Rate
Ingredients
1

8 oz

Mascarpone Cheese

1

tsp

vanilla extract

3/4

cup

confectioners sugar

1

cup

heavy whipping cream

cold
Instructions
In a medium sized bowl combine the 8 oz of mascarpone and the 1 teaspoon vanilla extract. Mix with a spatula until combined and smooth.

Add in the 3/4 confectioners sugar and mix again until combined. Alternatively you can use a hand or stand mixer and beat on medium speed for 1 minute.

In another medium sized bowl, add the 1 cup heavy whipping cream and using a hand or stand mixer with the whip attachment, whip until stiff peaks form. About 2 minutes. Make sure not to over whip as the cream will curdle.

Take the whipped cream and fold it in turns into the mascarpone with a big spatula. Fold and mix until the whipped cream is no longer visible. Store in a bowl in the fridge or use for cake decorating!
Notes
Recipe can be made up to 3 days in advance and stored in the fridge. 
Nutrition
Nutrition Facts
10-Minute Whipped Mascarpone Frosting
Amount Per Serving (1 serving)
Calories 99
Calories from Fat 63
% Daily Value*
Fat 7g11%
Cholesterol 27mg9%
Sodium 8mg0%
Potassium 15mg0%
Carbohydrates 8g3%
Protein 1g2%
Vitamin A 292IU6%
Vitamin C 1mg1%
Calcium 13mg1%
* Percent Daily Values are based on a 2000 calorie diet.