This easy recipe for banana chocolate chip muffins has the perfect balance of banana and chocolate. The batter uses yogurt along with eggs to make them super moist, fluffy, and flavorful. They are made in one bowl and you can enjoy them as breakfast, a snack or bring to a brunch!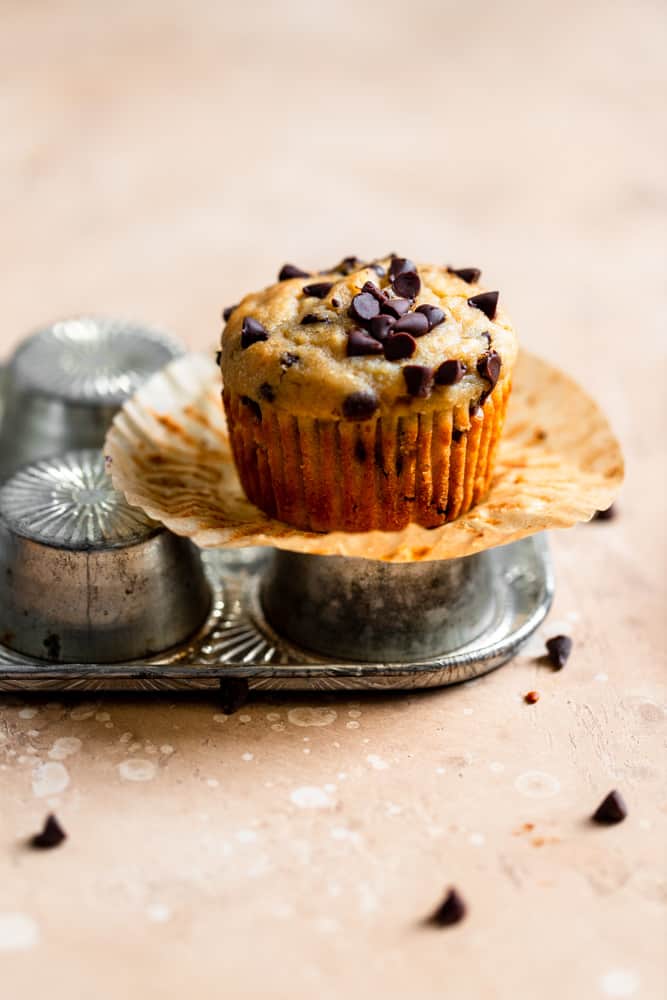 Anytime I bake anything with banana in it, my whole house smells like heaven.
I know bananas get a bad rap when it comes to other flavors – don't even get me started on banana laffy taffys, but when it comes to baking, you CANNOT go wrong with banana!
For example this banana bundt cake will knock your socks off, and if your'e looking for something on the healthier side this healthy banana bread was made for you! Also if you need double the chocolate then these double chocolate banana muffins are SO GOOD.
As a trained pastry chef I really take the time to test my recipes until I am happy with them. I tested the healthier banana bread 7 times before posting it. Cue Monica Geller- SEVEN!!!!
Why You'll Love This Recipe
They are light and fluffy
They are made with yogurt to keep them super moist
You can make them mini if you want!
They are so easy to make, you can make them in just one bowl!
Also if you're like me and always have a ripe banana or two sitting on your counter, well then thats just an excuse to make these!
Ripened, black, and spotty bananas are the best ones to bake with for moist banana bread, cakes or muffins!
These can also be baked in large batches if you have a bunch of bananas you need to get rid of.
Equipment you need
Ingredients You'll Need
Melted Butter – Adds a rich buttery flavor.
Mashed Ripe Bananas – The star of this recipe is mashed bananas. They add a classic texture to the muffins along with a natural sweetness and banana flavor. Make sure your bananas are ripe! Ripe bananas typically have completely brown skin and can be mashed very easily.
Eggs – Eggs are important in any muffin recipe because they help bind all the ingredients together and help add density to the muffin.
Vanilla – Vanilla extract is a flavor that pairs well with banana, chocolate and most any baked treat!
Yogurt – Yogurt is one of the key ingredients to making these muffins super moist. Make sure you use plain full fat yogurt!
Milk – Milk helps thin out the batter while adding a creamy texture.
White Flour – You'll need white flour as the base of the muffin.
Brown Sugar – Brown sugar adds sweetness that balances out the sweetness of the chocolate chips and banana.
Baking Powder & Baking Soda – These two ingredients will help the muffins rise and become fluffy but still dense!
Salt – Salt balances the flavors of all the ingredients.
Chocolate Chips – You'll need your favorite chocolate chips to fold into the batter. Feel free to use mini chocolate chips!
How To Make Banana Chocolate Chip Muffins
Preheat the oven to 425F. Melt the butter in a medium size microwave safe bowl.
Add the wet ingredients: mashed bananas, eggs, vanilla, yogurt, and milk and mix to combine.
In another bowl combine the dry ingredients: flour, brown sugar, baking powder, baking soda and salt.
Fold the wet ingredients into the dry ingredients and mix only until the batter comes together. Do not overmix. Pour the chocolate chips in and lightly fold again until chocolate chips are incorporated throughout.
Line a muffin tin with 18 liners. Fill the muffins ¾ of the way full. Place a few more chocolate chips on top for garnish.
Bake for 8 minutes on 425 then lower to 350 for 12 mins. Baking them at a high temperature at first and then increasing the temperature helps give muffins their dome shape!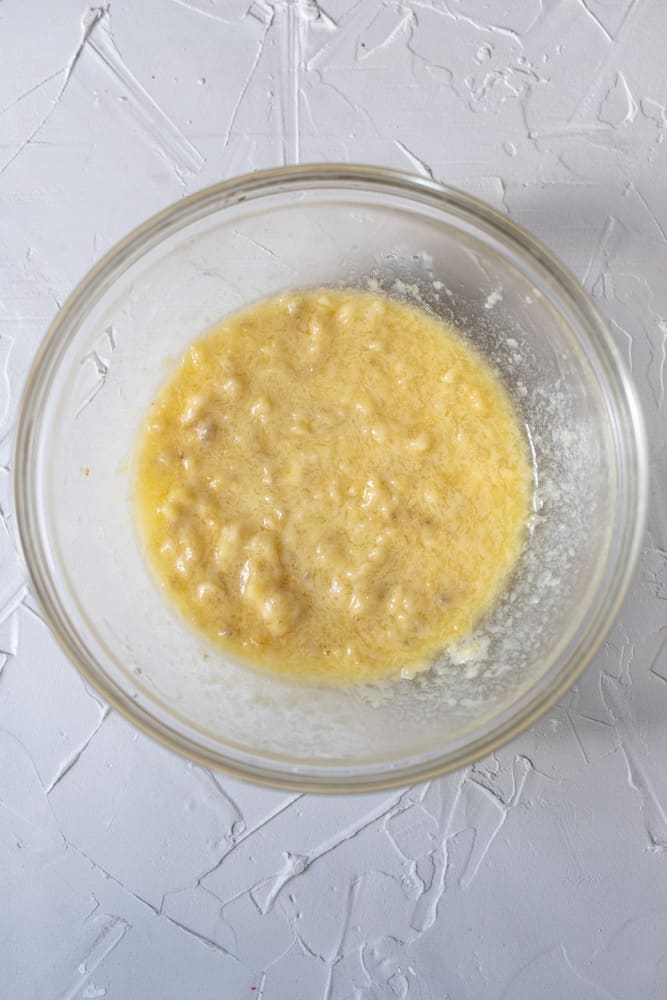 The secret to keeping muffins moist
Use a combination of eggs and yogurt. The yogurt will add a beautiful density and creaminess to the batter and the eggs will help keep them moist and stay together. Do not use low fat yogurt!
Use super ripe bananas! These are the ones that are black and spotty and you *almost* want to throw in the garbage. Dont! Bake with them instead!
Don't over mix! It's important to just fold in the ingredients until the batter is formed. Over mixing will cause the gluten in the starch to become stretchy which will change the texture of the muffins.
Don't bake longer than 25 minutes total. Since muffins are a lot smaller than banana breads or cakes, in most cases they only need under 30 minutes to bake. Any longer than that and they risk becoming more dry.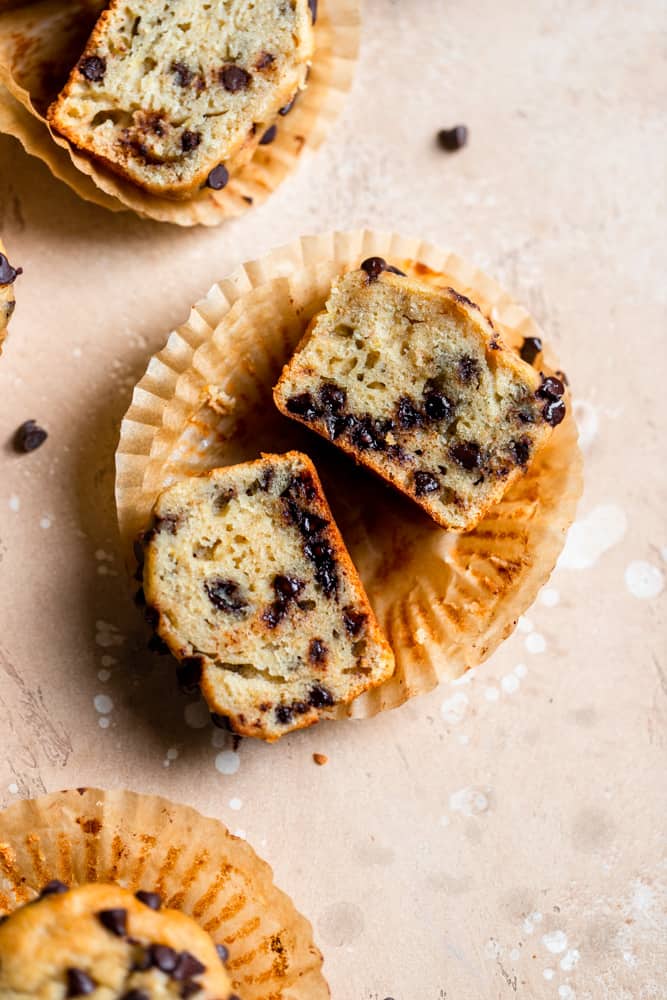 Yield
This recipe makes 18 perfect muffins. You can double the recipe if you need too and you can also make half if you only want a few.
Variations
Add in peanut butter chips for a fun twist!
Add in a handful of fresh or frozen blueberries.
Sprinkle on a spoonful of Streusel Topping before baking.
Use white, dark, or semisweet chocolate chips to fold into the muffin batter.
Add in 1/4 cup of cocoa powder to the dry ingredients for extra chocolate flavor.
Sprinkle in some of your favorite chopped nuts such as pecans or walnuts.
Storing & Freezing
Storing: These muffins can stay on the countertop or in the fridge in a sealed container or bag for 4-5 days.
Freezing: The best way to freeze banana muffins is to wrap them individually in a layer of plastic wrap under a layer of aluminum foil or put them in a freezer safe plastic bag. This will keep them from getting freezer burn and will help preserve the flavor. They can be stored up to 3-4 months in the freezer and only need a couple hours to defrost on the counter!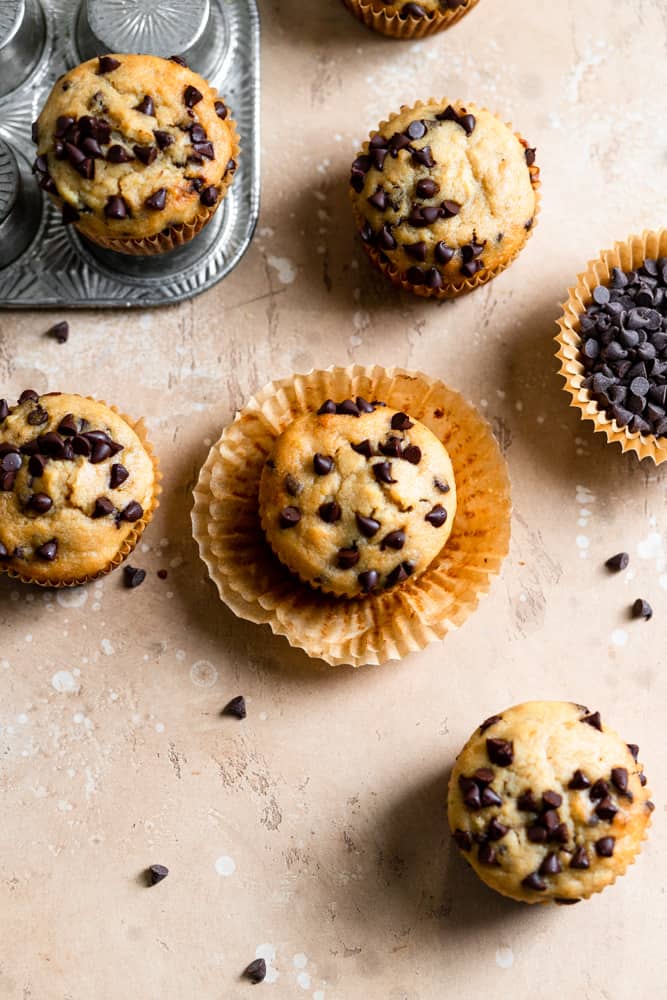 Expert baking tips
Make sure you are correctly measuring your flour. Spoon flour into your measuring cup and then level it off with a knife. Never directly scoop the flour with your measuring cup because it will compact the flour and you will end up using too much. Too much flour will make your muffins dense.
It's just the opposite for brown sugar. You can and should compact your brown sugar into your measuring cup.
Make sure to cool the melted butter before using
When you bake muffins on a higher temperature and then reduce it, it helps to created that rounded top
Mini banana chocolate chip muffins
To make this recipe into mini muffins you will need a mini muffin pan and mini muffin liners. Preheat the oven to 425 and bake for 4 minutes. Lower the oven to 350 and bake for 6-8 more minutes.
This recipe will make about 40 mini muffins. You can halve the recipe if you want less.
FAQ
What makes muffins moist?
The combination of yogurt and eggs make a super moist baked good!
What makes a muffin light and fluffy?
Using room temperature ingredients (yogurt, eggs, butter) will help to create a smooth batter. When mixed the batted traps air that is then released when baked and will create a light and fluffy muffin.
What's the difference between a muffin and a cupcake?
The difference between muffins and cupcakes are that muffins have muffin tops and cupcakes have frosting. Also when baking cupcakes you don't start at a high temperature like you would with muffins.
What kind of chocolate should I use?
I like to use semi sweet but you can use milk chocolate or bittersweet chocolate.
Can I make these gluten free?
You can use gluten free flour in place of the all purpose flour.
Other Banana Recipes You'll Love
Heads up! This post contains affiliate links which means if you buy something off one of the links (treat yoself!!) I make a small commission at no extra cost to you. Thanks for supporting my blog!!


Easy and Moist Banana Chocolate Chip Muffin Recipe
These easy banana chocolate chip muffins are super moist from using ripe bananas and a mixture of yogurt and eggs. They are so easy to make and great as a snack or for breakfast!
Print
Pin
Rate
Ingredients
½

cup

Melted Butter

cooled

2

Bananas

peeled and mashed

2

Eggs

large

2

tsp

Vanilla Extract

¾

cup

Plain Full Fat Yogurt

¼

cup

Milk

2

cups

White Flour

1

cup

Brown Sugar

½

tsp

Baking Powder

¼

tsp

Baking Soda

½

tsp

Kosher Salt

1

cup

Chocolate Chips

mini or regular
Instructions
Preheat oven to 425F.

Melt the 1/2 cup butter in a medium size microwave safe bowl and let cool for 5 minutes. Add the mashed bananas, 2 eggs, 2 tsp vanilla, 3/4 cup yogurt, and 1/4 cup milk and mix to combine.

In another bowl combine the 2 cups flour, 1 cup brown sugar, 1/2 tsp baking powder, 1/4 tsp baking soda and 1/2 tsp salt.

Mix the wet ingredients into the dry ingredients and mix only until the batter comes together. Do not overmix. Pour the chocolate chips in and lightly mix again.

Line a muffin tin with 18 liners. Fill the muffins ¾ of the way full. Place a few more chocolate chips on top for garnish. Bake for 8 minutes on 425 then lower to 350 for 12 mins.
Notes
These muffins freeze really well!
Make sure your flour is spooned into your measuring cup and leveled off otherwise you might be using too much flour.
Never scoop flour with your measuring cup. 
Nutrition
Nutrition Facts
Easy and Moist Banana Chocolate Chip Muffin Recipe
Amount Per Serving (1 muffin)
Calories 197
Calories from Fat 63
% Daily Value*
Fat 7g11%
Cholesterol 28mg9%
Sodium 118mg5%
Potassium 64mg2%
Carbohydrates 30g10%
Protein 3g6%
Vitamin A 178IU4%
Vitamin C 1mg1%
Calcium 53mg5%
Iron 1mg6%
* Percent Daily Values are based on a 2000 calorie diet.