This healthy banana bread recipe has no oil, refined sugar, or butter. It is dairy free, and can even be made vegan! I love this banana bread recipe because it makes a tasty breakfast or nutritious snack.
There is nothing like a good banana bread. The way it makes your house smell when it's baking is just DIVINE. This double chocolate banana cake is one of my favorite recipes to make. I also like to make it into banana muffins!
When I need a healthier version of banana bread though, I like to make this recipe!
Why you should make this healthy banana bread recipe:
This healthy banana bread recipe uses honey instead of sugar and applesauce instead of butter. It is also made with whole wheat flour, all without sacrificing on taste!
This recipe came out of necessity. I had no sugar on hand, but did have bananas that were brown and ready to be used! So I wondered…could I make a delicious banana bread without refined sugar?
Turns out, YES! I used honey instead of sugar and was so pleased (and to be honest surprised) with the light, fluffy loaf that I got.
Applesauce instead of butter
To up the health factor a little more I used applesauce instead of butter. This is a 1-to-1 ratio, so instead of 1 cup butter, use 1 cup applesauce. It doesn't give the bread an apple taste at all, it just makes the loaf a little extra moist (Ok I said moist! Sorry!).
How to make this a vegan banana bread
Since the butter is swapped for applesauce, this bread is halfway to a vegan recipe. Two more quick substitutions can make it completely vegan friendly!
Swap the eggs for flax eggs. You can make a flax egg with 1 tablespoon of flaxseed meal and 3 tablespoons of water. Mix them together, let it thicken (15 minutes in the fridge) and it's ready!
Use agave instead of honey!
Ingredients
Bananas (the browner the sweeter!)
Applesauce
Honey
Eggs
Flour (I use a blend of whole wheat and white!)
Kosher salt
Baking soda
Vanilla
Optional: your favorite mix-ins! Walnuts or chocolate chips would be so yummy.
How to Make Healthy Banana Bread
This is a one-bowl recipe, so it's minimum dish duty with maximum flavor. It's the best of both worlds!
Start with a little prep work. Grease a loaf pan and preheat your oven to 350.
Mash the bananas with a fork. This can be done to your preference. If you like some banana bits in your bread you can leave it a little chunkier, or you can put it in a blender and blend until super smooth.
Next add in the applesauce, honey, and vanilla. Then mix the eggs in one at a time.
Now dry ingredients! Fold in the flour, baking soda, and salt. I use 1 cup whole wheat flour, and 1 1/4 cups all purpose flour. You can make this recipe 100% whole wheat by using 2 cups of whole wheat flour.
Spread the batter into your prepped loaf pan. I like to smooth the top and make it look a little extra pretty by slicing a banana and arranging the slices on top!
Let the batter rest on the counter for 10 minutes before baking. It helps the gluten in the flour chill out a little.
This bread bakes for 55-60 minutes. Check the middle with a toothpick or cake tester to make sure it comes out clean. You can put foil over the top if it's starting to brown but isn't done in the middle!
Let the loaf completely cool off before cutting into it- it needs time to settle.
How to mash up bananas really well:
If you don't mind dirtying up another dish (dishwashers for the win) then you can use a blender to blend the bananas, applesauce, honey, vanilla, and eggs together. This creates a silky smooth batter and a really uniform slice of banana bread. It's my favorite way to make this recipe!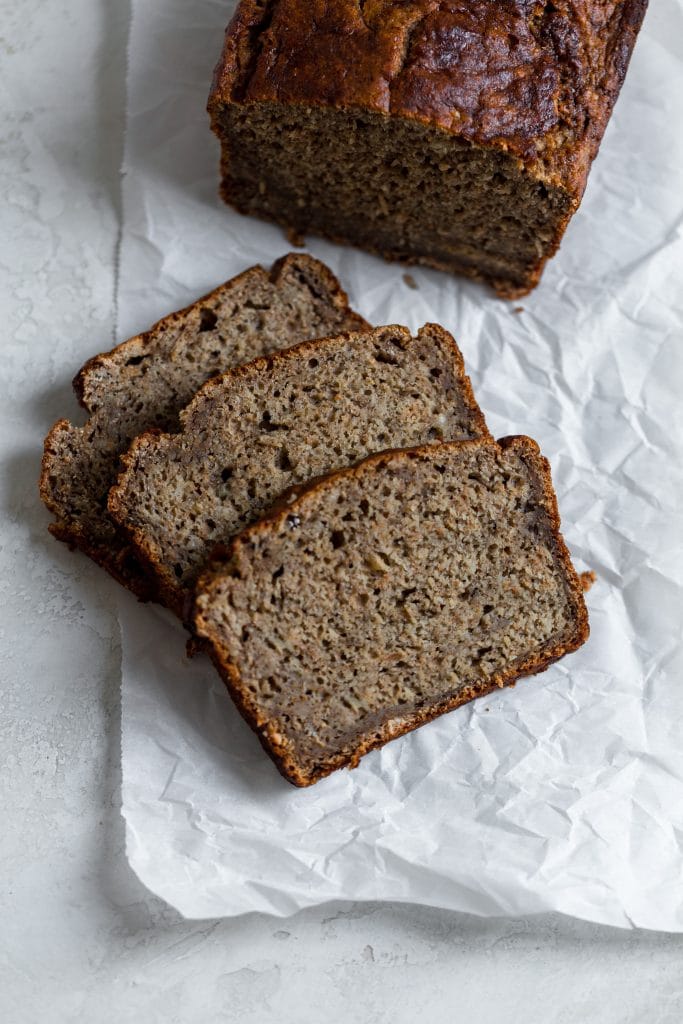 Making these into muffins:
You can definitely make this recipe into muffins. Bake the muffins for 20-22 minutes and cool completely before eating.
Freezing and Storing:
This recipe freezes really well. Wrap it well in foil or plastic wrap and freeze for up to 3 months. Store the bread in the loaf pan covered well with tin foil and leave on the counter for 3 days, or in the fridge for up to 5 days.
Tips on making this healthy banana bread recipe:
Use very overripe bananas. The darker and more spotted they are the sweeter they will be.
This bread needs about 55-60 minutes of bake time. Don't let it fool you- it can look like its done after 40 minutes but then when you slice into it, it will be gooey. If you are unsure just let it bake for a few extra minutes. Because it is so moist it is hard to over-bake!
Test it with a long skewer, if it comes out clean it is done.
Let it cool completely before cutting into it. If you cut it too soon it will again be too gooey.
If the top is getting too dark after 50 minutes, cover it lightly with foil and let it bake another 5- 10 minutes.
Add some goodies into it- chocolate chips or nuts would work really well!
You can substitute 100% whole wheat flour for this recipe by using 2 cups of whole wheat and leaving out the whole purpose flour
Other ways to use bananas
I just love using bananas in my sweet treats! You can make them into a delicious banana bundt cake, a banana cake, or even into banana popsicles!
Healthy Banana Bread
A light and fluffy one-bowl banana bread that's free from both refined sugar AND butter! I love this Healthy Banana Bread for a tasty breakfast or nutritious snack.
Print
Pin
Save
Saved!
Rate
Ingredients
4-5

bananas

overrripe, use one for optional garnish

1

cup

applesauce

1/3

cup

honey

1

tablespoon

vanilla

2

eggs

1

cup

whole wheat flour

1 1/4

cup

all-purpose flour

1

teaspoon

baking soda

1

teaspoon

Kosher salt
Instructions
Preheat oven to 350° Fahrenheit and grease a loaf pan. Set aside.

In a medium mixing bowl, mash the bananas with a fork until mostly smooth and only small lumps remain. Add in the honey, applesauce, vanilla, and eggs one at a time. Mix until combined well. Alternatively you can blend all these ingredients in a blender until smooth.

Add the flours, baking soda, salt, and any mix ins, and mix just until combined. Do not overmix or the batter will be gummy.

Pour the batter into a greased loaf pan and top with the optional sliced banana. Let rest on the counter for 10 mins. Bake for 50-60 mins. The bread is done when the edges pull away from the pan and a toothpick inserted comes out clean.

Make sure to let the bread cool completely before cutting, or else it can be too mushy.
Notes
To make this recipe 100% whole wheat, use 2 cups of whole wheat flour and leave out the all purpose flour. 
Don't forget to let the batter rest on the counter before baking. This well help the gluten in the recipe to relax a little resulting in a fluffier bread!
Do not over-mix the batter. Mix until just combined.
Make sure this cools completely before slicing!
Nutrition
Nutrition Facts
Healthy Banana Bread
Amount Per Serving (1 slice)
Calories 251
Calories from Fat 18
% Daily Value*
Fat 2g3%
Cholesterol 41mg14%
Sodium 446mg19%
Potassium 332mg9%
Carbohydrates 55g18%
Protein 6g12%
Vitamin A 106IU2%
Vitamin C 5mg6%
Calcium 17mg2%
Iron 2mg11%
* Percent Daily Values are based on a 2000 calorie diet.