These oatmeal chocolate chip cookies are so super chewy on the inside and crisp on the outside! They are easily made with brown butter for a deep nutty flavor and topped with decadent dark chocolate chips. With just one bite you will be hooked on these cookies!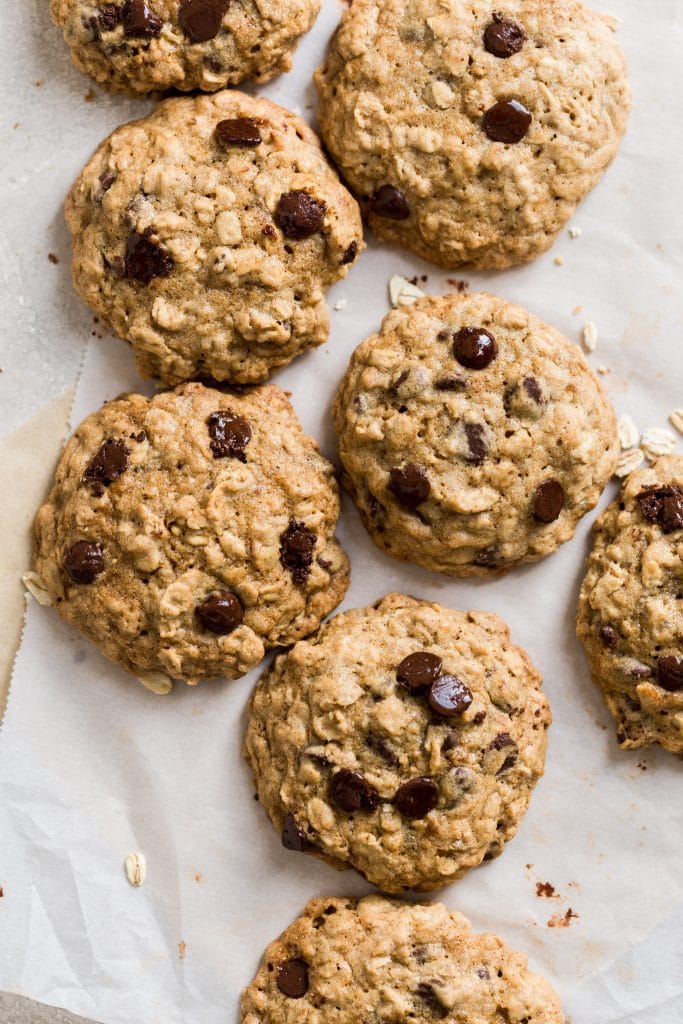 I'm not a raisin hater, really. I like raisinets at the movies poured into my popcorn, but in my cookies? NO THANK YOU.
I do also have a thing for making rasin-less oatmeal cookies though, like these chewy white chocolate oatmeal cookies or these cherry pistachio oatmeal cookies.
What can I say! I like a good, thick but chewy oatmeal cookie. This time I added in loads of chocolate chips and cinnamon for a seriously decadent cookie. As a trained pastry chef I love coming up with new homemade cookie recipes, and these are one of my favorites!
Why you should make this recipe
These cookies are crispy on the outside and chewy on the inside!
They are made with brown butter for a deeper flavor.
They are the perfect afternoon snack!
Ingredients needed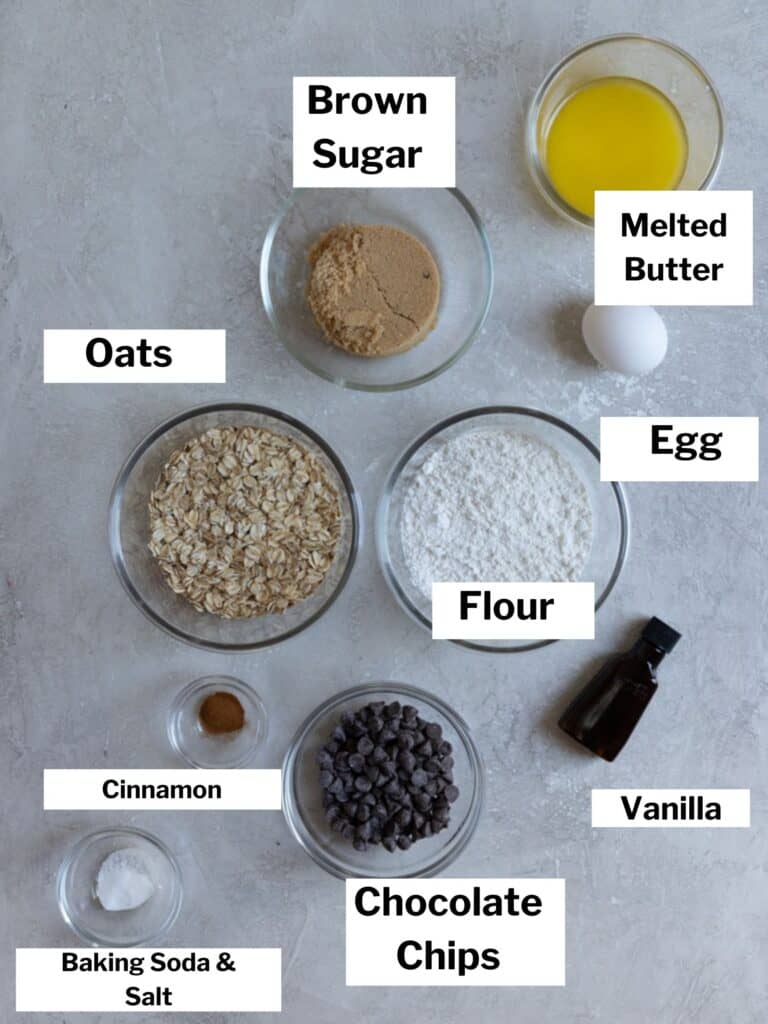 Unsalted butter– For a deeper flavor we brown the butter but you can skip this step and just melt it instead.
Oatmeal– I used old fashioned oats and not quick cookie oats.
chocolate chips– for this recipe we use semi sweet chocolate but you can use anything you have on hand
brown sugar – For sweetness
eggs– for binding
vanilla– for flavor
all purpose flour– for substance
cinnamon– for flavor
baking soda– for leavening
kosher salt – for flavor.
How to make chewy oatmeal chocolate chip cookies
Step 1- First brown or melt your butter. You should totally brown it though. Let it cool for a couple minutes then add it to a bowl along with brown sugar, eggs, and vanilla. Whisk until combined.
Step 2 – Next add in all the dry ingredients- oats, flour, cinnamon, baking soda, and salt. Leave out a handful of chocolate chips then add the rest to the party as well. Mix together with a wooden spoon or spatula until a thick but uniform cookie dough forms.
Step 3- Shape into dough balls or using an ice cream or cookie scoop, scoop dough onto a cookie sheet and freeze for 20 minutes.
Step 4 Place 5 cookies on a parchment paper lined cookie sheet at a time and press more chocolate chips on each cookie so they peek out when baked.
Step 5 Bake at 350° F for 18- 20 mins.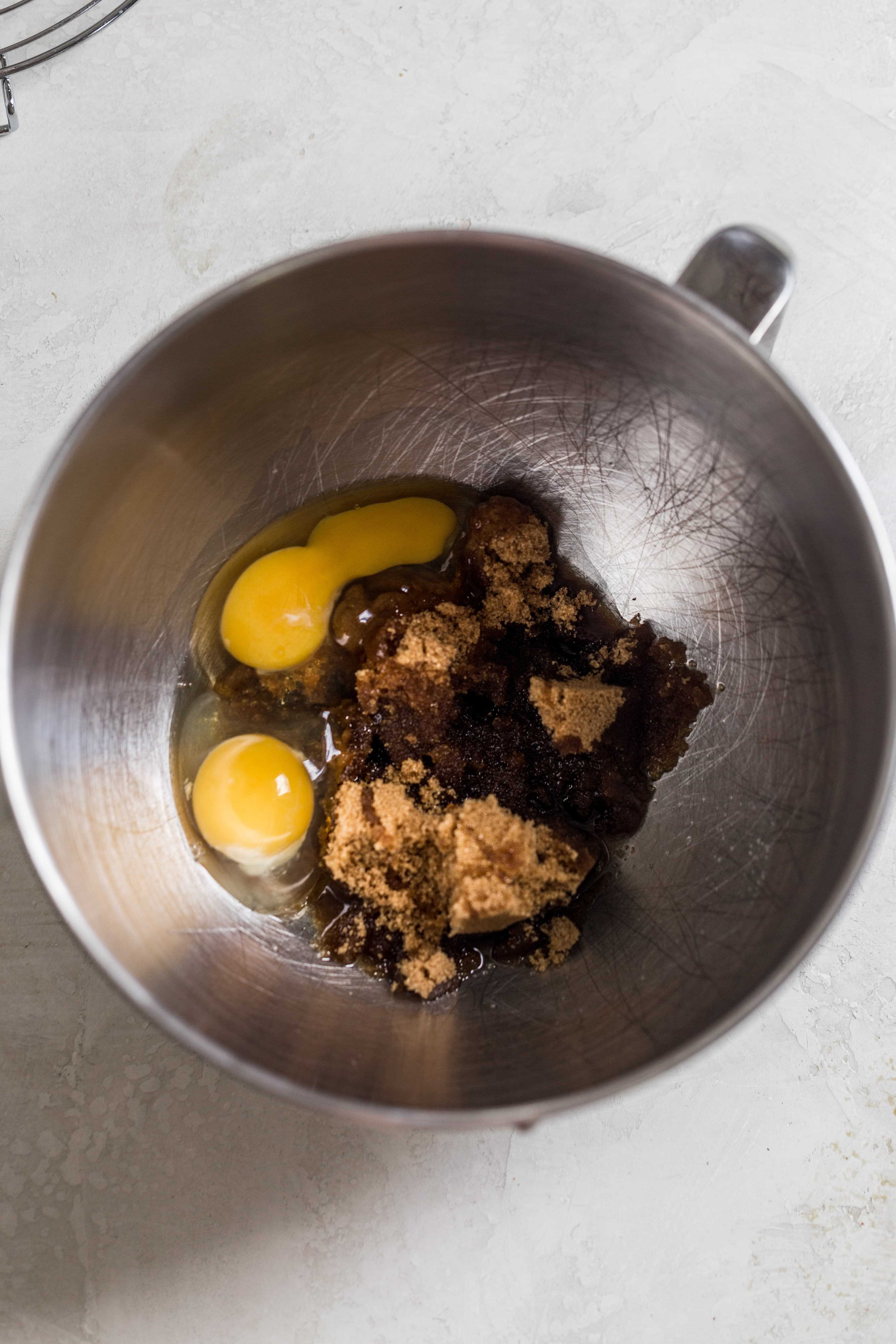 How to make brown butter
Brown butter is super easy to make and really elevates any kind of baked good that calls for melted butter. This recipe uses brown butter to make the cookies extra chewy. If you dont want to take the extra step you dont have to but I recommend you do!
All you have to do is slowly melt down and stir unsalted butter until it foams up and separates between the milk solids and the butter fat.
You'll see little white specks sink to the bottom of your pan.
Those are the milk solids. When they turn a golden brown color and smell super nutty and fragrant it's time to take the pan off the heat.
VOILA you just made brown butter. You should feel super fancy. Now just use the brown butter as you would melted butter except expect it to be 10x better.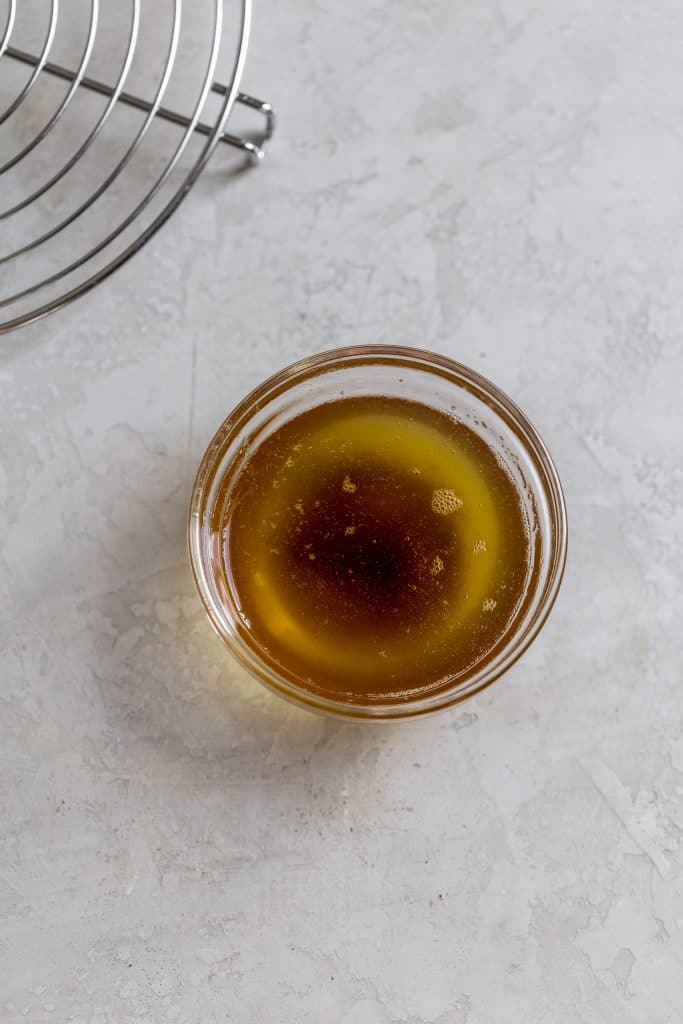 The best kind of oats to use
I recommend using old fashioned oats for this recipe. Quick cooking oats are the same as old fashioned oats it's that they are ground up so they cook faster. I am going to say that yes you can substitute quick cooking oats if that's all you have but check on the cookies 2 minutes earlier than the recipe calls for.
Old fashioned oats makes these cookie super chewy so if you use quick cook oats they may be on the less chewy and more soft side.
Yield
This recipe makes 14 chewy cookies.
Gluten Free Cookies
While these cookies are not gluten free because they have flour in them you can check out Molly's recipe for oat flour cookies that are!
Freezing cookies
For cookie dough: What I like to do is freeze cookie dough balls on a parchment paper lined cookie sheet for an hour. Then I transfer them into a Ziploc freezer safe bag and store them for up to 3 months.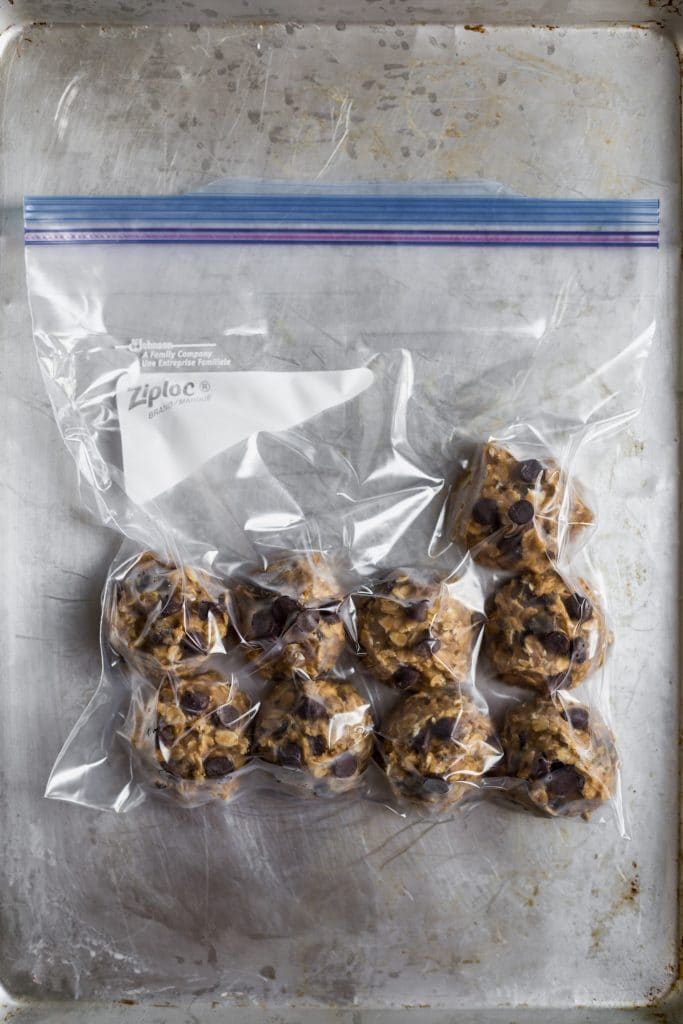 If/when you have people over or you just need a cookie for yourself just preheat the oven and bake as needed!
For baked cookies: Same method as above just put them straight into a freezer-safe bag. Freeze for up to 3 months.
Storing the cookies:
Store the cookie sin an airtight container or a zip top bag on the counter for up to 5 days.
Recipe tips
Make sure to measure your dry ingredients correctly otherwise you can use too much flour and come out with a dry cookies. Use a kitchen scale or spoon the flour into a measuring cup and level it off.
Chill the cookies– follow the directions to chill the cookies otherwise they might spread too much.
Bake the cookies on parchment paper on a sheet tray for easy cleanup
Recipe FAQ
What makes these cookies chewy? Chilling the cookies and using brown sugar will make these cookies more on the chewy side.
Why are my cookies flat? Your cookies are flat either because your baking soda is bad or the oven is too hot. When the oven is too hot, the butter in your cookie melts faster than the other ingredients leaving a flat cookie.
Are oatmeal cookies healthier than chocolate chip cookies? Oatmeal cookies definitely have more nutrition than a regular chocolate chip cookie but I wouldnt say they are necessarily "healthy:
For more recipes using oats: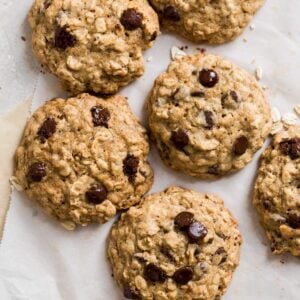 Easy & Chewy Oatmeal Chocolate Chip Cookies
These oatmeal chocolate chip cookies are so super chewy on the inside and crisp on the outside! They are easily made with brown butter for a deep nutty flavor and topped with decadent dark chocolate chips.
Print
Pin
Save
Saved!
Rate
Ingredients
1/2

cup

butter

browned or melted

1

cup

brown sugar

2

eggs

large

1

tsp

vanilla extract

1

1/2 cup

old fashioned oats

1

cup

all-purpose flour

1/2

tsp

cinnamon

1/2

tsp

baking soda

1/2

tsp

kosher salt

1

cup

chocolate chips

semi or bittersweet
Instructions
Melt or brown the 1/2 cup butter. To melt- microwave in 30 second increments in a microwavable safe bowl.

To brown the butter, start by cutting the cold butter into small pieces. Add the butter to a sauce pan and melt over low heat. When the butter starts to foam grab a whisk and start stirring. This will help your butter from melting too fast and possibly burning the milk solids. Continue stirring and watch as the white milk solids separate and sink to the bottom of the pan. When they turn a golden brown color and it smells super nutty, take the pan off the heat. Cool. If the milk solids turn black, strain them and use the rest of the melted butter for the recipe.

Add the cooled butter to a large size mixing bowl along with the brown sugar, eggs, and vanilla extract. Whisk until a paste forms.

Add the oats, flour, baking soda, cinnamon, salt, and chocolate leaving behind one handful of the chocolate chips. Mix the batter with a spatula just until it comes together. It will be thick but should be uniform.

Preheat the oven now to 350°F. Scoop out the dough using a cookie scoop, ice cream scoop, or tablespoon and place on a cookie sheet. Press left over chocolate chips onto each dough ball. Don't be afraid to press them in! Freeze for 20 minutes.

Line a cookie sheet or sheet tray with parchment paper and bake 5-6 cookies per sheet leaving at least an inch border in between each cookie. These dont spread too much but they spead a little!

Bake for 18-20 minutes. Until crispy on the edges.
Notes
Substitute quick cook oats for the old fashioned oats but check on the cookies after 16 minutes. They may be softer and less chewy.
Use semi or bittersweet chocolate chips or chopped chocolate.
Nutrition
Nutrition Facts
Easy & Chewy Oatmeal Chocolate Chip Cookies
Amount Per Serving (1 g)
Calories 225
Calories from Fat 90
% Daily Value*
Fat 10g15%
Cholesterol 43mg14%
Sodium 208mg9%
Potassium 39mg1%
Carbohydrates 31g10%
Protein 2g4%
Vitamin A 265IU5%
Vitamin C 1mg1%
Calcium 35mg4%
Iron 1mg6%
* Percent Daily Values are based on a 2000 calorie diet.