Strawberry brownies are thick chocolatey brownies that are made with freeze dried strawberries and topped with a layer of chocolate ganache. This recipe is perfect for Valentine's day or anytime you want a pretty and delicious treat!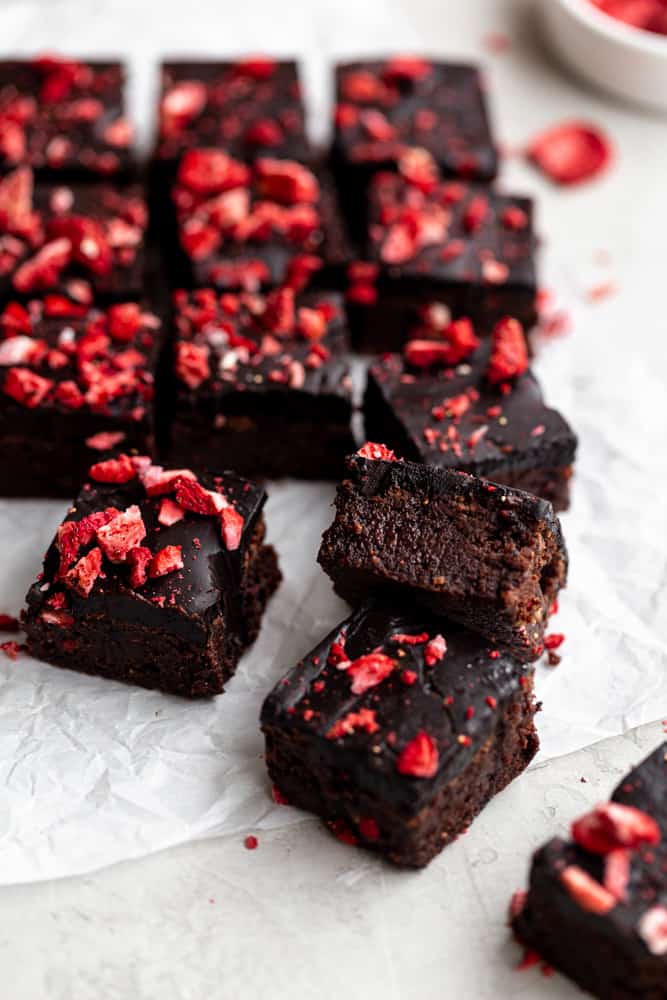 I don't know about you but when I hear strawberry brownies- I think CHOCOLATE. When I was developing this recipe, I noticed that most of the strawberry brownie recipes out there didn't have any chocolate in them at all! They are really more like blondies.
As a trained pastry chef I was set out on a mission to solve this problem! I went ahead and created these super fudgy brownies for ya! They are fudgy like red velvet brownies and delicious just like my one bowl brownies – BUT they are even more decadent because of that extra layer of ganache spread on top!
If you dont want to make ganache, you could also top these brownies with a brownie frosting that takes just 5 minutes to make!
Where does the strawberry flavor come from though? Just keep reading!
Ingredients you need
Freeze dried strawberries– These are my secret ingredient! I didn't want to use fresh strawberries because they add to much moisture and the texture wouldn't be right. Freeze dried is perfect because they are just added to the dry ingredients!
I buy them at Trader Joes or at Target! They are super easy to find.
All the rest of the ingredients are fairly standard like flour, sugar, eggs, vanilla, and cocoa.
How to make the recipe
Measure out the freeze dried strawberries and grind them up in a spice grinder, mini blender, or food processor.
In a microwavable safe bowl, melt the butter and chocolate until completely melted. Add in the sugar, eggs, and vanilla and mix on medium speed or with a spatula until combined well.
Add in the freeze dried strawberries along with the rest of the dry ingredients. Mix well. Bake for 28-30 mins depending on if you like fudgy or cakey brownies.
Make the ganache. Measure out 6 ounces of chocolate- about 1 cup, and place it in a small bowl. Next, measure out 3 oz. of heavy cream or half n half in a microwavable safe measuring cup and microwave until it's hot but not bubbling, about 45 seconds. Pour the cream over the chocolate and let it sit 2 minutes- do not stir! After 2 minutes stir with a spatula until chocolate is melted
Slather the ganache on the brownies, then refrigerate to set for 10 minutes.
Top with extra freeze dried strawberries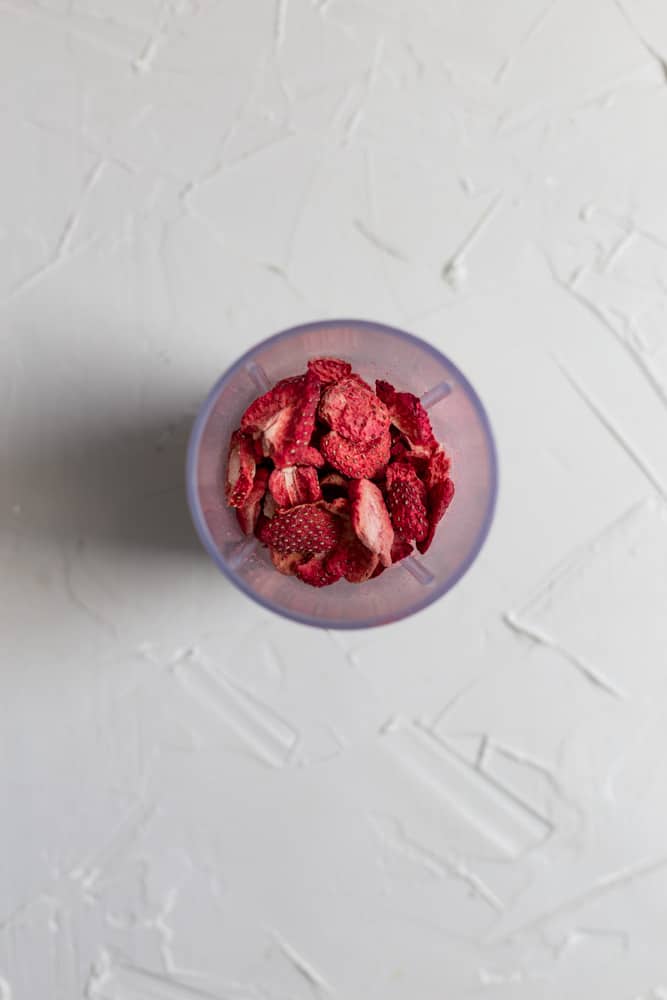 Tips on making the ganache
First things first, when heating the cream, just heat it until its hot but not boiling. That's about 45 seconds in the microwave. If it's steamy but not bubbling you're good. If it gets too hot it can curdle. You can heat it on the stove too! I like to do it in a measuring cup to cut down on dishes.
Secondly when you pour the cream over the chocolate, leave it alone! Don't touch it. Let the cream melt down the chocolate for a minute or 2, and then stir. It's also best to use a shallow bowl for this to allow the cream to get into all the chocolate nooks and crannies.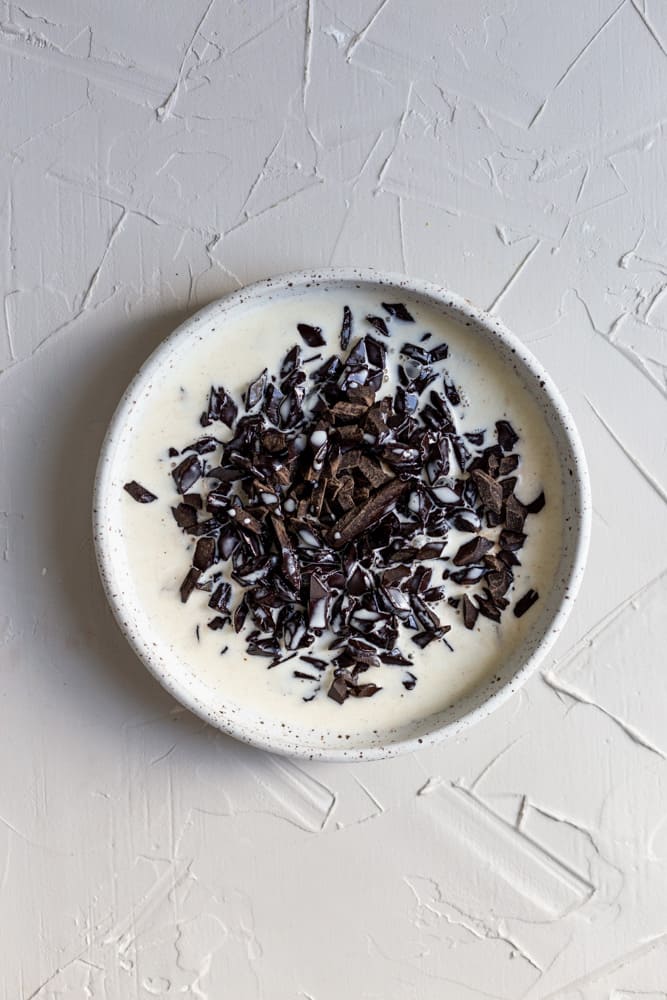 Also, use a spatula when mixing the chocolate and cream. Don't use a whisk because a whisk will create bubbles, and you don't want that.
We're using a 2:1 ratio here of chocolate to cream which makes a more fudge like ganache. I tried this as a 1:1 ratio (equal parts chocolate and cream) but it was too runny and never set up in the fridge.
Storing brownies
These are best stored covered in an airtight container at room temperature. They will last up to 5 days!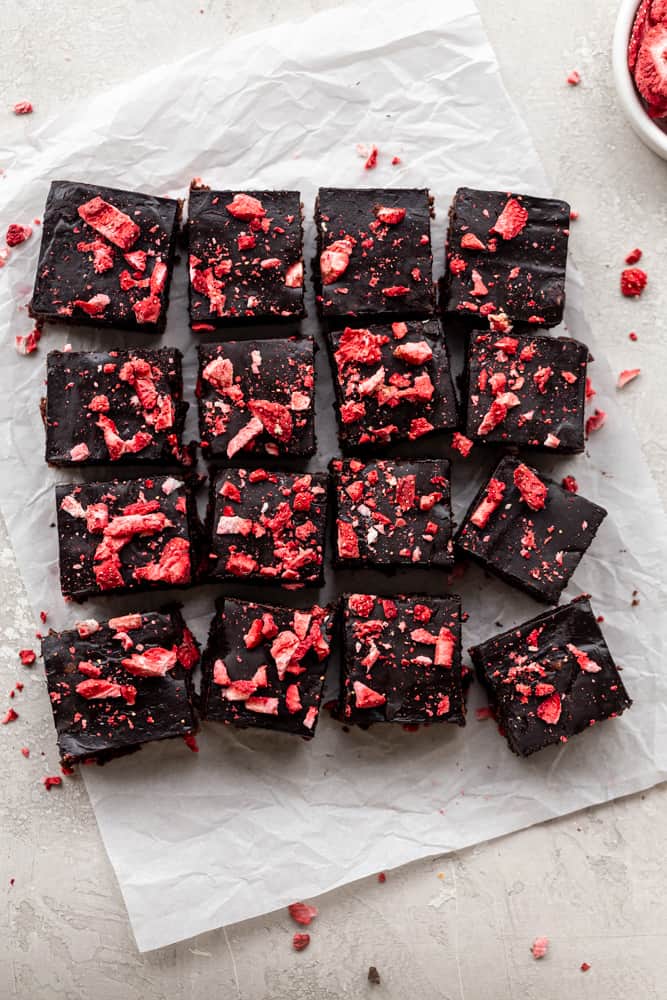 If you want to freeze these, then freeze them without the strawberries on top. You can still make the ganache though!
Love strawberry desserts? Try these!
Want more brownies too tho? MUST make these!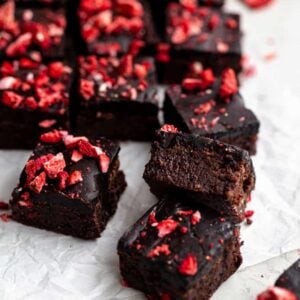 Strawberry Brownies Recipe
Strawberry brownies are the perfect decadent and chocolatey treat for valentines day or any day!
Print
Pin
Rate
Ingredients
For the Brownies
1 1/2

cup

freeze dried strawberries

plus extra for garnish

1/2

cup

butter

6

oz

semi sweet chocolate

about a heaping 1 cup

1

cup

granulated sugar

3

eggs

large

2/3 rd

cup

all purpose flour

2

tbsp

unsweetened cocoa

1/2

tsp

kosher salt
For the Ganache
6

oz

semi sweet chocolate

about 1 heaping cup

3

oz

cream

a little more than 1/3rd cup
Instructions
Make the brownies
Preheat the oven to 350° F and line a 8×8 pan with parchment paper or spray with baking spray.

Using a spice grinder, small blender, or food processor, grind the 1 1/2 cups freeze dried strawberries until they are pulverized and almost powder like. It's ok if not all pieces are the same size. Set aside.

In a medium size microwavable safe bowl, melt the 1/2 cup butter and 6 oz chocolate together, 30 seconds at a time until fully melted. Add in the 1 cup sugar, 3 eggs, and 1 tsp vanilla. Mix on low to medium speed with a hand mixer or whisk by hand.

Add in the freeze dried strawberries, 2/3rd cup flour, 2 tbsp cocoa, and 1/2 tsp salt. Mix until combined. Pour the batter into the prepared pan and bake for 28-30 mins until the edges of the pan start to break away. Cool.
Make the Ganache
Add the 6 oz of chocolate to a heat safe bowl, preferably shallow. Heat the 3 oz of cream in the microwave or over the stove top just until the edges start to simmer. Do not bring to a full boil or the cream will curdle. Pour the cream over the ganache and let it sit for 2 mins. Stir with a spatula until smooth. When the brownies are cool, spread the ganache over the brownies. Chill for 10 mins in the fridge and garnish with more freeze dried strawberries.
Notes
When measuring the cream for the ganache make sure you use a liquid measuring cup and not a dry measuring cup. 
You can leave the ganache off if you don't want to take the extra steps!
Nutrition
Nutrition Facts
Strawberry Brownies Recipe
Amount Per Serving (1 piece)
Calories 359
Calories from Fat 153
% Daily Value*
Fat 17g26%
Cholesterol 55mg18%
Sodium 140mg6%
Potassium 447mg13%
Carbohydrates 48g16%
Protein 3g6%
Vitamin A 311IU6%
Vitamin C 271mg328%
Calcium 29mg3%
Iron 7mg39%
* Percent Daily Values are based on a 2000 calorie diet.