Chantilly cake is a classic vanilla layer cake that is filled with berries and jam, and topped with a light and fluffy sweet cream and mascarpone topping. Fresh assorted berries fill and top this gorgeous layer cake made with 3 stacked 6"round cakes. It's the perfect dessert for spring and summer!
Make no mistake, my husband ate this entire Chantilly cake by himself and he was NOT mad about it. I just had to make it after hearing all about the Whole Foods Bakery version and how amazing it is. Considering the cake isn't kosher (boo!) I decided to make my own version. It did not disappoint.
This impressive yet easy dessert is composed of fluffy vanilla layer cake that is slathered with strawberry jam. It's then topped with a mascarpone and whipped cream frosting, plus a ton of fresh berries like strawberries, blackberries, blueberries, and raspberries.
When I was in pastry school one of my favorite things to make were layer cakes. No surprise here that they are still at the top of my list- now I have a whole layer cake recipe collection! This marble layer cake is so easy yet looks fancy, and this classic vanilla cake in a bundt pan has 5 star reviews!
This berry filled vanilla layer cake is made in 3 separate 6″ layers which is the perfect size to bring to a bbq, potluck, or celebrate a birthday. If you dont want to slather it Mascarpone frosting, you can also use this Chantilly Cream to fill and frost it!
What is a chantilly cake?
Chantilly cake can mean different things to different people and places. The cake in this recipe is a vanilla layer cake with a light whipped frosting that is filled with berries. In other places like Hawaii, it is actually a chocolate cake!
What does Chantilly Mean?
So glad you asked.
The word Chantilly is just a fancy word for sweet whipped cream that is made with heavy cream, confectioners sugar, and vanilla extract. The name comes from a place called Chantilly, France. I KNOW, so fancy! When we were learning ( and being tested on) different creams in Pastry school this was the only one I could remember for some reason.
Some Chantilly cakes use classic Chantilly cream to fill and frost their cakes but to to give the cake more structure and make the topping more stable we added mascarpone cheese to the recipe.
Ingredients you need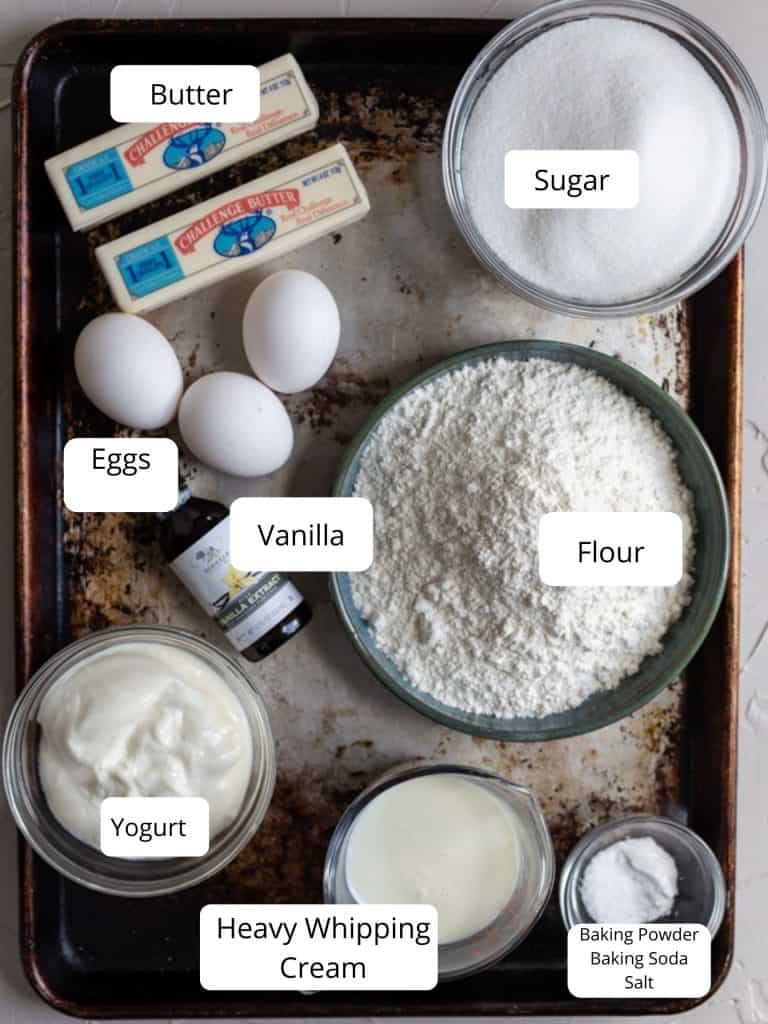 For the cake
unsalted butter– softened to room temperature. If you forget to take your butter out early I have a whole post on how to soften butter quickly.
sugar– helps sweeten and structure the cake.
eggs– binds and builds structure.
flour– I use all purpose flour for this recipe.
baking powder– helps the cake rise.
kosher salt– not the same as table salt! It helps with flavor.
baking soda– another leavening agent.
vanilla extract– helps with flavor.
yogurt– keeps the cake moist!
milk– assists the yogurt.
For the Frosting
Mascarpone cheese– like we talked about above, mascarpone is an Italian cream cheese that helps to stabilize the cream frosting.
Whipping cream– You need heay whipping cream for this recipe, other milk wont work.
Fresh Berries– Use any berries that you want!
Jam– Use any berry jam you want here too. I used strawberry.
Best cake pans to use
My favorite pans to use are Wilton! Here are the 6″ ones. Here are the 8″ ones.
How to make A Chantilly Cake
First make the cake– Cream together butter and sugar, then add in the eggs one at a time. A stand or hand mixer here is handy! Combine the dry ingredients in one bowl. Combine the wet ingredients in a measuring cup. Alternate between adding in the dry and the wet ingredients. Fill up either 3, 6″ round cake pans or 2 8″ round cake pans and bake for 30-35 minutes on 350°F.
Make the Mascarpone topping- Combine the mascarpone cheese with vanilla and confectioners sugar in a bowl and mix just until combined. In a stand or hand mixer, whip the heavy cream until stiff peaks form about 2 minutes on high speed. Be careful not to over whip or it can curdle. Fold the whipped cream into the mascarpone and you're done!
Assembling the cake– Take one layer of cake and even out the top with a long serrated knife or cake leveler. Slather strawberry jam all over the top leaving 1″ off the sides. Layer on the cream filling and top with berries.
Repeat the process of jam, mascarpone chantilly cream, and berries until you get to the top layer.
Decorating the cake
Theres two ways you can do this. You can either frost the entire cake with the frosting and decorate the top with berries. Or you can leave it as a naked cake and decorate the way I did here, without covering the entire cake. All you have to do is top the cake with some dollops of cream and throw on some berries!
I love this naked cake look because it takes a lot of the stress away from decorating, takes less time, and looks rustically pretty!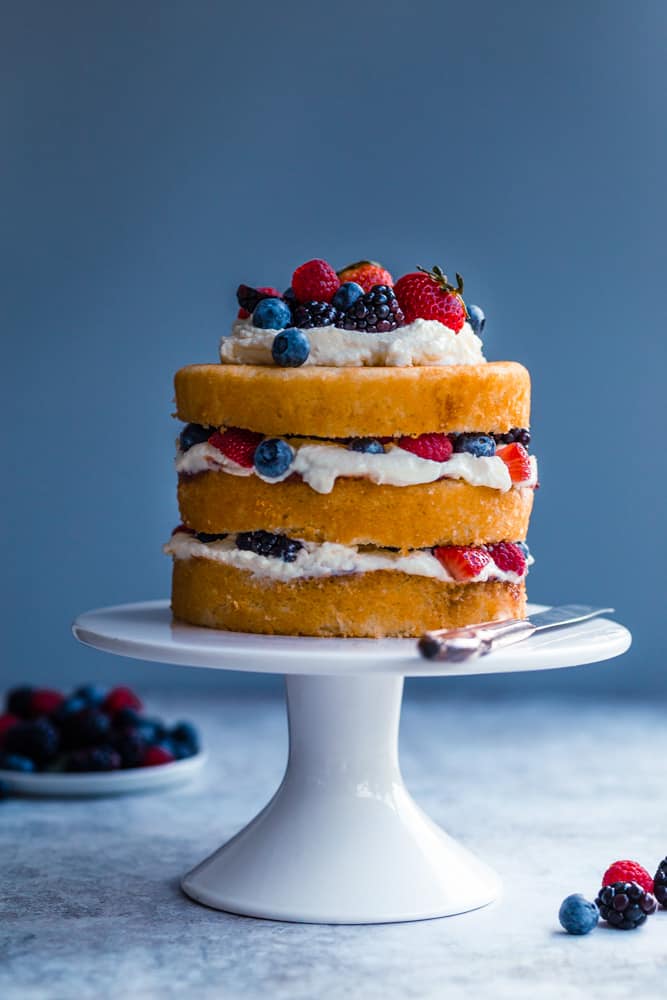 Storing and freezing
Storing- Since this recipe is made from whipped cream and fresh fruit, you need to store it in the fridge. It can lose its lift and deflate a little if it's left at room temperature. Store it in the fridge for up to 5 days.
Freezing- I do not recommend freezing the fully assembled cake. If you want to make this ahead, make the individual cakes then tightly wrap them in plastic wrap and freeze them. Make the frosting and assemble the cake on the day that you need it.
Making the cake ahead
You can split up the steps here so you dont have to do it all in one day. Make the cake on day 1 and wrap in plastic wrap and leave it on your counter. On day 2 make the frosting, then fill and assemble the cake!
Recipe tips
Make sure to keep the heavy cream cold before whipping it. If the cream is warm or at room temperature it wont whip as well.
Put your mixing bowl in the freezer for 10 minutes before whipping the cream. This will keep it super cold and stable!
You'll know you have stiff peaks with whipped cream when you stop the mixer, turn the whip over and the cream stands up on its own without completely drooping over.
Make sure to accurately measure your flour with a kitchen scale or spoon flour into your measuring cup and then level it off to ensure you use the correct amount.
Recipe FAQ
Does the cake need to be refrigerated? Yes the cake must be refrigerated because the cake has fresh berries and a whipped topping.
Can I make this into an 8″ cake? Yes definitely but you will only have enough batter for two layers. Consider doubling the cake batter if you want the cake to be taller.
Can I frost the whole cake? Yes! I just like the naked cake look sometimes so I left it off the sides.
More delicious cake recipes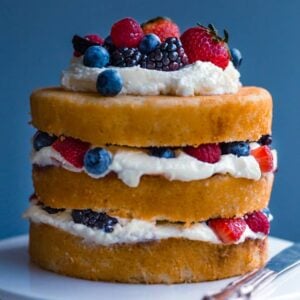 Moist Berry-Filled Chantilly Cake (Vanilla Layer Cake)
Chantilly cake is a classic vanilla layer cake that is filled with berries and jam, and topped with a light and fluffy sweet cream and mascarpone topping. Fresh assorted berries fill and top this gorgeous layer cake made with 3 stacked 6"round cakes. It's the perfect dessert for spring and summer!
Print
Pin
Save
Saved!
Rate
Ingredients
For the cake
1

cup

unsalted butter

softened

1 1/2

cups

granulated sugar

3

eggs

large

2

cups

all-purpose flour

1

tsp

baking powder

1/2

tsp

kosher salt

1/4

tsp

baking soda

1

tsp

vanilla extract

1/2

cup

yogurt

whole milk

3/4

cup

milk

whole
For the Frosting
8

oz

mascarpone cheese

softened

1

tsp

vanilla extract

3/4

cup

confectioners sugar

1

cup

heavy whipping cream
Other
1/2

cup

strawberry jam

or other jam

Assorted berries

as much as you want!
Instructions
Make the cake
Preheat the oven to 350° F and spray either 3 6" round cake pans or 2 8" round cake pans with baking spray and set aside.

In a bowl of a hand or stand mixer fitted with the paddle attachment, cream the 1 cup butter with the 1 1/2 cups sugar until a paste forms. About 1 minute on medium speed. Scrape down the bowl. With the mixer running on low, add in the 3 eggs one at a time mixing in between. Next add in the tsp of vanilla.

Combine the 2 cups flour, 1 tsp baking powder, 1/2 tsp kosher salt, and 1/4 tsp baking soda either in a bowl or on a large piece of parchment paper. Combine the 1/2 cup yogurt, and the 3/4 cup milk in a measuring cup.

Alternate adding the dry ingredients (1/3rd of it at a time) with the wet ingredients mixing in between each addition, starting and ending with the dry ingredients. Mix to combine.

Divide the batter evenly between the cake pans and bake for 30-35 minutes.

The cake is done when the edges start to pull away from the sides and if you insert a toothpick into the middle of the cake and it comes out clean.
Make the Mascarpone Chantilly Cream
In a medium sized bowl mix together the 8 oz of mascarpone cheese with the 1 tsp of vanilla and 3/4 cup of confectioners sugar. Set aside.

Using a hand mixer or the stand mixer with the whip attachment, beat the 1 cup heavy cream on high speed until stiff peaks form, about 2 minutes. Make sure not to over whip as the cream can curdle.

Fold the cream into the mascarpone cheese using a large spatula until no more streaks of cream are visible.
Assemble the cake!
Level off the tops of the cakes if necessary using a large serrated knife or a cake leveler. Place one cake down and top with strawberry jam leaving 1" off on the side. Layer a topping of the mascarpone chantilly cream on top. Top with fresh berries. Repeat these steps until the top layer of cake. Decide how you will decorate the cake. Either cover the rest in frosting or top with a dollop of cream and berries.
Notes
This cake needs to be stored in the fridge so make sure you have room!
You can make this over two days to make it easier. Make the cake on the first day and then make the frosting and assemble on the second day!
Nutrition
Nutrition Facts
Moist Berry-Filled Chantilly Cake (Vanilla Layer Cake)
Amount Per Serving (1 slice)
Calories 562
Calories from Fat 297
% Daily Value*
Fat 33g51%
Cholesterol 126mg42%
Sodium 204mg9%
Potassium 112mg3%
Carbohydrates 60g20%
Protein 6g12%
Vitamin A 1123IU22%
Vitamin C 1mg1%
Calcium 107mg11%
Iron 1mg6%
* Percent Daily Values are based on a 2000 calorie diet.