This chocolate cherry cheesecake recipe is oh-so delicious. It starts with a chocolate cookie crust, then is filled with a creamy cheesecake filling with plenty of tart red cherries. Then, the whole thing is topped with another layer of chocolate! Talk about a swoon-worthy baked cheesecake. I also divulge my cheesecake water bath hack to avoid cracking!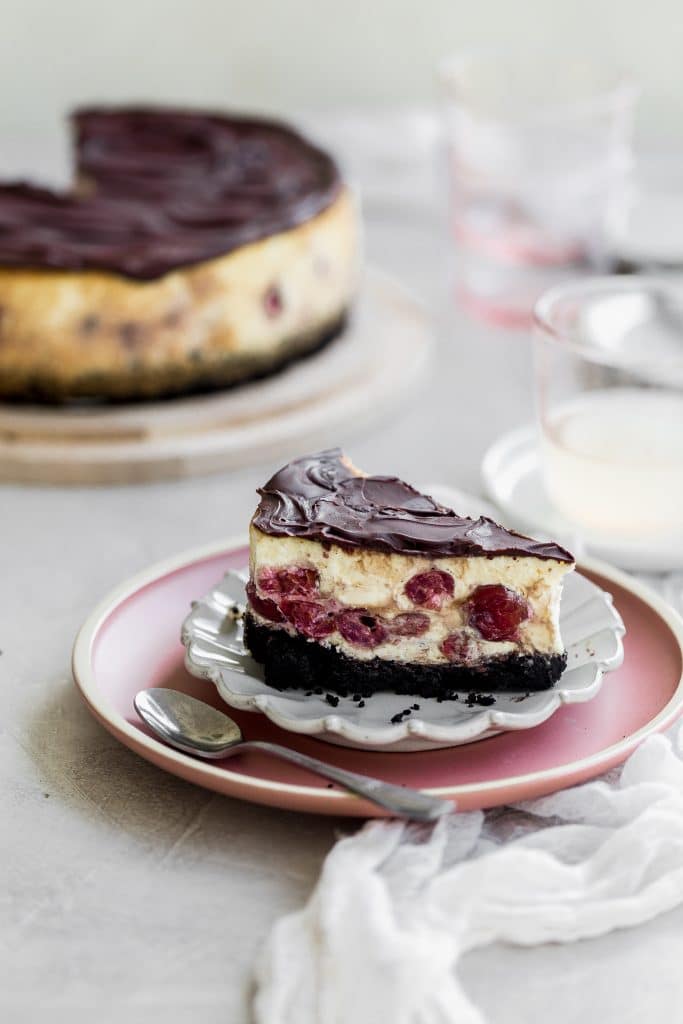 I am so excited to be partnering up again with Oregon Fruit to bring you this crazy creamy cherry cheesecake. As a trained pasty chef, cheesecake is actually one of my favorite things to make! This one is made with a chocolate crust AND topped with more chocolate to make this dessert extra special.
Making cheesecake doesn't have to be scary, make sure you read my 5 tips for making perfect homemade cheesecake, this is a total foolproof way of making a cheesecake! If you already love making cheesecake then you should totally try my coffee cheesecake, my mini cheesecake bites, or my cheesecake bar recipe!
For this recipe you need to use softened cream cheese to make sure the cheesecake is silky smooth. If you need to bring your cream cheese to room temperature fast, learn how to soften cream cheese quickly!
Why you will love this recipe
Today we are celebrating National Cherry Month! So what better way to celebrate than to make a delicious cherry dessert.
Secondly, have you ever tried cherries and chocolate together?
The combination of flavors is extremely deep and rich. The juicy tartness of the cherries pairs so well with decadent, irresistible chocolate. So much so that I sandwiched the cherry cheesecake filling between two different kinds.
The crust is made out of crunchy chocolate cookies and the topping is swirled with a cup of melted semi sweet chocolate.
Ingredients needed:
Chocolate sandwich cookies- the base of the crust
Butter- to mix with the cookies to make the crust
Oregon Fruit Red Tart Cherries. These are the best for baking!
Cream Cheese– I like to buy the block for ease of measuring.
Granulated Sugar- for sweetness
Sour cream- sour cream adds the tangy flavor to cheesecake
Half n Half- to thin it out a little
Eggs– to bind the ingredients
Flour- Flour helps to bind as well as helps to prevent cracks
Chocolate chips- to top the cheesecake
How to make cherry chocolate cheesecake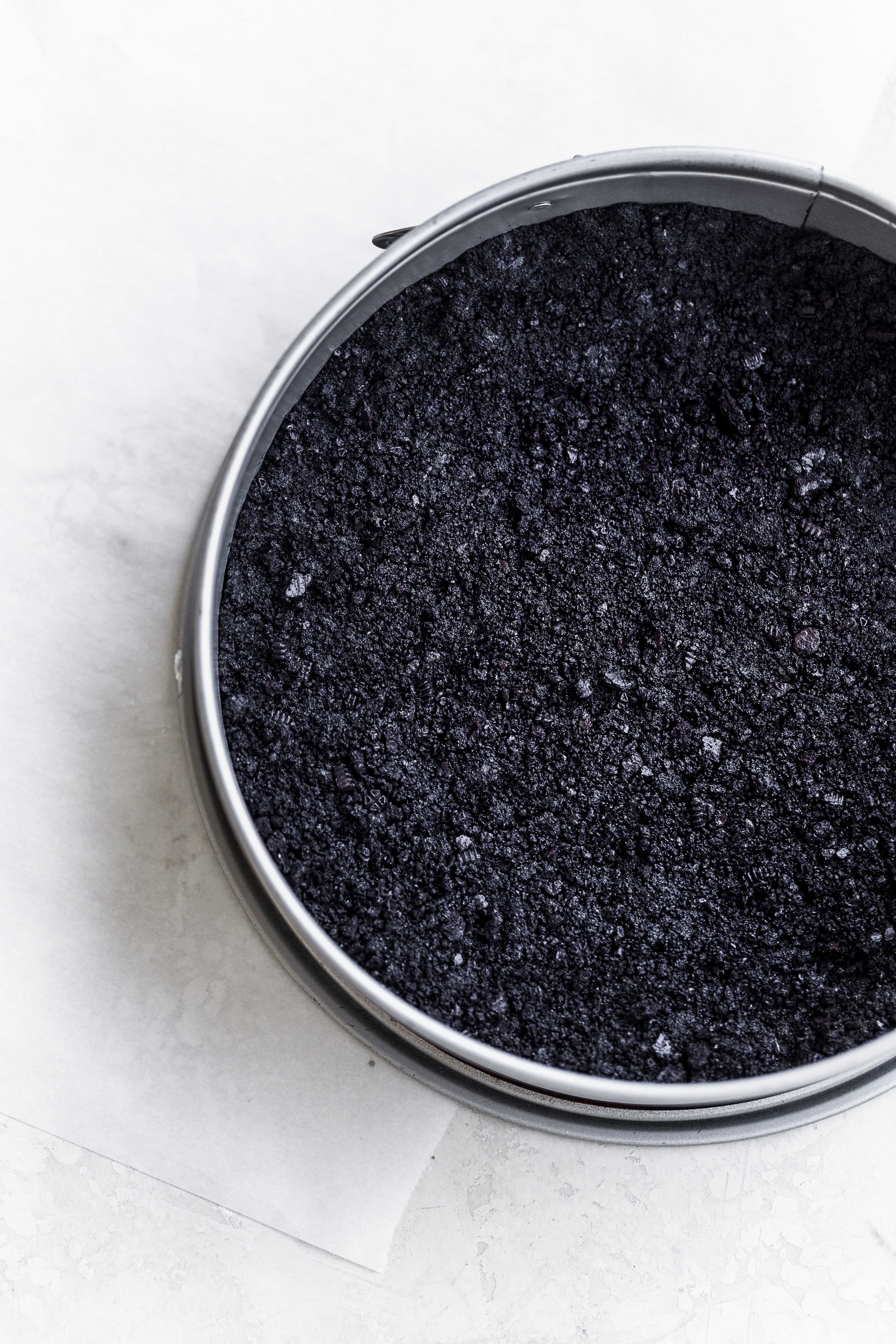 Make the cookie crust:
Make the chocolate cookie crust by separating the cookie sandwiches and removing the cream filling. Then smash the cookies with a rolling pin in a plastic bag or pulsing in your food processor.

Pour melted butter over the crushed cookies, press into a springform pan, and bake! Warning- It will smell so good in about 8 minutes, thats when you know its done.
Cool it on the counter while you make the filling.

Make the cream cheese and cherry filling:
Combine the cream cheese, sour cream, sugar, and half n half cream in the bowl of a stand or hand mixer. Mix until smooth, then add in the eggs one at time mixing in between each one.
Add in the vanilla and flour and keep mixing until it's mostly smooth, about 1 minute.
It's TOTALLY fine if you have some small lumps, you just don't want any large ones.

Add the cherries!
You'll need 2 14.5oz cans of Oregon Fruit Red Tart Cherries. Open the cans, drain the cherries, and dry them off as best you can. 
Fill 1/2 of the cheesecake batter into the springform pan over the chocolate crust. Pour half of the cherries on top, and then the rest of the cheesecake batter on top of the cherries.
Next, carefully drop the rest of the cherries on top of the batter and poke them down with your finger so they get under the top layer of the batter and you can barely see them. This will ensure you get cherries in every bite!
Bake the cheesecake:
This is something I think a lot of people fear because of all those recipes that tell you to use a water bath.
I am telling you right now if you use my cheesecake water bath hack, you will be making cheesecakes all the time!
Simply place a 9×13" pan with one inch of water on the bottom rack of your oven. Place the cheesecake on the top rack and bake at 350°F for 45- 55 minutes. The cheesecake is done with the edges are slightly golden BUT there is still a little jiggle in the middle. That will firm up in the fridge!
Cool the cheesecake:
To cool a cheesecake, turn off your oven and then open it just a crack. Leave the cheesecake in there to cool and then remove it and let it chill overnight in the fridge or for at least 4 hours in the fridge.
The water bath hack and this cooling technique will prevent cracking in your cheesecake.
Decorating the cheesecake:
When the cheesecake is cooled, remove it from the fridge and wipe off any condensation that may have formed on the top. Melt 1 cup of chocolate chips. Let it cool for 5 minutes, then pour and smooth it onto the cheesecake.
You must work fast though because hot chocolate on a cold cake will firm up really quickly!
How to store:
Store the cheesecake in the fridge covered for up to 7 days. You can freeze the cheesecake too either before putting the chocolate topping on or after.
Yield
This recipe makes a 9-10″ large cheesecake that can probably feed 12-18 people depending on how large you cut the slices!
The best cherries for cheesecake
What I love about Oregon Fruit's red tart cherries is that they are always packed fresh so you know the cherries will have amazing consistent flavor in every can.
They are also just two ingredients! Cherries and water with no added sugars so you know it's on the healthier side. They also contain NON-GMO product verified fruit, and their cans have a Non-BPA lining on the inside.
So much goodness all in one can- they are my go to pick for canned fruit. Especially because even living in Florida- across the entire country from Oregon (I was there twice last year, and it takes 4 flights to get there and back for one trip LOL) I can get these cans at my local Walmart or online at walmart.com or amazon.com.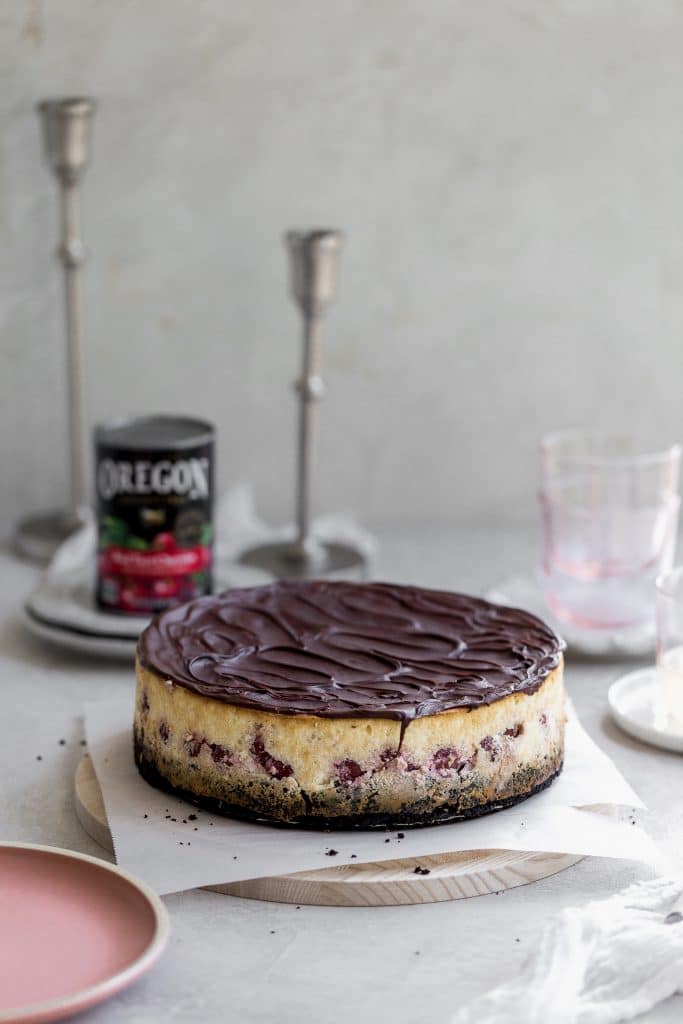 Recipe Tips:
Make sure to bring all your refrigerated ingredients to room temperature. This makes sure everything mixes well together and you have a less lumpy cheesecake.
To cut- dip a large knife in hot water, wipe it off and slice into the cake. Wipe the knife off and repeat before cutting into the cheesecake again
You can turn this cheesecake recipe into bars by making it in a 9×13" pan and slicing into squares
You can substitute heavy cream or milk for the half n half
Recipe FAQ
What's the best kind of cream cheese to use for cheesecake? I like using Philadelphia Cream Cheese or the Trader Joe's Cream Cheese. I don't have a strong preference but you should always buy the blocks and not cream cheese in a tub because its so much easier to measure
How long does cheesecake keep for? You can keep this cheesecake for up to a week in your fridge!
Why is my cheesecake cracking? Cheesecake cracks either because it was over baked, or because you took it out of the oven too soon and the exposure to cold air made the cheesecake crack. Make sure to follow the water bath hack I mentioned above, don't over bake it, and cool it the correct way!
Why is my cheesecake lumpy? It's lumpy because your ingredients were not at room temperature before you started mixing.
What is the best pan to use for a cheesecake? The best kind of pan to use is a spring form pan where the sides come off!

More Cheesecake recipes: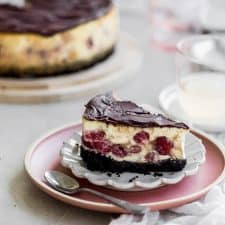 Creamy Cherry Cheesecake with Chocolate Crust
This chocolate cherry cheesecake recipe is oh-so delicious. It starts with a chocolate cookie crust, then is filled with a creamy cheesecake filling with plenty of tart red cherries. Then, the whole thing is topped with another layer of chocolate! Talk about a swoon-worthy baked cheesecake. I also divulge my cheesecake water bath hack to avoid cracking!
Print
Pin
Save
Saved!
Rate
Ingredients
For the chocolate crust:
1 14

oz

package chocolate sandwich cookies

or 3 cups, separated and filling discarded, pulsed or smashed into crumbs

1/2

cup

butter

melted
For the cherry cheesecake filling:
4 8

oz.

cream cheese

room temperature

1

cup

granulated sugar

1

cup

sour cream

room temperature

1/2

cup

half n half

room temperature

4

large eggs

room temperature

2

teaspoons

vanilla extract

1/3

cups

all purpose flour

2 14

oz

cans Oregon fruit Red Tart Cherries

drained and dried well
For the chocolate topping:
1

cup

chocolate chips

melted
Instructions
For the crust
Preheat your oven to 375° F and place the cookie crumbs in a medium sized bowl.

Add the melted butter and stir to combine. The mixture should resemble wet sand, and if you squeeze a little bit it should hold its shape. If not, you need more butter.

Spray a 9″ springform pan with baking spray and press the cookie crumbs into the bottom and sides. You can use the bottom of a measuring cup to help press it down hard and evenly.

Bake for 8-10 mins until it smells like heaven from your oven and the crust is firm.
For the filling
Lower your oven temperature to 350° F.

In the bowl of a stand mixer fitted with the paddle attachment, add the cream cheese, sour cream, and sugar. Mix on low-medium speed, then add 1 egg at a time, mixing for a few seconds in between additions.

Stop the mixer and scrape down the sides of the bowl. Start the mixer again on low speed and add in the half n half and vanilla. Add in the flour slowly then move your speed up to medium and mix for 2-3 minutes. Scrape down the sides and bottom of the bowl to make sure everything is mixed evenly.

Pour half the batter into the spring form pan, then half of the cherries on top. Pour the last half of the batter into the pan and sprinkle the top with the remaining cherries. Press the cherries in under batter so they are barely peeking out. 

Fill a 9×13 in pan with 1 inch of water and place it on the bottom rack of your oven.

Place the cheesecake on the upper rack of the oven and bake for 45-55 minutes.

The cheesecake is done when the edges start to brown and break away from the sides of the pan. It will still be jiggly in the middle- you want that!

Turn the oven off and crack the oven door open a little bit. Leave the cheesecake to cool for one hour, then remove to finish cooling on the counter.

Chill in the refrigerator at least 4 hours or overnight, then pour and smooth melted chocolate on top.
Notes
Make sure you dry the cherries well!
You can set a side some of the chocolate crumbs to use as decoration when the cheesecake is done! I use full fat dairy products for best flavor but you can substitute for the less fat cream cheese and sour cream.
Sub whole fat milk for half n half
Nutrition
Nutrition Facts
Creamy Cherry Cheesecake with Chocolate Crust
Amount Per Serving (1 slice)
Calories 580
Calories from Fat 306
% Daily Value*
Fat 34g52%
Cholesterol 122mg41%
Sodium 372mg16%
Potassium 263mg8%
Carbohydrates 63g21%
Protein 8g16%
Vitamin A 909IU18%
Vitamin C 3mg4%
Calcium 100mg10%
Iron 4mg22%
* Percent Daily Values are based on a 2000 calorie diet.