This clafoutis recipe uses frozen cherries and a splash of bourbon for a modern take on a classic French dessert. It's the perfect easy dessert for the summer!
I am honored to have GRIZZLY Cast Iron Cookware sponsor this post- thank you!
Have you ever tried a clafoutis before? Ok wait lets back up, have you ever said clafoutis before? Let's go over it together. Clafoutis is pronounced Klah-foo-tee. The S at the end is just there to make you feel fancy.
What is a clafoutis?
Clafoutis is a classic French dessert that is custard based and baked with fruit. It is usually made in a pie dish or cast iron pan.
I made this clafoutis recipe with cherries in my GRIZZLY Cast Iron Cookware 10″ casserole dish.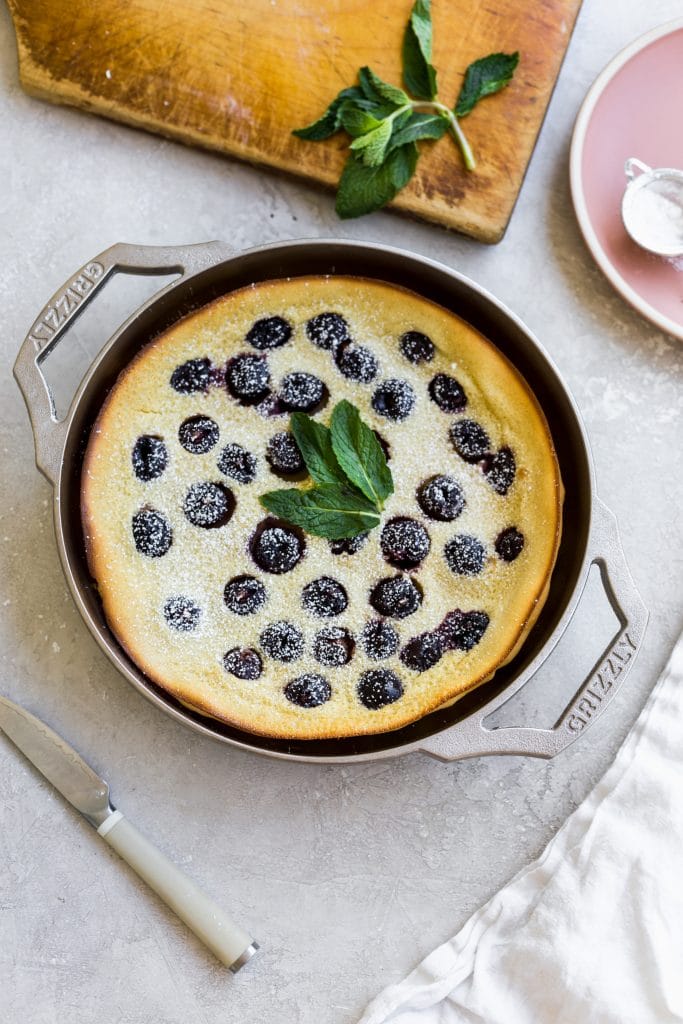 Aside from this cast iron casserole dish being so sleek and stylish, it is also offers incredible features like:
being super easy to clean
retains heat really well
is nickel plated so it won't rust!
It also does not have to be seasoned at all like most cast iron products do. Needless to say I was excited to use it! I was also really excited to try out a clafoutis recipe for the first time.
Turns out a clafoutis is super easy to make so don't let the fanciness deter you from making this dish.
The ingredients you need for this bourbon spiked cherry clafoutis recipe are:
12 oz frozen pitted dark cherries
1/2 cup 2% milk
1 1/2 cup heavy cream
3 large eggs
1 tablespoon of bourbon
1/2 cup sugar
3/4 cup all purpose flour
1/4 teaspoon salt
Cherries
Tart cherries are traditionally used in clafoutis recipes but you can use different types of cherries or fruit. All the stone fruits work really well here. I have also read that strawberries and raspberries work too!
Like I said, cherries are traditionally used but they are often used fresh and left un-pitted. Apparently when you bake un-pitted cherries into the clafoutis, the cherry pit releases an almond like flavor that enhances the dish.
I don't know about you but I wouldn't want to start spitting out my food the second I dig in so I am sticking to pitted fresh or frozen cherries for this recipe.
Yes I said frozen cherries because it isn't always cherry season, and if you thaw and dry them out really well, they work just as well!
If you are using fresh cherries make sure to pit them before.
How to make this cherry clafoutis recipe:
This is so super simple, I was shocked at how easy it was.
If you are using frozen cherries, first you need to thaw and drain them well. Rinse them in a colander and then leave them to thaw out for a few minutes. Dry them off and you are good to go!
Combine the milk, cream, eggs, bourbon, and sugar in a small bowl or small blender and whisk or blend until well combined and frothy. Add in the flour and salt and mix again until all large lumps are gone. This is why the blender works so well!
Pour the batter into the cast iron pan. Place the cherries all around. They look super pretty if they are left just peeking out of the batter.
Bake at 350°F for 40- 45 minutes.
How to know when the clafoutis is done
The clafoutis will puff up a lot in the oven but once you take it out it will start to deflate. It is done when a knife inserted in the middle comes out clean. The clafoutis should be able to slice nicely so you want to make sure it is done.
The texture of the clafoutis depends on personal preference. Some people like it more custard like, and some people like it more dense. Check the clafoutis after 40 minutes. If there is still a little jiggle in the middle, it's on the custard side. Leave it for 5 more minutes if you like it more on the dense side.
How to serve clafoutis
This is also a matter of personal preference. I think that it is best served fresh and warm with some dusted confectioners sugar on top. Some people like to serve it cold. Just be warned that when the clafoutis cools down it will firm up. The custard like consistency will definitely be different and more dense.
How to store a clafoutis
I think this is one of those desserts that is best made and eaten on the day of. Like I mentioned, when it cools down the consistency will change. The warm, bourbon spiked, sweet custard will still be delicious but will be more on the firm side.
If you must store it, store it in the fridge and then let it come to room temperature before serving. I don't suggest reheating or freezing this recipe.
Making a clafoutis in advance:
I know I just said you shouldn't reheat it BUT that doesn't mean you can't prepare parts of this recipe in advance! You can prepare the batter according to the recipe, stop there, and store it in the fridge.
About 45 minutes before dessert time, place the cherries in the pan, pour the batter on top and bake! Your guest will be so super impressed and you won't have to stress about making dessert earlier! Win Win!
Other ways to make and serve a clafoutis:
top with whipped cream and mint
top with slivered almonds
bake almonds into the custard
use almond or vanilla extract instead of bourbon
I loved making this recipe and can't wait to try it out with all the other summer fruits coming up. Good thing this GRIZZLY Cast Iron Cookware casserole dish is a cinch to clean because it looks like we'll be using it all summer long!
If you like easy fruit dessert recipes you might like these: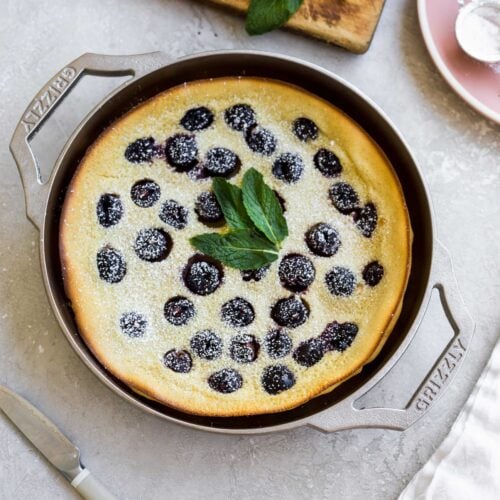 Clafoutis Recipe with Cherries and Bourbon
This clafoutis recipe has cherries, and a splash of bourbon for a modern take on a classic French dessert. It's the perfect easy dessert for the summer!
Print
Pin
Save
Saved!
Rate
Ingredients
12

oz

cherries

fresh or frozen, about 3 cups

1/2

cup

milk

1 1/2

cups

heavy whipping cream

3

eggs

large

1

tbsp

Bourbon

1/2

cup

granulated sugar

3/4

cup

all-purpose flour

1/4

tsp

kosher salt

2

tbsp

confectioners sugar

optional garnish

1/2

cup

whipped cream

optional garnish
Instructions
Preheat the oven to 350° Farenhiet. Pit the fresh cherries or thaw, drain, and dry the frozen cherries well.

Combine the milk, heavy whipping cream, eggs, bourbon, and sugar in a small bowl or a blender. Whisk or blend until smooth and frothy.

Add in the flour and salt and mix again. Then pour the batter into your GRIZZLY casserole dish and place the cherries inside. You may have to cut the fresh cherries in half if they are too big. Leave the tops peeking out of the batter slightly.

Bake for 40-50 minutes or until a knife inserted in the center comes out clean. The clafoutis will puff up in the oven but then deflate once you take it out. Dust with confectioners sugar and serve immediately. 
Notes
Serve the clafoutis as soon as you take it out from the oven for best results.
You can use other fruit like peaches, plums, apricots or even raspberries in place of the cherries in this recipe. 
Nutrition
Nutrition Facts
Clafoutis Recipe with Cherries and Bourbon
Amount Per Serving (1 sliced)
Calories 326
Calories from Fat 180
% Daily Value*
Fat 20g31%
Cholesterol 127mg42%
Sodium 120mg5%
Potassium 189mg5%
Carbohydrates 33g11%
Protein 5g10%
Vitamin A 823IU16%
Vitamin C 3mg4%
Calcium 67mg7%
Iron 1mg6%
* Percent Daily Values are based on a 2000 calorie diet.