This red velvet bundt cake is a tried and true recipe! No box mix cake here- this homemade cake is so super moist, fluffy, and easy to make. Plus it has half the amount of red food coloring than most red velvet cakes out there without sacrificing on color. The tangy cream cheese frosting takes it over the top!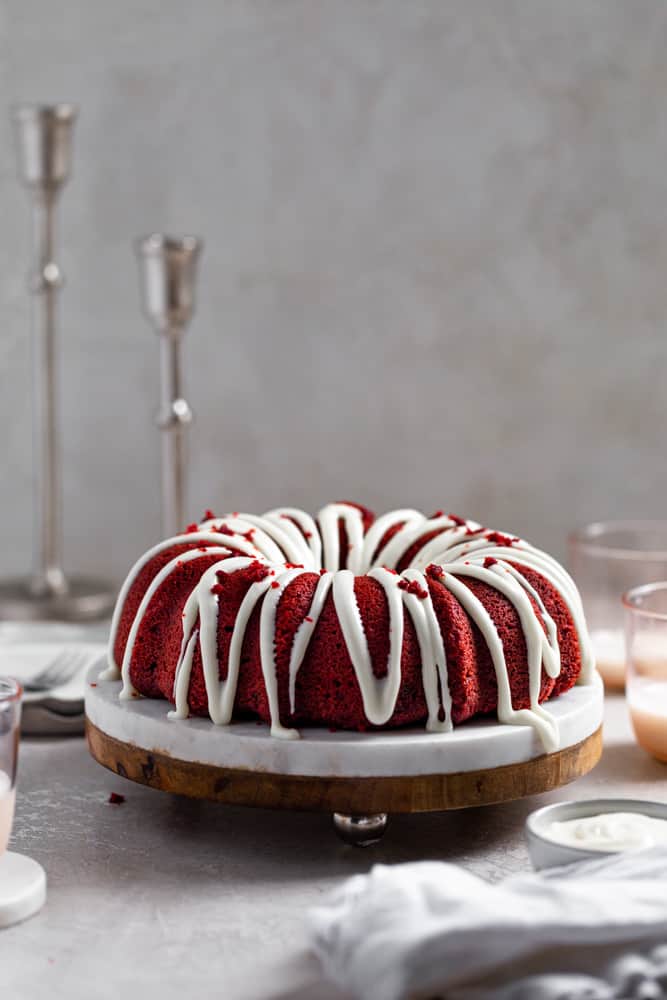 I made this cake a total of 6 times. You heard me right- SIX times until I got it right.
The first few times I made it, it came out so super dense, too thick, and extremely oily. Plus it kept sinking in the middle. Nobody wants that.
I think on the 4th try I thought I got it right because it stopped sinking, but then went to freeze it. When I took it out a couple days later it was dry and crumbly. Nobody wants that either.
So back to the drawing board I went and finally after playing around with the ratios of the same ingredients (less oil, more butter & buttermilk)- TADA! I did it!
Out of the oven came this tall, insanely heavenly smelling, fluffy bundt cake.
It was well worth the effort!
Ingredients
Classic red velvet cake has all the regular cake ingredients that you already have at home, but it also has a couple we need to talk about.
Unsalted butter– this isnt a special ingredient but how you use it is important. Make sure it is at room temperature before starting. If you forget to soften the butter I have a whole post on how to soften butter quickly.
Cocoa Powder– A classic red velvet cake has just a little bit of cocoa powder added into the dry ingredients.
White Vinegar– A teaspoon of white vinegar is added into the wet ingredients. You WILL NOT taste it! You do need it though, because it will react with the buttermilk to bring out a more red color in the cocoa- which is why they call this a red velvet cake!
Red Food Coloring- You absolutely do not have to use this in your cake at all. This has no effect on the flavor but it just used for the color. I like to use a water based food coloring because I think the gel gives off a strong flavor if you use too much.
Buttermilk– this gives red velvet cake that classic tangy taste. I don't suggest swapping it out for regular milk. In fact you can just make your own if you don't want to go out and buy buttermilk.
How to make buttermilk:
Measure 1 cup milk (any kind but whole is best) and take out one tablespoon. Replace it with 1 tablespoon of lemon juice or white vinegar and let it sit for 10 minutes. You now have buttermilk!
How to make a red velvet bundt cake
It's best to first measure out all your ingredients and clean as you go!
Step one: mix the wet ingredients
In the bowl of a stand mixer or using a hand mixer, cream the softened butter and sugar together until pale yellow and fluffy, about 1 minute on low- med speed.
Add the oil and beat 30 second more. Next add in the eggs one at a time and continue beating on low- medium speed.
Add in the vanilla extract, the vinegar, and food coloring, and continue mixing until the batter is a uniform red color.
Measure out the buttermilk in a measuring cup and set aside.
Scrape down the bowl to make sure that all the wet ingredients are mixed thoroughly.
Step two: combine the dry ingredients
Combine the dry ingredients in a medium size bowl or on a large piece of parchment paper. I like measuring on parchment because it is super easy to fold and then pour into your mixing bowl versus trying to pour from a clunky bowl.
Step 3: Mix wet and dry ingredients together
Add 1/3 of the dry mixture to the batter and mix on low speed until it is mixed in, about 30 seconds to a minute. Then pour in half the buttermilk and mix. Continue alternating between the next 1/3rd of dry ingredients and the rest of buttermilk, ending with the dry ingredients.
The batter should be red, and thick when it's ready.
Step four: Bake!
Heavily grease a bundt pan with baking spray, I like bakers joy, but if you don't have that then spray with any baking spray you have and then dust it with some flour.
Bake the cake for 55-60 mins.
You'll know the cake is down when it is puffed up and the edges start to break away from the pan. You can also insert a toothpick into the center, and if it comes out clean it's done!
Cooling the cake
You have to make sure the cake is a little cool before turning it out. It needs about 10-15 minutes to cool.
Take a wire rack and place it over the bundt cake, then grip the rack with your thumb and hold on to the bundt with your other fingers, and FLIP. Remove the bundt pan.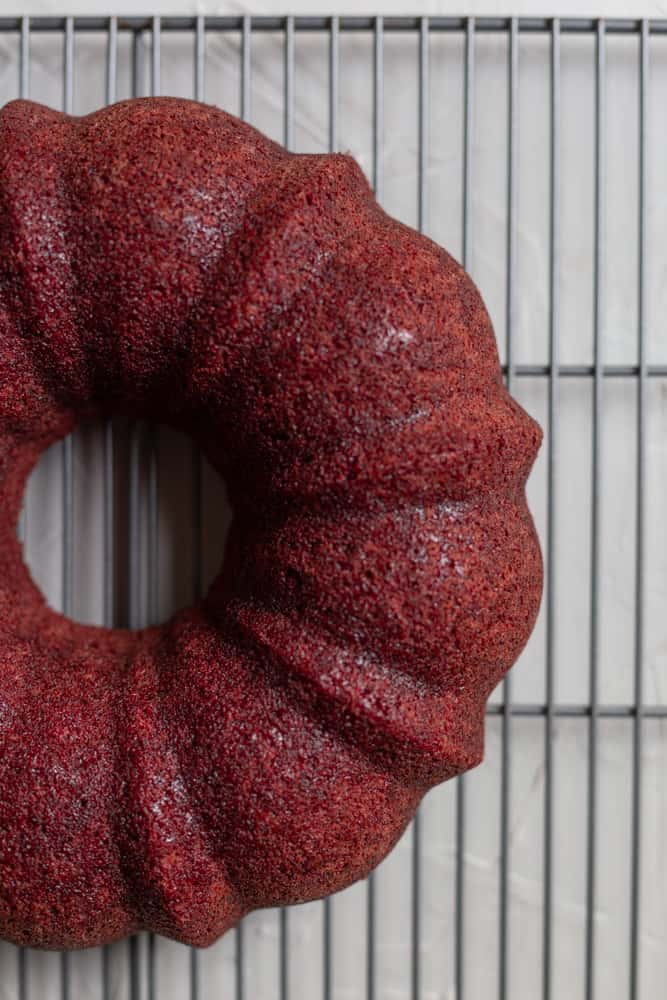 The cake should come right out!
Tips for removing your cake from the bundt pan
If the cake is stuck, you may have not greased enough, or it can be your pan. Make sure you are using a good quality bundt pan too like Nordicware. It doesn't have to be a crazy expensive one.
If the cake comes out in parts it could also be because it didn't get enough cooling time or it cooled too much. You have to turn it out in that sweet spot area of when it's warm but not cool enough that it's sticking to the pan. 10-15 minutes is the perfect time.
Making the cream cheese frosting
Time for the cream cheese frosting!! GAH it is just so good. The only ingredients you need for this frosting are:
cream cheese
softened butter
cups confectioners sugar
Milk or cream
Vanilla extract
You need a mixer for this so you will have to clean your mixing bowl or hand mixer (sorry) to make it.
How to make it
In a large bowl of a hand or stand mixer, cream the cream cheese, butter, and confectioners sugar on low speed. Do not mix this on a higher speed or the confectioners sugar will blow up into your face. Do you want that? No.
Once creamy, add in the milk and vanilla. The consistency is really up to you. This frosting is kind of in the middle of a pipeable frosting and a glaze.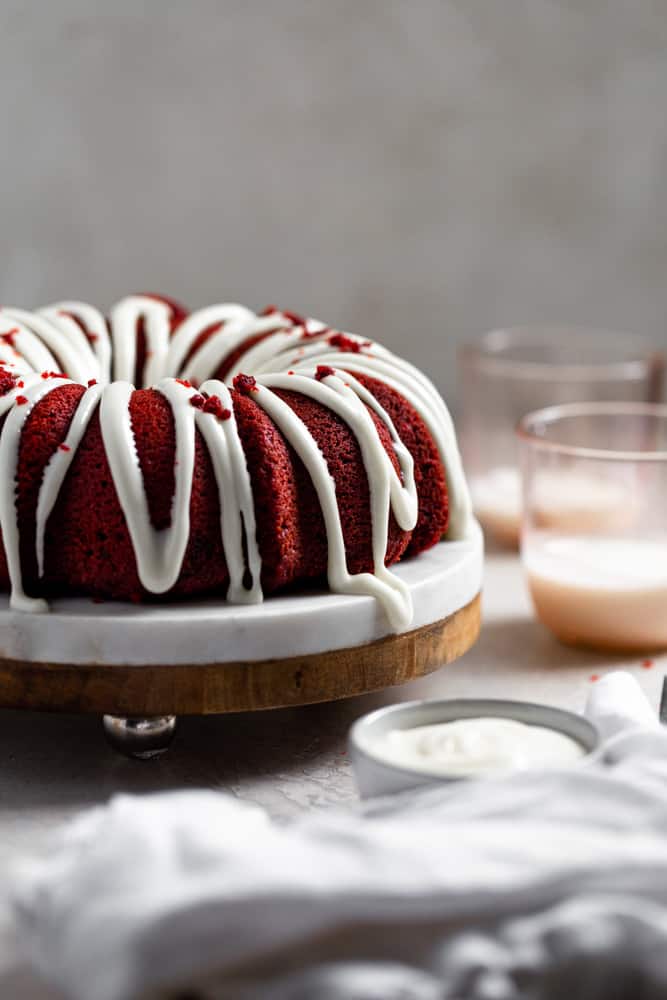 It's not firm enough to hold a piping shape but it doesnt really drizzle either.
If you want to make it thicker to pipe, add another 1/2 cup confectioners sugar and add half the milk and vanilla. If you want to be able to drizzle this then use a little more milk to get to the desired consistency.
How to frost
To frost I poured the icing into a sandwich zip top bag and snipped off the end, then went around the cake piping the lines over it.
Another thing you can do is too take some crumbs from the cake, and then sprinkle them over the frosting for a fun decoration.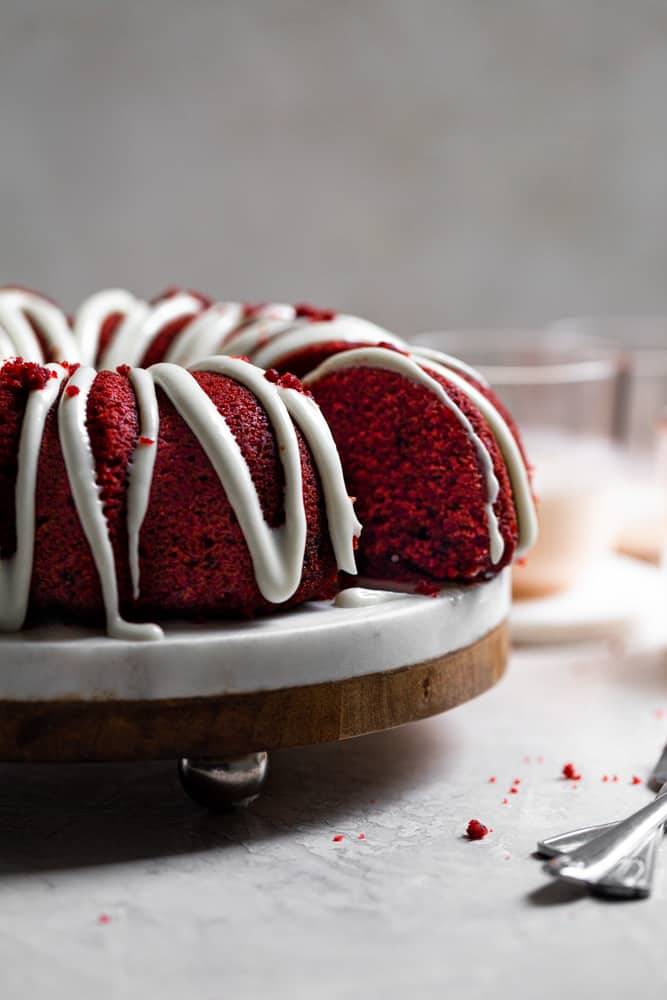 Sprinkles could be great too for a kids party!
Storing
Store this cake on the counter in an air tight container for up to 5 days. It can also be storied in the fridge but will run the risk of drying out.
To freeze double wrap the cake in plastic wrap and freeze for up to 3 months.
I hope you make and love this cake as much as we did, finally!
More bundt cake recipes:
This post contains affiliate links which means if you purchase something off one of those links I make a small commission at no extra cost to you! Thanks for supporting my blog!


Red Velvet Bundt Cake Recipe
This red velvet bundt cake is a tried and true recipe! No box mix cake here- this homemade cake is so super moist, fluffy, and easy to make.
Print
Pin
Rate
Ingredients
For the cake
1

cup

unsalted butter

softened

2

cups

granulated sugar

1/4

cup

vegetable oil

3

eggs

large

1

tbsp

vanilla extract

1

tsp

white vinegar

1 1/4

tbsp

red food coloring

water based

2 1/2

cup

flour

1/4

cup

cocoa

powder

1/2

tsp

baking soda

1/2

tsp

kosher salt

3/4

cup

buttermilk
For the cream cheese frosting
1

cup

cream cheese

8 oz bar

1/2

cup

unsalted butter

softened

3 1/2

cups

confectioners sugar

1

tsp

vanilla extract

1

tsp

heavy cream

or milk
Instructions
Preheat the oven to 350° F.

In the bowl of a hand or stand mixer fitted with the paddle attachment add the 1 cup unsalted butter and 2 cups of sugar. Mix on low- medium speed until light pale and fluffy looking. About 1 minute. Slowly add in the 1/4 cup oil and continue mixing until combined about 30 seconds.

Add in the eggs one at a time on low speed. When they are fully mixed in add the 1 tbsp vanilla, the 1 teaspoon white vinegar, and the 1 1/4 tbsp red food coloring. Mix until combined then scrape down the sides of the bowl with a spatula to make sure all the food coloring is mixed in.

In a medium sized bowl or on a large piece of parchment paper, combine the 2 1/2 cups flour, 1/4 cup cocoa, 1/2 tsp baking soda, and 1/2 tsp kosher salt.

In a measuring cup, measure out 3/4 cup buttermilk and set aside.

Turn the mixer on low and slowly add in 1/3 of the dry mixture. Mix for 30 seconds, then add in 1/2 the buttermilk. When combined add the next 1/3rd dry ingredients followed by the last half of the buttermilk. End with the last 1/3rd of the flour.

Heavily spray a bundt pan with baking spray, fill with the batter and bake for 55-60 mins. The cake is done when the sides start to pull from the edges of the pan or when a toothpick inserted comes out clean.

Let the cake cool for ten minutes, then invert onto a wire rack to cool completely.
For the frosting
You will need to wash out your hand or stand mixer for this. Combine the 1 cup cream cheese and 1/2 cup butter in the bowl of a hand or stand mixer fitted with the paddle attachment. Mix on medium speed till thick and creamy. Stop the mixer and add the 3 1/2 confectioners sugar. Beat on the lowest speed until the mixture is combined. Add in the 1 tsp vanilla and 1 tsp milk and mix on medium high speed until super fluffy.

Fill a zip top sandwich bad with frosting and drizzle it over the cooled cake.
Notes
This recipe can be made in 2 8″ round cake pans and baked for 30- 35 mins each
It can also be made into cupcakes! Bake them for 18 minutes 
You can freeze it! Wrap it tightly and store for up to 2 months.
Store it on the counter in an air tight container or wrapped in plastic wrap.
Nutrition
Nutrition Facts
Red Velvet Bundt Cake Recipe
Amount Per Serving (1 slice)
Calories 562
Calories from Fat 261
% Daily Value*
Fat 29g45%
Cholesterol 100mg33%
Sodium 197mg9%
Potassium 97mg3%
Carbohydrates 73g24%
Protein 5g10%
Vitamin A 843IU17%
Calcium 44mg4%
Iron 1mg6%
* Percent Daily Values are based on a 2000 calorie diet.
Please let me know if you make this recipe! You can leave a star rating and a comment below, they help me so much! Thank you!!