This delicious Strawberry Cream Cheese Frosting is made with freeze-dried strawberries and has a deliciously tangy and sweet flavor with a rich and creamy texture. It's perfect for topping strawberry cupcakes or just eating right off the spoon!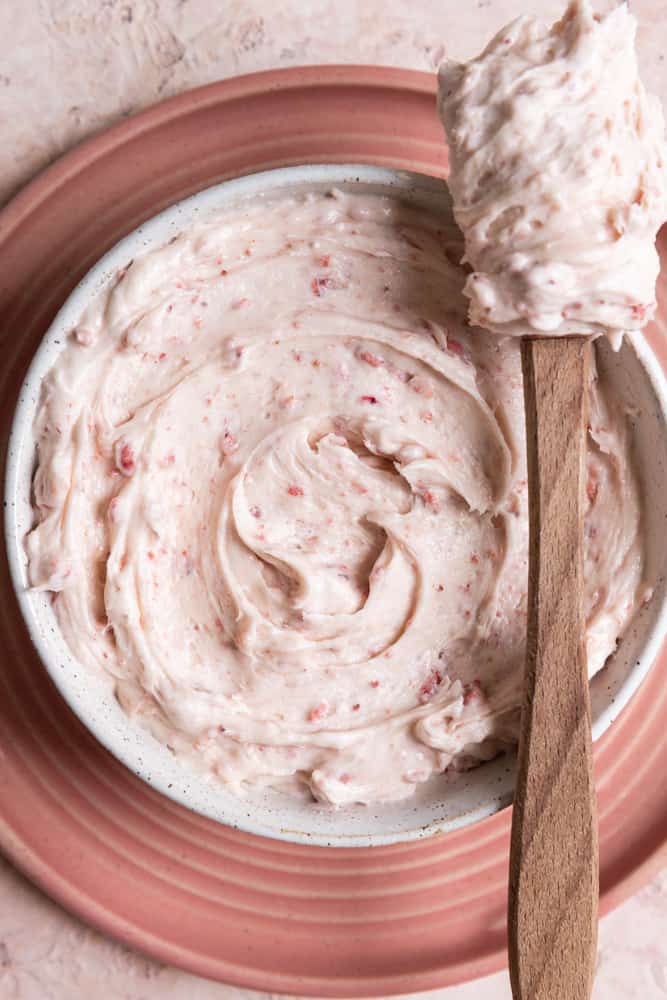 If you're looking to level up your fruity frosting, try adding cream cheese to the mix! This classic frosting ingredient gives the frosting a delicious tangy flavor and a rich and creamy texture.
As a trained pastry chef I have made my fair share of frostings. The secret to a smooth strawberry frosting is to use freeze-dried strawberries. These berries are incredibly concentrated and have a much higher strawberry flavor than fresh strawberries. Plus, they add beautiful pink color to the frosting without any artificial coloring!
This frosting is the perfect compliment to chocolate strawberry cupcakes, classic strawberry cupcakes, or strawberry filled cupcakes. So many strawberry options for this tangy and sweet icing!
Just like my raspberry cream cheese frosting, the cream cheese addition gives this recipe a great tangy flavor. Learn how to soften cream cheese quickly to save even more time!
If you don't have any cream cheese but still want a fruity frosting you can always try my strawberry buttercream, or this bright raspberry buttercream.
WHY YOU SHOULD MAKE THIS RECIPE
The entire frosting recipe is made in just 20 minutes or less including prep time!
It uses freeze-dried strawberries instead of fresh ones to get a smooth texture and natural pink color.
You can use this recipe to top just about any dessert you want including cakes, cupcakes, brownies, and more!
The flavor is sweet and fruity with a mix of tangy tartness.
INGREDIENTS NEEDED
Cream Cheese – This soft cheese thickens up the frosting and gives it a tangy delicious cream cheese flavor.
Unsalted Butter – This helps make the frosting nice and fluffy while adding a rich buttery flavor.
Confectioners Sugar – This is the main sweetener in the recipe that is finely milled and blends in with the frosting ingredients perfectly.
Freeze Dried Strawberries – You'll pulverize these dried strawberries into a fine powder to use in the recipe. You can find freeze-dried strawberries at most grocery stores near the dried fruit or in the health food section.
Milk – This is used to thin out the frosting if it's too thick. You can use any type of milk you have on hand including whole milk, almond milk, or soy milk.
HOW TO MAKE STRAWBERRY CREAM CHEESE FROSTING
Cream the butter and cream cheese: You'll start out by mixing the main thickening agents. Add the butter and cream cheese to the bowl of a stand mixer and mix on low-medium speed until creamy and fully combined.
Prepare the strawberry powder: Add freeze-dried strawberries to a high-speed blender or food processor. Pulse until a fine powder is formed all the way through.
Assemble the frosting: Scrape down the sides of the stand mixer, then add the sugar and strawberry powder. Start mixing on low speed, then bring up to medium speed and mix for 2-3 minutes until fully combined.
Add the milk: To get the perfect texture, add the milk to the mixture and mix again for another 2-3 minutes until desired consistency is reached. Use right away or add to a piping bag for later. Enjoy!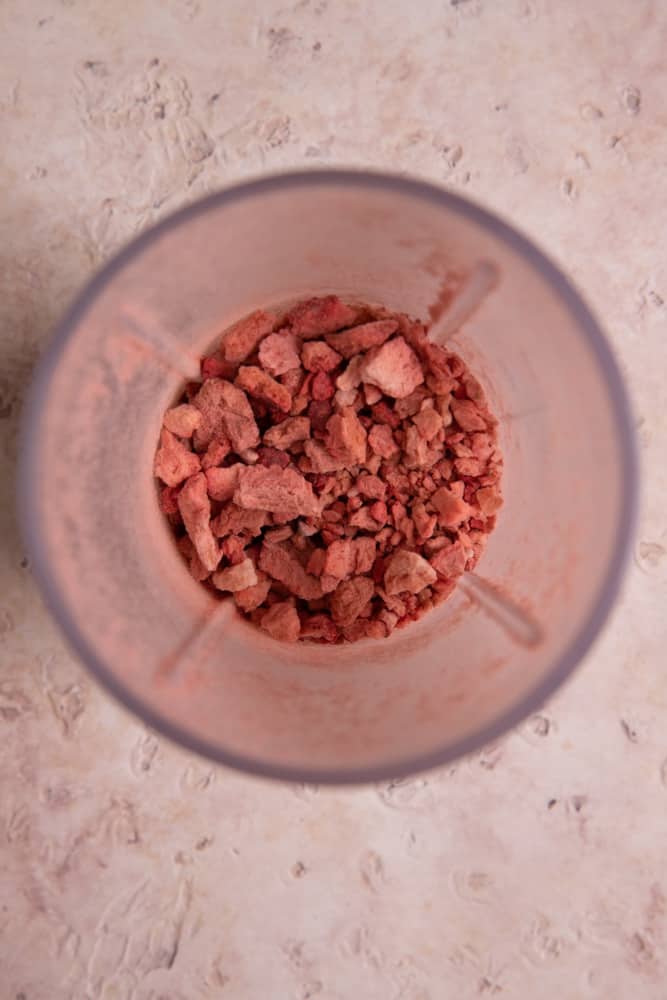 TIPS FOR RECIPE SUCCESS
Make sure all of your cold ingredients are at room temperature before starting. This will help them mix together more easily. Check out how to soften butter quickly!
When pulsing the strawberries, start with a few pulses then check the texture. If there are any big chunks remaining, pulse again until they are broken down.
If you want a stronger strawberry flavor, add an extra Tablespoon or two of freeze-dried strawberries to the recipe or use a drop of strawberry extract.
Sift the confectioner's sugar before adding it to the bowl to avoid any lumps in your frosting.
Taste the frosting as you go and add more sweetness or strawberry powder until the desired flavor is reached.
Add milk a little bit at a time until desired consistency is reached. You may not need to use all of it.
STORAGE AND FREEZING
Storing: If you'd like to store leftover buttercream or make it ahead of time, it can be stored in an airtight container in the fridge for up to one week.
Freezing: To freeze, place frosting in a freezer-safe bag or container and store for up to three months. When you're ready to use it, let it thaw overnight in the fridge then give it a good stir before using.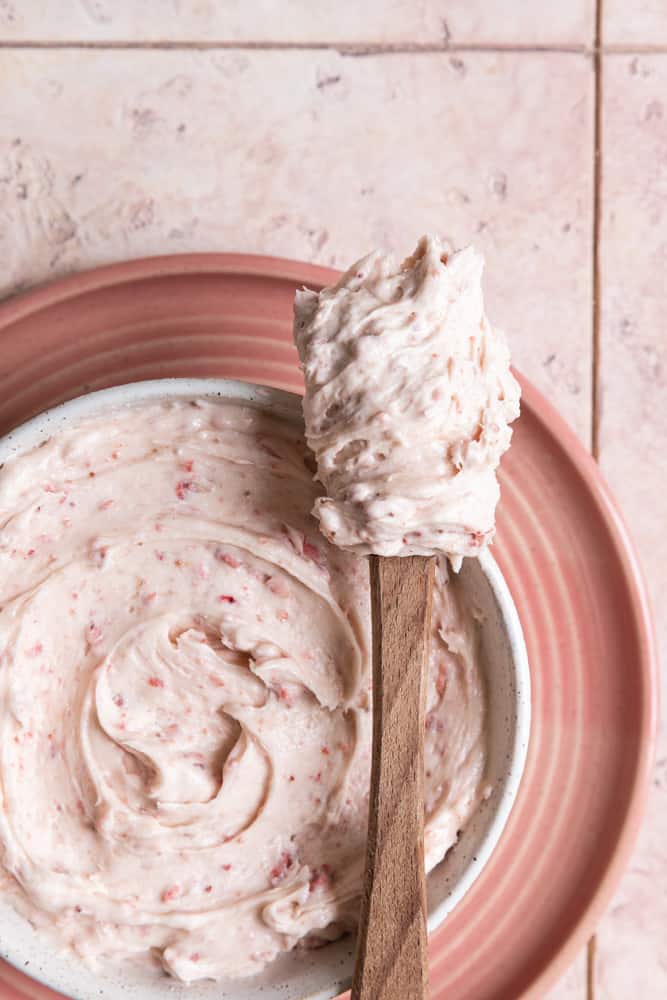 Yield
This recipe makes enough to frost 12 cupcakes or fill and frost a 2 layer 9″ cake.
FAQ
Do you have to refrigerate a cake that is frosted with cream cheese frosting?
Yes, you should always store cream cheese frosting in the fridge as it contains dairy products.
Can I use frozen strawberries instead of freeze-dried?
No, I don't recommend using frozen strawberries as they contain too much water and will make the frosting runny.
What can I use to substitute the freeze dried strawberries?
You can use 1/3 -1/2 cup of strawberry jam instead but the flavor and color will not be as intense.
What tastes better, cream cheese frosting or buttercream frosting?
The answer is both! They both have delicious flavors that can enhance any dessert. However, if you're looking for a richer flavor with more levels of flavor and texture then go with the cream cheese frosting.
WAYS TO ENJOY
10 Minute Strawberry Cream Cheese Frosting
This delicious Strawberry Cream Cheese Frosting is made with freeze-dried strawberries and has a deliciously tangy and sweet flavor with a rich and creamy texture.
Print
Pin
Save
Saved!
Rate
Ingredients
8

oz

cream cheese

block at room temperature (227g)

1/2

cup

unsalted butter

at room temperature (113g)

1.2

oz

freeze dried strawberries

4

cups

confectioners sugar

(454g)

1

tbsp

milk
Instructions
In the bowl of a hand or stand mixer, add the 1 block cream cheese and the 1/2 cup unsalted butter and mix on low- medium speed for 2-3 minutes until fully creamed.

In a small blender or food processor pulse the 1.2 oz of freeze dried strawberries until they are pulverized. If you want to pipe this frosting, make sure to completely powder them otherwise it will block the tip.

Stop and scrape down the mixer. Add in the 4 cups of confectioners sugar and freeze dried strawberry powder. Mix on low speed working your way up to medium speed as the sugar mixes in. Mix for 2-3 mins more until fully mixed.

Turn the mixer to low and add in the 1 tbsp milk. Mix again on medium speed for 2-3 more minutes until fluffy. Add in another teaspoon of milk if you want it lighter.
Notes
This recipe will frost 12 cupcakes or fill and frost a 2 layer 9″ cake.
If you dont have freeze dried strawberries you can use 1/3 cup to 1/2 cup strawberry jam instead but the flavor and color wont be as intense.
Nutrition
Nutrition Facts
10 Minute Strawberry Cream Cheese Frosting
Amount Per Serving (1 portion)
Calories 301
Calories from Fat 126
% Daily Value*
Fat 14g22%
Cholesterol 40mg13%
Sodium 62mg3%
Potassium 68mg2%
Carbohydrates 44g15%
Protein 1g2%
Vitamin A 492IU10%
Vitamin C 35mg42%
Calcium 23mg2%
Iron 1mg6%
* Percent Daily Values are based on a 2000 calorie diet.