Moist cupcakes with a rich vanilla flavor are always a hit at parties and potlucks! This Vanilla Cupcake Recipe With Oil calls for oil instead of butter, making them stay moist for days but still light in texture. Plus, they're incredibly easy to make and are the perfect base cupcake for your favorite frosting.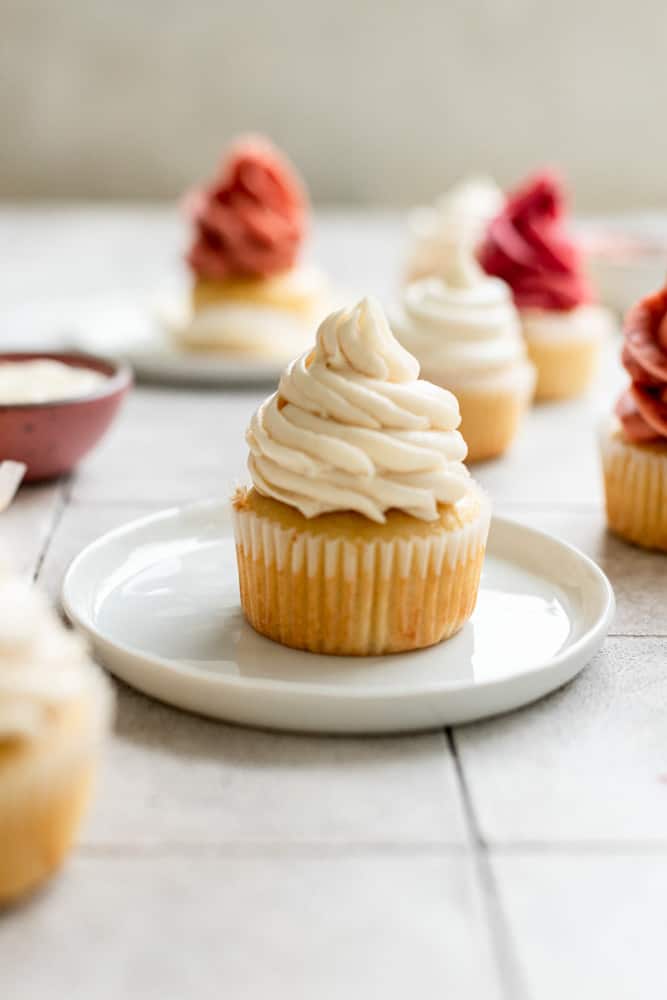 As a pastry school graduate, I've learned over the years that it is super important to have a good cupcake recipe on hand. In fact, I've tested this specific recipe five times (!!) in order to get it perfect.
And although it's fun to make more involved flavors from scratch like red velvet cupcakes or espresso cupcakes, a moist vanilla cupcake always comes in clutch for any occasion.
These vanilla cupcakes have a special twist in that they are made using oil. Using oil in cupcake batter instead of butter yields a cupcake that stays moist for longer. Oil also slows down gluten development which results in a fluffier cupcake!
Also, since vanilla is a great base cupcake, you can top these with ANY buttercream frosting and they would be delicious. Try strawberry or raspberry buttercream for a berry flavor, zesty lemon buttercream for something summery, or espresso buttercream for a caffeine buzz!
WHY YOU SHOULD MAKE THIS RECIPE
A good vanilla cupcake recipe is always good to have on hand
Its super easy to make, you only need one bowl!
The oil in the recipe makes them moist but still light.
These decadent cupcakes contain simple ingredients you can find anywhere.
INGREDIENTS NEEDED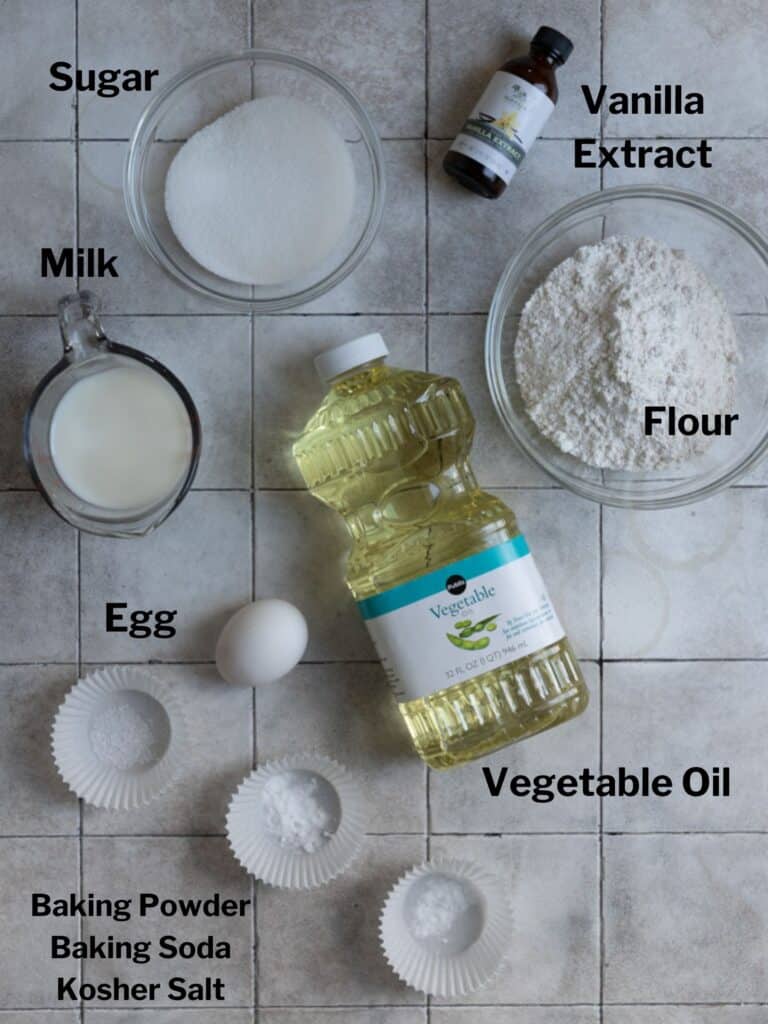 Granulated Sugar – Sweetens the vanilla cupcake batter.
Flour – All-purpose flour is the main dry ingredient in these cupcakes and gives the cupcakes their structure.
Baking Soda & Baking Powder – Helps the cupcakes become fluffy by creating air bubbles in the batter.
Kosher Salt – Helps activate the leavening agents while balancing out the sweet flavors in the mix.
Milk – Helps thin out the batter while keeping the batter rich and creamy.
Vanilla Extract – Adds the classic vanilla flavor to the cupcakes.
Vegetable Oil – This ingredient is what is responsible for the rich moist texture of the cupcake.
Egg – Adds richness and also helps bind all of the ingredients so they stay together while baking.
How to make moist vanilla cupcakes
Prepare for baking: Make sure your ingredients are at room temperature. Preheat the oven to 350F. Line a muffin tin with cupcake liners and set it aside.
Combine the dry ingredients: In a large mixing bowl combine the sugar, all-purpose flour, baking powder, baking soda, and kosher salt. Whisk to combine and evenly distribute the ingredients.
Add the wet ingredients: To the bowl with the dry ingredients, add the milk, vanilla, vegetable oil, and egg. Mix just until fully combined.
Assemble the cupcakes: Pour the cupcake batter into the cupcake liners making sure the batter is evenly distributed and that it's only filled 2/3 full.
Bake and cool: Bake the cupcakes for 18 minutes or until an inserted toothpick comes out clean. Let them cool completely before adding toppings or frosting.
You can use a stand or hand mixer for this recipe but you don't have to!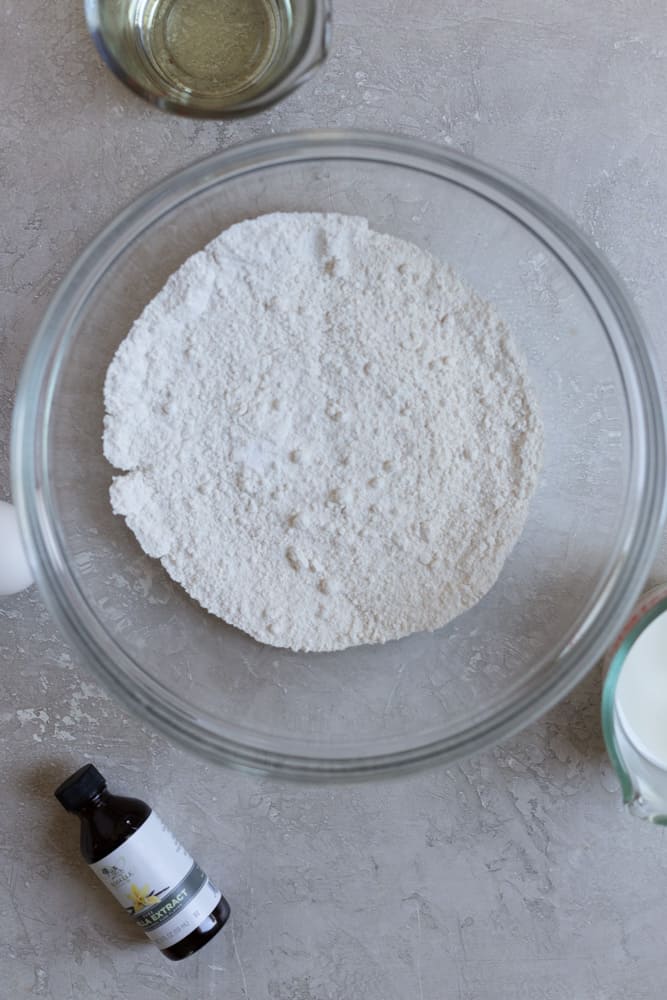 STORING AND FREEZING
Storing: Cupcakes can be left out at room temperature for up to two days. After that, store cupcakes in an airtight container and place them in the refrigerator for up to five days.
Freezing: To freeze; cupcakes should not have any frosting on them or they will turn soggy when thawed. Freeze cupcakes on a baking sheet for two hours. Once they are frozen solid, place them in a ziplock bag and store them in the freezer for up to three months.
When you're ready to enjoy your cupcakes, remove them from the freezer and let them thaw at room temperature for two hours, or place them in the refrigerator overnight. Frost cupcakes before serving.
How to decorate cupcakes
First you need a good buttercream or frosting recipe. When you are taking out the milk and egg for this recipe, make sure to take out the ingredients for your frosting too so it will be ready to use when the cupcakes are ready to frost.
To frost a cupcake I use a piping bag and decorating tip. My favorite tips to use are the wilton 1m or 2D for a pretty rose swirl.
If you dont have a piping bag you can use a zip top bag although I find them harder to use. You can also slather on the frosting with an offset spatula or spoon!
Top with sprinkles for the fun factor and enjoy!!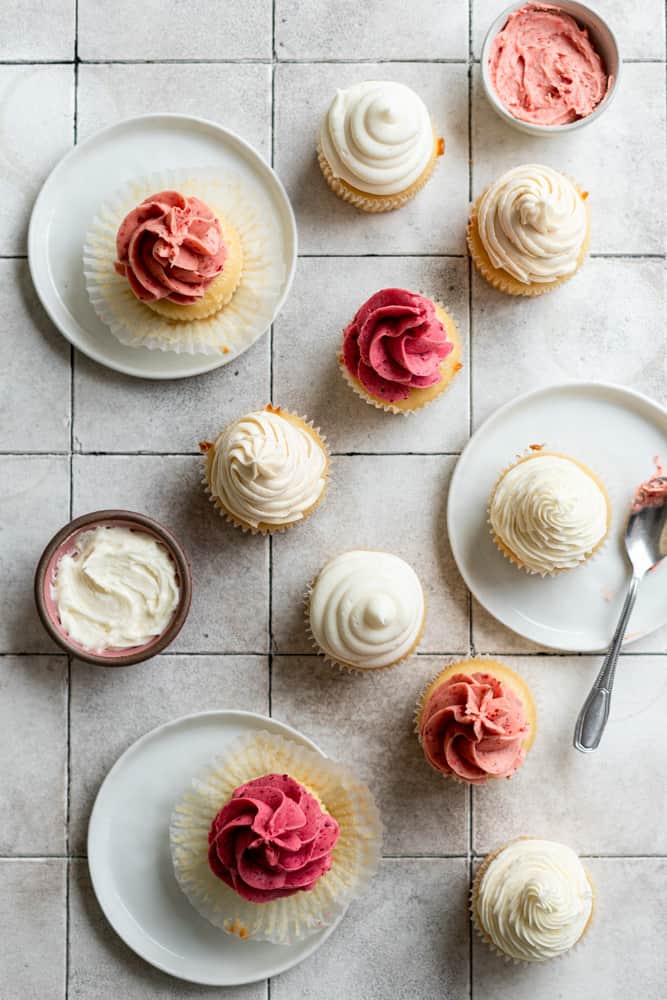 TIPS FOR RECIPE SUCCESS
Always use room temperature ingredients. Cold ingredients don't allow for an even mixture which can mess up the recipe!
The proper way to scoop and measure flour is with a kitchen scale. If you don't have one, spoon the flour into the measuring cup and don't pack it in. Otherwise you can use too much flour in your recipe altering the texture
A great way to evenly measure and distribute the cupcake batter into the liners is by using an ice cream scoop.
If your batter is too dry or too dense, it may mean you used too much flour or have over baked the cupcakes. Use a scale and make sure to watch your cupcakes as they bake as every oven is different.
When combining the wet and dry ingredients, it's important to make sure you do not overwork the batter as this will result in tough cupcakes. Mix just until everything is evenly combined and there are no dry streaks.
Wait until the cupcakes are cool to frost them.
Do not over bake, and do not over fill. Only fill 2/3 of the way.
Recipe FAQ
Can I bake cupcakes with canola oil? Yes! You can use any vegetable oil you enjoy as long as it's flavorless such as canola, grapeseed, or sunflower oil.
Can I use a different flavor extract? You can add any flavor extract you want to cupcake batter. Almond, lemon, maple, and coconut flavoring are delicious options.
What is the secret to moist cupcakes? The secret to moist cupcakes is using oil as the fat ingredient instead of butter. Butter can often make baked goods dry, but oil keeps things moist and rich.
Can I make this dairy free? Yes totally! Use soy or almond milk to replace the milk.
Why are my cupcakes sinking? If your cupcakes are sinking in the middle at the 18-minute mark, they are not baked enough. Do not open the oven door! Wait until they rise in the middle to remove them from the oven.
FROSTING OPTIONS
These simple vanilla cupcakes are the perfect vehicle for any frosting you enjoy. Try out some of the fun flavors below!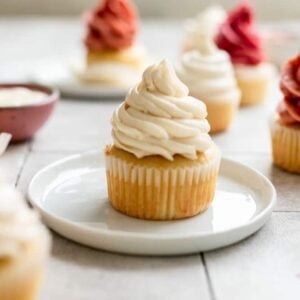 Easy Vanilla Cupcakes With Oil
Moist and fluffy cupcakes with a rich vanilla flavor are always a hit at parties and potlucks! This Easy Vanilla Cupcake Recipe With Oil calls for oil instead of butter, making them super moist and light!
Print
Pin
Save
Saved!
Rate
Ingredients
¾

cup

granulated sugar

(157g)

1 ¼

cup

flour

(160g)

1

tsp

baking powder

(4g)

¼

tsp

baking soda

(1 ½ g)

½

tsp

kosher salt

(3g)

¾

cup

milk

(6 oz)

1

tbsp

vanilla extract

(14g)

¼

cup

vegetable oil

(2 oz)

1

egg

(50g)
Instructions
Preheat the oven to 350F and line a muffin tin with cupcake liners.

In a large mixing bowl combine the ¾ cup sugar, 1 ¼ cup all purpose flour, 1 tsp baking powder, ¼ tsp baking soda, and ½ tsp kosher salt and whisk lightly to combine.

Next add in the ¾ cup milk, tablespoon of vanilla, 1/4 cup vegetable oil, and 1 egg.

Mix until combined but do not overmix.

Fill each cup ⅔ of the way full. Do not overfill.

Bake 18 minutes.

Remove from oven and let cool completely before frosting.
Notes
Bring the milk and egg to room temperature before using to ensure it mixes smoothly
Properly measure your flour. Use a kitchen scale for the most accurate weight, or fluff and spoon your flour into your measuring cup and level it off. Never directly scoop flour with your measuring cup as you will get too much flour and it will alter the recipe. 
Use any buttercream frosting on top! 
Try:
Raspberry Buttercream
Strawberry Buttercream
Classic American Buttercream
Cream Cheese Frosting
Nutrition
Nutrition Facts
Easy Vanilla Cupcakes With Oil
Amount Per Serving (1 cupcake)
Calories 114
Calories from Fat 9
% Daily Value*
Fat 1g2%
Cholesterol 15mg5%
Sodium 167mg7%
Potassium 41mg1%
Carbohydrates 23g8%
Protein 2g4%
Vitamin A 45IU1%
Calcium 41mg4%
Iron 1mg6%
* Percent Daily Values are based on a 2000 calorie diet.