These chewy chocolate chip cookies are buttery, light, and so easy to make. Plus, you probably already have all the ingredients on hand!
These are the BEST chewy chocolate chip cookies.
Do you ever get in that "I need to bake something right now" mood? You know, when it gets dark and stormy outside in the middle of the day and you just want to either curl up on the couch in comfy clothes with a good book, or have something delicious smelling coming from your oven…
Well it was one of those days and I decided on the latter. I was just in the mood to make something easy and classic, no real crazy experimentation, just something that would go along with the mood of the day. Chewy chocolate chip cookies it was — who doesn't love a good chewy, buttery, melt in your mouth chocolate chip cookie (or 6)?
Creating these chewy chocolate chip cookies
I browsed through some homemade chocolate chip cookie recipes I had, making sure the measurements that I wanted to use were on the right track and then stepped foot into the kitchen determined to make my own. Truth be told, there aren't that many different ingredients that go into chewy chocolate chips cookies, but it all depends on how you use them.
Take butter, for example. You can use the same 1 cup of butter in a recipe, but there's a world of a difference in the cookies if you are using melted butter, or butter that has just been softened. Melted butter will yield a cookie that is flatter and chewier.
Softened butter will give you a more cakey texture. The same goes for your mixing method. If you cream your sugar and butter together for a long time, it will result again in a more spread out cookie, but if you cream just until incorporated, you have less of a chance of your cookies spreading as much.
I don't get it either, it's science. But good news is that even though I failed chemistry three times in college, I learned to do this and so can you!
After getting all my ingredients together, mixing, forming, baking, and cooling the cookies, I went in for a bite and realized I left out salt and didn't put enough sugar in.
Ok, like I said its science. Also helpful if you don't forget a major ingredient, but I digress. So I went back for round two and after doing all the above steps again and adjusting my recipe, it was a success!
These cookies are light, chewy, sweet, and so buttery tasting. And I'm also proud to say that it is my very own recipe, so suck it chemistry 101!
BTW I rocked it in Biology… just saying.
How to make chocolate chip cookies extra chewy
To make this simple chocolate chip cookie recipe, you'll first need to mix the butter and sugars together just until smooth. Follow that up with the eggs and vanilla extract, then turn the mixer off and dump in the dry ingredients. Turn the mixer to its lowest speed so the flour doesn't puff up into your face, and stop once everything is combined.
I like to stir in the chocolate chips by hand so I don't break any of them up, but you do you.
Once the cookie dough is made, form balls with your hands or a small ice cream scoop and bake on a parchment paper-lined baking tray until the edges of the cookies are golden.
So easy, right? But like I said, the trick to making truly chewy chocolate chip cookies is mixing the ingredients together the right way.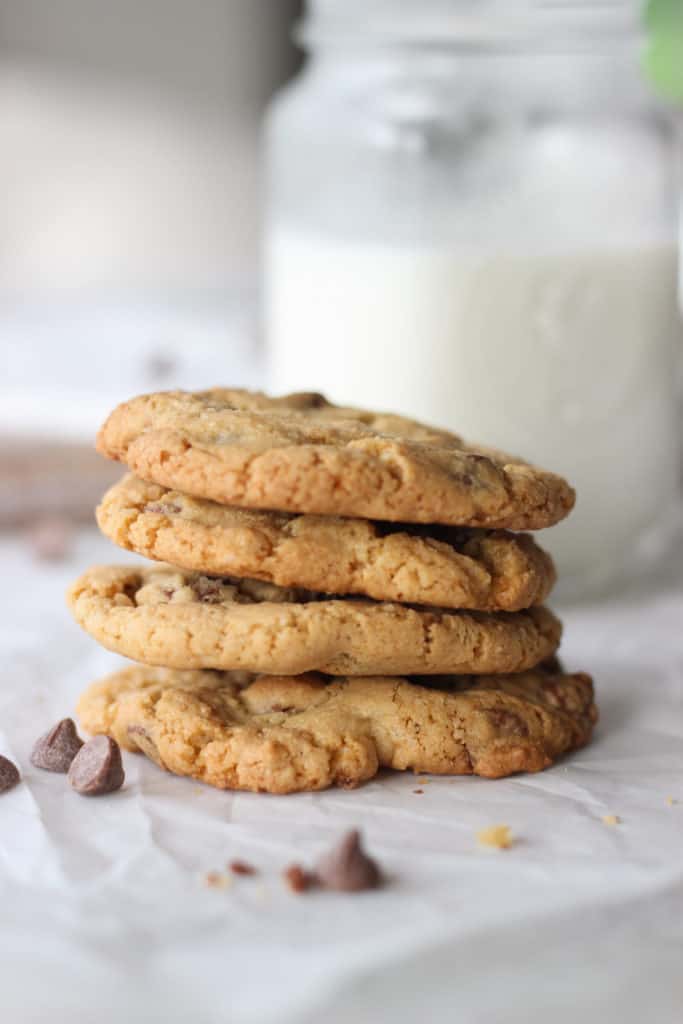 How to store chocolate chip cookies
Keep these homemade chocolate chip cookies in an airtight container on your counter. They should last for a few days if stored correctly. But if they become a little stale, just dunk them in a big glass of milk — you won't taste the difference, promise!
Can you freeze chocolate chip cookies?
Yup! Just let the chewy chocolate chip cookies cool completely on your counter, then pop them in a freezer bag. When you're ready to eat the frozen cookies, either let them come to room temperature on your counter or reheat them in a 350ºF oven for around 10 minutes (or until the chocolate starts to become gooey again).
Need more cookie recipes?
Chewy Chocolate Chip Cookies
These chewy chocolate chip cookies are buttery and delicious and will become a favorite in your house!
Print
Pin
Save
Saved!
Rate
Ingredients
1

cup

unsalted butter

softened

1

cup

granulated sugar

3/4

cup

brown sugar

2

eggs

large

1

tsp

vanilla extract

2

cups

all purpose flour

1

tsp

baking powder

1/2

tsp

baking soda

1/2

tsp

kosher salt

1

cup

chocolate chips
Instructions
Preheat your oven to 350ºF and prepare a baking sheet with parchment paper.

In the bowl of an electric mixer, cream the 1 cup butter, 1 cup granulated sugar, and 3/4 cup brown sugar and mix on low-medium until smooth. Add in one egg at a time, incorporating into the mixture, then add in the 1 tsp vanilla.

Turn off the mixer and add in the 2 cups flour, 1 tsp baking powder, 1/2 tsp baking soda, and 1/2 tsp kosher salt. Mix on medium speed until a firm dough forms, about 1-2 mins.

Add in the chocolate chips and mix with a wooden spoon or spatula.

Using a small cookie scoop or a tablespoon size spoon, drop even sized balls of dough onto the baking sheet separating them by at least 1 inch. Bake for 12-14 mins then cool on a rack.
Notes
You can make the cookies larger by using a larger cookie scoop, bake for 16-17 mins. 
Nutrition
Nutrition Facts
Chewy Chocolate Chip Cookies
Amount Per Serving (1 cookie)
Calories 208
Calories from Fat 90
% Daily Value*
Fat 10g15%
Cholesterol 35mg12%
Sodium 102mg4%
Potassium 28mg1%
Carbohydrates 28g9%
Protein 2g4%
Vitamin A 273IU5%
Vitamin C 1mg1%
Calcium 30mg3%
Iron 1mg6%
* Percent Daily Values are based on a 2000 calorie diet.